AJAX Shopping Cart

|

v2.3.6
Screenshots: AJAX Shopping Cart solution provides effortless adding products to cart right from the category page. Easy to use and extremely customer-friendly.
Optimized shopping process for more sales
+1 sales method
Due to Magento Ajax add to cart pop-up you can easily stimulate customers buy more. Now they won't have to go to product pages to add products with options to cart. They will remain on the category page, add more products to cart and make more spontaneous purchases. Orders will increase.
Follow latest online store technologies
Usability improvement has to be one of the store's priorities. Buying many products is tiring, so your task is to simplify the shopping process and make it comfy for customers.
'Add to cart' pop-up
With the Magento confirmation pop-up customers can add, edit or remove products that have been added to cart without reloading the cart page. Due to these easy interactions store visitors can immediately continue shopping, thus making more purchases in your store. Additionally, you can showcase related products for cross-selling purposes.
Cart overview
The module shows nice magento cart overview dialog, in which customers can see which products they add to cart with Ajax as well as the cart stats - the number of products in Magento shopping cart and current subtotal. Very handy.
Support of configurable products and custom options
By implementing this comprehensive Ajax add to cart pop-up you can hugely increase usability by letting customers choose configurable products and custom options right on the category pages, without going to the product details view. It is possible to display either all custom options or only required. If your products have many options we recommend to show only required ones to minimize cart dialog window size.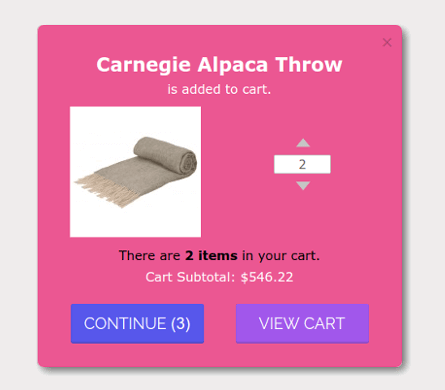 Floating cart window
This is a nice visual effect - floating Ajax cart window is displayed when a customer hovers mouse over 'My Cart' link in the header. In the window customers can see the cart contents, delete items from the Ajax cart and also get to the cart editing page.
Flying product image
Another great visual effect supported by our AJAX Magento estension. A product image 'flies' towards 'My cart' link once a customer adds the product to the cart.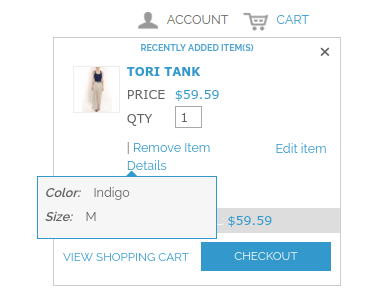 Configure Confirmation Window view
Use various visual style settings to configure Confirmation Window view in accordance with your Magento theme.
Magento Ajax extension allows to select options of configurable products with images right in the cart dialog window, if you use the module in combination with Color Swatches Pro.
Ajax Wishlist and Comparison List
Since now there is a possibility to add products to Wishlist or Comparison List using Ajax.
Constant shopping cart update
Any time customers add products to cart, they'll see 'fresh' results of their choice in the cart overview without page reloads.
Multiple configuration options for Magento shopping cart to meet your needs
Display related products block in the cart dialog
Our Magento AJAX cart extension enables you to show in the cart dialog the products, related to the one being added to cart. Of course, customers can add the related products to cart right from the dialog window.
Enable customers to edit product quantity in cart dialog
You can allow customers to edit product quantity in the cart dialog. So they can choose how many products they want to buy when adding the products to AJAX cart.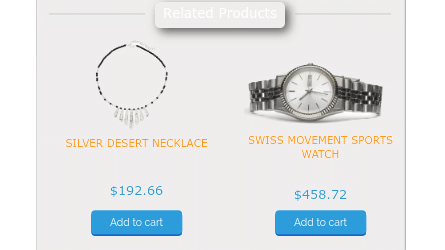 Choose time period for cart overview display
Choose the period for cart dialog display, which suits you perfectly. We recommend it to be not too short, so that customers have enough time to understand what's happening, see the product they've chosen and decide what to do next. Fast-thinking customers can close the dialog at any moment :)
Magento AJAX Cart on product page
Feel free to decide whether to use Magento Ajax Cart on product detail pages or not. You can also select the action for 'Continue' button - it can either link customers to category page or leave them at the product page.
Select what product info to show
AJAX add to cart tool enables you to choose what product information to show in the cart dialog window. It is possible to display:
Number of products in cart;
Current cart subtotal;
Name of the product which is being added to cart;
Related products.
Flexible shopping cart dialog window
You can choose the block positionleft, top left, right, top right, center, top.
Left/top left;
Right/top right;
Center;
Top.
More Amasty extensions powered by AJAX
AJAX Scroll will change the way customers browse your catalogs making them more user-friendly. Content is loaded on request and there is also a nice-looking "Back to top" button.
AJAX Image Uploader enables you upload multiple images fast and easy with drag-and-drop functionality. There's a lot of boring work in Magento, make that one enjoyable.
Quick Ajax Login provides your customers with best sign in experience ever. They will be able to login and register from any store page. Moreover, they can do that using their social networks which increases registration rate.
7 reasons to choose
Risk-free Investment
30-day moneyback guarantee for all extensions. No questions asked.
Comprehensive Documentation
There is a detailed user guide with examples even for tiny addons. FAQ section and videos also available.
Solutions Which Work
Careful in-house testing ensures you get robust applications. Multiple stores support. Custom themes compatibility. All included.
Outstanding Support
Our support service is friendly and of high quality. And it is free. Unbelievably. Just check independent reviews at Magento Connect.
Usability and Performance
Nice and easy to use interfaces. Fast algorithms. Save your time and get things done.
Flexible and Easy Licensing
No product or store view or domain limits. No monthly fees. No hidden charges. One extension license for one Magento installation.
Long Term Strategy
We've been in the market for 5+ years. We're proud to be a Bronze partner and are planning to stick to Magento platform for years ahead. We're doing our best to build extensions which maximize effectiveness of your business. We're open to customers' suggestions and constantly update our products to match your needs.
Other Features
100% Open Source — Easy To Customize
Follows Magento Code Architecture
Separated HTML/CSS/JS
W3C Validated Code
Online Extension User Guide
* The name "Magento" and the logo are the trademarks of Magento, Inc.
General Questions

How can I pay for Amasty extensions?

What is the license policy? On how many websites can I use Amasty extensions?

How to install Magento extension by Amasty?

Can I test an Amasty extension on a staging site before transferring it to a live one?

Can I get a refund if an extension doesn't suit me?

Will I get any other benefits?

Product questions

Will this AJAX Shopping Cart work on mobile devices?

Does this module let customers add products to cart from category pages?

Can I let clients adjust the quantity of a product in a pop-up window?

Does this AJAX Shopping cart module work with up sell products?

Can I customize the AJAX cart window to match my theme?

Is there an option to continue shopping after adding an item to cart?
Great extension and very professional expert team to support it
I rarely write reviews, but I'm so impressed with Amasty support team, that would be unfair if i would not write this review.
Typically when a support team is this responsive it means the product needs the extra support. This one doesn't. It runs well and has a ton of intelligent features. Coding quality in superior.
All my questions was about general sales optimization and speed of my entire checkout process. (you can check my checkout process that include Ajax cart + Amasty OPC + Amasty FPC + Amasty Navigation ) on my battery shop http://www.ebax.si )
Wow, they gave me very detailed answers for all the questions, even offered me free extension since we got conflict with one other extensions purchased before i was aware of Amasty.
I work with Amasty extensions for second year now and would not even consider recommending any other extension/service to our clients if Amasty have extension for that.
Highly recommended , if you are running Magento for serious business!
Die besten Extensions und profi Support von Amasty!
Ich habe mehrere Extensions von Amasty erworben und bin sehr zufrieden!
Support ist auch sehr hilfsbereit und blitzschnell! Alle Fragen sowie Hilfe seits Amasty sehr schnell und professionell.

Excellent Value for money
After using another developer's extension which didn't quite do the job, we settled on Amasty's extension, and were pleasantly surprised to learn that it could do ajax add to compare list and wishlist as well. The extension was easy to setup and customize, and with a little help from their star developer Alexey, we were able get the extension working with our custom theme, all within a matter of hours after purchasing the extension. A feature request for a future version would be to please include ajax removal from Cart and Compare, but overall this is now one of our standard extensions that we will be using on our sites. Well done Amasty, on an excellent product and even better support!
Great product and support
Great item and all issues were quickly addressed by support.
Enhances customer experience
Great extension to simplify the ordering experience for our customers who already which products they want out of the hundreds of products we have. With this extension they can order right off the category page. And great support for fixing any problems or doing customization.
Amasty - Another Fantastic Extension!
I can't say enough good things about Amasty's extensions, and this one is yet another winner.
This was my third extension from these folks, and I ran into some challenges because of my own theme customizations; Amasty's support was prompt, courteous, and had the issue resolved the same day - not only that, but they followed up with an explanation of why it hadn't worked the first time (my changes, as I mentioned), and that has helped me to ensure that I don't make the same mistake twice! :-)
Highly recommended extension, and highly recommended company... two thumbs up!

User-friendly extension
I myself hate being redirected to a shopping cart after adding an item to it. Guys, I haven't finished yet, I don't want to get back and start looking for the needed products from the beginning! So in my store I'm trying to make user experience as friendly as possible.
This extension is a real catch, it makes shopping in my store more fun. Customers just add products from product pages or even categories and can choose to continue shopping, no redirects. That's awesome!
sunrise79
Magento Connect

Excellent!!!
Your support works amazingly. Had I written a ticket they answered me immediately and helped to set all the configurations needed. Thank you so much.
Professional team
Hello,
You could trust amasty's extension and amasty's team.
Extension and support are so professional.
As i previously said, i get a plan to harmonize my extensions with more amasty's extensions as possible.
Think about it too.

Magento Connect
Like it
Good extension that makes the store a bit more modish and fluid. Such little things are really worthy!
Increases your conversions
The module makes the shopping process much easier for our customers and it's fully compatible with other extensions we installed before. Well done!
It's really worth bying
You know, this small tool has made a miracle! I've already got a couple of positive reviews from my customers - they are highly satisfied with the ability to add products to cart without interrupting the whole shopping process.

Haim,
Magento Connect
Usability +1
No page reloads, rapid adding products to cart - this is what our customers needed!

norton,
Magento Connect
The tool that really works!
It's a great idea not to slow down the customers on their way to purchase, the easier the process of adding goods to shopping cart, the more conversions you have. This really works, and I'm glad I've installed this tool.

Brendon,

Magento Connect
Even better than I've expected!
Not only the extension does everything it promises, but the support team is doing its best! I'm totally satisfied with the extension and I'm sure that this is not my purchase here.
Great Stuff
This extension just made my day as soon as I installed it! I had no problems integrating it with other Amasty modules and it nearly flies!
Very grateful to Amasty
I really like the extension. It made my store a lot more user-friendly and visually attractive. Some customers even said thanks to me. And the support is great as usual!

RobWill,
Magento Connect
Excellent support
I bought several modules from Amasty and plan to buy more because their support is truly excellent.
When I hit some problems with the AJAX cart clashing with other third party modules they fixed issues for me extremely quickly and without fuss.
I highly recommend this and other Amasty modules.

Rob.S,
Magento Connect
A great tool! Thanks!
It works just fine out of the box! Great extension. Handy and very fast.
AWESOME support by Amasty
It is a great extension and works really well just as described. I had few issues regarding compactiability with others extension functionality but these issues fixed by support guy's straight away in less time.
now all extension work well with required functionality in my store...
Amasty provide speech less support whare you get the solution and Comparatively less time with other extension provider...
Good experiencce to work with you..
Best of all the support person and Amasty team...
Amasty Ajax Shopping Cart Is A Wonderful Extension!
Hello all,

This extension by Amasty is wonderful and works very well.
Functionality is above and beyond, and the visuals are also very pleasant.

Amasty support fixed a few little thing for me without any delay - very impressive.

Very Highly Recommended - both the extension and the developer!

Kind regards.
Outstanding Developer
This is my 6th Amasty Extension and it works perfectly. Every time I need additional functionality I research every comparable extension option and it always comes back to choosing Amasty. Support is generally very prompt and always thorough.I know if something goes wrong I can count on them to take care of it. I definitely plan to buy additional extensions from them. It's clear they know Magento well. I highly recommend Amasty without hesitation.
Thank you Amasty
I have like ten different extensions from Amasty and the main reason is that everything is well-built and usually works out of the box. This time I was working with a strange "non-standard" theme and knew that it was going to be hard to integrate more ajax-stuff. A few days later Alex at Amasty had taken care of it, integrated the ajaxCart and made the little beauty work as expected. It's nice looking and has a smooth way of working. It's also easy to customize if someone wants to do that. Thank you Amasty!
Write Your Own Review
Version 2.3.6
-
May 26, 2015
– Possibility to configure floating/confirmation window visual style
Version 2.3.5
-
April 28, 2015
– Wishlist and compare now work with AJAX
Version 2.3.2
-
December 02, 2014
– Compatibility with Magento 1.9.1.0 RWD theme
– Minor bugfix
Version 2.2.9
-
August 07, 2014
– Compatibility with standard Magento 1.9 responsive theme
Version 2.2.6
-
January 20, 2014
– Minor bug fix for product quantity in popup window
Version 2.2.5
-
December 22, 2013
– Better compatibility with "cross-sells" block on shopping cart page.
Version 2.2.3
-
December 11, 2013
– Template files rebase
– Better compatibility with custom themes
Version 2.2.2
-
November 14, 2013
– Compatibility with Fortis theme
– Better compatibility with 3-rd party jQuery-based plugins
Version 2.2.1
-
October 25, 2013
– Bug fix for shopping cart popup window
Version 2.2.0
-
October 17, 2013
– Header JS block moved to a separate file - better for SEO
– Add to cart button handling optimised
– Template files moved for better compatibility with custom themes
Version 2.1.8
-
September 20, 2013
– Bugfix for related products.
Version 2.1.6
-
June 11, 2013
– Code optimization.
Version 2.1.5
-
May 08, 2013
– Correct handling of taxes.
– Ability to disable AJAX cart for some "add to cart" buttons using css class.
– Fix for https URLs.
Version 2.1.3
-
May 03, 2013
– Nice visual effect - flying product image.
– Bugfix for quantity field in popup window.
Version 2.1.1
-
March 25, 2013
– Floating cart window.
– Fix for jquery conflicts.
– Translation file created.
Version 2.0.1
-
March 01, 2013
– Possibility for customers to specify product quantity in the cart dialog.
Version 1.2.0
-
February 12, 2013
– Support of all product types.
– Ability to display related products block in the cart dialog.
– Bugfix for shopping cart sidebar block (reloading cart).