Extended Product Grid with Editor
for Magento 2
Bring your product management to a new level with a must-have Magento 2 Extended Product Grid complex solution. Monitor, filter and modify any product info right from the grid to minimize time spent on catalog processing.
Add extra columns based on product attributes to the grid
Filter products by custom parameters
Quickly edit product data with AJAX
Create multiple product grid templates
Update prices, quantities and other attributes from the grid
Auto-change product availability based on quantity
Challenge
Product data management is a challenging task for medium stores. In the default Magento functionality, there's no way to view and edit all needed product parameters in one place. That's why store admins have to find and edit the info on each product page one by one. It consumes a lot of employees' working time and, as a result, slows down business growth.
Solution
Save store admins time and redirect their activity to more valuable tasks with the enhanced product grid for Magento 2. Fine-tune grid display according to your needs, filter and edit product info right from the grid to speed up catalog updating. Create custom grid view templates to ensure prompt access to any product data your admins may need.
What benefits do you get for your store
Reduce effort expenses with the prompt access to any product info you need
Streamline product management tasks by making changes in no time
Save money by avoiding pricy and time-consuming manual operations
Make product grid maximally informative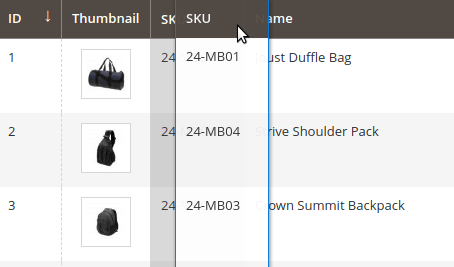 Drag and sort columns any way you prefer
The extension offers your store an easily configurable product grid. Apart from adding multiple columns, you may easily reorder them. Drag-and-drop columns with a cursor and sort them in the order which is the most suitable for you.
Configure separate grid view for each admin user
Usually, each member or store staff is responsible for specific business aspects, and not all the info that is important for one of them will be equally significant for the others. With the custom template option, each store administrator can configure an enhanced admin grid according to his/her individual needs. It's possible to add any extra columns to the standard grid and save it as a separate template.
Display product attributes on the grid
Add any product attributes of the following types to the Magento admin grid and display necessary data in additional columns.
Available attribute types:
'Text';
'Text area';
'Dropdown';
'Multiple select';
'Yes/no';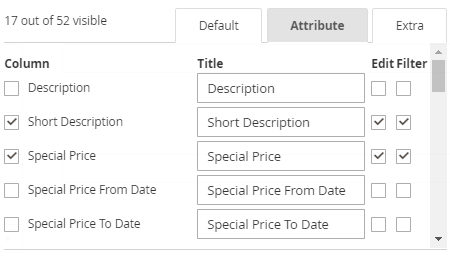 Edit product data right on the grid
Quickly configure product data
With the handy Magento 2 enhanced product grid tool you can configure the majority of product attributes right on the grid. It means there is no more need to open the corresponding product info page each time you need to make a small correction. Simply add all necessary columns and edit product data right from the grid. Easily configure product name, SKU, description, price, quantity and many other attributes.
Data validation based on attribute type
To help you avoid making mistakes while configuring product information we've developed a special validation feature. It works when you leave any cell empty or, for example, specify numbers instead of letters. The custom product grid Magento 2 module won't save wrong information and will highlight the field with inaccurate data.
Use 2 modes to save product information
The enhanced Magento 2 product grid customizer enables you to save edits either one by one or in bulk. Choose 'one by one' mode to save each correction right after it's been made. The 'bulk mode' enables you to make all corrections you need and save them all at once. This editing mode is useful when you need to edit large volumes of information, while 'single saving' is great for editing one or two grid cells.
Use quick frontend links
With the Magento 2 custom grid, users can add a column with frontend links to the grid to easily check out all changes they make. Now you don't have to manually open the corresponding frontend page each time you make a correction in the admin panel. Simply save the data and click on the direct link to view the changes on the frontend.
Keep track of product inventory
Increase or decrease items quantity
When you receive a new batch of products you can edit and calculate their quantity right on the grid. All you need to do is just to add the number of arrived items to the ones you have in stock. For instance, you've got 100 products A in stock and have received 250 more products, so enter 100+250 in the corresponding quantity field and the smart product grid algorithm will automatically make necessary calculations. You can also deduct product quantity in the same way.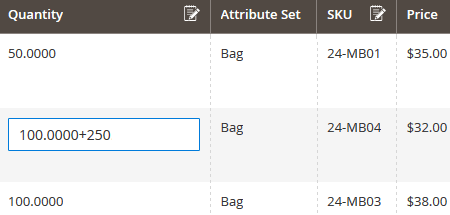 Automatic quantity based availability
Enable this option if you want the stock status to be changed automatically depending on product's quantity. The Magento 2 product grid will show 'in stock' status for products with positive quantity and 'out of stock' for items with zero or negative quantity.
Customize each product grid detail
Filter by any parameters
Easily filter all your admin data by any parameters you need. With the module you can customize filters block by adding and removing any columns or attributes.
Show related, cross-sell and up-sell products
Flexible extension settings allow you to add cross-sells, up-sells and related items to the product grid to keep all information about products at hand.
Display categories
With the advanced grid tool you can show product categories on the grid. Once you enable categories column, the corresponding custom filter is added to the default filter settings to let you sort products by category.
Hide default grid columns
With the smart technique of grid customization, you can easily disable any default columns like 'Attribute Set', 'Status', 'Thumbnail' etc. and switch them on again at any time.
Display product modification date
Show columns with the date of product creation as well as the date of latest product modification to easily find out when each particular item was edited last time.
Quickly find products without categories
Due to the category display option you can also identify products which are not assigned to any category. This will help you to timely fix any category-related issues and keep all products in relevant categories.
Grid templates with custom column sets
Medium-sized stores are managed not only by a direct store owner but also by a group of managers. And each member of the staff processes particular information. When a product grid is too overloaded with data, it can be hard to find the info you need. As a result, product processing becomes slower. The Magento 2 grid customization module enables you to create custom grid view templates with different column sets and switch from one template to another right on the grid. This handy option will help you accurately fine-tune the grid view according to the specific needs of each admin user.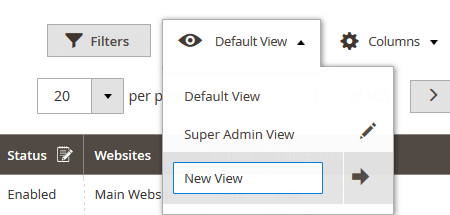 More Features for Extended Product Grid
Adjust the 'Qty Sold' column to your needs

With the new 'Qty Sold' configurable column on the Magento 2 custom product grid filter you can see how many products were sold. On top of that, you can set conditions to display the sold quantity for the specific period and take a look at your business from a new angle.
NEW: Prevent data loss with notifications

Now the extension displays a reminder popup in cases an admin has made product updates and hasn't clicked the 'Save Changes' button. The feature is designed to make sure all valuable changes won't get lost because of a manual mistake.
Limit the 'Qty Sold' data by order statuses

To make the 'Qty Sold' column even more statistically significant, select the particular order statuses that will be considered as 'sold', e.g. pull only 'Complete' purchases or add 'Closed' as well if needed. It helps you to avoid the disruption of the analytics and keep your data relevant.
Create a custom filtering options

For quick and smart product analysis, convenient filtering is a must. With the module, each product grid column can be used in filtering as well. By specifying the most valuable parameters for filtering, you will significantly simplify and reduce the time of product processing.
Greatly extend your front-end store navigation
As extended and flexible as your admin product grid is with the above-described extension, let your web store appear to your customers on the frontend with
Magento 2 filter products by attribute
.
Meanwhile, we have a magento 2 custom options extension with the extra functionality that you may find useful.
How to add a custom column to the Magento 2 product grid?
Install and enable Amasty Extended Product Grid with Editor;
go to Products > Catalog;
click Columns in the upper-right corner and select what columns you want to display from the Default, Attribute, and Extra tabs;
then you can сhange their sequence by using drag-and-drop;
once ready, you can save a custom view;
for this, Click Default View in the upper-right corner and choose Save View As from the dropdown.
Other Features
100% Open Source — Easy To Customize
Follows Magento Code Architecture
Separated HTML/CSS/JS
Simple installation via Composer
* The name "Magento" and the logo are the trademarks of Magento, Inc.
We are able to get more products online quicker
Buywise, Web
We've used Extended Product Grid with Editor for Magento 2 for 5 years. The thing we wanted to solve is to be able to get more products online quicker. It's user friendly and I can recommend it to anyone having lots of attributes and needing to edit them quickly and easily.
Amasty answer
Mar 20, 2020
Natalya Chekanina
/ Head of Sales Team
Hi Stu! Thank you for your kind feedback. We would be happy to see you in our store again!
Trustworthy
ALIGN TREX Models, Director
We chose to upgrade to Magento 2 and used all of Amasty products because we trust them and see them as a partner towards our future. I am very satisfied with support, able to provide constructive solutions and answers. To judge a company is not by the cost of product , but how you they treat you after the sale. To find responsive, fast support to queries or questions and to the point makes Amasty shine.
Amasty answer
Jun 13, 2019
Natalya Chekanina
/ Head of Sales Team
Dear Rajeev, thank you for your review! We would be happy to see you in our store again!
Very good!
Sweetmag, Project Manager
With this mod our productivity Increased. Support is very quick. Will definitely use amasty over and over again!
Amasty answer
Feb 11, 2019
Natalya Chekanina
/ Head of Sales Team
Dear Chandler, thank you for your review! We would be happy to see you in our store again!
Satisfying
With its inline data editing capabilities, Extended Product Grid with Editor is one of our favorite Admin extensions as it widely simplify our client's catalog management.
the best extension for advanced and fast editing
this is the best extension for advanced and fast editing of product
no matter how much product you have on your store

however this extension need a feature to became perfect
the ability to edit tier price fields
Good for stores with several admins
We created five custom grid templates – one for each store admin. Btw now the grid can also show tier prices. That's a nice feature for those who use a customer bonus system. I guess it's not mentioned in the description.
4,5
Overall, the module does extend product management ootb. I customized the grid to simplify my admins work. Editing on-the-go saves lots of time while updating the catalog. We had some problems w/t search by category; yet amasty fixed the issue fast.
Admin essential
We had this extension on our previous M1 site and it was one of the must-haves when we upgraded to M2. This extension adds the critical "Categories" information to the catalog product grid and filters and also makes bulk editing products directly from the product grid possible. This saves us literally weeks of time in product creation and editing. Love the new product grid customization features in M2 version plus being able to save different grid layouts for quick access when needed.
Decent extension for reasonable price
The module is not bad, but I hope they'll make it more flexible in the nearest future. Anyway, this a high-quality tool that really helps manage items without opening new tabs for each item you edit. Everything works as described, besides the support answers very fast.
Are you looking to add specific functionality for this extension or want to acquire a reliable development partner altogether? With custom development services by Amasty, you will receive high quality and cost-effective solutions developed by Magento professionals according to industry's best practices.
Magento 2.2, 2.3 (including 2.3.5)
You can always download the recent version free of charge from your account
Installing an upgrade is easy — check now
My Downloads
Version 1.7.1
Last Update: Jun 29, 2020
Fix we fixed the issue with tier prices output
Fix we resolved the problem with values displaying instead of labels for Status and Visibility columns
Fix we fixed the issue with SKU editing for products that have tier prices
Fix we resolved the problem with a product 'URL Key' column update
Fix we fixed the issue with 'Special Price From Date' and 'Special Price To Date' columns filtering
New now the extension includes a new option that lets you mark a column on Products grid in order to quickly find the information you need
New we added a new option that allows you to export products from Products grid to easily receive the required information
Improvement code of the extension underwent refactoring for greatly improved performance and stability
Improvement we improved the extension's UX/UI to make it easier and more convenient for you to work with
Improvement we corrected the work of the filtration based on category. Now several categories can be used for filtering at once
Compatibility the extension is now compatible with Magento Enterprise splitted databases
Fix we resolved the problem with 'Special Price From Date' and 'Special Price To Date' columns filtering
Fix we fixed the issue appeared when setting 'Product Grid - Qty Sold' indexer to Update by Schedule mode
Fix we resolved the problem with the 'Qty Sold' column that is now set to 0 when a new product is created
Fix we fixed the issue with product SKU editing on Magento versions from 2.3.0 to 2.3.2
Version 1.6.3
Last Update: Jun 09, 2020
Improvement we added a new option that allows you to receive warning popups when the changes aren't saved in Products grid. The extension will remind about changes made in Products grid for you not to lose them.
Fix we resolved the problem with tags displaying in empty cells
Fix we fixed the issue with filtering by created_at and updated_at fields
Fix we fixed the issue with an empty column 'Cost'
Fix we fixed the issue with inline edit of products when store view is predefined
Fix we fixed the column 'Categories' and set it as non-sortable
New we overhauled our extension, and now the extension provides a well-thought structure and optimized code.
Fix we fixed the issue with saving negative numbers in Quantity column
Fix we fixed the issue with frontend product link on Products grid page.
Version 1.5.12
Last Update: Apr 07, 2020
Fix we fixed wrong product page URL from product grid for Magento versions less than 2.3.4
Fix we fixed showing attribute as available for filters when it's not selected for filtering
Fix we solved the problem with inline price editing on grid
Fix we solved the problem with Special Price value formatting on grid
Fix we solved the problem with displaying default product name on grid for different store view
Improvement minor code improvements
Fix the issue with loading data on grid after view switching
Fix the issue with saving custom column label
Fix we resolved the problem with editing product grid
Fix we solved the problem with adding/removing column to grid
Improvement minor code improvements
Fix the issue with loading data on grid after view switching
Improvement the setting to display values in the 'Qty" column as integer or not was added
Fix the issue with filtering the 'Availability' column was resolved
Fix the issue with adding the url_key attribute to the grid was resolved
Fix the issue with displaying customer group prices on the grid was resolved
Improvement the inline edit action on the grid regarding tags usage was improved
Improvement the error message was added while trying to amend a configurable, bundle or grouped products quantity
Fix the issue with the 'Manage Stock Disabled' status for the 'Availability' column was resolved
Fix the possible issue on the checkout page was resolved.
Improvement the "Qty Sold" cell will display "0" when no products are sold
Improvement the "From-To" interval was added to the "Qty Sold" column filter
Fix the issue with saving templates on the grid was resolved
Fix the issue with products availability editing from a product edit page was resolved
Fix the issue with text fields editing from the grid was resolved
Fix the issue with the "Update attributes" action after filtering by the availability of the products was resolved
Fix the indexation error when deleting a product was resolved
New the Qty Sold column was added to the grid
Version 1.4.0
Last Update: May 28, 2018
New the possibility to modify the 'Manage Stock' from the grid and a new filter availability were added to the grid
Fix the issue with the filter button on the grid was resolved
Version 1.3.0
Last Update: May 03, 2018
New the column for backorders settings was added to grid
Version 1.2.6
Last Update: Apr 11, 2018
Minor code improvements: compatibility with 3rd party extensions was improved
Compatibility with PHP 7.1 was improved
Fixed an issue on the product grid when the tier price is set
Magento 2.2 compatibility is tested and confirmed.
Fixed searching by categories
Fixed the issue with changing Custom Options
Added possibility to sort grid columns by update date and creation date.
Added possibility to display Tier Price on grid.
Added in filter option to show all items without category.
Version 1.1.2
Last Update: Apr 20, 2017
A number of general improvements
Compatibility with Magento 2.1
Possibility to add/remove specific columns (attributes) to/from filter