AJAX Shopping Cart
for Magento 2
Magento 2 AJAX add to cart extension provides comfortable shopping experience. Customers can easily select configurable options and edit items in the pop-up without wasting time on page reloads.
Stylish Magento 2 AJAX cart pop-up
Enhance your store performance with AJAX confirmation window
Equip Magento 2 store with AJAX dialog window of 2 different types
Support of custom options and configurable products
Additional way to gently promote related items
AJAX Shopping Cart for Magento 2 is an effective UX tool for any sort of a web store. Let your customers enjoy the shopping process, making it simple and flawless with Magento 2 AJAX module that adds products to cart programmatically. Customize a dialog window, enriching it with options benefiting you and your customers.
AESTHETICALLY EXCELLENT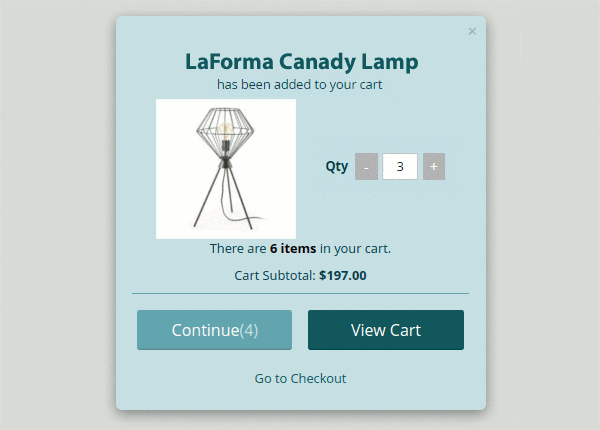 Customize pop-up
Specify colors of a dialog window to fit your original theme with magento persistent shopping cart. Try variations, specifying a background color, two buttons, and text color.
Align pop-up
Choose from 6 positions, where to place a shopping cart window. Put a pop-up right or left to the product, or anywhere on the top of the page.
NEW | Employ flying effect
Employ an element of entertainment to engage customers even more with a flying effect.
BETTER SHOPPING EXPERIENCE
Mini product page in the pop-up
Let customers specify the options of the simple products right in a dialog window when it is not possible on the catalog page.
Selling options
Include into the shopping card a customizable block with related products or cross-sells. The products are displayed in the Magento 2 popup after hitting the Add to Cart button.
Checkout and Continue buttons
On the pop-up, let customers choose to continue browsing or go straight to the checkout. Two customizable buttons are available to display.
ADDITIONAL TWEAKS
Add products to Wishlist and Compare with AJAX
Let your customers easily add products to Wishlist and Compare without page reloading. Use
Magento 2 Ajax Scroll
to improve user experience even more.
Products quantity
With a mouse hover over the product, customers see the product's amount they have added. Customers can specify the product's quantity they want to buy in both confirmation and dialog windows.
Display a proper image
In a dialog window, choose whether to display an image of a configurable or a particular simple product.
Upgrade shopping experience and 86% of customers will be ready to pay you more.
Start with improving purchasing process. The synergetic work of these 3 modules will provide you with 3 fundamental aspects:
Other Features
100% Open Source — Easy To Customize
Follows Magento Code Architecture
Separated HTML/CSS/JS
Simple installation via Composer
* The name "Magento" and the logo are the trademarks of Magento, Inc.
reliable module with regular improvements
I've been using this extension for about 2 years. They are constantly tweaking it to improve performance. In Jan they added a new popup design, looks great.
Great product and support
I needed some customization after the installation and the support did it fast. Now the module is full of intelligent features and works the way I need. Thanks!
It works smoothly!
What I liked most is that the module does work out of the box. I haven't even addressed the free support or made any settings myself. Great job!
that's the ticket
I can say I've tried every possible solution but this's one I liked most. It's easy to install and use, you don't need to be a long-hair man to customize it, and the support of configurable products is the real thing.
it works like described
Simple and must have add on. It works like described. No any other support required.
Good job, guys!
I like that the extension was installed smoothly and now works without any bugs, thank you almost for this) Axaj cart loads fast even if you've applied a lot of settings, and btw display options are quite simple and handy. I remain satisfied)
ok
I'm a Magento developer myself, and I know how hard it is to code for Magento 2 (cudos to the prev review). I just saw it and I wanted to say I completely agree - Amasty is great with their code even in these hard circumstances when you basically have to fix the code a lot with each and every M2 version. Always using Amasty extensions on projects. Cheers!
good code
I customize almost all the extensions the team buys for the store, and believe me most magento 2 extensions are crap because people still don't know how to code for magento 2. This code is pretty good and I had no trouble changing it.
Magento 2.1, 2.2, 2.3
You can always download the recent version free of charge from your account
Installing an upgrade is easy — check now
My Downloads
Version 1.8.2
Last Update: Sep 03, 2019
Compatibility we improved compatibility with Amasty Request a Quote extension
Fix we resolved the issue with displaying of simple product's image in confirmation pop-up
Compatibility compatibility with Amasty Color Swatches Pro extension was improved
Improvement we have enhanced the procedure of product quantity's updating on confirmation pop-up. Now there is no need to click the confirmation button - information about quantity and subtotal is getting updated on the fly in pop-up and in the cart
Version 1.7.14
Last Update: Jul 12, 2019
Improvement code was refactored according to Magento Standards
Fix issue with message error in ajax cart popup was resolved
Compatibility compatibility with Amasty Request a Quote was improved
Fix the issue with swatches.css file was resolved
Fix the issue with appearance of popup was resolved
Compatibility the compatibility with Magento 2.3.0 Commerce Related Products Rules was added
Compatibility a compatibility with Amasty Gift Card extension was improved
Compatibility the compatibility with Amasty Automatic Related Products extension was improved
Compatibility a compatibility with Amasty Request a Quote extension was improved
Compatibility compatibility with Magento Open Source 2.3.1 was improved
Compatibility compatibility with Amasty Advanced Search was improved
Fix an issue with wishlist items was resolved
Fix an issue with compatibility with Magento 2.1 was resolved
Fix an issue with increase product qty in popup was resolved
Fix an issue with "This is a required field" notification translation was resolved
Fix the issue with the missing 'Go to checkout' button was resolved
Fix the minor issues were fixed
New mini product page in the ajax pop-up was introduced. It allows customer to see product image, rating and short description together with product options and quantity in the pop-up
Improvement allows customer to edit the product quantity in the confirmation pop-up
Improvement an option to set redirect to product page instead of dialog pop-up was added
Improvement allows to set custom Title and Subtitle for suggested items block in the confirmation pop-up
Improvement the configuration settings were revised and enhanced
Version 1.6.0
Last Update: Nov 02, 2018
New the ability to add products to Wishlist and Compare with Ajax was added
Improvement UX enhancement when adding product to cart and mandatory options are not selected was implemented. Now it shows ajax popup with options instead of showing error message
Compatibility compatibility with Amasty Color Swatches Pro was enhanced
Fix an issue with adding product to cart from the wishlist was resolved
Fix an issue with option selection dissappears in the popup was resolved
Version 1.5.2
Last Update: Aug 30, 2018
Improvement the styles for wishlist and compare items icons were enhanced
Compatibility compatibility with the Magento 2.2.5 was improved
Improvement the Ajax cart popup interface was enhanced for different screen sizes
Improvement the related products display in the Ajax cart popup was improved
Compatibility the compatibility with the custom themes without LESS functionality was added
Version 1.4.13
Last Update: Jun 05, 2018
Fix an issue with missing preloader was resolved
Fix an issue with two swatches sections at the product page after added related product from popup was resolved
Fix an issue with fuzzy popup content was resolved
New On mobile, customers can add relevant products to cart immediately without loading the product page
New Added related products' title in the popup
Minor improvement for the related products block
New Information section is added. Now you can see the version of installed extension, available updates, User Guide link, conflicts and other useful data right on the module Configuration page
Fixed an issue with popup style
Compatibility with the Google Tag Manager is added
Fixed an issue with redirection
Fixed an issue with compilation
New popup design
Displayed the product qty added to the cart on the product listing page
Version 1.14.3
Last Update: Jun 05, 2018
Fix an issue with missing preloader was resolved
Version 1.3.5
Last Update: Oct 16, 2017
Magento 2.2 compatibility tested and confirmed
"Go to category" setting improved
Fix for adding product with options from Home Page
Other minor fixes
Add possibility for showing Cross-sell products at the popup window
Version 1.2.8
Last Update: May 23, 2017
Compatibility with downloadable products
Minor improvements for popup block
Improvement for situation when only one attribute is visible on category page
Better compatibility with Magento Color Swatches
Display prices in related products block in the shopping cart popup
Fixed issue with adding swatches from the homepage
New feature: Ability to show images of configurable's child products in popup window
Fixed issue with paypal button
Updated i18n data
Version 1.1.0
Last Update: Sep 13, 2016
Modified `update cart` functionality
Version 1.0.3
Last Update: Aug 31, 2016
Minor workflow improvements
Translation file added
Minor improvements