AJAX Shopping Cart for Magento 2 is a usability improvement for your store, aimed to make the shopping process simple and flawless for customers. Merchants know that if making purchases is pleasant and brings positive emotions, the clients become motivated to buy more and return to the store.
Appealing shopping experience
AJAX 'Add to cart' window benefits Magento 2 store
Purchase conformation pop up allows customers to add, edit and select quantity of items they want to place to the cart right from the category page. AJAX cart Magento 2 extension, implemented to your online shop, ensures that buyers don't waste time on loading product or cart pages.
Flying product image
There are few custom themes and design options for Magento 2 for now. AJAX cart extension enables great visual effects for your store that surely can become a part of a business style and make your store recognizable. If the add-on is enabled, product image scuds towards the shopping cart link when a customer adds an item to the cart.
Handy cart overview
Allow customers to have a quick glance at their purchases in an intelligent and convenient way. In Magento 2 based webstore AJAX add to cart window can be displayed every time a client adds an item to the shopping cart.
Dialog box contains:
Number of products in cart;
Current cart subtotal;
Name of the product which is being added to cart;
Related products.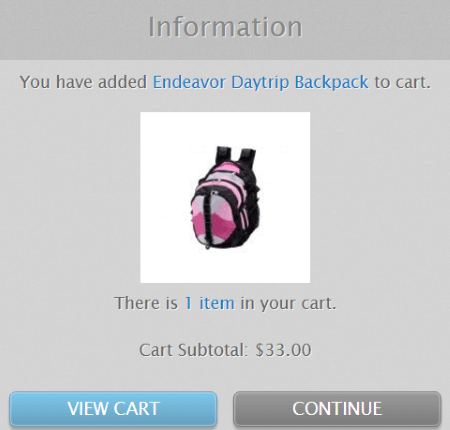 Magento 2 shopping cart provides flexible extension options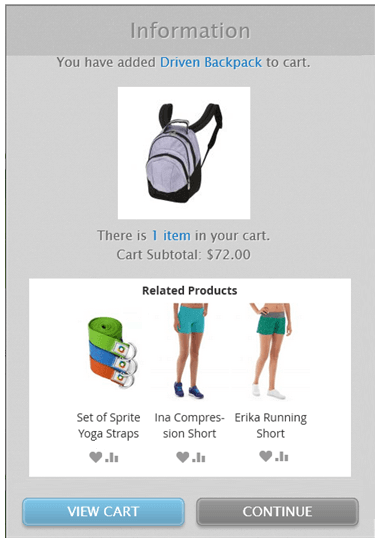 Related products block
Our Magento 2 shopping cart extension enables you to promote the products related to the one being added to cart. Such gentle promotion is aimed to offer your clients a range of complementing items. For example, if camera is the main purchase, suggest a case for it; customers will likely buy both items.
AJAX cart on Magento 2 product page
It's up to you to decide whether to implement Magento 2 add to cart module on product details pages of your store or not. 'Continue' button can lead customers to category page or leave them on product page.
Choose position for add to cart Magento 2 pop up
You can show AJAX cart anywhere in Magento 2 webstore. Try different positions for the dialog window and choose which one suits your store the most.
Display options for AJAX cart window in Magento 2:
Left/top left;
Right/top right;
Center;
Top.
Support of configurable products and custom options
AJAX cart is a pro solution for Magento 2 that also allows to edit configurable products and select custom options right from the category page with the help of handy dialog window. It is possible to display all custom options or only required ones. It saves your customers' a lot of time by not loading the detailed product view page.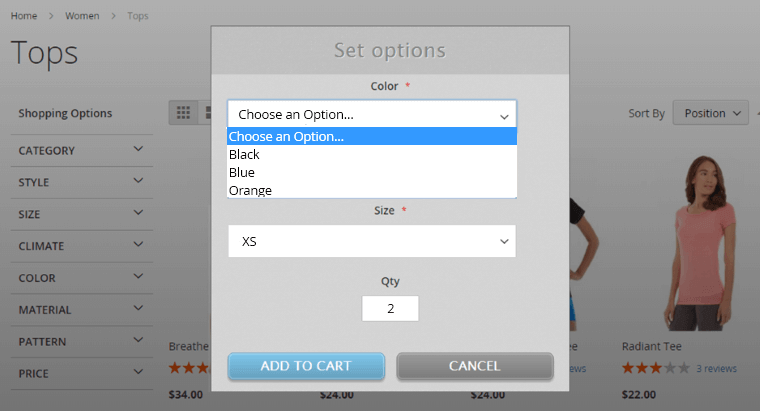 Other Features
100% Open Source — Easy To Customize
Follows Magento Code Architecture
Separated HTML/CSS/JS
Simple installation via Composer
* The name "Magento" and the logo are the trademarks of Magento, Inc.
Great product and support
I needed some customization after the installation and the support did it fast. Now the module is full of intelligent features and works the way I need. Thanks!
It works smoothly!
What I liked most is that the module does work out of the box. I haven't even addressed the free support or made any settings myself. Great job!
that's the ticket
I can say I've tried every possible solution but this's one I liked most. It's easy to install and use, you don't need to be a long-hair man to customize it, and the support of configurable products is the real thing.
it works like described
Simple and must have add on. It works like described. No any other support required.
Good job, guys!
I like that the extension was installed smoothly and now works without any bugs, thank you almost for this) Axaj cart loads fast even if you've applied a lot of settings, and btw display options are quite simple and handy. I remain satisfied)
ok
I'm a Magento developer myself, and I know how hard it is to code for Magento 2 (cudos to the prev review). I just saw it and I wanted to say I completely agree - Amasty is great with their code even in these hard circumstances when you basically have to fix the code a lot with each and every M2 version. Always using Amasty extensions on projects. Cheers!
good code
I customize almost all the extensions the team buys for the store, and believe me most magento 2 extensions are crap because people still don't know how to code for magento 2. This code is pretty good and I had no trouble changing it.
Write Your Own Review
Version 1.3.5
-
October 16, 2017
– Minor fixes
Version 1.3.4
-
September 14, 2017
– Magento 2.2 compatibility tested and confirmed
– "Go to category" setting improved
Version 1.3.3
-
August 23, 2017
– Fix for adding product with options from Home Page
– Other minor fixes
Version 1.3.0
-
June 13, 2017
– Add possibility for showing Cross-sell products at the popup window
Version 1.2.8
-
May 23, 2017
– Compatibility with downloadable products
Version 1.2.7
-
May 19, 2017
– Minor improvement
Version 1.2.6
-
March 29, 2017
– Minor improvements for popup block
Version 1.2.5
-
March 16, 2017
– Improvement for situation when only one attribute is visible on category page
Version 1.2.4
-
March 13, 2017
– Better compatibility with Magento Color Swatches
Version 1.2.2
-
November 24, 2016
– Display prices in related products block in the shopping cart popup
Version 1.2.1
-
November 08, 2016
– Fixed issue with adding swatches from the homepage
Version 1.2.0
-
October 03, 2016
– New feature: Ability to show images of configurable's child products in popup window
– Fixed issue with paypal button
– Updated i18n data
Version 1.1.0
-
September 13, 2016
– Modified `update cart` functionality
Version 1.0.3
-
August 31, 2016
– Minor workflow improvements
Version 1.0.1
-
June 21, 2016
– Translation file added
– Minor improvements