AJAX Shopping Cart for Magento 2 is an effective UX tool for any sort of a web store. Let your customers enjoy the shopping process, making it simple and flawless. Customize a dialog window, enriching it with options benefiting you and your customers.
AESTHETICALLY EXCELLENT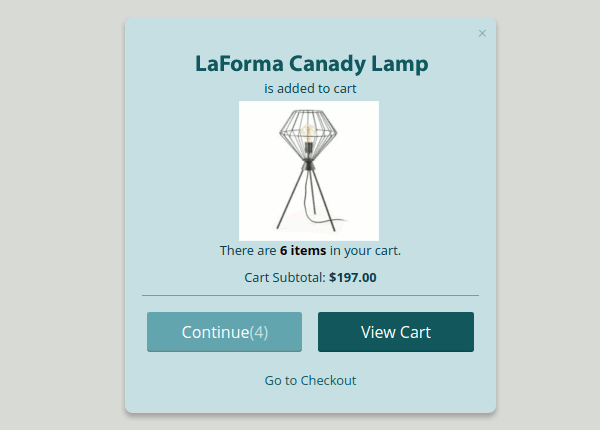 Customize pop-up
Specify colors of a dialog window to fit your original theme. Try variations, specifying a background color, two buttons, and text color.
Align pop-up
Choose from 6 positions, where to place a shopping cart window. Put a pop-up right or left to the product, or anywhere on the top of the page.
NEW | Employ flying effect
Employ an element of entertainment to engage customers even more with a flying effect.
BETTER SHOPPING EXPERIENCE
Options in the pop-up
Let customers specify the options of the simple products right in a dialog window when it is not possible on the catalog page.
Selling options
Include into the shopping card either related products or cross-sells. The products are displayed with the Add to Cart button.
Checkout and Continue buttons
On the pop-up, let customers choose either to continue browsing or go straight to the checkout. There are two customizable buttons available to display.
ADDITIONAL TWEAKS
Product quantity on listing
It is possible to highlight a number of already added to the cart items of a particular product. With a mouse hover over the product, customers see an exact product's amount they have selected.
Display a proper image
In a dialog window, choose whether to display an image of a configurable or a particular simple product.
Show Subtotal
Display total number of items already added to the cart as well as a total sum of the purchase.
Other Features
100% Open Source — Easy To Customize
Follows Magento Code Architecture
Separated HTML/CSS/JS
Simple installation via Composer
* The name "Magento" and the logo are the trademarks of Magento, Inc.
Great product and support
I needed some customization after the installation and the support did it fast. Now the module is full of intelligent features and works the way I need. Thanks!
It works smoothly!
What I liked most is that the module does work out of the box. I haven't even addressed the free support or made any settings myself. Great job!
that's the ticket
I can say I've tried every possible solution but this's one I liked most. It's easy to install and use, you don't need to be a long-hair man to customize it, and the support of configurable products is the real thing.
it works like described
Simple and must have add on. It works like described. No any other support required.
Good job, guys!
I like that the extension was installed smoothly and now works without any bugs, thank you almost for this) Axaj cart loads fast even if you've applied a lot of settings, and btw display options are quite simple and handy. I remain satisfied)
ok
I'm a Magento developer myself, and I know how hard it is to code for Magento 2 (cudos to the prev review). I just saw it and I wanted to say I completely agree - Amasty is great with their code even in these hard circumstances when you basically have to fix the code a lot with each and every M2 version. Always using Amasty extensions on projects. Cheers!
good code
I customize almost all the extensions the team buys for the store, and believe me most magento 2 extensions are crap because people still don't know how to code for magento 2. This code is pretty good and I had no trouble changing it.
Write Your Own Review
Version 1.4.4
-
March 19, 2018
– Fixed an issue with compilation
Version 1.4.3
-
March 14, 2018
– Minor improvements
Version 1.4.2
-
March 06, 2018
– Minor improvements
Version 1.4.1
-
February 12, 2018
– Minor improvements
Version 1.4.0
-
January 19, 2018
– New popup design
– Displayed the product qty added to the cart on the product listing page
Version 1.3.5
-
October 16, 2017
– Minor fixes
Version 1.3.4
-
September 14, 2017
– Magento 2.2 compatibility tested and confirmed
– "Go to category" setting improved
Version 1.3.3
-
August 23, 2017
– Fix for adding product with options from Home Page
– Other minor fixes
Version 1.3.0
-
June 13, 2017
– Add possibility for showing Cross-sell products at the popup window
Version 1.2.8
-
May 23, 2017
– Compatibility with downloadable products
Version 1.2.7
-
May 19, 2017
– Minor improvement
Version 1.2.6
-
March 29, 2017
– Minor improvements for popup block
Version 1.2.5
-
March 16, 2017
– Improvement for situation when only one attribute is visible on category page
Version 1.2.4
-
March 13, 2017
– Better compatibility with Magento Color Swatches
Version 1.2.2
-
November 24, 2016
– Display prices in related products block in the shopping cart popup
Version 1.2.1
-
November 08, 2016
– Fixed issue with adding swatches from the homepage
Version 1.2.0
-
October 03, 2016
– New feature: Ability to show images of configurable's child products in popup window
– Fixed issue with paypal button
– Updated i18n data
Version 1.1.0
-
September 13, 2016
– Modified `update cart` functionality
Version 1.0.3
-
August 31, 2016
– Minor workflow improvements
Version 1.0.1
-
June 21, 2016
– Translation file added
– Minor improvements