Custom Product Sorting for Shop by Brand (Add-On)
for Magento 2
Promote particular brand products by customizing their positioning on brand pages. Change products order manually or automatically with the Custom Product Sorting add-on for Shop by Brand.
Drag and drop products for all brand pages
Adjust automatic sorting options
Pin specific products in one click
Move items to the top and through the pages
Use only as an add-on to Magento 2 Shop by Brand and Navigation Pro extensions
Challenge
Shop by Brand extension includes advanced options for brand pages customization. But when it comes to brand product management, merchants face specific problems with reordering, as it is impossible to change product position in brand listing.
Solution
With the Custom Product Sorting add-on, you can promptly adjust products order on brand pages according to your marketing needs. Manage items positioning either manually or automatically and customize each product list separately to meet multiple goals.
How to benefit with the add-on
Increase conversions of particular products by placing them at the top of listing
Provide improved shopping experience by displaying featured products first
Reduce time spent on management with automatic sorting options
Target each brand page with flexible sorting options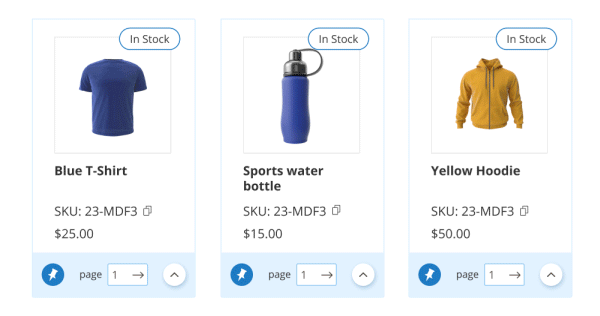 Reorder products via drag-and-drop
Simply set the necessary product order
using the drag-and-drop functionality. When you change items position, the Manual mode is enabled automatically, which allows you to reorder products fast and effectively.
Move items to the top
For marketing purposes, you may need to push particular products right to the top of
the listing. You can easily do it with the Move to top button, which is placed at the bottom
of each item container.
Apply automatic sorting algorithm
The add-on includes automatic sorting options as well. To speed up brand pages customization, you may preselect sorting by stock availability, price, name or simply place the newest products higher.
Pin products to fixate its position
Even if you apply an automatic sorting mechanism, you can still place particular products in a stable position - just hit the 'Pin' button. The rest sorting options will not affect the position of the pinned items.
Shift items between pages
As each brand page has a limit of items that can be displayed, some of them will be moved to the next page. But you can easily choose which products will be shown on the first one to boost their conversions. Use the page number field and move products the way you prefer.
Easily find products by SKU
To make product listing management less time-consuming, you can use the 'Search' window and find products in a few clicks even in large catalogs. Moreover, you can copy the SKU right from the product container.
Let shoppers filter products by their favorite brands
The add-on works only as a component of Shop by Brand for Magento 2 and Navigation Pro extensions. Provide customers with enhanced brand presentation and highlight featured products to improve the shopping experience.
Other Features
100% Open Source — Easy To Customize
Follows Magento Code Architecture
Separated HTML/CSS/JS
Simple installation via Composer
* The name "Magento" and the logo are the trademarks of Magento, Inc.
Exellent!
Excellent work!
good job amasty
A good add-on to improve your store. Really makes product listing management faster. It seems to work well. So far I am satisfied.
Are you looking to add specific functionality for this extension or want to acquire a reliable development partner altogether? With custom development services by Amasty, you will receive high quality and cost-effective solutions developed by Magento professionals according to industry's best practices.
2.4.2-p1, 2.3.7, 2.4.2, 2.4.1-p1, 2.3.6-p1
You can always download the recent version free of charge from your account
Installing an upgrade is easy — check now
My Downloads
Version 1.0.6
Last Update: Oct 22, 2020
Fix we fixed the issue occurred upon indexation in case brand attribute is not chosen
Fix we corrected the the mismatch of items' position and quantity displayed on the storefront in comparison with backend configuration
Compatibility compatibility with Amasty Elastic Search was enhanced
Fix we resolved the issue with menu styles in admin area
Fix we corrected the display of products on multistore Magento instances
Fix we resolved the issue with misapplied sorting upon reindex run
Fix issue with admin category page was resolved