Visual Merchandiser
for Magento 2
The extension offers a wide range of options to customize product listing on category pages according to your marketing purposes.
Use drag-and-drop sorting for all categories
Benefit from multiple ordering options
Pin, move products to the top and through the pages
Apply different rules and conditions
Automatically add products to virtual categories
Some of our customers complained about not being able to visually merchandise categories in their stores. With Visual Merchandiser for Magento 2, you can promptly create catalog pages with any sorting order you need, managing your products either manually or automatically.
Tailor each single category page with Visual Merchandiser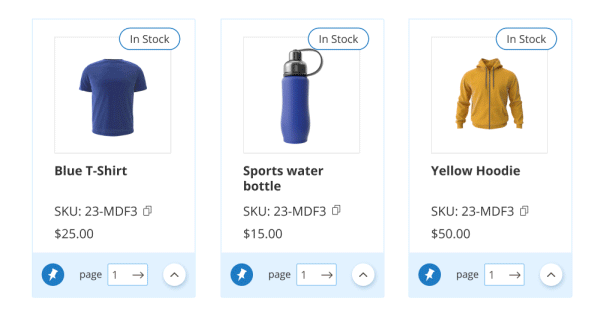 Drag-and-drop
In Manual mode, simply drag and drop the items to any place in the product listing to enhance marketing effectiveness.
Move to top
In each product container, there is a button to push this product directly to the first position in the product listing.
Pin products
If you know exactly where some products should be placed, you have the option to fix them in a stable position.
What benefits do you get for your store
It is super time-saving since you don't have to specify the order number for every single product
You can create multiple flexible landings with any conditions to engage customers more
The improved indexing works accurately with the ordering and sorting updates
Move products through the pages
Choose any page you want a particular product or products to be displayed on. Just change the page number on the bottom of the product card for a product you want to move. As the page number is changed, the product becomes last on this page.
Copy product SKU in one click
Simply tap a little symbol near the product SKU to copy it in one click. Now it's on your clipboard, paste the info wherever you want.
Enhance your catalog management
by adding virtual categories
Set and Import Conditions
Set conditions based on the attributes to display only the desired group of products. Save your time by duplicating the conditions of a particular automatic category to another one with additional moderation.
Find Products by SKU
Employ a search box, which the catalog listing is equipped with to easily find the necessary products by SKU or name within the current automatic category.
Virtual Category
No need to re-assign products for the virtual CMS categories - Magento 2 merchandising page builder allows you to set a flexible condition that covers your marketing needs. The extension will automatically refresh all the products in this category.
Use Merchandiser For Regular Categories
Easily sort and preview products from any category of your webstore. Products' merchandising is available as for dynamic categories so for regular ones.
Employ various types of automatic sorting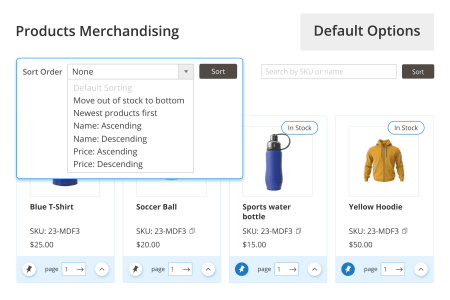 Ordering options
Magento 2 Page Builder extension provides you with a half a dozen ways on how to sort your product listing. Use price or name ordering, show newest products first or push out-of-stock items to the bottom of the listing.
Increase sales with improved sorting
Engage customers by displaying the most popular products at first and thus drive more sales. Due to the synergetic work with the
Magento 2 Improved Sorting
extension, you're able to automatically order products by 'Top Rated', 'Most Viewed', 'Best Sellers', 'Biggest Saving', 'Reviews Count' and 'Now in Wishlists'.
Product popularity insights + Flexible merchandising = Higher profits
The magic of higher customer engagement greatly lies in smart merchandising: get the insights about the products' popularity through the
Magento 2 Out of Stock Notification
and then provoke more spontaneous purchases with the Magento 2 Visual Merchandiser by moving these products to more relevant positions of your store!
Support
Magento 2 Visual Merchandiser goes with personalized consultation and assistance from our experienced Magento certified support team. We will be happy to help and answer all your questions.
Development
The intuitive UI allows you to save admin's time and enjoy flawless backend experience. The flexible configuration provides full control over categories for larger catalogs management.
Business expertise
The 9-year experience in e-commerce helps us to understand our clients' needs better. With our extensions, we have solved problems of thousands of online businesses across the world.
Other Features
100% Open Source — Easy To Customize
Follows Magento Code Architecture
Separated HTML/CSS/JS
Simple installation via Composer
* The name "Magento" and the logo are the trademarks of Magento, Inc.
Easy to install and no bugs
ExtraDigital, Senior Developer
I was looking for an easy way for customers to reorder their products, and now we have happy customers. Easy to install and no bugs. Amasty extensions are always well built and their support responds to issues fast!
Amasty answer
Jul 15, 2020
Kira Pomaleyko
/ Lead Support Manager
Thanks, Jason, for the kind words about our support services and the quality of our extensions! We're proud to have you as our customer and happy to hear that you find our products and services helpful.
A great and easy tool to use
directondergoed.nl, Owner
Visual Merchandiser is used for 6 month. The thing I wanted to solve is to order my products better. A great and easy tool to use. My dev team configured it easy and it is very user friendly. I would recommend this tool big time. We use it on www.directondergoed.nl with success.It is very easy and give that extra options to your Magento 2 store.
Amasty answer
Mar 13, 2020
Natalya Chekanina
/ Head of Sales Team
Hi Pieter! Thank you for choosing our extensions. We are glad that you appreciate their quality. We would be happy to see you in our store again!
We were provided excellent support and fixed perfectly
Navitelia Industries, Director
I've been using extention for 3 years. The issue was sorting items when disabled in the category. We were provided excellent support and fixed perfectly. It is easy to use. I would recommend this extention to fashion or collection based companies who want to put emphasis showing the same line of products together without spending hours dealing with the native magento position numbers. We have some visual merchandising managers who use every day. Thanks for all.
Amasty answer
Jan 28, 2020
Natalya Chekanina
/ Head of Sales Team
Dear Guillermo! Thank you for choosing our extensions, I'm glad that you appreciate their quality. We would be happy to see you in our store again!
Very useful extension
E-Commerce & Systems Manager
A great tool for merchandising product categories. Would be useful to see the hidden items as 'greyed out' so that they can be positioned correctly prior to enabling them, would certainly speed things up when launching new products.
Recommended
This is an automated tool that creates virtual categories with minimal effort. It helps us make smarter business decisions.
Useful extension. Worth the money!
Really useful extension. It can take some time to get it configured and but once you do, it's great. The customer support can't be better. They are really quick and helpful. Thanks a lot for your efforts!
Fit our needs perfectly
This extension works just fine. It allows us to have the dynamic categories based on rules for our retail store. We did look at other extensions on the market but found this was most suitable. Easy install and use. Thanks!
Do you have any questions?
Schedule a demo and get all the answers you're looking for!
book a live demo
Are you looking to add specific functionality for this extension or want to acquire a reliable development partner altogether? With custom development services by Amasty, you will receive high quality and cost-effective solutions developed by Magento professionals according to industry's best practices.
2.4.2-p1, 2.3.7, 2.4.2, 2.4.1-p1, 2.3.6-p1
You can always download the recent version free of charge from your account
Installing an upgrade is easy — check now
My Downloads
Version 1.5.2
Last Update: Oct 26, 2020
Improvement now an explanatory message and instructions are displayed upon setup:upgrade process if the required Visual Merchandiser Core system package is not installed
Fix we resolved the issue with setting of negative position values to products
New now you can use categories as condition for assigning products to Automatic Category. Kindly note: only categories with physically assigned products will participate in condition applying
Improvement we moved indexing to a separate submodule to optimize performance and improve working with eav attributes
Fix we corrected the functioning of 'Add or Remove Products' button
Version 1.4.4
Last Update: Sep 17, 2020
Improvement now products with only Search visibility are hidden from Product Merchandising tab
Fix we resolved the issue with invalidated Category Products indexer
Fix we corrected the behavior of extension in case several categories are edited and saved at the same time
Improvement now categories in Automatic mode can't be saved without conditions applied
Improvement we made extension's category attributes non-required out of the box to avoid possible issues upon Magento Import process
Fix we resolved the issue with incorrect placement of pinned products on the frontend
Fix issue with empty category products was resolved
Compatibility compatibility with MSI was enhanced
Fix we resolved minor issue with Out Of Stock label displaying in backend
New we introduced a new design for Products Merchandising tab
New we added an option to move products from page to page while merchandising them
Version 1.3.17
Last Update: Jan 03, 2020
Fix issue with product sorting was resolved
Fix we resolved the incorrect behavior of pagination section in admin panel during products merchandising
Compatibility we improved compatibility with Amasty Improved Sorting plugin
Fix we resolved the issue occurred on moving of out of stock products to bottom in admin panel
Compatibility enhanced compatibility with Amasty Landing Pages
Fix issue with category saving if there are no products assigned was resolved
Fix issue with adding products from another website was resolved
Fix issues with install script were resolved
Fix issue with "is one of" condition was fixed
Fix issue with text attribute indexation was fixed
Fix issue with reindex was resolved. Now changing of products' positions in admin panel results in the same order on frontend after the reindex is finished
Fix the issue with Upgrade script was resolved
Fix the issue with product positions was resolved
Fix the issue with product attributes indexation was fixed
Compatibility the compatibility with Magento 2.1.x was improved
Fix an issue with the category product link for disabled products was resolved
Fix an issue with the category manipulation from the product page was resolved
Fix an issue with SKU condition appearance was resolved
Fix an issue with the configurable product (parent) does not show up in 'on Sale' condition when simple product is on Sale was resolved
Improvement the category page display with empty product conditions for big catalog was enhanced
Compatibility the compatibility with Magento 2.3.0 was enhanced
Fix an issue related to the processing status displayed constantly on category tree was resolved
Fix an issue with the catalog search indexer run instantly after data changes was resolved
Fix an issue with compilation on Magento 2.3.0 was resolved
Compatibility compatibility with Amasty Mass Product Action extension was added
Fix an issue with new category creation was resolved
Fix the issue with the missing index data after manual reindex was resolved
New possibility to use Merchandiser tab for usual categories was added
Compatibility compatibility with Amasty Landing Pages extension was added
Version 1.2.2
Last Update: Nov 17, 2018
Improvement Compatibility with Magento EE was improved
Fix the issue with the 'unknown column' message during indexation on Magento EE was resolved
New new sorting options were added. Now admin is able to sort products by Top Rated, Most Viewed, Best Sellers, Biggest Saving, Reviews Count, Now in Wishlists
Improvement the product SKU was added to the product thumbnail
Improvement the flush cache action after reindex was added
Fix an issue with the missing composite products in results has been fixed
Fix minor design issues were resolved
Version 1.1.0
Last Update: Oct 29, 2018
New allows admin to search the products by SKU or name at the Products Merchandising tab in order to find the required product quickly on multi page products list
New allows admin to import the conditions from other automatic category to retrieve matching products quickly
Fix minor issues were resolved