Screenshots:
Want to improve customer shopping experience and help visitors to make purchase decisions much faster? With the Quick View extension for Magento 2 you'll streamline catalog browsing by displaying product details in a handy preview window on the category page. Let customers instantly find necessary product information, add items to cart or to a comparison list right from the quick view pop-up.
IMPORTANT
The Quick View Magento 2 extension is compatible with any Magento theme and runs smoothly on all mobile devices. The module is also highly compatible with any Amasty and 3d party plugins for product pages.
Advanced features for quick view display
Highly configurable quick view settings
Due to the flexible module settings you can also easily customize the 'Quick View' button display according to your needs.
For the 'Quick View' button you can specify:
Background color;
Button position;
Button size;
Button text etc.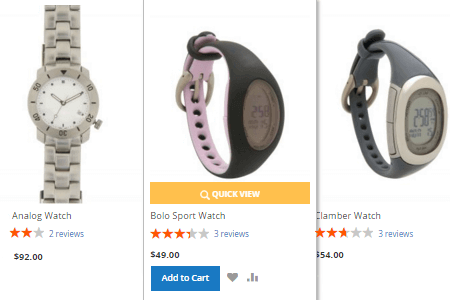 Informative product preview window
With the quick view Magento 2 tool customers don't have to waste time on loading numerous product pages in order to learn more about the items they need. All necessary information is displayed in a handy pop-up window on a category page.
On a quick view window you'll find:
Product images;
Short and detailed descriptions;
Product stock status and price;
Reviews and additional information;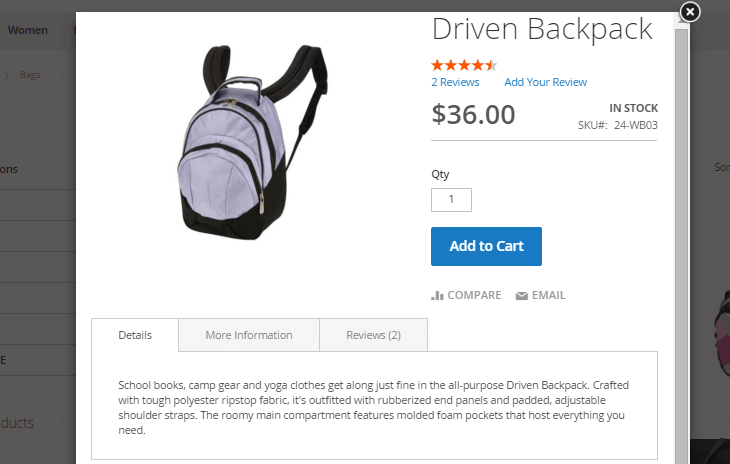 Multiple options
The Magento 2 quick view extension enables store visitors not only to preview product info, but to add items to cart and perform other actions like on a real product page.
Perform the following actions:
Add products to cart;
Add products to comparison list;
Send an email;
Write product reviews;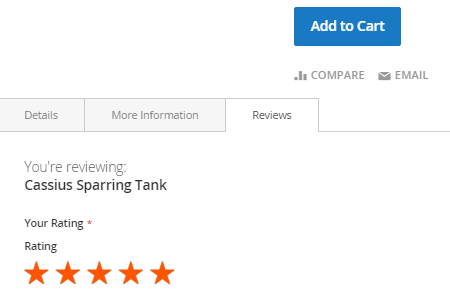 Other Features
100% Open Source — Easy To Customize
Follows Magento Code Architecture
Separated HTML/CSS/JS
Simple installation via Composer
* The name "Magento" and the logo are the trademarks of Magento, Inc.
helpful
Thanks to Vitaly from the support, he said how to adjust the module so t works with our complicated theme for Magento 2. Happy new year!
Write Your Own Review
Version 1.0.6
-
January 17, 2018
– Minor fixes
Version 1.0.5
-
January 05, 2018
– Minor fixes
Version 1.0.4
-
December 12, 2017
– Minor fixes
Version 1.0.3
-
November 08, 2017
– Updated the jQuery fancybox library
– Code style improvements
Version 1.0.2
-
February 15, 2017
– Usability improved for mobile devices (related to touch)
Version 1.0.1
-
June 03, 2016
– Minor improvements