Quick View
for Magento 2
Let customers preview product information and add necessary items to cart right from the quick view window on a category page. Speed up catalog browsing process to provide customers with positive shopping experience.
Preview product info on a category page
Add products to cart from the quick view window
Write and submit reviews from the preview pop-up
Customize quick view button
Improve product browsing process
Want to improve customer shopping experience and help visitors to make purchase decisions much faster? With the Quick View extension for Magento 2 you'll streamline catalog browsing by displaying product details in a handy preview window on the category page. Let customers instantly find necessary product information, add items to cart or to a comparison list right from the quick view pop-up.
IMPORTANT
The Quick View Magento 2 extension is compatible with any Magento theme and runs smoothly on all mobile devices. The module is also highly compatible with any Amasty and 3d party plugins for product pages.
Advanced features for quick view display
Highly configurable quick view settings
Due to the flexible module settings you can also easily customize the 'Quick View' button display according to your needs.
For the 'Quick View' button you can specify:
Background color;
Button position;
Button size;
Button text etc.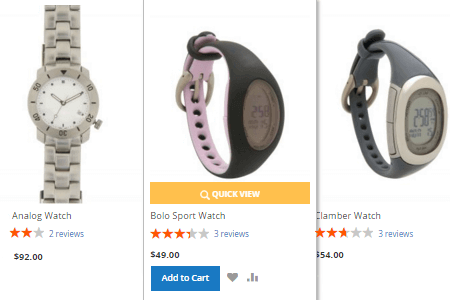 Informative product preview window
With the quick view Magento 2 tool customers don't have to waste time on loading numerous product pages in order to learn more about the items they need. All necessary information is displayed in a handy pop-up window on a category page.
On a quick view window you'll find:
Product images;
Short and detailed descriptions;
Product stock status and price;
Reviews and additional information;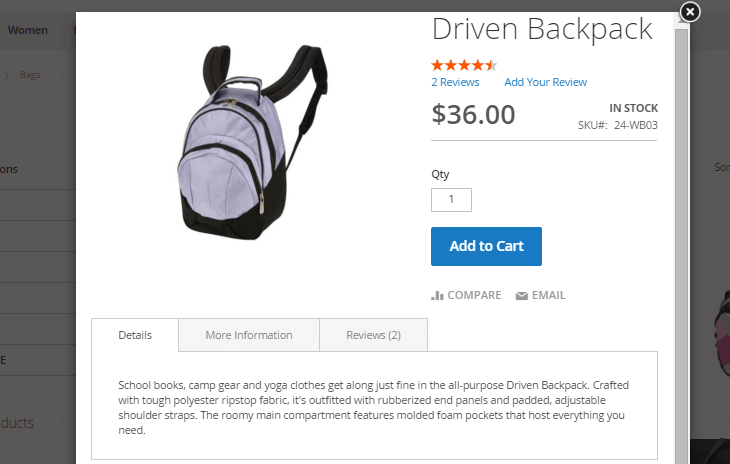 Multiple options
The Magento 2 quick view extension enables store visitors not only to preview product info, but to add items to cart and perform other actions like on a real product page.
Perform the following actions:
Add products to cart;
Add products to comparison list;
Send an email;
Write product reviews;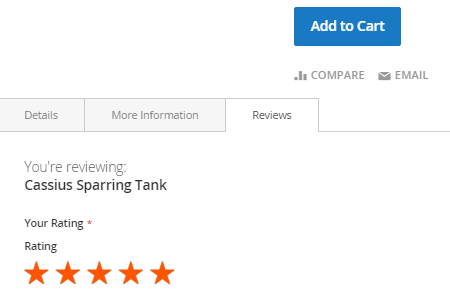 Product questions

Is it possible to remove specific blocks from the Quick View popup?

It is indeed possible to make changes to the popup contents by performing the code changes. Please, make backups of the files you modify to be able to restore the originals and proceed with the following guide: https://amasty.com/docs/doku.php?id=magento_2:quick_view#how_to_delete_a_block_from_a_quick_view_window
Other Features
100% Open Source — Easy To Customize
Follows Magento Code Architecture
Separated HTML/CSS/JS
Simple installation via Composer
* The name "Magento" and the logo are the trademarks of Magento, Inc.
Great products
Arabian Oud, Ecommerce Manager
Adding values for sales. Good but waiting better service.
Amasty answer
Jan 10, 2020
Natalya Chekanina
/ Head of Sales Team
Dear Nabel, thank you for your review! We would be happy to see you in our store again!
helpful
Thanks to Vitaly from the support, he said how to adjust the module so t works with our complicated theme for Magento 2. Happy new year!
Are you looking to add specific functionality for this extension or want to acquire a reliable development partner altogether? With custom development services by Amasty, you will receive high quality and cost-effective solutions developed by Magento professionals according to industry's best practices.
Magento 2.2, 2.3, 2.4
You can always download the recent version free of charge from your account
Installing an upgrade is easy — check now
My Downloads
Version 1.2.1
Last Update: Feb 24, 2020
Fix we corrected the behavior of quick view pop-up in case of enabled Redirect to Shopping Cart after adding a product
New we added configuration for selectors to make plugin more easily customizable and therefore compatible with custom themes
Fix we corrected minor styling issues on the storefront
Version 1.1.0
Last Update: Aug 15, 2019
Compatibility we added the compatibility with Amasty Automatic Related Products extension and with the default magento related products
Version 1.0.16
Last Update: Jun 03, 2019
Fix minor js issue was resolved
Fix a issue with popup was resolved
Compatibility compatibility with Amasty Advanced Search extension was improved
Fix an issue with cart displayed in pop-up was resolved
Compatibility the issue with quick view page title on Magento 2.2.5 was resolved
Fix the issue with showing Quick View button on product list view was fixed
Compatibility the compatibility with the Amasty Ajax Scroll extension was improved
New the information section was added. Now, you can see the version of the installed extension, available updates, the user guide link, conflicts and other useful information right on the module configuration page
Improvement the configuration page was enhanced
Fix the issue with closing a popup when a product is added to the cart was resolved
Improvement added the option to disable Fancybox library if Fancybox is already used on the site to avoid conflict
Improvement allows to change the 'Quick View' button text per store view
Updated the jQuery fancybox library
Code style improvements
Usability improved for mobile devices (related to touch)