Duplicate Categories
for Magento 2
Save your time on store management and duplicate Magento 2 categories in seconds. Use this tool for effective multi-store setup, too!
Duplicate categories and subcategories fast
Copy category assignments for products
Modify content for duplicate categories
Save hours on product management
Duplicate categories in all store views
Instantly simplify product management
When managing your Magento 2 store, you often need to copy product categories. Creating new categories with the same settings and assigning products again and again can be time consuming! To save your efforts for other important tasks, we created Magento 2 Duplicate Categories.
Save time on routine operations
Now you don't have to create duplicate categories for Magento 2 manually, spend time on assigning products or check if you created a full duplicate without mistakes in settings. The tool creates accurate category duplicates in seconds!
Choose parent category for duplicates
The tool allows you to choose a parent category when creating a category copy. You'll be able to place the copied category where you need it.
Control duplication settings
You can choose whether to copy only the selected category or to duplicate the category with included subcategories.
Control product relations
Choose this option if you want the products to be assigned to the duplicate category. Need to copy only the category? Uncheck it while copying, and your category or subcategory will be duplicated without any products assigned to it.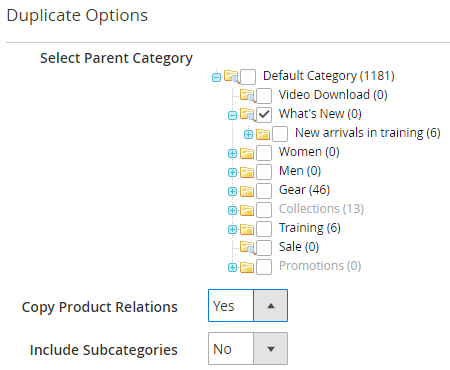 Works for accurate for multi-store setups
The tool allows you to easily copy Magento 2 categories across all of your store views. What is more, the extension accurately handles copying categories which have different names and other attributes in different store views. Say, you have a category with ID=3, which is Laptops for English store view and Notebooky for Czech store view. If you copy this category, all the attributes will be copied according to the store view. Copied Laptops category will be in English, and copied Notebooky will have the Czech description, just as the source category.
Make instant changes to duplicate categories
Easily find and replace content in name, description, meta keywords and meta description fields while duplicating.
For example, you want to copy your Laptops category and rename it to Cheap Laptops. Just search for 'Laptops' while duplicating and replace it with 'Cheap Laptops'. Your category is duplicated and the required changes are applied automatically.
Duplicate category rules in Magento 2 Enterprise
Magento 2 Enterprise Edition allows store admins to set flexible rules to include products in a particular category. With this extension, you can duplicate these rules and child categories rules when creating the exact copy of a category. However, this functionality is limited to the Magento 2 Enterprise Edition only.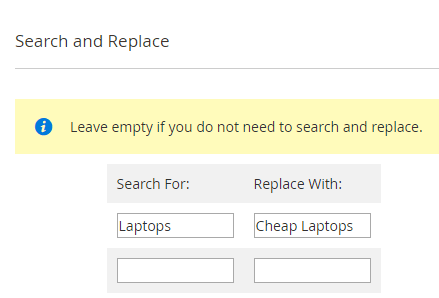 Other Features
100% Open Source — Easy To Customize
Follows Magento Code Architecture
Separated HTML/CSS/JS
Simple installation via Composer
* The name "Magento" and the logo are the trademarks of Magento, Inc.
Excellent
Moto Machines, Owner
This mod saves time and improves efficiency. Super!!!
Amasty duplicate categories saves time and improves efficiency. The support is superb!
Amasty answer
Apr 01, 2019
Natalya Chekanina
/ Head of Sales Team
Dear Edward, thank you for your review! We would be happy to see you in our store again!
Witty and helpful
This is witty and accurate, really helpful module. I wonder how many time we saved. Thanks to Amasty!
Are you looking to add specific functionality for this extension or want to acquire a reliable development partner altogether? With custom development services by Amasty, you will receive high quality and cost-effective solutions developed by Magento professionals according to industry's best practices.
Magento 2.2, 2.3, 2.4
You can always download the recent version free of charge from your account
Installing an upgrade is easy — check now
My Downloads
Version 1.0.5
Last Update: Feb 11, 2021
Fix we fixed the issue with existing URL key while duplicating categories
Fix the issue when a newly duplicated category without sub-categories has the 'expand' icon was resolved.
Fixed an issue with the category rules in Magento Commerce (Enterprise)
Fixed an issue with expanding category URL to the duplicated category page
Minor code improvements
Compatibility with Magento 2.1
Added translation file
Minor fixes