FAQ and Product Questions
for Magento 1
Let customers ask questions right on product pages to instantly receive any specific information they need. Create and manage your own product knowledge base to provide store visitors with the answers to the most frequently asked questions.
Enable customers to write questions on product pages
Manage questions and answer them from the backend
Create informative FAQ section
Customize Magento knowledge base page layout
Let customers rate answers
EU's GDPR compliant
Looking for an easy-to-use tool to improve your customer service and enhance user satisfaction with minimal effort? Due to the advanced FAQ and Product Questions extension you'll provide store visitors with a great opportunity to ask about any details right on product pages and get precise answers from store administrators. Moreover, with the Magento FAQ extension you can create and manage your own knowledge base, assign questions to corresponding topics and let customers rate your answers. Moreover, the module is completely GDPR compliant right out of the box. If you want not only a single module but the entire store to be compliant, you can take a look at our Magento GDPR tool.
Create and manage FAQ section
Key features:
Accurately organize FAQ Magento section by topics
Let customers rate answers
Enable quick search by tags and topics
Attach files and images to answers
Create short SEO-friendly URLs
Customize Magento knowledge base layout
Display CMS blocks on the knowledge base page
Display related questions
Assign questions to corresponding products

Let customers ask questions on the FAQ page

Benefit from optimizing for Voice Search
At least one-fifth of the queries on Google are voice searches. And the indicator is stably growing. That's why optimizing for voice search becomes crucial for your SEO success. To make your site appear in voice search, your content should rank high in organic search results.
With Magento 1 FAQ and product questions, you will significantly enrich your content and get top positions in SERP. Moreover, FAQ and product questions often get to Google "zero results", which appear above the traditional #1 ranking position. All this drastically influence the chance of your site getting to voice search results.
Easily fill FAQ section with questions
Due to the flexible FAQ Magento extension you can enrich your Magento knowledge base either with your own questions or add the most popular questions left by store visitors on product pages. This way you won't have to spend time on collecting and rewriting customer questions and will be able to quickly grow your knowledge base.
Add questions to corresponding topics
With the FAQ Magento 1 module you can create as many different topics as you need. Assign questions to one or multiple topics to help customers easily navigate your FAQ section.
Create nice looking direct links
Specify short SEO-friendly URLs for each topic and question you create to help customers easily share useful information with others and add pages with answers to bookmarks.
Assign questions to products
Make any questions visible on corresponding product pages. Assign customer questions as well as the questions added by admin users to store products, thus helping users find the answers to most frequently asked questions not only in the Magento FAQ section, but right on the product page.
Enable quick search
Let shoppers quickly find necessary information in the knowledge base. Enable them to search by question tags, topics or among the questions displayed under topic titles. Also, you can limit the number of search results per page.
Let customers ask questions on FAQ pages
In case customers don't find information they need, they can ask a question right on the Magento FAQ page and get an instant answer from an admin user.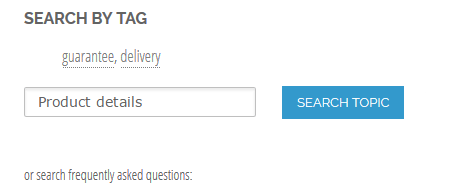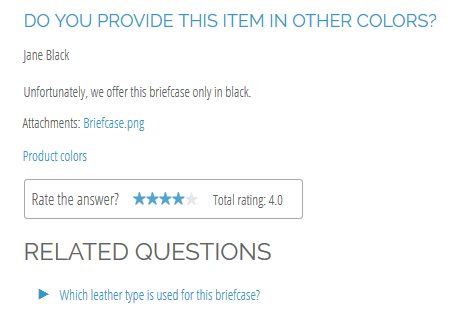 Show related questions
Admin users can choose which questions to show as related. The two-way relation option automatically makes selected questions mutually related to each other.
Enable questions rating
Let visitors rate your questions on product and knowledge base pages either with stars or like/dislike criteria. See which information helps them and improve your content accordingly.
Customize knowledge base display
Due to highly adjustable FAQ Magento extension settings you can choose the layout type to match your custom theme. It's also possible to display any selected CMS block on the FAQ section page.
Social sharing buttons for question pages
Add apealing social media buttons to allow your visitors share the FAQ content in a click. Enable or disable social sharing buttons and adjust the list of the available social media. Spread your knowledge base content and attract new visitors to the store.
Comply with GDPR EU requirements
Magento FAQ module comes with the built-in functionality to meet the latest GDPR EU requirements. Now, a user should agree with your privacy policy and give a consent for personal data processing before submitting a question.
Let customers ask questions on product pages
Key features:
Add a questions tab to product pages
Display a popup question form
Process and answer questions from the backend
Add customer questions to the knowledge base
Customize answers page layout
Enable new question notifications for admin users
Send answer notifications to customers
Show "Ask a question" link on product pages

Enable customers to ask questions on product pages
Let store visitors ask questions right from product pages with a handy question form displayed in a popup. Show an additional "Ask a Question" link on top of a product page to help customers quickly find and fill in the question form.
Add a tab with questions to product pages
Display a questions tab on each product page to help users find useful information about the item they are going to purchase. The tab can be filled in with customer questions as well as with the ones added by admin users.
Flawless data transfer to Magento 2
If you are moving to Magento 2 and the appropriate version of FAQ and Product Questions extension, than you can quickly export all the knowledge base to tranfer it to your new store.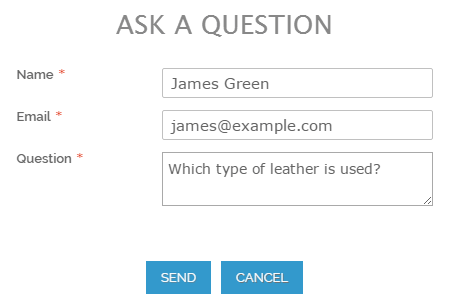 Use advanced notifications
Send email notifications to customers once the answer to their question is posted. Apart from that, the Magento product questions extension supports an admin notification feature. Therefore, each time a new question is sent by a store visitor, the administrator will be instantly notified.
Quickly process customer questions
View and manage all customer questions on a handy Questions grid. The Magento product questions module enables you to delete selected questions in bulk right from the grid. Assign questions to necessary topics or product pages, write answers and edit customer info just in a few clicks.
Built-in spam and fraud protection with Google Invisible reCaptcha
The Magento FAQ and Product Questions extension comes with the built-in magento captcha extension that protects your question form from spam and frauds. Benefit from the most advanced security tool and boost your store security.
Other Features
100% Open Source — Easy To Customize
Follows Magento Code Architecture
Separated HTML/CSS/JS
Simple installation via Composer
* The name "Magento" and the logo are the trademarks of Magento, Inc.
Great support
SafeGear, E-commerce Manager
Description of how it should work from a marketing perspective should be improved, we found errors and other details. But I agree on great support
Amasty answer
Nov 20, 2019
Natalya Chekanina
/ Head of Sales Team
Dear Safegear, thank you for your review! We would be happy to see you in our store again!
Great support
Although the extension needs some finetuning as a captcha and maybe some rich snippet features. This is a very nice add on for each store. Amasty development crew is nice and fast, as always.
Awesome!
This is really an amazing FAQ extension. The settings are easy to understand and set up, the feature is really useful.
Some suggestions
I've been using this module for a few weeks already. I like its simplicity, the settings are intuitive, and it's very easy to create questions. However, I have a few suggestions for Amasty that will help to make this FAQ extension even better:
- add a new column to the grid where I can search for the products to which questions are assigned. This would make the process of managing the QA section much easier.
- one more thing is to add a column for topics where questions belong to, like general, shipping questions, etc.
- add a possibility to customize the FAQ tab on product pages. Though current look is quite good, i would still like to have a few sections instead of one.
I'll be waiting for updates!
Nearly perfect
Worthy plugin, easy to configure and manage. All features work as in the description. The only issue that prevents me from calling it totally perfect is the lack of possibility for customers to answers questions of other customers. This option would definitely enriched the pool of useful info and helped to gather customer feedback.

All in all, the app definitely met our expectations.
Are you looking to add specific functionality for this extension or want to acquire a reliable development partner altogether? With custom development services by Amasty, you will receive high quality and cost-effective solutions developed by Magento professionals according to industry's best practices.
CE 1.4.x - 1.9.x, EE 1.8.x - 1.14.x
You can always download the recent version free of charge from your account
Installing an upgrade is easy — check now
My Downloads
Version 1.6.7
Last Update: Jun 02, 2020
Fix we adjusted the processing of url_key for successful validation during the import process to Magento 2.
Compatibility the compatibility with 'Full Page Cache Warmer' on product page for Enterprise Magento versions was resolved
Fix the problem with error on product page when question was asked and module 'Mage_Captcha' was disabled was resolved
New the ability to hide product questions on the home FAQ page was added
Improvement now a customer will be redirected back to the previous page after submitting a question
Fix the issue with errors after merging CSS was resolved
New the ability to set the number of Search Results per Page was added
Improvement the https compatibility was improved
Fix the short answer layout issue was resolved
New the functionality to comply with the latest GDPR EU changes was added
Version 1.5.1
Last Update: May 21, 2018
Fix the issues with the tags display on different store views were resolved
New social sharing buttons for question pages were added
New the setting for the question tags display was added
New the feature to export data from the extension to import in the Magento 2 FAQ and Product Questions extension was added
Fix the problem with breadcrumbs when a theme does not support breadcrumbs was resolved
Fix the issue with a message rendering after submitting a question on FAQ page was fixed
Version 1.4.3
Last Update: Mar 29, 2018
Compatibility with Amasty AJAX Shopping Cart was improved
Fixed an issue with saving questions
Fixed an issue with non unique HTML ID at a product page
Fixed an issue with the already existing registry keys
Fixed an issue when calling to a member function append () on boolean
New now, the module comes equipped with the Google Invisible reCaptcha extension built-in to protect the question forms from spam and fraud
Version 1.3.0
Last Update: Jan 31, 2018
New Added the ability to specify the canonical URL for topics and questions
Fixed an issue with an error on the frontend for custom Magento themes
Version 1.2.1
Last Update: Sep 20, 2017
New Like\Dislike type of rating added
New product links can be added to emails
Multiple fixes for multistore configurations
Multiple fixes for mobile view
Many fixes for incorrect URLs and text
Amasty AJAX Shopping Cart compatibility improved
Version 1.1.6
Last Update: Nov 29, 2016
Fix for a problem when "Ask a Question" link appeared twice on product pages in some cases
Minor improvement for saving uploaded file name
Correct behavior in case of single store installation
Added store filter for collection of tags
Added store filter to the topics collection
Setting to add FAQ link into the Top menu
Responsive design for popup
Better compatibility with custom design/themes
Minor stability fixes
Version 1.0.1
Last Update: Aug 25, 2016
Added website and store-view section scopes in configuration
Minor default css improvement