FAQ and Product Questions
for Magento 2
Equip product pages with the advanced SEO-optimized FAQ section in Magento 2. Transform guests to customers by displaying well-organized info on products and services.
Create product questions section with WYSIWYG editor
Manage questions' Product IDs via API
Let customers and guests ask questions right from product and knowledge base pages
Avoid displaying duplicate content to boost store SEO
Optimize store performance with the effective caching
GDPR compliant and fully optimized for mobile

Questions about the product are the de-facto industry standard for the European and American e-commerce websites. They help merchants to increase search engine optimization efficiency by letting store visitors generate content for the knowledge base. Tweak meta title and description, avoid duplicated content with short and full answers to attract new visitors and convert them to happy customers. Magento 2 FAQ and Product Questions extension allows you to achieve multiple e-commerce goals with a single toolkit.
Add FAQ section to product pages
Equip each product page with a well-organized list of product questions and answers with this extension. Answer questions from your customers or create your own queries to display important information. Group similar questions by categories to simplify navigation and make information easy for perceiving.
Increase the amount of user-generated content
Rapidly grow your knowledge base by letting your shoppers get more information related to products and services in the store. Enable them to ask a question right in Magento and provide them with detailed answers. If a customer is not willing to contact you directly, he can still find the needed info in the knowledge base.
Assign questions to particular products
With the Magento 2 FAQ module, each question can be assigned to a particular product or category. Queries from the product pages are automatically assigned to the corresponding product. Both user-generated and manually added questions will help you to lower the volume of support requests.
Create FAQ categories
Divide Magento 2 knowledge base into smart categories that will ease navigation and help store visitors find the required information faster. You can display the same questions in categories and on product pages, define their position in the list and edit right from the categories grid. Extra store pages with the content optimized to search queries will definitely improve your domain positions and bring more relevant traffic.
Allow guest visitors to add questions
The extension allows both guests and registered customers to add their questions. You can adjust the policy to limit this ability to logged in users only. The detailed information about a question author is available when providing the answer to it.
Add social sharing buttons
Equip each question page with the appealing social sharing buttons. Quickly adjust the list of supported social networks to increase your store presence in social media. Get extra visitors from the useful FAQ content shared by your customers.
Support for GDPR requirements
This FAQ extension comes with the built-in GDPR requirements support. You can enable and adjust the privacy policy consent regarding the name and email processing when a question is submitted. Hence, customers are notified for which purposes their personal data is used by the FAQ and Product Questions extension.
Use tags
Easy site navigation is the key to your successful interaction with customers. Tags will help your clients instantly find the information they are looking for. Time is money – remember the simple truth.
Let guests rate questions
Now you can allow or forbid guest visitors to rate questions regardless of the rating type you choose. This way, you can motivate shoppers to create accounts or just secure your store from irrelevant negative ratings.
Gain customers' trust with ratings
Add customers' rating to each question. Choose between two convenient schemes of casting a vote to clearly show store visitors the popularity and importance of particular topics. Modify the rating of certain customer questions if needed.
Show the average rating
Now the average rating type is available! See the usefulness of each question from a new angle and make data-driven decisions. By adjusting the rating from the backend, you can draw customers' attention to particular questions or just improve your brand reputation.
Adjust FAQ page layout
Provide customers with the well-designed FAQ main page. Utilize the default FAQ CMS page to display a search bar and the essential list of categories with questions.
Implement FAQ widgets across your store
Utilize 3 types of widgets to include FAQ elements in various CMS-pages. The module comes with the search bar, categories block, and the 'Back to Product' button widgets.
Boost store SEO with Magento 2 help desk
The main module focus is the ability to turn the ordinary FAQ section, that is important in itself, into the search engine optimized knowledge base. This might even result in a higher positions and greater visibility of your Magento 2 store in SERP. From short and full answers to breadcrumbs and configurable URLs — the extension provides store admins with a full set of tools to avoid duplicate content and increase store page ranking in search engines.
Create SEO-friendly URLs
When you add a new query or answer the existing one, the extension automatically generates a unique URL for it. However, you can always specify your own URL. Each question and category includes meta title and description that can be set and edited from the admin panel.
Speak the customers' language
Magento 2 FAQ module helps you to avoid limitations of a product description. In the FAQ section you can utilize all additional synonyms, keywords, long-tail keywords, and other content that is unacceptable in the product description but required for SEO purposes.
Add or remove URL suffixes
Hide or display URL suffixes according to your SEO strategy and the general URL policy. For example, your company uses a standardized URL format requiring html suffix. Using this feature, you can convert FAQ URLs to the general website format and make FAQ pages more SEO-friendly.
Auto-delete trailing slashes
By default, the extension doesn't add suffixes to URLs, and links usually end with trailing slashes. Since Google considers such URLs to be "non-standard", this slash can affect the SEO positions of FAQ pages. Now you can remove unwanted slashes and follow Google requirements by enabling just one option.
Short and full answers
Provide store visitors with a short preview and a complete answer to make your Magento 2 knowledge base content respond to different users' need.
Eliminate duplicate content
Duplicate content is one of the most dangerous SEO threats. Luckily, the module will help you to avoid it. With the module, one can easily provide the different answer preview on a product and category pages.
Display relevant pages to foreign customers
Now it is available to apply hreflang tags for Google to deliver precise search results in the appropriate language for customers from other countries. Specify the necessary language and country code for particular store views to get higher on a search results page.
Utilize breadcrumbs
Implement the FAQ section navigation into your store structure and help search engines browse your site correctly by using breadcrumbs.
Win over competitors with rich snippets
Make your store more appealing in search results and achieve higher ranking with rich snippets. Display the knowledge base structure with rich data breadcrumbs and generate accurate rich snippets for attracting new store visitors from Google.
Mark up FAQ elements with structured data
To make Google index your FAQ pages correctly, all the data on pages should be structured. With the extension, you can easily push your FAQ product pages, question pages and FAQ categories to the top in Google search results and get extra traffic using just one option.
Advanced SEO for questions and categories
Adjust search engine related settings for question and category pages. The 'Noindex' and 'Nofollow' settings help to avoid duplicate content and preserve the link juice.
Add FAQ pages to the XML sitemap
All your knowledge base URLs can be easily included into the XML sitemap. Also, you can define the update frequency and priority for the FAQ pages. The extension is fully comatible with the Amasty Google XML sitemap module.
Get a full SEO upgrade for your store
Benefit from the combo offer: the Product Questions extension is included in the
Premium
version of the
All-in-One SEO Solution
. Build a winning SEO strategy even not being a pro, use extended automation and content marketing tools to boost your store visibility in Google and generate more high-converting traffic.
Transform guests into customers by providing them
with the most relevant info
Make your FAQ section highly efficient thanks to analyzing and utilizing the data gained in the FAQ Search Terms Report. See all FAQ search queries, define the most popular ones and update the content to make it maximally relevant to customers' demands.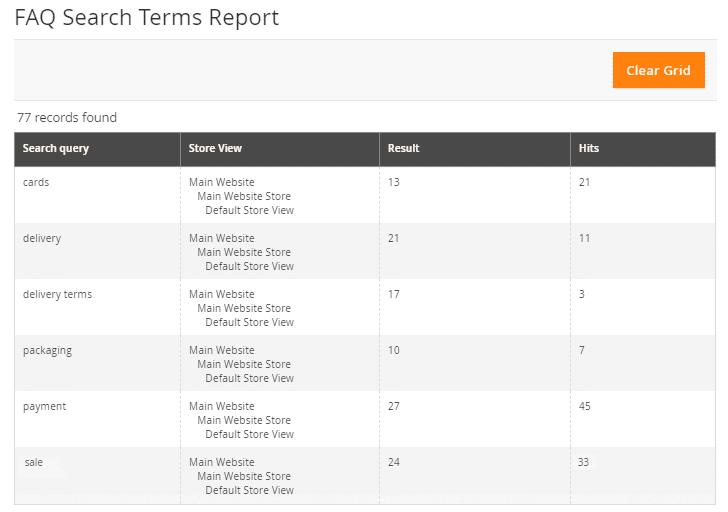 Manage Magento 2 Product Questions from the Backend
Magento 2 Product Questions can be easily managed from the backend. All questions whether they created by customers or store admins are displayed on the Questions grid. Right on this grid, you can select a question to add an answer, modify its URL, set meta data, adjust its visibility on the frontend, and assign it to a particular category.
Assign questions to the product categories
Our FAQ and Product Questions extension for Magento 2 provides the opportunity to assign specific questions to a whole category or several categories. This feature helps to avoid assigning questions one by one per each product manually.
Notify customers about the answers
Notify a shopper who added a question using the email template that can be sent when you submit a new answer. Also, the extension allows to reply directly to a customer without adding the answer to the knowledge base.
Bonus: free spam-blocker for your FAQ
Since even guest visitors can add questions to your FAQ section, you need to make sure no spam or vulnerable activities can affect your performance. We have already taken care of this and built in our Invisible Google reCaptcha. Learn everything about our reCaptcha flexible settings to keep track of its every feature.
Equip categories with icons and desriptions
Enhance navigation throughout the knowledge base with descriptive category icons. Provide each category with an icon to make the information structure understandable.
Knowledge base search and results preview
The extension allows customers to search the knowledge base separately and get the detailed search results preview. Add a configurable FAQ search bar widget to any CMS page.
Define questions order
Set the exact position of each question in the category right from the grid. With the module, you can show more important and frequent questions on top while moving the others lower by defining their position. Moreover, the option allows you to display questions based on their views to make sure the most popular ones are always on top.
Question statuses and visibility
With the module, you can see question status on the grid: queries that require your attention (Pending) and the ones that have already been submitted (Answered). Also, you can adjust questions visibility on the frontend for guest users and registered customers.
WYSIWYG editor for detailed answers
The FAQ and Product Questions extension for Magento 2 enables you to provide not only the text answers but also include various content in your knowledge base articles. Thanks to the advanced WYSIWYG editor you can equip answers with images, links and even PDF files.
Implement the questions limit
Avoid creating too long category pages by limiting a questions number and answers per page for categories and search results. The remain questions will be available using pagination. Also, you can reduce a number of question for product pages to display only the most important ones.
Let only logged in users leave questions
Encourage guests to register - forbid them to leave questions until they log in. This will also protect you from spam.
Easily integrate FAQ pages into store structure
Easily equip product pages with the new FAQ tab and choose its position among other tabs. On top of that, you are able to implement links to the knowledge base into the toolbar, categories menu, and footer. Additionally, the module has multi store support that allows you to provide separate FAQ sections on different store views and for different customer groups.
Quickly transfer data to the knowledge base
In case you've been using the FAQ and Product Questions module for Magento 1, you can easily move questions and categories to your new installation. Export the existing data and flawlessly import it to Magento 2 FAQ and Product Questions extension with a few clicks. Moreover, you can backup or transfer the whole knowledgebase using the export functionality. Additionally, you can use the magento 2 attach pdf to product tool to provide customers with more details about the products they purchase.
The extension is compatible with Amasty Magento 2 Cross Linking extension
With the
Cross Linking
plugin, it becomes easier to improve information architecture of your web store to meet the highest requirements of both Google and your customers.
According to the statistics, the extension can cover each business need in synergy with the following solutions: magento 2 order comments and magento 2 file upload.
Other Features
100% Open Source — Easy To Customize
Follows Magento Code Architecture
Separated HTML/CSS/JS
Simple installation via Composer
* The name "Magento" and the logo are the trademarks of Magento, Inc.
Support is excellent
ne-web, Director
We have always found Amasty to be great to deal with and plugins of high quality. Support is excellent.
Amasty answer
Mar 13, 2019
Natalya Chekanina
/ Head of Sales Team
Dear Jonathan, thank you for your review! We would be happy to see you in our store again!
Highly recommended
SIIG, E-commerce Speicialist
Really fast response time, and really helpful staffs.

Amasty answer
Jan 31, 2019
Natalya Chekanina
/ Head of Sales Team
Dear Kris, thank you for your review! We would be happy to see you in our store again!
A purchase
I grabbed this at xmas sales in addition to seo kit just for the discount. Works as described and much simpler than the kit in setting it up, though lacks more useful layout configs.
Good to use
Someone says tags are out of date I checked my users still use them for switching between topics. Also it's very efficient (at least for my store) in connection to social networks that you can set.
Performs better with each month
The module is very very simple. The one thing to note is the wysiwyg could work better still sometimes I have to turn back to the html tags. Only 2 months I've bought it and they already added new functionality. Though back to product page button and short answer field are not something new, still better than without.
Are you looking to add specific functionality for this extension or want to acquire a reliable development partner altogether? With custom development services by Amasty, you will receive high quality and cost-effective solutions developed by Magento professionals according to industry's best practices.
2.3.6, 2.3.6-p1, 2.4.0-p1, 2.4.1, 2.4.1-p1, 2.4.2
You can always download the recent version free of charge from your account
Installing an upgrade is easy — check now
My Downloads
Version 2.9.2
Last Update: Jul 13, 2021
New we developed new options for SEO improvement: now you can enable FAQ question and category URLs suffix and remove trailing slash from FAQ question and category URLs
Improvement we added a new setting to FAQ category view page for you to display different category names on category pages
Fix we fixed the output of questions 'Full Answer' without HTML tags
Improvement we improved the behaviour of Average Rating, so your customers can change the rating given previously
New we added a new type of questions rating, so you can show the average rating of questions to your customers
Improvement we added a new setting to let you enable rating for registered customers only
Version 2.8.0
Last Update: Mar 10, 2021
New the extension is now covered with MFTF tests. It will help to enhance the extension quality and stability
Fix we resolved the problem with category pages caching
Fix we fixed the issue with the categories grid when inserting 'Amasty FAQ Questions List' widget
Version 2.7.7
Last Update: Dec 03, 2020
Improvement we added some additional suggested data to the Structured Data to provide better experience and coverage in Google Search
Compatibility now you can use the extension with Magento layout «Product – Full Width»
Fix we resolved the issue with columns naming in Products grid for FAQ Questions
Fix we fixed minor issues occurred on FAQ page
Compatibility now the extension is compatible with Magento 2.4.1
Improvement code was refactored according to Magento Marketplace standards
Fix we fixed the potential vulnerability of the extension
Fix we resolved the issue with the condition based on customer groups for FAQ category on frontend
Improvement code was refactored according to Magento Marketplace standards
Fix we fixed the issue with 'FAQ Category' widget type selected for FAQ Question List widget
New we added a new option that allows you to mark up the elements of the extension with structured data so that Google can understand the data on the page
New Hreflang Tag Support is added to notify Google which site to show to foreign users. This option is useful for multilingual and multi-regional sites
Version 2.6.1
Last Update: Apr 30, 2020
Fix we fixed the issue with questions sent by customers while saving them via Admin Panel on Magento Enterprise Edition.
New we added a new widget - the one for creating a list of questions. It can be a list of specified questions as well as questions related to a product, current product or FAQ category
New we added a setting to assign a FAQ question to the product category. A question will be assigned to all products of the category when used
New now it is possible to set customer groups for a question. Only selected groups will see questions
Improvement when a question is submitted from a product page, the admin will receive the link to the page in the email notification
Improvement we changed store level for some settings
Fix we fixed the issue with questions appearing on Product Questions tab without Admin approving
Fix we fixed the issue with sending a question even if the checkbox with privacy policy is unchecked
Fix we fixed MegaMenu layout work on the FAQ search page
Fix we fixed the error after 'Save and Send email to Customer' action when more than 1 product was selected
Fix we fixed the issue with saving a product question in Admin Panel resulted in FPC cache being flushed for all products
Version 2.5.4
Last Update: Mar 31, 2020
Improvement we improved code constructions for Magento Marketplace standards
Fix we fixed the questions grid displaying on the FAQ category page in admin panel
Fix we solved the problem on FAQ Categories page on Magento 2.3.3
Improvement we removed unused jquery libs
Improvement we refactored the code according to Magento standards
Compatibility we added compatibility with sitemap generation for Magento 2.3.*
Compatibility compatibility with Amasty Advanced Search was added. If search terms are included into existing FAQ categories and questions, corresponding findings will be shown in the search autocomplete window and under a separate tab on the search results page
Version 2.4.8
Last Update: Sep 12, 2019
Fix we solved the problem with tabs error on product page
Fix tab position was fixed
Fix security issues were resolved
Fix the issue with redirecting to FAQ page was resolved
Fix the issue with messages on the product details page was resolved
Compatibility the compatibility with Amasty Cross Linking was added
Compatibility the compatibility of `Product Questions` Tab Position function with Magento 2.3.1 was added
Fix we fixed the issue when Amasty Google Invisible reCaptcha extension failed to be installed together with FAQ extension while using Composer. Please update your composer and get the extension for free
Improvement widget shortcodes are now available to be used on FAQ Pages
Improvement now it is possible to choose the position of the Q&A tab on the product details page
New the new report for questions search queries from customers was added
Improvement the API of the extension was improved
Improvement minor visual improvement for the extension settings in the admin panel
Version 2.3.5
Last Update: Dec 10, 2018
Improvement minor visual improvement
Compatibility the compatibility with Magento 2.3 was enhanced
Fix the issue with the by-store user notification email template was resolved
Improvement the ability to manage a question's Product IDs via API was added.
New the ability to restrict guests from leaving questions was added
New introducing tags for questions
Improvement a customer will be redirected to the FAQ home page when switching to a store view where the question page he visited is not available
Version 2.2.6
Last Update: Sep 24, 2018
Fix the issue with the FAQ pages URL duplications was resolved
Fix the issue with adding images via WYSIWYG was resolved
Fix the issue with the 'header.html' template file was fixed
Fix the issue when updating the database was resolved
Improvement the compatibility with the Varnish cache was improved
Improvement stability update was implemented
New the ability to export data (questions and categories) from the FAQ and Product Questions extension was added
Version 2.1.0
Last Update: May 14, 2018
New the functionality to comply with the latest GDPR EU changes was added
Fix the issue with hiding content in the categories widget was resolved
Version 2.0.0
Last Update: May 03, 2018
New the FAQ Home Page with the ability to customize CMS-pages to your needs and widgets support was added
New the new widgets were added: FAQ search bar, categories display, and the 'Back to Product' button
New the ability to add category icon and description was implemented
New the new layout for FAQ pages was added (2 columns with right sidebar)
New the Search Result Preview functionality was added for quick and convenient search
New now, all layouts support the ability to collapse and expand questions to save space on a page
Improvement the rating view was enhanced
Improvement the email templates are now available from the Marketing - Email Templates grid
Version 1.1.0
Last Update: Apr 24, 2018
New now, you can leave a question without an individual URL
New SEO improvements allow you to set 'noindex', 'nofollow', and canonical URL for specific question pages. Also, the ability to automatically add the FAQ pages to the Magento XML sitemap was added, as well as the compatibility with the Amasty XML sitemap extension
New the feature that allows adding rich snippets to the FAQ pages was added
New now, the module collects visitor statistics and allows you to set sorting order to the most popular questions
New the configurable social sharing buttons were added
New the import feature was added. Now, you can easily transfer your FAQ archive
New the questions' rating with the ability to force its value was added
New the ability to limit the number of answers on the category, search, and product pages was added
Version 1.0.0
Last Update: Mar 29, 2018
Fix the issue with permissions for the admin users was resolved