Screenshots:
Why implement SEO in your online store?
Complex SEO optimization requires complex solutions. So why reinvent the wheel wasting your time and effort when you can take advantage of a ready-to-use SEO Toolkit.
SEO - friendly navigation, clear URLs, relevant product and meta tags as well as carefully built HTML and XML sitemap will definitely make search engines love your site and enhance customers' shopping experience.
We've combined rich functionality of 7 modules in one Magento SEO suite:
Google Rich Snippets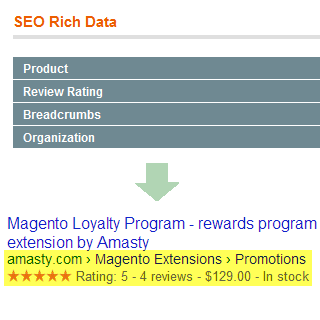 Stand out among competitors
10 first Google search results are usually almost identical. So, to get noticed you need to show customers detailed information about your website and products in search results. This will not only highlight your online store but will also drive highly targeted traffic to it. Therefore, you'll visibly improve your bounce rate index and conversion rate.
Available microdata:
Product
Review Rating
Breadcrumbs
Organization
Meta Tags Templates
Meta tags are one of the most important parts of internal SEO optimizatopn. They help searh engines easily recognize and index your pages. For that reason you should have appropriate meta tags on all product, category and other pages. Although you can change the tags manually it's much more convenient to automate this process with that Magento SEO plugin, especially if you have tons of different products in your Magento store. Meta tags for any page by URL
Magento SEO Suite extension also enables you to specify URLs and create meta tags for different site pages. Eg. you can create metatags for any page on site – contacts, registration page, etc. or for a product if you don't want to be affected by category settings.
Generate dynamic templates for:
Meta titles
Meta descriptions
Keywords
H1 tags
Canonical URLs
Robots Meta tags for categories
With the Magento SEO extension you can quickly create separate templates for all top level and child categories.
Generate dynamic templates for:
Meta titles and descriptions
Keywords
H1 tags
Image alt and image title
Text after product list
HTML Site Map
A carefully build HTML Site map ensures store usability improvement and provides visitors with a complex site overview. It also helps draw customers' attention to the pages with the most important info. Having hundreds of product pages in your store presupposes long ours of hard work in order to create an HTML frontend sitemap. But with the HTML Site Map tool it will take you just a few minutes.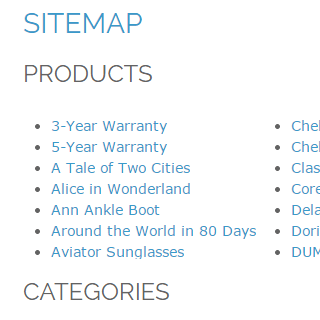 Comprehensive HTML Site Map
This easy-to-use SEO suite allows you make an HTML Site Map convenient both for your customers and search engines by placing all your store links on one page. Now you can also create meta description, page title as well as clear URLs which help search engines proper understand your site content.
Choose the links you want to show
Create relevant meta descriptions
Generate nice-looking Site Map URLs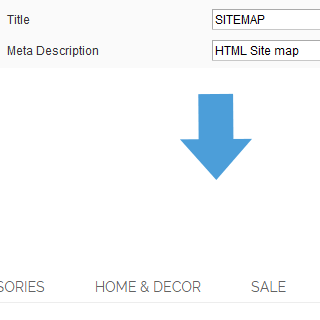 Customize your HTML Site Map display
Make the Site Map page more user friendly with flexible display options. You can customize the layout and other settings to match your site design theme. The module also enables you to select which links to include or exclude from the sitemap frontend page : categories, products, landing pages or CMS-pages.
Configure Layout with css ( 1, 2 or 3 columns, left or right sidebar)
Set the number of columns (all links can be divided into 2 – 5 columns)
XML Google Sitemap
Want to easily win search engines appreciation? XML sitemap is a fast way to inform Google about publicly available pages on your site. In fact, XML sitemap helps all search engines during the crawling process. When your Magento store offers thousands of various items, it's just essential to help Google index all your product pages.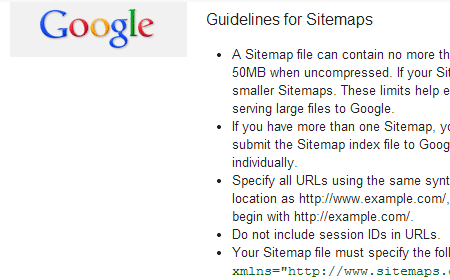 Meet Google requirements
While Google has specific standards for sitemap building, you can't ignore them if you want your XML sitemap to work effectively. Now you've got the opportunity to adjust your sitemap to all Google requirements in the shortest time possible:
Meet URLs quantity requirements (no more than 50,000 URLs)
Meet size requirements ( size not larger than 50MB)
Specify the date of the latest page modification to make Google focus on fresh pages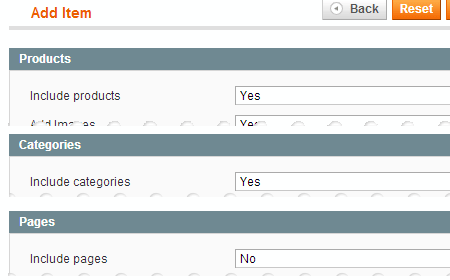 Include all necessary links
The SEO extension for Magento enables you to add any links to your sitemap as well as to exclude the ones your you don't need.
Available link types:
Categories
Products
Pages
Tags
Any extra links
Import Product Tags
With the Import Product Tags tool you get the access to the list of brand new features enabling you quickly import and export cloud tags as well as create informative SEO- and user-friendly URLs.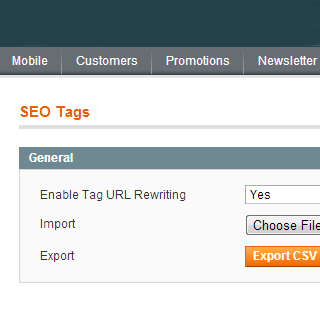 Effectively manage product tags
The advanced tag manager allows you to generate the list of relevant tags and easily import and export them at any time. Moreover, by using appropriate tags, you can optimize your pages for long tail search requests, thus visibly boosting your site traffic.
Fill your store pages with relevant tags
Boost your audience
Create SEO-friendly URLs
Short, but informative urls make your online store attractive not only to potential clients, but to search engines as well. With Magento tags manager you'll be able to create pretty short urls containing just relevant info.
Generate attractive URLs
Improve you store rankings
Make store more SEO-friendly
Product Reviews
Reviews are one of the easiest ways to make your store credible in customers' eyes. They not only motivate visitors to make purchases but also serve as an efficient element of website search optimization. The Magento SEO plugin by Amasty easily combats two Magento problems: reviews content duplication and non-SEO friendly URLs on review pages. Therefore, due to the feature-rich reviews manager you'll kill two birds with one stone.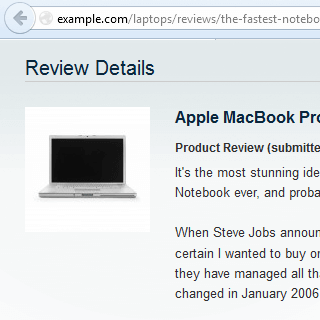 Take advantage of flexible Magento product reviews settings
Effectively manage customer reviews with the advanced module options.
Create Magento friendly URLs for customer review pages;
Redirect all old URLs to new ones;
Enable reviews display on product pages;
Add star ratings to your product pages;
Unique Product URL
Very often products can be included into 2 or more categories, thus creating duplicate content. With the unique product URL Magento extension you will prevent store items from having multiple URLs to help search engines properly index store pages. The module enables you to select one URL path for each product even if it's placed in numerous store categories.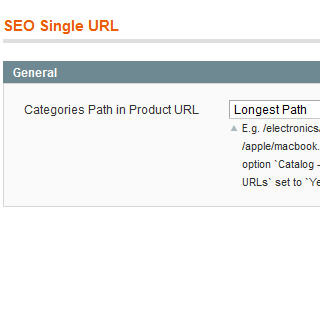 How it works
With the module you can choose the path to use – the shortest or the longest one. Selected path will be automatically applied to all the products with multiple URLs so that each store item will have a unique Magento product URL for search engine indexation. For example, if you have a 'Dress' in 2 categories: 'Dresses' and 'Sale', then choosing the Shortest path will mean using: example.com/sale/dress as the main one.
3 Modes:
The shortest path
The longest path
Default settings
SEO-friendly Filter URLs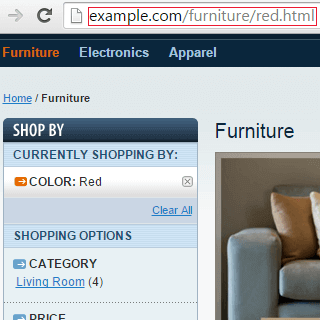 With the filter URLs manager you can create clear user and Magento friendly URLs for filter-by-attribute pages. For example, when customers filter furniture by the attribute 'color', instead of the URL: example.com/furniture.html?color=69 they will see a short nice looking URL: example.com/furniture/red.html
Moreover, one can specify any particular parameter for filter URLs to make Google exclude pages with such a parameter from indexation. To manage URLs even more effectively try advanced SEO options of the Improved Layered Navigation extension.
Note: To exclude pages from Google indexation you need to specify URL parameter not only in the admin panel, but in the Google Webmaster Tool as well.
Other Features
100% Open Source — Easy To Customize
Follows Magento Code Architecture
Separated HTML/CSS/JS
W3C Validated Code
Online Extension User Guide
* The name "Magento" and the logo are the trademarks of Magento, Inc.
General Questions

How can I pay for Amasty extensions?

What is the license policy? On how many websites can I use Amasty extensions?

How to install Magento extension by Amasty?

Can I test an Amasty extension on a staging site before transferring it to a live one?

Can I get a refund if an extension doesn't suit me?

Will I get any other benefits?
Great extension and service
We are very happy with the extension. It has a lot of powerfull setting and options. Although we don´t use all of them, it is nice to have the options to adjust it to feed our needs. What we apreciate a lot is Amasty´s fantastic and quick support. This is not our first or our last extension we are buying from Amasty.
Really handy extension!
I'm not an SEO guru but managed to study many aspects and set them up with this extension. It makes Magento really SEO friendly as it helps to control things like meta tags and robots.
Additionally, I will suggest to add a canonical URL field to the Meta Information tab on a product management page. It would be awesome!
SEO Toolkit Extensions, gut und professionell!
Ich habe mehrere Extensions von Amasty erworben und bin sehr zufrieden!
Installation und Einrichtung war sehr einfach innerhalb 1-2 Std. Diese Erweiterung komplett eingerichtet.
Support ist auch sehr hilfsbereit und blitzschnell! Alle Fragen sowie Hilfe seits Amasty sehr schnell und professionell.

Nice guys
The pack is amazing, really. Yep, it didn't run out of the box - my plugins from another developer conflicted with it. Fortunately, the support appeared to be top-notch! So, they literally did all my job)) Thank you guys!
Good
It was a good idea to gather different seo tools in one pack. It was too long to wait for the module's release, so I was thinking about to purchase all the tools separately. But I'm glad I've installed this very program.

Although, it's not bug free and deleted all my meta tags that were added by me manually before instillation, it's a very sustainable program and worth the money I paid.
After bug fixing is quite normal
Brilliant idea, bit not so brilliant implementation. When I purchased the app - there were too many bugs to fix. Eventually, after some time had passed, the majority of them were successfully fixed. So now I have the app of a decent quality. But if I wrote the review right after the purchase it would more negative.
Complex and pricey but worth it
This is a giant set of extensions, and honestly we were a bit puzzled with lots of settings because in fact Magento is completely SEO un friendly, and sometimes we needed to ask support why there is such a feature… But they patiently answered all questions.
Thanks for caring about your customers.
Too much
It's a very good set of seo options, but as for me it's too complex and too complicated. In practice, I found some of them simply useless for my store. So, I don't see the reason to buy a full pack when I can install only those that will really work for my store.
Great SEO Solution!
I love it! It truly makes a difference in SEO optimization process an d shows real results. If you care about your positions in Google and search for a magic wand to help, this is it.
This is an intuitive tool, very easy to use for non-programmer. Fulfills nearly all SEO needs, you only need to create descriptions, metadata and all that sort of things. Actually, a lot of options and possibilities of this extension should be in the default Magento.
I purchased the module with installation to have it up and running as soon as possible. Support service coped with it just in a blink. They also answered all my questions in a very patient and polite manner. I've never faced any bugs or problems since then.
Perfect tool optimize SEO and keep from headaches at the same time.
All-in-one SEO solution
I'm one of the first people who bought that extension. I subscribed to it when it was announced and now it's live. Though I've found some little bugs here (they are fixed now), the extension works really great so it was worth waiting.
The mod helps control the overall SEO of my store including meta tags for all the numerous products and rich snippets for them. I'm also using rich pins and see traffic boost from Pinterest. There are much more features and I haven't studied all of them yet.
I would like to see this mod combined with Amasty Layered navigation.
zknovA,
Magento Connect
Write Your Own Review
Version 1.6.6
-
January 17, 2017
– New setting `Ability to set/replace Short Descriptions of products on the Category View page`
– Fixed issue with incorrect URL key saving during saving product data for specific store in the Backend
Version 1.6.5
-
January 10, 2017
– Fixed CSV import (columns, empty lines)
Version 1.6.4
-
January 05, 2017
– Compatibility with custom themes improved
– Minor fix for displaying availability for Pinterest (it was displayed always not depending on a setting)
Version 1.6.3
-
December 27, 2016
– Minor code optimisation tweak
Version 1.6.2
-
December 23, 2016
– Fix for getting product description
Version 1.5.10
-
December 22, 2016
– Fix for applying store filter to product collection, which wasn't applied correctly in some cases
Version 1.5.9
-
December 21, 2016
– Compatibility improved for Magento versions less than 1.8
Version 1.5.8
-
December 16, 2016
– Sitemap is now being generated as a single file if no file size limits specified
Version 1.5.6
-
December 14, 2016
– Minor code improvement
Version 1.5.5
-
December 12, 2016
– Fix for checking file size; caused an issue in some cases when generating XML file via cron job
Version 1.5.4
-
November 24, 2016
– Minor modification for sitemap path when it's in the root folder of a website
Version 1.5.3
-
November 23, 2016
– HTML tags are now removed from description tag
– Improvement for aggregateOffer snippet
Version 1.5.2
-
November 16, 2016
– Fix for columns order on the import
Version 1.5.1
-
November 14, 2016
– Old sitemap file is not removed until new is created during generation process, to avoid sitemap being unavailable ever for a shorter period of time
– Compatibility with Unique Product URL extension when using multiple stores
Version 1.5.1
-
November 14, 2016
– Compatibility with the latest version of the XML Sitemap extension
Version 1.5.1
-
November 14, 2016
– Review rating hidden when it's 0 (in case your theme just uses review with no stars/points)
– Minor improvements for better integration
Version 1.5.0
-
November 02, 2016
– Fix for price of grouped products
– Improvements for meta data of Yotpo and Pinterest
– New option to use "short description" instead of description
– New option to show grouped products as a list of associated products offer
– Improvements for prices data when applying promotion rules
Version 1.4.9
-
October 21, 2016
– Mechanism of integration completely reworked. Now extension integrates much better with all custom themes.
– Unnecessary settings removed, due to the new integration workflow
– Added new option to display item condition
– Added new option to display configurable product as a list of offers for simple products
Version 1.4.8
-
October 18, 2016
– Fixed issue when a product is not assigned to any category
– Fixed issue with FPC in Enterprise edition
Version 1.4.7
-
October 11, 2016
– Better compatibility with Improved Navigation extension
– New setting to display availability snippet (is available or not)
– Minor improvements for better compatibility with locale settings
Version 1.4.3
-
July 29, 2016
– Added support for Improved Navigation `Pages`
– Minor fixes
Version 1.4.2
-
July 08, 2016
– Minor improvements to comply latest Google requirements
Version 1.4.0
-
March 10, 2016
– New "domain" variable added
– Minor improvements
Version 1.3.7
-
January 05, 2016
– Option to exclude any URL
– Compatibility with Blog Pro module
Version 1.3.6
-
January 04, 2016
– Fix for situation when there are no products
Version 1.3.5
-
December 24, 2015
– Fix for SQL query syntax error
Version 1.3.4
-
December 09, 2015
– Minor bugfix: using table prefix for 1 missed query
Version 1.2.9
-
October 27, 2015
– Admin routing patch (SUPEE-6788) compatibility
Version 1.2.8
-
October 12, 2015
– Fix for getting category data
Version 1.2.5
-
September 28, 2015
– Deprecated twitter product card replaced with twitter summary card
Version 1.2.3
-
September 25, 2015
– Small improvements and compatibility fixes
Version 1.2.1
-
September 10, 2015
– Each map item is at a new line, it's is better for debug
– No SID part in the URLs
Version 1.1.9
-
August 05, 2015
– New date format for LAST MODIFIED field
– No disabled pages in the sitemap
– Allows to include links to Photo Gallery from the https://amasty.com/magento-photo-gallery-pro.html module
Version 1.1.8
-
July 17, 2015
– Cron job minir optimization
Version 1.1.7
-
May 29, 2015
– Possibility to set/replace short Descriptions of products on a category view page
– Minor improvements
Version 1.1.6
-
May 25, 2015
– Added compatibility for Yotpo rating in Twitter cards
Version 1.1.3
-
April 29, 2015
– Stripping HTML tags from Twitter description
Version 1.1.1
-
April 10, 2015
– Now, if we include landing pages, we use URL suffix from the catalog settings
– Now, if we include landing pages, we use URL suffix setting from the catalog
Version 1.0.9
-
March 30, 2015
– Install script modifications
Version 1.0.6
-
March 26, 2015
– Compatibility with Unique Product URL module
– Breadcrumbs configuration for redirected URL
Version 1.0.4
-
March 19, 2015
– Compatibility with outdated PHP versions
Version 1.0.3
-
March 18, 2015
– Better display for nested categories (level of depth more than 3)
Version 1.0.2
-
March 17, 2015
– Support for Yotpo reviews summary in addition to the Magento built in reviews.