Comply with any tax regulations in your region
Analyze the efficiency of gift wraps for sales
Comply with any tax regulations in your region
Each region has its nuances on how products' taxes should be processed and communicated to customers. That's why the extension allows store owners to modify the gift wrapping tax class and its display on the checkout. Set tax class for message cards and wrapping, adjust the taxes display in Order Totals on the checkout. Learn more in the User Guide. gdpr data deletion configuration
Analyze the efficiency of gift wraps for sales
Enable the Gift Wrap Analytical Dashboard to check the wrapping dynamics and see which wraps are the most popular in your store. View the total revenue gained from the extra gifting options and adjust wraps stock to keep up with clients' demand.
Multiple values of the same filter
With the Magento 2 layered navigation tool shoppers will be able to select several filter values at a time to get maximally precise results.
Set the number of unfolded options
Regulate the number of displayed filter values for long filter lists to make your Magento 2 custom layered navigation menu easy to perceive.
Add a search box and a tooltip to any filter
Help customers to instantly find necessary items by displaying a handy search box in a Magento 2 product filter. Show special tooltips to provide clients with more product related information.
Eye-catching image swatches
Use image swatches for navigation filters to help customers instantly select necessary product options.
Handy vertical scrolling
Want to make a long filter options list more compact? Add vertical scrolling to filter blocks higher than a max allowed size.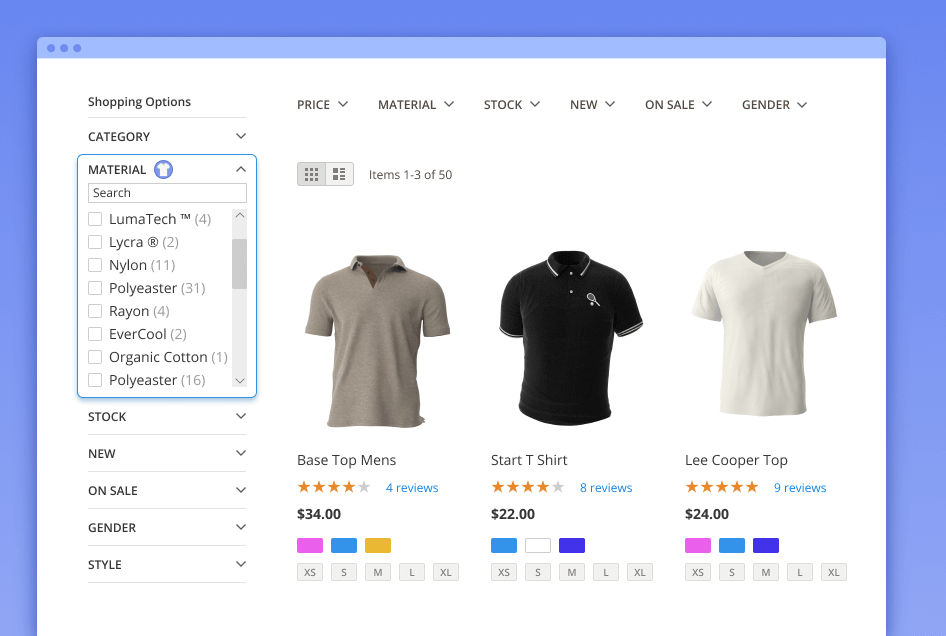 Convenient attributes mapping
Make your navigation block more compact and clear by uniting filter values into groups. The option is extremely useful for adding color mapping, but you can apply it for any attribute with many values.