Gift Wrap
for Magento 2
Provide seamless gift-giving experience with Gift Wrap extension for Magento 2. Let customers wrap their purchases as nice gifts and add cards with gift messages at any step of the buying process.
Add an unlimited number of gift wraps and message cards
Propose wrappings and cards on any purchase step
Limit the items that are available for wrapping
Specify tax display and type for gift wrap and cards
Track the gift wrapping revenue with easy stats dashboard
Challenge
For most online shopping platforms, gift wrapping seems to be unimportant and not profitable, as it can be hard and time-consuming to agree on design with a customer. Yet many buyers abandon the store because it doesn't provide an 'all-in-one' gift-giving experience. As a result, the lack of services may significantly impact customer loyalty and reduce potential income, especially during holiday periods.
Solution
Avoid customers growing tired of impersonal, one-size-fits-all store experience by providing users with additional wrapping options. Improve buyers' shopping experience with Magento 2 Gift Wrap options. Similar to Amazon, the functionality will bring your customer service to a new level and give additional profit, as the module is designed to motivate your buyers to come back to your store.
What benefits do you get for your store
Increase revenue with extra profits from multiple Gift Wrapping options
Get more repeated purchases with an enhanced shopping experience
Adjust to customers' demand by monitoring wraps popularity
GET MORE ORDERS WITH SIMPLE WRAP EXPERIENCE
Display the perfect gift wrap that matches recipients' taste right on the product page
Add a gift message card of your choice and enter a custom greeting text
Check the details on packaging and finalize wrapping selection
Modify wrapping options in a cart any time during shopping to fit users' demands
OFFER FLEXIBLE WRAPPING SERVICE
TO GROW AVERAGE ORDER VALUE
Add an unlimited number of wrap designs
Offer your customers a wide choice of designs for their gifts. A handy wrap slider with prices lets shoppers create unique and appealing gifts right in your webstore. As an admin, you can view and manage all wrappings in a separate grid. Easily adjust each wrap price to meet your own business needs.
Hide gift prices from the recipient
Apart from adding a gift message, the Gift Wrap module for Magento 2 has the option to hide service prices from the addressee. Even though it is common to keep the price in a secret, a customer chooses himself whether to let the recipient know the price of a present or not. This is a nice touch that positively impacts customers' experience.
Propose wrappings on any purchase step
Do not let customers miss the opportunity to make their presents even more appealing. Display Gift Wrap options on the most significant store pages: product pages, shopping cart, and checkout. All they need to do is to hit the "Add Gift Options" button and set the preferred design in a single click.
Limit items availability for wrapping
Some items are hard or even impossible to wrap. With the Magento 2 Gift Wrap extension, you can limit wrap options for particular items or differentiate the prices for them. If you restrict wrapping for specific items, customers will not be able to use the feature and will see the corresponding message in their shopping carts.
Use gift wraps as a powerful tool to boost sales
Store owners have to comply with various legal regulations, that vastly differ depending on where the business is located. Besides, to create a necessary gift wrap service, it is necessary to keep track of what wraps are popular among customers. The Magento 2 Gift Wrap module covers both as if offers flexible tax settings and reports on wraps sales.
Comply with any tax regulations in your region
Analyze the efficiency of gift wraps for sales
Comply with any tax regulations in your region
Each region has its nuances on how products' taxes should be processed and communicated to customers. That's why the extension allows store owners to modify the gift wrapping tax class and its display on the checkout. Set tax class for message cards and wrapping, adjust the taxes display in Order Totals on the checkout. Learn more in the
User Guide
.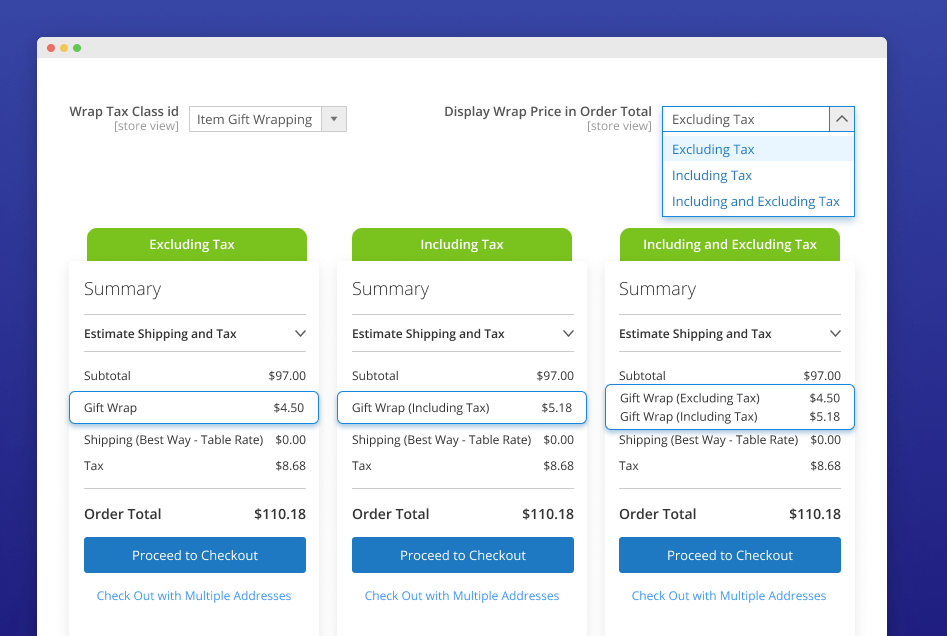 Analyze the efficiency of gift wraps for sales
Enable the Gift Wrap Analytical Dashboard to check the wrapping dynamics and see which wraps are the most popular in your store. View the total revenue gained from the extra gifting options and adjust wraps stock to keep up with clients' demand.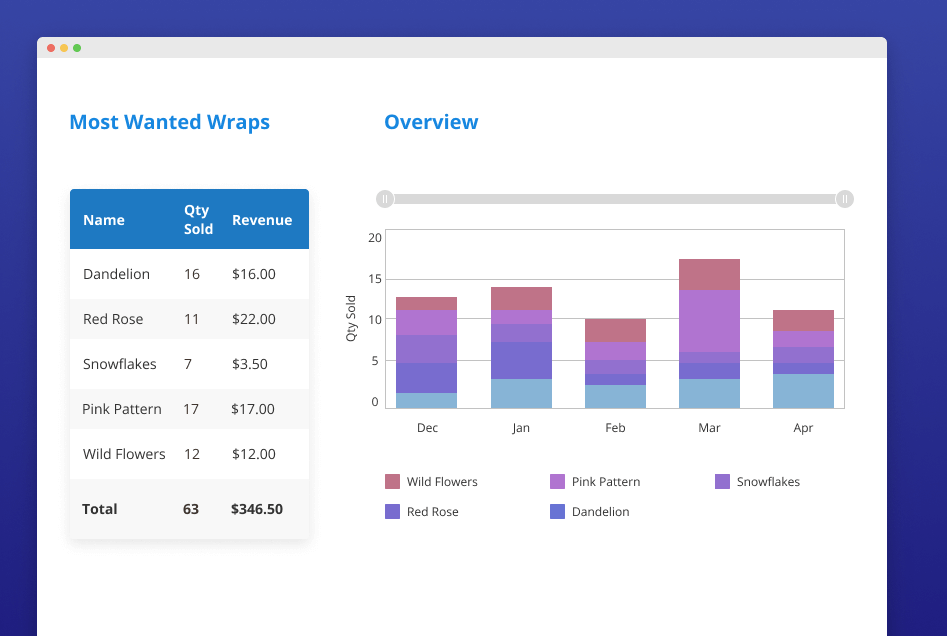 EXTEND THE POSSIBILITIES OF MAGENTO 2 GIFT WRAPS
Let customers wrap products separately
Speed up the shopping process by allowing customers to wrap products individually or put them all in one gift box. After proceeding to the shopping cart page, customers will see the "Gift Options" button and make their present appealing in a split second.
Enable wraps for multiple store views
The extension enables admins to localize wraps visibility, name, description, price, sorting order for each store view. Thus, allowing businesses to tailor wrapping services to meet the demands of each market — e.g. hide certain wrap for the UK store, and change description or price for Italy.
Wrap gifts for orders with multi-address shipping
When shopping for gifts, a visitor might want to buy something nice for themselves. This is why having a multi-address is handy. It allows users to add a nice wrap for selected products and ship gift items to a recipient address as a separate package.
Get more orders with a smooth checkout
Speed up the whole shopping process with user-friendly One Step Checkout for Magento 2 extension to heavily enhance customer satisfaction. Create converting checkout just in a few clicks to boost store revenue. This extension is fully compatible with the Gift Wrap module.
Streamline gift-giving to grow orders revenue
Let visitors easily organize surprises and gifts by specifying the desired delivery date. The Magento 2 Delivery Date extension lets you define your delivery schedule and exclude specific days or hours when delivery is unavailable, thus streamlining delivery.
Other Features
100% Open Source — Easy To Customize
Follows Magento Code Architecture
Separated HTML/CSS/JS
Simple installation via Composer
* The name "Magento" and the logo are the trademarks of Magento, Inc.
Good results
Marketer
I have been using Amasty extensions for 3 years, and they never let me down. I bought a gift wrap for valentine's special offer, and it showed 2x to conversions. We sold 2 times more goods than last year, and about 50% of them were with gift wrapping.
Amasty answer
Feb 21, 2020
Natalya Chekanina
/ Head of Sales Team
Hi there! Thank you for your interest in Amasty and our extensions. We are glad that you've found our Gift Wrap for Magento 2 module useful! Hope to see you in our store again!
Well-made, but expensive
Co-founder
The extension works well as expected. The full price looks a bit too high, but I am glad that I took a chance to buy it on sale because the quality of the code satisfies our tech team..
Amasty answer
Dec 26, 2019
Natalya Chekanina
/ Head of Sales Team
Hi Dorothy! Thank you for choosing Amasty Gift Wrap for Magento 2. We are glad that you appreciate it's quality. We would be happy to see you in our store again!
Are you looking to add specific functionality for this extension or want to acquire a reliable development partner altogether? With custom development services by Amasty, you will receive high quality and cost-effective solutions developed by Magento professionals according to industry's best practices.
2.3.6, 2.3.6-p1, 2.4.0-p1, 2.4.1, 2.4.1-p1, 2.4.2
You can always download the recent version free of charge from your account
Installing an upgrade is easy — check now
My Downloads
Version 1.5.0
Last Update: Mar 23, 2021
Improvement we introduced tax visibility settings for Gift Wrap
Version 1.4.6
Last Update: Jan 21, 2021
Fix we corrected the issue with item's quantity duplication upon returning from a multiple address checkout process page
Improvement we implemented a code enhancement aimed at avoiding duplication
Improvement we updated MFTF tests for compatibility with Magento 2.4
Fix we corrected the issue occurred in backend upon working with gift wraps in case .js files are minified
Fix we corrected the integration with Amasty One Step Checkout extension regarding wrap reloading upon deletion of items on checkout page
Compatibility compatibility with Amasty One Step Checkout was improved
Fix resolved unexpected display of Add Gift Wrap button on checkout page
New now your customers are able to apply gift wrapping in case of check out with multiple addresses
New we introduced an option to limit gift message inserting if Gift Card is not chosen or if there are no Gift Cards in your store at all
Improvement we improved the process of gift wrap editing on shopping cart. Now the quantity of items wrapped is also available for modifying
Improvement we added the ability to configure Gift Message placeholder
Improvement we added the information about added gift wrapping to invoice and credit memo pages in admin panel
Version 1.3.0
Last Update: Dec 24, 2019
New now the plugin's package contains MFTF tests aimed at quality and stability enhancement
Version 1.2.0
Last Update: Dec 10, 2019
New now the functionality of extension is available on Amasty One Step Checkout page as well
Improvement we enhanced plugin's UX on product pages
Improvement minor design improvements were implemented
Version 1.1.0
Last Update: Nov 26, 2019
New now wrapping is available during checkout process
New we introduced a new feature - Analytics Dashboard for wraps in admin panel. Now you can check the wrapping dynamics and see which wraps are most popular in your store
New we added the ability to choose tax class for gift wraps and message cards
New we introduced a new functionality that gives you a possibility to duplicate wraps and cards in admin panel to simplify the creating of similar gift options