Payment Restrictions
for Magento 1
Limit use of payment methods by country, state, groups, store view, customer and product attributes. In addition, you can apply restrictions based on order information.
Increase effectiveness of your payment process
Restrictions based on country, state, other shipping data
Limit payment methods based on product and order info
Block methods by customer groups and other customer data
Reduce business risks and don't miss opportunities
Accepting payments lays at the core of every business, therefore it's absolutely necessary to properly organize this process. With Magento 1 Payment Restrictions you can create flexible rules to properly manage the access to your payment methods.
Specify to which products the rule should be applied
Sometimes it's necessary to limit payment methods per products to prevent losses. For example, it doesn't make sense to use certain payment gateways for small orders due to comparatively high processing fees. Also, it's quite risky to provide new customers with an option like 'cash on delivery'. Nevertheless, it makes sense to give the additional payment options like wire transfer for wholesale customers, who place large orders. With the module you will be able to fine-tune your payment system and maximize its output. It's possible to apply each created rule to:
All products;
Backorders only;
Products that are in stock and can be ordered right now;
Set restrictions based on purchase history and cart attributes
You can apply Magento payment method limitations based on order subtotal, weight and products quantity. For instance, you can disable 'checkout' for orders worth less than $5 if you lose about $1 on payment processing. You can also set restrictions based on the users' purchase history like the number of completed orders and total sales amount.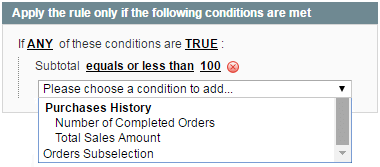 Restrict usage of payment method per product attributes
All product attributes are available for restriction conditions. You can block 'check' method for products from a category with cheap items or for products of a certain manufacturer.

Use customer attributes to set up payment conditions
Set up special conditions for individual customers when you create a payment rule. Various attributes like customer group, date of user registration, date of birth, gender, name and many others are at your service.
Limit use of payment methods by customer groups
Many store owners have privileged groups of customers. Now it is possible to grant extra payment options for such customers, e.g. 'cash on delivery'. Vice versa you can block offline payment methods for not logged in customers.

Create payment limitations based on shipping information
Use parameters such as country, state or province, city, text in address line (e.g. PO Box), zip code, shipping method for restrictions. Let's say you operate from Virginia. It won't make sense to allow 'cash on delivery' method in Alaska, so you can block the method for distant provinces, where you don't deliver.
Apply payment restrictions both on the front end and in the admin panel
You can set restrictions in the admin panel as well. Specify settings for each rule to avoid admins' mistakes in case they forget to suppress certain magento 1 payment gateways for some customers or situations.
Conditions "starts from" and "ends with"
This condition is especially useful for zip codes: specify a restriction and apply it to all zip codes starting from '123' or ending with 'XYZ'.
Set restrictions for back-ordered items
For example, you can block PayPal payments for backorders, as obviously a customer can't be charged for products that are out of stock.
Restrict payment methods by customers' personal data and order history
With a combination of Payment Restrictions and Special Promotions Pro you can apply restrictions to individual customers. For example, you have a customer who takes a long time to send funds by wire transfer. You can block a 'wire transfer' method for him/her by specifying email, name, id or even date of birth. Or vice versa you can reward customers with a great order history. Give 'purchase order' or 'cash on delivery' to people, who have previously spent more than $1000 at your website and placed at least 3 orders.
Please, note! Restrictions based on customers' personal data and order history are available only if you have Special Promotions Pro extension.
Restrict payment methods by store view and website
This region based payment option can be very useful when you have a separate website or a store view for each region or a customer group.
Block payment methods based on order information
Restrict specific payment methods for orders with particular average order value. It's also possible to limit payment methods by an order status as well as by the number of days after order placement.
Do NOT apply restrictions with specific discount rules or coupons
With this option you can decide whether to apply restrictions when discount rules or coupons are active. You can motivate customers to make purchases by allowing them to choose any comfortable payment method in addition to a discount offer.
Restrict certain payment methods by week days
Now you can choose particular days of the week to restrict payments according to your rule settings.
Include taxes and discounts into subtotal
This is a useful option when you would like to create restrictions based on subtotal. For instance, a rule limits 'check/money order' method for purchases with subtotal over $100. A customer buys a product worth $120 and applies 10% coupon. When this option is active, the rule won't be applied to such order, as subtotal after the discount will be less than $100.
Apply payment restrictions for custom regions
Now you can combine countries and create custom areas; any limitations can be applied to all of the selected countries with just one rule.

In case you need to add some extra payments, you can check out this Extra Fee extension.
Product questions

Can I use payment restrictions per customer groups?

Yes, you can restrict a payment method by customer group or other customer information. Go on reading to see the screenshot.

Can I restrict payment methods by customer attributes?

Yes, the extension helps to filter payment methods based on customer attributes. Such attributes as customer group, date of user registration, etc. can be used. To see how to set up payment conditions correctly continue reading.

Can I set payment restrictions on a product level?

Yes, sure. The extension allows for setting a payment method per product restriction. You can limit payment method coming from product or order information. Read on to see the screenshot.

Can I restrict a certain payment method if a customer uses a coupon code?

Yes, the extension is highly flexible. You can hide a payment method or not apply restrictions to specific discount rules or coupons. Read on to see step-by-step instructions.

Read the FULL answer

Can payment restrictions be applied on particular days or times only?

Yes, the Payment Restrictions extension allows for basing restrictions on particular days and times. For this, you need to make changes in the rule configuration section. Read on to see the screenshot.

Can I restrict payment methods by country?

Yes, with the module you are able to restrict countries in which specific payment methods are available. It's very convenient in case you need to restrict payment options for some legal or business reasons.

What happens when you have two different products with two different payment methods?

In this case payment restrictions are summed up and applied to the whole cart. Read on to see an example.

Does this extension support multi-store configuration?

Yes, sure, the module supports multiple websites and multiple store views.
Other Features
100% Open Source — Easy To Customize
Follows Magento Code Architecture
Separated HTML/CSS/JS
Simple installation via Composer
* The name "Magento" and the logo are the trademarks of Magento, Inc.
This should be a default feature in Magento!
An awesome extension that should be a default feature in Magento. It\'s extremely useful and you restrict payment methods based on anything that you can think of. Based on city? Done! Base on customer\'s data? Done! Based on coupon? Done! It works well in all custom themes and with the latest Magento version 1.9.2.4. I highly recommend this extension!
nice app
I've chosen this mod cause the similar market product didn't work with magento 1.9. Still it turned out that there was a little issue with magento rules, so I got help on that from Amasty support team. They quickly helped me to add conditions to enable COD for the cities where we don't sell our products. At present the extension gives us the functionality we need and is working great.
I have a suggestion to make this extension a bit better. It happens from time to time that we need to test checkout without a credit card. So in that case we need to enable payment method from specified IP addresses. So only the owner of the shop could pass a checkout without payment. It would be great if you could add such functionality to the module, guys.
Useful for international shipping
We have been using this extension for more than a year. It works with most popular payment methods, and when we had small issues with less popular payment methods, dear sirs from Amasty team helped us to solve these issues. Magento rules are pain so we also got help on that.
We like the extension because it worked in the way we didn't expect it to work. We have a large shop and ship worldwide so we have lots of payment methods. When the customer sees lots of them and also methods that are not available in his country he gets confused. So we restrict the methods and we noticed that the conversion on the step of payment rose a little bit and it was a pleasant surprise.
Lekuosyn
Magento Connect
works as expected
I needed to restrict payment by some product attributes. It wasn't an easy task for me. This extension helped to complete it. Thanks, Amasty!
Good extension
Useful extension for my small web store. I try to secure my business in such way.

David
Excellent extension that does what it promises
Easy to install and simple to use. I am very pleased with all aspects of this extension.
Different payment combinations
If you need to restriction different payment methods for some customers or even for the whole customer groups, you need this solution. A big variety of possible rule combination can be created. Great.

Gary
We use 2 extensions together
At first I want to say, that we use the extension with Shipping and Payment by Customer Groups. That is a good combination of extensions and we create different restriction for our customers. Of course customers don't know about that, but our regular customers were very surprised when we offer to them new and more profitable ways to pay for their orders.

John
Once and forever
We want to advice to use the extension. Using this extension gave us possibility to separate payment methods for our products. It should be mentioned that as our store sells very different product we need to set different payment types. That's why it is more comfortable to set rules once and it will work all the time.

Tomas
For our regular customers
We use the extension in combination with special promotions pro. We have a lots of customers, who have good order history, that's why we decided to reward them with payment methods which are not available for usual customers.
All in all the extension has a great number of useful features which can suite for different cases, which can appear in eCoomerce.

Thank you,
Randy
All features are true
For us the most important features were creation payment restrictions based on different product attributes and shipping information. We have a big variety of products with lots of attributes and we sell product all over the world. With the extension we can set lots of payment restrictions which will be suitable for us and our customers.

Alice,
Magento Connect
For different customer groups
It is very powerful to use it with combination of Special Promotion Pro extension, also made by Amasty. We are using them to set payment methods for our customers. All customers have different order history and based on their history we offer them different payment methods. For customers with right order history we have different restriction methods.

Ann,
Magento Connect
Very worthwhile!
This extension is clean, easy to use and does exactly what it says. We use it to restrict payment types for different customer groups (some have COD + Credit, others credit only). Tech support is excellent and quick.

EricL,
LandmannInteractive
Fantastic extension
Fantastic extension, easy to install easy to use. Great support from the company to config it.

Brandoni,
Magento connect
Great extension with needed functionalties
This extension gives us the functionalities we need. Works great!

Boddel,
Magento connect
very good support
We had a problem with a payment extension, so first of all it didn't work. But the support has assisted us until it worked as it should.
Thank you!
Are you looking to add specific functionality for this extension or want to acquire a reliable development partner altogether? With custom development services by Amasty, you will receive high quality and cost-effective solutions developed by Magento professionals according to industry's best practices.
CE 1.4.x - 1.9.x, EE 1.8.x - 1.14.x
You can always download the recent version free of charge from your account
Installing an upgrade is easy — check now
My Downloads
Version 1.4.1
Last Update: May 28, 2019
Fix the issue with empty condition was fixed
Fix the issue with applying rules for "Not Logged in" Customer Group was resolved
New "Product attribute combination" was added to conditions tree
Version 1.3.3
Last Update: Mar 06, 2019
Improvement Shipping Carriers were added to conditions tree
Fix the issue with saving restriction method when the method is first in database was resolved
Customer Attributes conditions
Order History conditions
New setting: Subtotal including tax and/or discount in conditions
Version 1.2.1
Last Update: Aug 11, 2016
Compatibility with for Customer Segments in EE
Option to apply restrictions to backorders
Option to use subtotal with discount and tax in conditions
Version 1.1.3
Last Update: Oct 29, 2015
New option: Do NOT apply restrictions with specific discount rules or coupons
Admin routing patch (SUPEE-6788) compatibility
Possibility to create restriction by coupon code or shopping price rule
Version 1.0.9
Last Update: May 04, 2015
Option to restrict payments for All orders, Backorders only or Non backorders
Fixed coupon validation when it has mix of lowercase or uppercase letters
Ability to use customer attributes as the conditions
Possibility to use a particular day for restrictions.
Ability to apply restrictions by city.
New conditions "starts from" and "ends with". Especially useful for zip codes - you can specify, that a restriction should apply to all zip codes starting from '123' or ending with 'XYZ'.
Improved compatibility with 1.5 and older Magento versions.
Condition option for address line, e.g. you can set restrictions for addresses with PO Boxes.
Fix of cache issue for product attributes in the conditions.