Product Attachments
for Magento 1
Provide customers with comprehensive information about products, such as user guides, warranties and so on, using attachment functionality. Let Product Pages sell more!
Amazing HTML5/AJAX file upload with drag and drop
Unlimited number of files and various file types
Download stats reports
Complete multi-store support
Nice icons for each file type to make pages more attractive
Content marketing tool able to complete a real product picture
Give additional info about the product
Some complex products need special methods of sales. You can add instructions, compliance certificates or interesting use cases to Magento 1 product attachments and customers will be able to see the value of your products much better.
Develop content sharing strategy
Everybody knows about usefulness of content-marketing. This Magento file manager gives you one more tool to develop content sharing in your store.
Improve product page presentation
Customers should see only useful product info, which will help them to take one more step to checkout. Additional information may be placed on a product page as well, but it should have appropriate format and customers should be able to choose whether to see it. That's why a handy Magento product file upload feature is a real "must have" for any online store.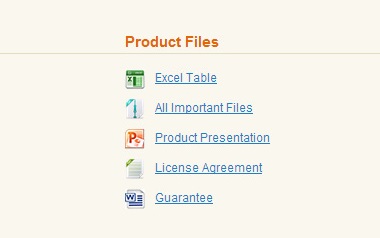 Catalog - product file - icons
Make your pages alive
Icons are a great tool to attract customers' attention to attached product files. Give customers extra guarantees that your products are the best not only using product description, but also adding important files to it.
Upload icon images for different file types
You can assign an individual icon to each specific file type. There's no limit for the number of icons you can have. There are 8 icons included in the extension. Of course you can change them at any time to make your store look more individual and vivid.
Catalog - product file - reports
View reports with data about downloaded files.
With this Magento file manager you'll able to view reports containing such info as date, product id, product name, file name, default file label, file url, file rating and store view. You can also use Magento download option and export reports to CSV format in order to analyze and collect the information about useful downloads.
Collect different reports for each store view.
Track trends of valuable info for each store view you have. Create reports for different stores in order to make your stores culturally sensitive. You can view reports by day, month and year. You can also analyze reports to find out what data is popular among customers to offer high quality relevant content in the future.
Catalog - product files tab
Upload product files
Magento file upload tool enables you to upload unlimited number of files and countless number of file types. Thus, one can easily add pdf to product in Magento as well as to take advantage of many other file formats. The following file types are supported:
pdf
pptx
xlsx
flash
ini
jpg
mp3
readme
txt
docx
zip
avi, etc.
Upload attachment files right on the product grid
Uploading file attachments has never been so easy. You can quickly add necessary files just by dragging them from your computer right on the product grid. Moreover, you can name the files the way you want customers to see them, just specify the prefferable name in 'Title' field and it will show up on the front end.
Mark files for your own recognition
'File Name' field reflects the name of the file as it is on your computer. However, you have an ability to change the name thanks to this Magento file attachment extension. It may be useful if you want to show different file names to customers and yourself.
Make files visible or invisible to customers
There's no need to upload files over and over again. Advanced Magento file upload tool enables you to hide files from your customers and make them visible at any time you need.
Select sorting priority of the files
Show customers the most significant files first. Type numbers from 0 in 'Sort Order' field to give the priority to the files. The smaller number a file has the higher position it will take.
Specify attachment visibility for different customer groups
You can determine a customer group to which the product attachment will be shown and choose whether to show or not product attachments to the customers who have already purchased the item.
'Use default value' checkbox
This option is extremely handy if you're using different store views. For example, you have 2 store views – English and Spanish. English store view is the default one, it has its own files and settings. So if you want the Spanish store view products to have values in Spanish, you don't need to use the checkbox. Use it only if you want the Spanish store view products to have the same values as English store view.
Improve customer experience with the Autodetect File option
This feature enables customers to open attached files right in the browser window instead of downloading them. Apart from that each file will be automatically opened in a new tab which is very convinient.
Save your time due to the Mass copy feature
Use this mass copy feature to assign any file attachments to numerous products at once right on the product grid. Quick and handy!
Possibility to work with attachments using Magento API
Now you can use Magento API in order to read, add or delete product attachments and make this process quick and easy.
Bulk files upload
In order to use this option upload product attachments via FTP, then create a CSV file to get uploaded documents match the right products.
Product questions

Can I make product attachments visible to only a particular customer group?

Yes, you can easily choose which customer group can view particular files attached to the products in your store or whether to show the attachments to buyers who have already purchased the product. Read on to follow a step-by-step guide.

Is it possible to import product attachments?

Yes, with the extension's option you can import file attachments. This can be either from the admin panel or via FTP.

Can I make a product attachment open in a new window?

The Autodetect File option allows for opening attached files right in a browser window instead of downloading them. Besides, each attachment will be automatically opened in a new tab.

Can I add product attachments to category or CMS pages?

Downloadable files can be added to product pages only since it's the main purpose of this extension, e.g. attach a pptx, jpg, mp3, pdf file to a product page. If you need to add attachments to other types of pages, you can contact us for customization services.

Can I display product attachments in an existing block or tab on a page?

Yes, you can display attached files in an existing block or tab on a page. For this, you need to make relevant changes in the general settings of product attachments. Follow the link to see a screenshot.
Other Features
100% Open Source — Easy To Customize
Follows Magento Code Architecture
Separated HTML/CSS/JS
Simple installation via Composer
* The name "Magento" and the logo are the trademarks of Magento, Inc.
Fantastic Support
The extension works amazing. Support is fast and helpfull. I recommend this extension.
Custom URLs
Great product, but it'd be better if it allowed custom URLs. As of now, the URL just includes a file ID number (generated for you), not the file name or product name.
Great Extention
Great extension and a must have to give your customers the option to download files.
I had a glitch with the template I use and Amasty took care of it.
These guys at Amasty are the most professional group I have worked with. I feel totally comfortable with them handling anything on my site and being able to set it up right. I only want to buy there extensions not only cause there some of the best but if there is a glitch or need help with something there on it quick.

Totally does its job
We are using this module to attach user guides and technical characteristics of our electronic products. It has been very handy and function al so far. Possibility to upload several files in bulk is a real time saver. I'm not a very technical person; this mass uploading seemed like a long story for the first time. Now it helps a lot.
Viewing the attachment in the new browser tab seems to be a very useful feature for me in this extension. There is no customers statistics yet, but in my opinion it is a lot better than viewing all in one tab. Downloading is not even an option.
I'm glad that we've chosen this module from dozens of similar ones!
Another great extension from Amasty
I have bought another extension from Amasty so knew the quality of the extension would be good as is the support, I am extremely happy with the extension, easy to use, looks good on the website and has great features.
Simply perfect
The module is just what I was looking for! Awesome icons, all that I need and even a bit more. Great service and support. I am very pleased all round.

Keflavick,
Magento Connect
Does what it promises!
Very good extension.
Does as described, easy to set-up, easy to handle.

A nice feature is the ability to "copy" the attachment, no need to add the same attachement to each product back-end one by one, no! Just add one, and copy over the other products.

Had a small problem, icon wasn't showing up when I attached by URL.
Contacted service, they solved it, quickly.
Happy customer ! And I would recommend everyone who wants to attach PDF's or others.
Extensive icons list
Have been hesitating a little bit when choosing the module to attach files to my pages, but I'm glad I've installed this one. The list of doc icons includes everything I need and even more.
Nice and easy to use extension. Drag and drop upload from the product grid feature would be great!
Very nice and fast extension. Follows Magento interface logic, so it's easy to use for our managers. Thanks :)
Backend
you'll be logged in automatically
Are you looking to add specific functionality for this extension or want to acquire a reliable development partner altogether? With custom development services by Amasty, you will receive high quality and cost-effective solutions developed by Magento professionals according to industry's best practices.
CE 1.4.x - 1.9.x, EE 1.8.x - 1.14.x
You can always download the recent version free of charge from your account
Installing an upgrade is easy — check now
My Downloads
Version 1.7.7
Last Update: May 21, 2020
Fix we fixed the issue with applying of translations from the localization file in Admin Panel
Fix the issue with adding an attachment using API was resolved
Fixed an issue with checking URL when the attachment file was uploaded
Minor code improvements
Fixed an issue with the API field file_content
Fixed an issue with attachment as URL
Direct file links can be imported
SOAP API call samples added
A number of overall and compatibility improvements
Fix for setting visibility for each particular attachment
Possibility to globally define the default value for file visibility setting (public or private) for all newly uploaded attachments
Version 1.6.10
Last Update: Dec 16, 2016
Code refactoring for files download algorithm to improve compatibility
Fix for reports page access
Bugfix for attachments visibility when multiple instances of the same item purchased
Bugfix for API field name ("label" instead of incorrect "title" should be used)
Admin routing patch (SUPEE-6788) compatibility
Added CSS styles for popup windows
Added compatibility with Magento 1.9.2.0,
Added permissions for mass actions,
Improved attaches displaying at the product grid.
Fix for duplicate row when attachment available for all customer groups
Possibility to make attachment visible per customer group
Possibility to make attachments visible for customers who purchased a product
Possibility to mass upload and import files via CSV/FTP
Version 1.5.0
Last Update: Apr 07, 2015
File size is now displayed on frontend for each downloadable file
Uploaded files with links are now displayed on the product grid in the backend
Version 1.4.1
Last Update: Apr 01, 2015
Possibility to work with attachments using Magento API
Possibility to upload attachment files right on the product grid
Settings for attachments block location: on a page, in a tab
Version 1.3.0
Last Update: Apr 18, 2014
Auto detect mime types. Optional. It means some files like PDF customer can open right in the browser window instead of downloading on the hard disc.
Files validation now allows uploading attachments with complex types, like "tar.gz"
Version 1.2.9
Last Update: Apr 14, 2014
Mass action to copy attachments to many products at once
Mass action to remove files right from the product grid
Correct timezone filter for download reports
Bugfix for deleting file icons
Download report refactored
Correct handling of upload errors
General code optimisation
Bugfix for file download in the backend
Possibility to upload files when creating new product (until it's saved)
Enhanced compatibility with Magento 1.4.x versions
Better compatibility with older Magento versions
Minor fix for error messages.
Fix for installation script file name
Full re-factoring of the extension code - now even faster and more reliable
HTML5/AJAX file upload with nice progress animation
Possibility to upload multiple files at once