Product Parts Finder
for Magento 2
Equip your store with an advanced search option. Let customers easily find necessary repair parts and components by placing Magento 2 year-make-model and other extension filters on your website.
Enjoy the stable work with large data volumes
Customize user-friendly finder block design
Quickly upload CSV files with Drag & Drop
Allow customers to save search results in bookmarks
Enhance the UX by embedding finder blocks in any layout
HOW TO MAKE YOUR STORE MORE USER-FRIENDLY
Market Challenge
It's vital to provide customers with a quick and clear way to find products by key parameters. An easy-to-use product finder is an essential feature for online stores selling accessories or spare car parts in Magento 2. It allows online shoppers to input the info like year of production, type of vehicle, car model or its manufacturer and get a filtered list of relevant items.
Our Solution
With the Magento 2 Product Parts Finder extension for you'll be able to add product finders to home and category pages and provide customers with an unlimited number of filters and filter options wrapped in a handy dropdowns. Import product data for drop-down values using CSV files and easily customize finder design.
What benefits do you get for your store
Improve customer experience with user-friendly filter options
Enhance your store performance with smart data storage
Effectively manage data import with handy import options
PARTS FINDER: SMART AND HANDY
Stable work with large data volumes
The Magento 2 Product Parts Finder ensures stable work without "explodes" for large catalogs of 10k + products. Better module performance is determined by the usage of AJAX for options load. The data is stored in separate tables for easy and prompt access.
Smart partial search
Advanced Magento 2 parts finder allows customers to select just one filter value in a finder to start looking for specific products, e.g. automotive parts. Thus selecting all options is not required.
Automatically save selected options
All filter values specified by customers will be immediately saved. This handy option allows online shoppers to browse through other store pages and then come back to the product filter page without losing previously saved filter conditions.
Add search results to bookmarks
Allow saving search results to the bookmarks. Users won't have to waste their time trying to find the page with the products they've previously selected. Thus shoppers will be able to share custom search result links with others.
Display compatible options
When customers navigate to a desired product page after the product search in Magento 2 Finder, they can additionally look for all the other compatible options of the product they are interested in.
Efficiently manage cron tasks
Manage all existing cron tasks on a Cron Tasks List grid from the admin panel. Run cron tasks and generate their schedule by clicking the 'Run Cron' button. Delete tasks in bulk, use filtering and sorting options when it is needed.
VARIETY OF DESIGN AND DISPLAY OPTIONS

Enable finder on a home page for a quicker access
With the part finder Magento 2 extension, you can display product filter blocks on the store home page. Thus, customers can start searching for the necessary items right from the landing page without wasting time on exploring website categories.
Enrich finder options with images and labels
Make your parts finder more vivid and engaging for shoppers. Arrange finder options the way you need, choosing:
Images to display brands' and manufacturers' logo without any text;
Labels to display series or models more accurately;
Images & labels together in the styled blocks;
Dropdowns - default plain variant to display options without any styles, plainly.
User-friendly parts finder block design
Fine-tune the display of the product finder according to your industry needs - either use one of the predefined Magento 2 product selector templates or generate your own one. It's also possible to use both vertical and horizontal templates at the same time and show them in different locations.
Place product finder on a category page in one click
The Magento 2 part finder module enables you to display product autofinders on any category page and apply filter conditions only for the category where they are displayed. You can multi-select categories and specify the position, i.e. sidebar, content.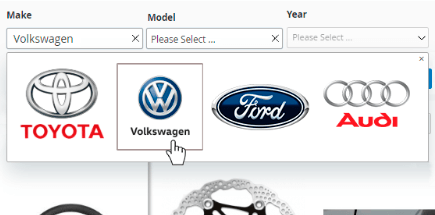 QUICK & EASY DATA IMPORT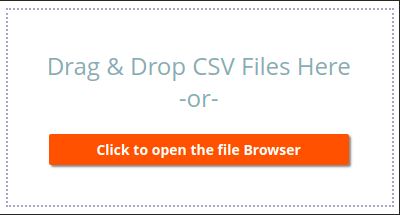 Manage finder records and remove in bulk
To delete or add a few new records to a product finder there is no need to replace the whole existing list with a new one. You can simply remove products via mass action and add new ones and their options manually in the admin panel.
Quick CSV upload with Drag & Drop
Import files manually with a drag-and-drop option or upload them via FTP. Once the files are downloaded it's possible to check all the imported files in the Import History tab.
Import values for filter options
To speed up finder configuration process import values for selection options in CSV format and assign them to corresponding products. View the imported data to check if everything is correct and up to date.
Use ranges for numeric values
Simplify data import by setting ranges for numeric options. For instance, if you need to specify years 2007-2018, the extension will show products for all years from the specified interval. It allows you to create just one line in CSV file instead of 11.
NOTE: You may also automatically upload images using import options. You won't have to assign each image to an option manually - the Magento 2 product selector identifies the necessary values in a CSV file. Just match option names with the image names and add media content to filters in a few minutes.

More features for your store
Redirect to the product when there's only one result
When there is only one result available, you can redirect customers right to the product page they are looking for.


Automatically load drop-down values
If the specified condition in the first dropdown has a single value, the next filter dropdowns will be loaded automatically and customers will be directed to the search results.
Ascending and descending sorting for filter values
Use alphabetic order for text values and numeric order for numeric values.


Apply only one finder at a time
If you place several finders on one page, the extension will apply only one finder at a time and automatically clear already specified conditions for other finders.
What is Magento 2 product search?
To retain a visitor on the pages of your online store there is a whole list of methods for website optimization, one of which is a clear, conveniently located search for products in the online store. Magento 2 product search is an important feature for your store. By implementing this function you give your visitors an opportunity to find products they need faster and convert into customers.
Product questions

How can I add Parts Finder block on homepage?

In order to add and employ the Product Parts Finder block on the homepage, it is required to add the finder block code: block class="Amasty\Finder\Block\Form" block_id="finder_form" location="cms" id="2" in the Content text field of the CMS page "Homepage". After that flush your Magento cache and check how it works for you.
Other Features
100% Open Source — Easy To Customize
Follows Magento Code Architecture
Separated HTML/CSS/JS
Simple installation via Composer
* The name "Magento" and the logo are the trademarks of Magento, Inc.
Good for big stores
MFS Motor, Marketer
Helps our customers to quickly find product parts based on vehicle attributes. So, it brings a better customer experience, and hence, more sales. I will recommend the extension to big stores.
Amasty answer
Nov 12, 2020
Alena Hamolka
/ Product Team Lead
Hi Kowin, thanks for your feedback! We are happy to see that the extension helped you enhance customer experience and grow sales. We'll look forward to seeing you in our store again!
Amasty parts finder did what we needed
Gear2win, Manager
We've been using the extension for 5 years to show case all parts for a certain model of motorcycle. It a great solution for any one who wants to showcase makes and models of any products


Amasty answer
Nov 04, 2020
Alena Hamolka
/ Product Team Lead
Hi Glen, thanks for your feedback and for recommending the extension, it's wonderful to hear that it's been helpful in showcasing parts of different motorcycle models. Don't hesitate to contact us when you need any additional functionality for your Magento store, we'll be happy to help!
100% robust functionality, good support
Graphizo, Business Manager
The extension is working great and provides 100% robust functionality. And yet, I really like Amasty service and customer support.
Amasty answer
Oct 28, 2020
Kira Pomaleyko
/ Lead Support Manager
Hi Sam, thank you very much for your review! We are happy to know that the extension was helpful, and it's great to hear that you're satisfied with our customer support. Our support team always does their best to assist our customers. Please contact us anytime you need additional functionality or services for your Magento store, we'll be happy to help!
Well suited for automotive stores
Dexis Iberica, CT Manager
The module helped us to accurately sort our products as per fitment data, thus enabling our customers to find the needed components faster. I think the extension is perfect for automotive stores.

Amasty answer
Sep 30, 2020
Alena Hamolka
/ Product Team Lead
Hi, thank you so much for the review and for the details about the functionality you needed. It's great to see that the extension was helpful in improving your customers' experience and we'll look forward to seeing you in our store again!
Amasty Parts Finder
TuffTruckParts.com, CEO
Can't say enough about the great team and great customer support at Amasty. We purchased this extension but needed a lot of customization on our part to make it perfect for our website. The Amasty team walked us through it and resolved any issue we had with the product. We highly recommend this extension and the Amasty team. Thank you Amasty
Amasty answer
Mar 07, 2020
Natalya Chekanina
/ Head of Sales Team
Hi Phil! Thank you for appreciating the provided support and a customization service! We would be happy to see you in our store again!
Worth the price
eCommerce Manager
The Amasty Product Parts Finder ist completly worth the price. If you got some difficult products which needs a refined selection on user level its a must have. Even for other product ranges beside the typical "car repair" or "wheels" its a good and usefull extension.

The only down side is the static seperator for imports ( "," ) and since we have imports with names that includes a comma in the name we had some troubles. But after we changed the seperator in the extension file we were good to go. Unfortunatly we had to do that on our own since the developers were kinda slow in that manner, but still an amazing extension which i would by again any time.
Amasty answer
Oct 05, 2019
Natalya Chekanina
/ Head of Sales Team
Dear Marcel, thank you for your review! We would be happy to see you in our store again!
Ok
HM, Manager
Product finder is robust. Support was satisfying. But we had to pay to upgrade to m2 extensions.
Amasty answer
Apr 16, 2019
Natalya Chekanina
/ Head of Sales Team
Dear Mark, thank you for your review! We would be happy to see you in our store again!
I highly recommend this app!
This is a great app and Amasty provides even better service! It solves our need to provide Year/Make/Model search options for our customers. I highly recommend this app!
Works as described
The Install directions are very detailed and helpful. It works as described without any issues. My developer had modified it according to my wishes. Keep up the good work!
it's worth the price
Solid and reliable module. It took some time to get it to work and configuring. Otherwise it works exactly as described. The support team made great job! If you are searching for a plugin with such functionality, you should take this one. It's definitely better than the others we've tried so far.
Great extension and support!
I have over 7 years e-commerce experience. This is the most feature rich tool for having a Year - Make - Model search with Magento 2. After searching for the best solution I think I have found it here! The support team helped me with the configuration. No bugs detected.
Amazing support!
It works well for me. The support team replies very quickly. All my questions have been answered the same day!
Must have extension for automotive industry
I've made a research and this seems to be the best extension on the market. If you are in the Automotive Industry this extension is an absolutely MUST HAVE!
A bit pricey
The app smoothly runs out of the box without any tweaking which is a great plus. The support is amazing - they replied to my request in about 2 hours and helped out with the app configuration to make it perfectly match my store theme. Hope your other extensions are as nice as this one. The only minus of the app are pricey updates, hope you'll make a decent discount for frequent clients, though.
Are you looking to add specific functionality for this extension or want to acquire a reliable development partner altogether? With custom development services by Amasty, you will receive high quality and cost-effective solutions developed by Magento professionals according to industry's best practices.
2.3.6, 2.3.6-p1, 2.4.0-p1, 2.4.1, 2.4.1-p1, 2.4.2
You can always download the recent version free of charge from your account
Installing an upgrade is easy — check now
My Downloads
Version 1.11.17
Last Update: Dec 11, 2020
Fix now the configuration export for Varnish 6 is performed as expected
Fix we resolved the issue with products deletion from grids - now it is performed via mass-action only
Improvement we enhanced import files validation
Fix we resolved the issue with an unexpected redirect to a finder creation page upon deletion of a universal product
Compatibility compatibility with Magento 2.3.2 and less was improved
Fix we resolved the issue with images saving to a finder
Compatibility compatibility with Magento 2.4 was added
Fix we resolved the issue with mass-selection of a finder's products via Select All link
Fix we adjusted the console error which occurred upon initialization of Compatibility tab
Fix we resolved the issue with special characters encoding
Fix we fixed the importing of images
Improvement we rewrote the way API delete-requests are performed: now it's possible to delete a value with a value ID instead of a map ID
Fix we fixed the issue with nonfulfillment of Delete process via massaction
Compatibility compatibility with Magento 2.3.4 and default swatches was improved
Fix we corrected plugin's behavior in case of displaying of two different finders on the same page
Fix we resolved the issue with deleting of values using API
Improvement we rechecked and established correct dependency on jQuery UI library
Fix issue with creating new finder was resolved
Improvement we implemented minor UX enhancement
Fix we fixed minor warning in Magento system log
Fix minor issue was resolved
Improvement the working process with Big Data was improved
Compatibility the compatibility with the Magento_Elasticsearch6 was enhanced
New ability to manage all existing cron tasks on a Cron Tasks List grid in backend was added. Run cron tasks and generate their schedule by clicking the 'Run Cron' button. Also, delete tasks in bulk, apply filtering and sorting options when it is needed
Improvement minor enhancements and fixes were added
Version 1.10.2
Last Update: Mar 29, 2019
Compatibility the compatibility with the Magento v2.3.1 was enhacned
Improvement now at the Product Page an empty 'Compatible Options' tab is hidden
Compatibility compatibility with AMP for Blog Pro extension was improved
New an API method to get the products collection by the finder options was added
Improvement the configuration settings were improved
Fix an issue with image import was resolved
Fix an issue with filtering was resolved
Version 1.9.5
Last Update: Nov 19, 2018
Improvement now compatible options at the product page are ordered by A-Z
Fix an issue with missing input field validation was resolved
Improvement several usability enhancements were implemented
Improvement dropdown style for Display Type=Label/Image and Label/Image was enhanced
Improvement fixed the directory for finder options images import
Improvement automatic less file generation was added
Improvement the Parts Finder Compatibility tab on the product page was enhacned
Fix an issue with redirect from home page was resolved
Compatibility compatibility with Magento CE 2.1.14 was improved
Fix an issue with the products in finder created via API was resolved
Fix an issue with redirect to the product page with one product in result was resolved
Fix an issue with 'back' browser button was resolved
Fix the issue with the finder API was fixed
New allows to add images for the finder dropdown options to make them more eye catching
Improvement configuration settings were reviewed and enhanced
Version 1.8.3
Last Update: Jul 16, 2018
Fix the minor issues were resolved
Fix the minor issue related to filtering results for two or more applied finders was fixed
New allows to display all the finder filter options, which the product is compatible with, in the special tab at the product page
Fix the issues with redirects to finder results when using FPC were resolved
Improvement minor enhancements
Version 1.7.4
Last Update: Jun 18, 2018
Improvement the module sets 'is_anchor' to 'yes' for the root categories during the installation
Compatibility the compatibility with the Amasty Elastic Search extension was enhanced
Compatibility the compatibility with Varnish Cache was added
Fix the minor issues were resolved
Fix the issue with webapi was resolved
Fix the issue with the product grid in backend on M2.1.9 was resolved
Fix the issue with the 'Redirect to product page when there is only one product in result' setting was resolved
Fix the issue with finder on the default category was resolved
Improvement a setting to enable finder on the search page was added in the finder configuration
Compatibility compatibility with Amasty Improved Layered Navigation ajax was added
Fix issue with finder automatically added to the cms and search result pages was fixed
New Includes the jQuery plugin that makes select boxes much more user-friendly and equips it with the search field
Improvement the Mass Delete Action to the Finder Products Grid was added
Fix minor fixes and improvements were added
Version 1.6.0
Last Update: Apr 18, 2018
New Allows to specify the finder block position in the configuration
New Allows to select the categories from the list in the configuration to enable the finder at
Version 1.5.1
Last Update: Apr 11, 2018
Improvement information section is added. Now you can see the version of installed extension, available updates, User Guide link, conflicts and other useful data right on the module Configuration page
Fix an issue in Magento 2.1 with the 'Redirect to product page when there is only one product in result' option redirects to a 404 error when making a search with only one result was resolced
New allows to manage Finder block visibility on the Default Category. It is useful when there are several finders added to the default category but you need to display only one of them at the frontend
New allows to add Finder to the Default Category automatically in order to get the Finder working properly at the home and cms pages
Removed the ?amfinder parameter from the URL when more than one product in the result
Fixed an issue with Finder not resetting when 'Clear other (previous) finder conditions' setting is enabled
Version 1.4.2
Last Update: Mar 14, 2018
Fixed an issue with the M2.1.x incompatibility. More details about the issue can be found here.
Other minor fixes and improvements
Fixed an issue with a usage of a browser 'Back' button after a search in the Magento Open Source
Fixed an issue with the CSV file import
Compatibility with the Built-in Magento EE ElasticSearch
Version 1.3.0
Last Update: Feb 05, 2018
New API Support introduced
Minor fixes and improvements
Code style refactoring
Fixed an issue with the capital letters became the lower case after import data
Disabled the caching for the finder block
Version 1.2.0
Last Update: Nov 08, 2017
Redirect right to the product page when there is only one position in the search result
Version 1.1.1
Last Update: Jul 18, 2017
Fixes for multiple Finders on the same page
Minor code imporvements
Cache-related issues fixed
Version 1.0.6
Last Update: Nov 30, 2016
Fix for import not responding in case of import folder did not exist
Added ability to show finder on any page
Code is organized according to the new Magento standards
Better compatibility with Magento FPC
Updated i18n files
Fixed wrong caching in some cases
Fixed UTF8 encoding for import
Compatibility with Magento 2.1