Product Parts Finder
for Magento 1
Create product filters based on key criteria, which help to locate the right products very quickly. Make it easy for customers to find spare parts and components - add year-make-model or similar filters to your website.
Year-make-model and analogous product filters
Display product finders at home page and category pages
Add unlimited number of product finders
Create filters with unlimited number of selection options
Optimized for large volumes of data
Products finders make your store more user-friendly
Let customers find the right products easily
Most products have just a few key characteristics, to which customers pay most attention. So it is very important in Magento to make advanced search by the key parameters as easy as possible.
If you are the owner of a Magento 1 auto parts store, you need car parts filters, so it whould be easy to choose year of production, car make and model. If you sell phone batteries, it should be easy to search them by phone manufacturer, model or capacity. This is a standard feature for stores, which sell parts and customers are used to it, so without such search filters your site will be a lot less user friendly.
In addition the product finders work well both with standard Magento 1 layered navigation and with our Improved Navigation, only the product finders work a lot faster.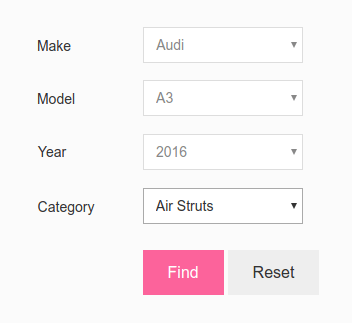 Possibility to apply finders only on the pages of the categories where they are displayed
Let's say you have absolutely different types of products in different categories like tires and motor oil. It makes no sense to apply tire make and radius filter to motor oil, so when you activate this option, tire product finder will be applied only in 'Tires' Magento 1 search category and motor oil finder will be applied only in 'Motor Oil' category.
Partial search
Magento 1 advanced search dropdown option significantly enhances the search process. Now customers don't need to choose all product finder values from the scratch each time they want to select an additional parameter.
Display search results in one relevant category
In case you've got more than one line of products in your online store, our Magento 1 advanced search category tool is just what you are looking for. With this tool it's much more convenient to display search results in one particular category with the relevant products, thus helping your customers not only find what they need but to look through the list of similar or related items and purchase even more.
Selected options are saved
All options chosen by customers are saved. This way they can freely browse other pages of your store and find all their selections remaining when they get back to the page where they used product finders.
Creation and display of product finders

Locate parts finder anywhere with one click
Place the product parts finder in particular themes, categories, and other locations. It is possible to display it on both sides, in content, or footer. With multi-select, specify one or various categories to display a parts finder in.
Add unlimited number of product finders
You can create a separate product finder for each category. This way you can appropriately setup a Magento 1 product filter for each type of products. Let's say you have two categories - cell phone accessories and camera accessories. You can create a separate filter with cell phone makes and models and camera makes and models, so customers have appropriate selection options in each category. You can display several product finder blocks on one page.
Add finders to home page automatically
The module allows to add product finder blocks to the store default category (home page) automatically. You can provide your customers with a better shopping experience right from the start. Let's say you sell parts for cars and parts for motorcycles. Place 2 search filters for both categories on home page.
Apply only current finder if there are two or more finders
In case you have more than one finder on a page, you can easily clear all already specified conditions for previous finders on this page in order not to narrow down search parameters - only one finder will be applied at a time.
Create product finder filters with unlimited number of selection options
The extension enables you to create filters of year-make-model kind and this is just the start. You can create product finder filters from one to unlimited number of selection options. For example you can have simple filters which will allow to find cartridges by printer manufacturer and model or more complex ones with year, make, model and equipment level options.
Show universal products regardless of what options are chosen in a finder
For each finder you can import universal products. These products will be displayed in search results for every Magento search query. This can be very convenient when certain products, e.g. some oils or lubricants, match every selection in a product finder.
Manage universal products display in search results
Due to this option you can display more relevant search results first and and then place universal products. Therefore you'll increase customers' satisfaction by providing them with the items they really need.
Multiple options for data import and display
Import values for product finder options
You can import values for selection options of product finders and link them to appropriate products, so no 'fun' of manual entry. The import works fast and is optimized for large volumes of information. Of course, you can view the imported data to check if it is accurate and up to date.
NEW | XLS (XLSX) import available.
Possibility to import large size files partialy
Since now you can import large size files piece by piece, and see the import process progress. It is up to you whether to import files manually via drag and drop option or upload it via FTP. After downloading, you can check all the imported files on the Import History tab in admin panel.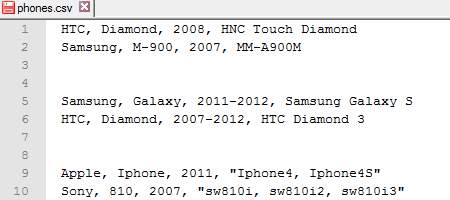 Advanced cache option for Enterprise edition
With this cache feature all finder search results pages will be automatically excluded from from cache.
Ranges for numeric values
To simplify the import of data you can specify ranges for numeric options. E.g. if you specify years 1990-2012, you will have just one line in csv file instead of 23.
Ascending and descending sorting options for dropdown values
With the advanced search dropdown for Magento 1 you can select ascending or descending sorting for each product finder option. Text values will be sorted by alphabet.
Multiple associations are possible
Any number of products can be assigned to each option. For example you can have multiple products assigned to each year, make and model.
It is possible to delete and create individual records for finders
You won't have to export a new .csv file just to remove or add a few products to the finder. You can delete and add individual products with their options right in the backend.
Visualization and performance

Compatibility tab on product page
Display compatible options on the product pages. When customers reach a needed product page after searching by the Magento parts finder, they can see other compatible options of the product they are interested in. The feature enable a separate tab on the product pages.
Flexible finder design
You can either use templates provided with the extension or create your own templates to make the product finders look exactly as you like. Also you can display the same finder block as both vertical and horizontal in different places.
Advanced options
Automatically load drop-down menu values;
Bookmark pages with search results;
Redirect to the product page when there is only one position in the search results;
Compatibility with the RWD theme;
Optimized for large data volumes;
Specify custom URLs to which customers are redirected after doing a search.
Try out several more extensions which help customers find the right products faster
With Search Pro extension you will significantly increase relevance of search results. Module allows to specify search priority for attributes, to choose the search type ('like', 'fulltext' or 'combined') and provides you with highly-configurable autocomplete feature.
Improved Navigation extension - a very feature-rich solution to significantly improve your site navigation and SEO.
Product Categories module - allows to show related categories right at the product page - great for cross-promotion.
Shop by Brand extension for a perfect brand management and brand navigation.
Additional information
Is compatible with layered navigation
Magento 1 search results produced by the extension can be further filtered with the help of layered navigation.
Product questions

Is it possible to search products within a particular category?

Yes, you can place the product search on the category page and it will find items by the given category only.

Can I filter results by category once the search is complete?

Yes, sure. After a search from the homepage, you can refine search filters by category, price, etc. See the complete answer to learn all the pitfalls.

Read the FULL answer

Can I have more than 3 drop-down portions?

Yes, with the filters of the year-make-model kind you can have more than 3 options, e.g. year/make/model/engine. As a matter of fact, the number of options is not limited.

Can this Product Parts Finder show Disabled or Not Visible Individually products?

Our Parts Finder filters products in categories by SKUs. If some product is not visible in the category used by the Finder, it won't be shown in the results.

Can I assign multiple models to a single SKU?

Yes, you can upload the same SKU for different sets of brands / model numbers. It's often used for car part finder when a detail suits different models.

Can a single SKU have multiple options combinations?

Yes, a single SKU can have multiple options combinations when one SKU fits for several vehicles.

Is there any possibility to skip a step while filtering products?

Yes, it's possible to skip steps. For example, one can choose only model and skip other options. Mind that the first option is required and cannot be skipped.

Can this Product Parts Finder be used with multiple languages?

Yes, you can translate all labels in the CSV file (including car names if needed).

Can I change the number of available options once a Finder is created?

No, it's not possible since the number of options is set at the beginning of finder creation, it cannot be changed after that.

Is there a way to bulk import year/make/model data?

When running a Magento car store you can bulk import year/make/model data. The extension is optimized for transferring larger volumes of information in a faster way. Read on to see the instructions.

My products already have years and models assigned. Can the module use this data?

This data can't be used directly as the Parts Finder needs only products SKUs. However, the attributes may be useful if you decide to create a file to import it into the Finder.

Can I add a Finder to a page layout instead of a CMS block?

Yes, you can add a product filter widget to any page via the amfinder.xml file. Read on to see the screenshot with the step-by-step instruction.

How to add finder to the home page?

To let your customer use Magento product filter on the home page, you need to create a new product finder, which is to be used for the need. Go on reading to see a bit-by-bit guide.

Read the FULL answer
Other Features
100% Open Source — Easy To Customize
Follows Magento Code Architecture
Separated HTML/CSS/JS
Simple installation via Composer
* The name "Magento" and the logo are the trademarks of Magento, Inc.
Easy to use for customer and admin
Hofbauer, Webadmin
We have been using it for 6 years, and we recommend it to all companies selling technical parts. Easy to use for customer and admin
Amasty answer
Mar 23, 2021
Natalya Chekanina
/ Head of Sales Team
Dear Ludwig, thanks for being our loyal customer and for choosing Amasty extensions for your Magento 1 and Magento 2 sites. It's great to hear that you find this extension helpful, and we'll be happy to see you in our store again!
Easy to setup! Great Support!
Extension works very well, has good documentation and is easy to customize. I did encounter an issue initially during setup but Amasty Support was able to fix it before my deadline. I really appreciate the great support.
I do like it
I sell spare parts and accessories for cars and vehicles imported from Japan. And this extension is irreplaceable for my online store. My profit has risen on a third over the past nine months. I highly recommend it to every shop with large selection of goods.
I'm very pleased
I have just installed the extension and I'm already impressed! It's really well-coded and clear, installs very easily and looks nice on the frontend. The described features sound very promising, although I haven't discovered them all yet. I'm very pleased with this tool!
Read on
One of the best product finder extensions so far. Worked perfectly right after installation so I managed to configure the filters without breaking a sweat.
Amasty made a good job
This is one of my favorite extensions. Amasty made a good job and I'm glad to be their customer.
I had some conflicts on installation but they were rapidly removed by Ryslan.
It's worth it
I sell printers and parts and need a good filtering systems on my site. I wasn't sure this module would work as it seemed to be for auto parts stores. But when I saw a screenshot with lexmark cartridges, decided to give it a try.
The installation was quite fast but then I learned that I needed to change many attributes in order to have relevant filters results. I clenched my teeth and did that. And you know what? Now everything works just perfect and I don't regret for the time spent on all the configurations.
just what we were looking for
High-quality extensions and the best support distinguish Amasty. It's always a pleasure to have business with them (yeah, I'm a return customer). Don't be misled that this module is designed only for webshops selling auto parts. In our store it works perfectly with jewelry.
Well done!

Nice module
Parts finder enormously expands the boundaries of the default Magento searching possibilities. It's very easy to install, the module didn't cause any problems with 3d party extensions, but I still give 4 stars, because preparing this thing to work, manually changing attributes and setting up all the options is pretty time-consuming and may give you headaches. After all is finally set, you have a magic wand in your store.
love it!
The extension is a godsend for my auto parts web store. We have hundreds of spare parts loaded, and this product just picks them up without any flaws. Works perfectly, configuring filters is as easy as pie. Good work!
just what we needed
This tool is just what we needed for our shop, seems it could save days of hard and boring work. I tried several extensions with similar functionality, but in the end we stick to Amasty. We sell sport equipment and now we've finally found the best way for our customers to pick the exact set of products they need. A+
Great Extension For User Experience
This extension is very well written to allow searching/filtering beyond what is normally possible with Magento.
When used with Amasty Improved Navigation the filtering and category configurations are practically
Limitless.
Excellent product support.
Highly recommended
myprimewines
Magento Connect
Worth each dollar we paid for it!
I bet this module is one of the most flexible and handy YMM/tools you can find in the market. I'm really grateful to Amasty team that made some modifications for my car parts store and patiently answered to all my questions.
Unlike other similar tools this one can search items in a particular category if you place the finder on a category page – this was exactly what we needed. With the help of support guys we quickly made all necessary changes and now customers find the parts they need much faster.
Hope to see analytics/reports option in your future updates in order to track which products are being searched more often. Thank you guys!
Kyranuma,
Magento Connect
Must-have tool
This is an easy tool that helps customers find necessary products in my store really quickly. I've made some customization and now Parts Finder works exactly like it was designed for me!
worth its value
The extension works great for my car parts shop. I had to play with the year-make-model filters a little to make them work the way I needed. In the end, I like the result, the extension is definitely worth its value.
Works great!
This is a great filter for having a Year, Make, Model search with Magento. Perhaps I did not read up on all of the features but I was pleasantly surprised when I found out that the filter may be enabled to remember the users selected vehicle so the so site only shows parts that will fit as they browse through the categories.
Although I have over 10 years e-commerce experience, I am a novice when it comes to Magento. With that said, installation was easy enough for me by just following the installation guide.
After searching far and wide for the best solution I think I have found it and for less than $100.00!

autoaccessinc,
Magento Connect
Great Extension! Extremely versatile!
The Amasty team is the best in the business. They make excellent extensions, and their customer support is incredible. I highly recommend this extension. It's intuitive and works extremely well. A++++++
MUST HAVE IF YOUR IN AUTOMOTIVE INDUSTRY!
If you use Magento and you are in the Automotive Industry this extension is an absolute MUST HAVE! No better way to achieve YMM lookup's. 2.0 update with unique urls is amazing!
Works great, easy to install
Works great, easy to install. But it would be nice with some Fits/Mapping management on the backend seperated to each Finder and Universal product option.
Very Good
Great extension. Works very quickly. I currently have about 100,000 applications loaded, and it hasn't hiccuped once.

Suggestions for the next version. Check box type selector in products list for search and mass delete. Ability to import through "add a record" using range (2001-2004). Include option on finder block, that will allow customer to filter and display results from all finders. Add ability to output finder DB information to item text area attribute, or other method to allow display on items detail page, and be included within search.
Brilliant
Works brilliantly. If I had any criticisms they would be:
1)If you have 3 dropdowns, all 3 must be filled by the customer before they can search. It would be nice to have the option to select 1 or 2 of the dropdowns to offer a broader search.

2)The price advertised is not including VAT in the UK. The price including VAT is $96. Still worth the money though, good product.

ladbroke,
Magento connect
Will buy again
I just bought and installed this extension and it is better than advertised. Really easy to install and works great. Customer service and tech support was quick and effective. This is my 2nd extension from them and will continue purchasing from them.

raywood5,
Magento connect
Professional service
A Brillianbt Extension and SUPERB suppourt from Amasty.

altfocmed,
Magento connect
Perfect professional extension
That's awesome, works fantastic just as I wanted! Can I just say I've used Amasty extensions in the past (order statuses etc) and your extensions and support is one of the best in the industry.

Tom Davison,
IT development manager, bendart.co.uk
Dieses Produkt ist super für jeden der Ersatzteile verkauft
Ein muss für jeden Onlineshop. Sehr leicht zu bedienen und sehr flexibel. Support ist erstklassik.

Vielen Dank
Great extensions, SUPERIOR SUPPORT!!
Great extensions for product parts, what truly amazed us is the support. We had 2 problems and created a ticket on their support center, within 2 days all of our bugs were gone and the product finder was working perfectly. If you need a Ajax menu these are the guys to go with, I can't stress the how important support is and the team from Amasty fixed our problems with 2 days (over weekend) and without any hiccups or down time. Perfect!
Just what I needed
This extension was perfect for my project and has saved me weeks of work. My website sells automotive parts and I needed a better way for customers to find the parts they needed.

Also, I am very impressed with Amasty's support. Quick, friendly and always helpful. A++
The documentations is very good
I just installed the Amasty Parts Finder and it works just as advertised. The documentations is very good and the support is even better, fast and very helpful. You definitely have a repeat customer. Thank you!
Very good extension
Very good extension and the best support.
100% recommended.
Are you looking to add specific functionality for this extension or want to acquire a reliable development partner altogether? With custom development services by Amasty, you will receive high quality and cost-effective solutions developed by Magento professionals according to industry's best practices.
CE 1.4.x - 1.9.x, EE 1.8.x - 1.14.x
You can always download the recent version free of charge from your account
Installing an upgrade is easy — check now
My Downloads
Version 2.7.8
Last Update: Jun 10, 2019
Fix the issue with custom url was resolved
Fix an issue with contact us page was resolved
Fix an issue with 'Apply Finders on Catalog Search Page' setting was resolved
Compatibility compatibility with Amasty Shop by Brand extension was added
Fix an issue with 'Finder block visibility on the Default Category' setting applied also for home page was resolved
Fix an issue with applying finder for current category only was resolved
Fix issue, related to product import was fixed
New the information section was added. Now, you can see the version of the installed extension, available updates, User Guide link, conflicts and other useful info right on the module configuration page
Fix the issue related to product import was fixed
Improvement the security enhancement was implemented
New allows to display all the finder filter options, which the product is compatible with, in the special tab at the product page
Version 2.6.1
Last Update: Jun 15, 2018
Compatibility compatibility with Amasty Improved Layered Navigation was enhanced
Fix the issue with the fields sort order in admin panel was resolved
Fix the issue with CMS pages was resolved
New Allows to select the categories from the list in the configuration to enable the finder at
New Allows to specify the finder block position in the configuration
Version 2.5.0
Last Update: Apr 02, 2018
New allows to add Finder to the Default Category automatically in order to get the Finder working properly at the home and cms pages
New allows to manage Finder block visibility on the Default Category. It is useful when there are several finders added to the default category but you need to display only one of them at the frontend
Version 2.4.3
Last Update: Feb 23, 2018
Fixed an issue with the 'Apply finder for current category' setting
Better Compatibility with Amasty Improved Layered Navigation extension
Compatibility with Amasty Improved Layered Navigation has been improved. Fixed the problem with the navigation filters disappearing when finder is applied
Fixed an issue with the disabled universal products
Fixed the bug with the custom URL
New XLS/XLSX import introduced
Disabled the caching for the finder block
Code style refactoring
Minor fixes and improvements
Version 2.3.0
Last Update: Jul 20, 2017
Filtering performance improvements
Enterprise Edition cache fix
Display improvements
Version 2.2.13
Last Update: Mar 16, 2017
Added possibility (controlled by a setting) to redirect to product page if only one product found
Minor fix for URL redirect
New options for redirect: Home page, Same page, Results page
Fix for import not responding in case of import folder did not exist
Improvement Import: auto detect line ending for files Mac, Linux, Windows
Usability improvements. New Tab with pre-generated finder code.
Option to not apply Finders on search results page
Improvement for handling duplicate records with different letter case
Improvements for data import
JS modification for RWD theme
Reset button now works well with all frontend URLs
Compatibility with Magento 1.9.2.2
Compatibility with Magento 1.9.2.2
Auto load next drop-down if the current one has just a single value.
Ability to upload files by FTP
Ability to process large files by portions with visual indication
Ability to parse files in a separate thread on schedule
Import history and error log
Version 2.1.7
Last Update: Jul 15, 2015
Fix for duplicate items when setting "Universal products last" is On
Option to move universal products last
Option to apply only current finder at the page with 2 or more different finders (like by part number or YMM)
No EE full page cache for the pages with finder results
https for secured pages to avoid browser warning messages
New template `responsive` added, works well for new RWD theme
Fix for AJAX and HTTPS websites
Bug fix for reseting filter when SEO URLs enabled
Version 2.0.8
Last Update: Jul 01, 2014
Ability to redirect customer to home page when they reset finder in some child category
Fixed issue with manual finder entry edit in admin area.
Prevents XSS vulnerability when use static URLs
Ability to filter search results
Auto Submit fix
New ability to start search when a value in the last dropdown is selected.
Ability to bookmark pages with search results – each page has its unique URL.
Ability to implement the products finder only for a current category. Thus, the products in all other categories will be displayed without any changes.
Version 1.1.4
Last Update: May 02, 2013
Fix removal of related universal products on finder deletion
Custom destination url for each finder.
Two search modes - one, when all options are selected and the other one, when at least one option is selected.
Ability to specify range for numeric options. E.g. if you specify 1990-2012, the extension will add the product to all years starting from 1990 till 2012.
Ascending and descending sorting options for dropdown values.
Bugfix of import error for cases when several finders had the same values.
Ability to import multiple SKUs in one line in CSV.
Ability to add product finders to the home page.
Ability to display the same finder as both vertical and horizontal in different places. For example as vertical in one location and as horizontal in the other location.
Universal product feature.
Addition and deletion of individual product records.