Reports for RMA (Add-On)
for Magento 2
Analyze the RMA effectiveness and improve return requests processing with Magento 2 RMA Reports add-on.
Collect RMA statistics to make data-driven decisions
Identify problematic customers and unprofitable products
Analyze the efficiency of your managers work
Monitor the dynamics of average lead-time
Take control over each aspect by customizing reports with filters
Use only as an add-on to Magento 2 RMA extension
Challenge
An automated RMA system simplifies returns management for admins and provides customers with enhanced service. But still, the non-optimized process and a large flow of return requests cause material losses and impacts the image of a company. Ineffective and not data-driven return system also affects customer loyalty and, as a result, they leave the store.
Solution
Apply an advanced RMA analysis tool to check the effectiveness of each management aspect. Track the average lead-time, rating, the efficiency of your managers' workflow and make the right improvement decisions. Get detailed reports to find out problematic points and enhance your return service using explicit data.
What benefits do you get for your store
Build an effective RMA strategy with an advanced reporting tool
Reduce RMA expenses by eliminating unprofitable aspects
Improve customer service by viewing and analyzing the dynamics
EFFICIENTLY ANALYZE YOUR RMA DATA
An ineffective RMA strategy may lead to great losses for store owners. But to make it effective, admins need to know what aspects should be improved. With the Magento 2 RMA Reports add-on, you track the dynamics based on each return aspect.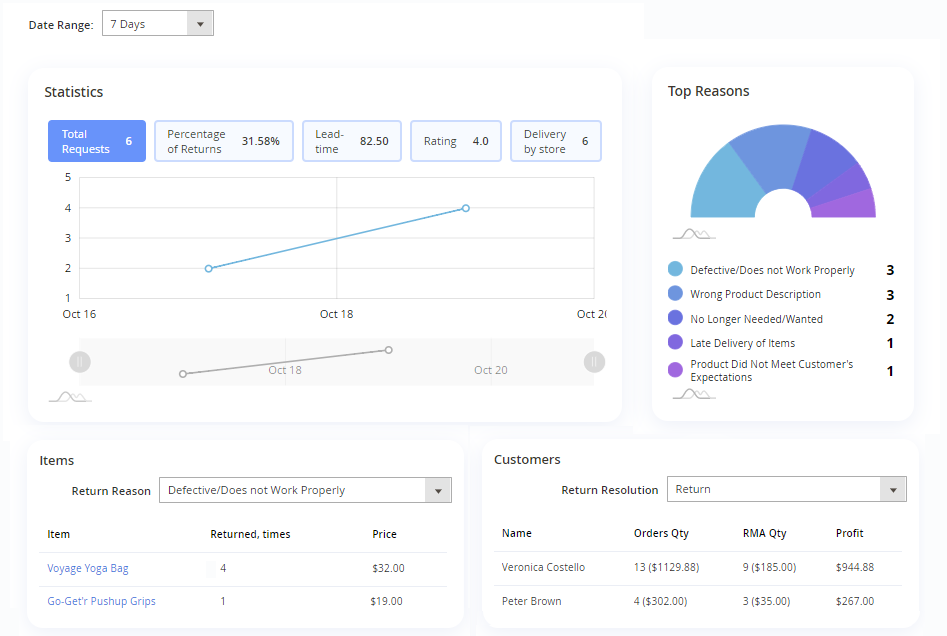 TAKE CONTROL OF EACH RMA DETAIL
An advanced analytical dashboard keeps you informed about all the aspects that may impact on your income. To reduce the number of return requests, easily check and analyze:
Top Return Reasons
Discover the most frequent return reasons and lower the number of RMA requests without any additional expenses.
Frequently Returned Items
Find out which items are returned more often and sort them by the return reason to build an effective improvement strategy.
Problematic Customers
Identify problematic customers and check if it is profitable for you to resolve their requests in a particular way.
TRACK THE DYNAMICS OF ANY ASPECT
Apart from the overall data, you may customize the report dashboard to see the dynamics of each RMA component. Specify the date range and use flexible filters to check detailed reports displayed in handy charts. Easily collect the info based on return reasons, conditions, resolutions and even track the productivity of your managers.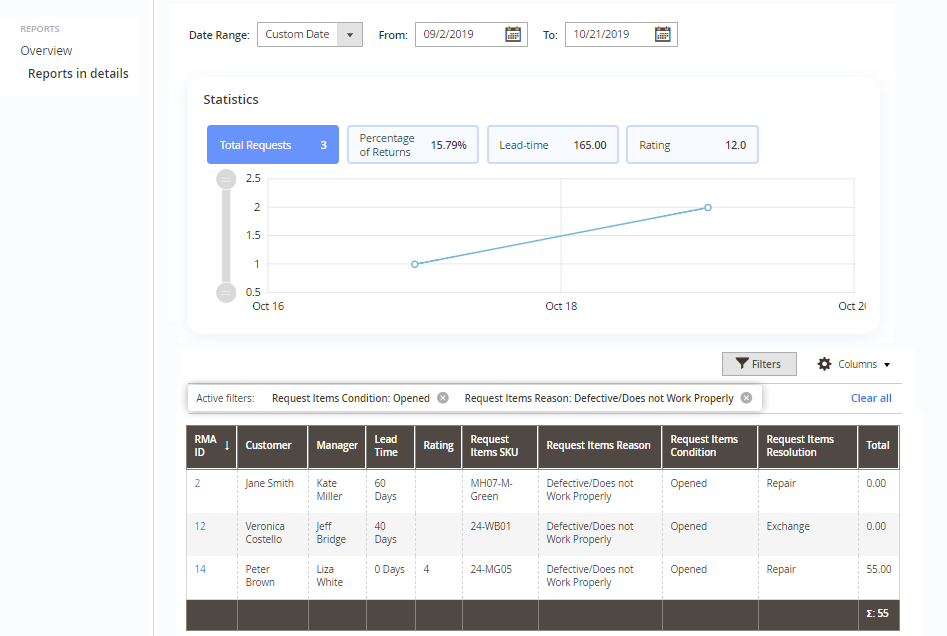 Improve your customer service with RMA functionality
The add-on works only as a component of
RMA for Magento 2
extension. Build customer loyalty by providing high-level support and enhanced shopping experience.
Other Features
100% Open Source — Easy To Customize
Follows Magento Code Architecture
Separated HTML/CSS/JS
Simple installation via Composer
* The name "Magento" and the logo are the trademarks of Magento, Inc.
Be the first to review this product
Reports for RMA (Add-On) for Magento 2
Magento 2.1, 2.2, 2.3
You can always download the recent version free of charge from your account
Installing an upgrade is easy — check now
My Downloads
This extension has no updates yet