Reports for RMA (Add-On)
for Magento 2
Analyze the RMA effectiveness and improve return requests processing with Magento 2 RMA Reports add-on.
Collect RMA statistics to make data-driven decisions
Identify problematic customers and unprofitable products
Analyze the efficiency of your managers work
Monitor the dynamics of average lead-time
Take control over each aspect by customizing reports with filters
Use only as an add-on to Magento 2 RMA extension
Challenge
An automated RMA system simplifies returns management for admins and provides customers with enhanced service. But still, the non-optimized process and a large flow of return requests cause material losses and impacts the image of a company. Ineffective and not data-driven return system also affects customer loyalty and, as a result, they leave the store.
Solution
Apply an advanced RMA analysis tool to check the effectiveness of each management aspect. Track the average lead-time, rating, the efficiency of your managers' workflow and make the right improvement decisions. Get detailed reports to find out problematic points and enhance your return service using explicit data.
What benefits do you get for your store
Build an effective RMA strategy with an advanced reporting tool
Reduce RMA expenses by eliminating unprofitable aspects
Improve customer service by viewing and analyzing the dynamics
EFFICIENTLY ANALYZE YOUR RMA DATA
An ineffective RMA strategy may lead to great losses for store owners. But to make it effective, admins need to know what aspects should be improved. With the Magento 2 RMA Reports add-on, you track the dynamics based on each return aspect.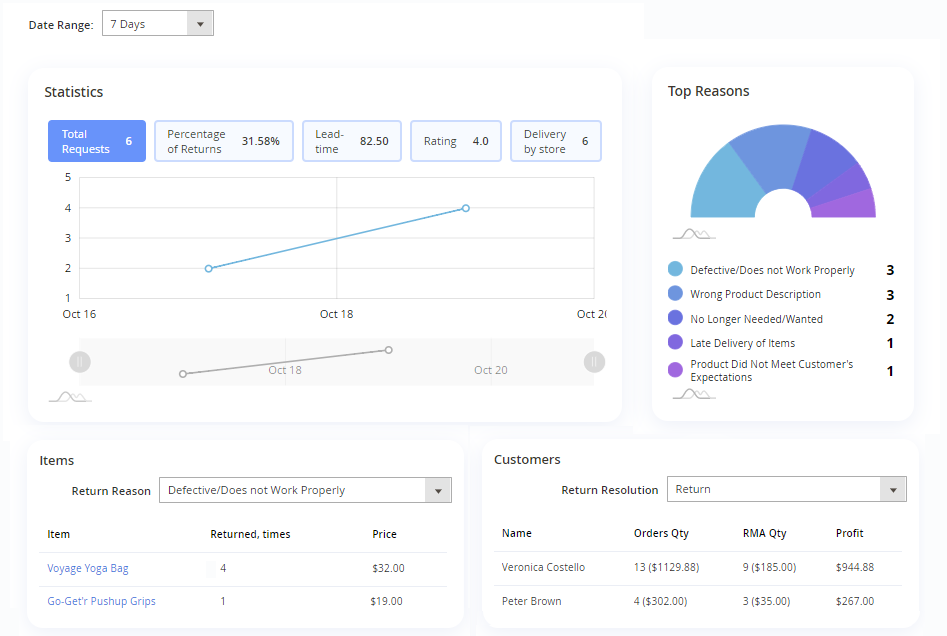 TAKE CONTROL OF EACH RMA DETAIL
An advanced analytical dashboard keeps you informed about all the aspects that may impact on your income. To reduce the number of return requests, easily check and analyze:
Top Return Reasons
Discover the most frequent return reasons and lower the number of RMA requests without any additional expenses.
Frequently Returned Items
Find out which items are returned more often and sort them by the return reason to build an effective improvement strategy.
Problematic Customers
Identify problematic customers and check if it is profitable for you to resolve their requests in a particular way.
TRACK THE DYNAMICS OF ANY ASPECT
Apart from the overall data, you may customize the report dashboard to see the dynamics of each RMA component. Specify the date range and use flexible filters to check detailed reports displayed in handy charts. Easily collect the info based on return reasons, conditions, resolutions and even track the productivity of your managers.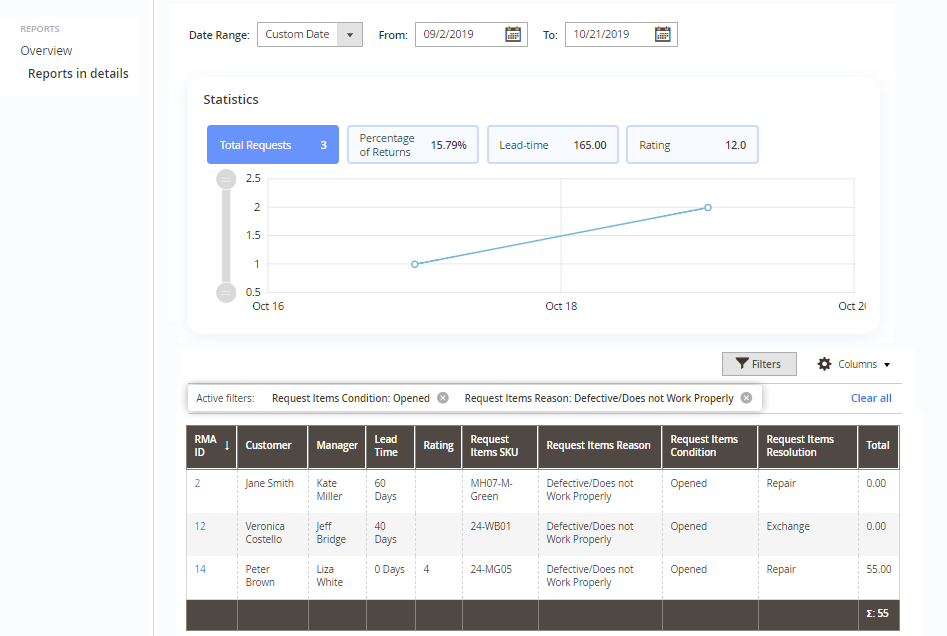 Build an effective return policy
That perfectly suits your business model
RMA Lite
STANDARD SET
$219
Set a specific return period for any product
Disable returns for particular items (e.g. discounted ones)
Add RMA details to products info and to the shopping cart
Create return reasons, add item conditions and adjust resolutions
Manage multiple items in one request
Provide automatic step-by-step instructions
Communicate with customers in a live chat
Notify admins and customers about requests status changes
RMA Pro Ultimate solution $349
Update statuses automatically based on multiple conditions
Auto-assign requests to particular managers
Set the rules for automatic notifications
Analyze RMA statistics with detailed reports
Identify problematic customers and unprofitable products
Analyze the efficiency of your managers work
Monitor the dynamics of average lead-time
Manage RMA requests using API
Export RMA data
RMA Premium FOR ADVANCED BUSINESSES $399
Generate automatic labels for UPS, FedEx and DHL carriers
Choose suitable package type and dimensions
Attach ready-made labels to RMA requests
Let shoppers download labels in customer accounts
Update or correct improperly created labels
Create multiple packages for one return request
Improve your customer service with RMA functionality
The add-on works only as a component of
RMA for Magento 2
extension. Build customer loyalty by providing high-level support and enhanced shopping experience.
Other Features
100% Open Source — Easy To Customize
Follows Magento Code Architecture
Separated HTML/CSS/JS
Simple installation via Composer
* The name "Magento" and the logo are the trademarks of Magento, Inc.
Wonderful
marketing specialist
As a marketer, I believe in numbers only. This addon is what I've looked for for so long.
Amasty answer
Jan 17, 2020
Natalya Chekanina / Head of Sales Team
Hi there! We are happy that you're satisfied with our Reports for RMA (Add-On) for Magento 2 product. We would be happy to see you in our store again.
amazing support
IT
We have bought the RMA with 2 add-ons, and all the pieces work excellently together. Support was fast and very helpful. They helped us to install and set up extensions. Now we can set objective KPIs for our support team.
Amasty answer
Nov 28, 2019
Natalya Chekanina / Head of Sales Team
Hi there! Thank you for choosing Amasty RMA and its add-ons. We are glad that you appreciate it's excellent work together. We would be happy to see you in our store again!
Are you looking to add specific functionality for this extension or want to acquire a reliable development partner altogether? With custom development services by Amasty, you will receive high quality and cost-effective solutions developed by Magento professionals according to industry's best practices.
Magento 2.2, 2.3, 2.4
You can always download the recent version free of charge from your account
Installing an upgrade is easy — check now
My Downloads
Version 1.0.5
Last Update: May 17, 2021
1.0.5 - May 17, 2021:
Fix we fixed the issue with the datepicker position in reports
1.0.4 - Apr 20, 2021:
Fix we fixed the issue with return requests data not displayed in the reports
1.0.3 - Oct 30, 2020:
Improvement minor code improvements were implemented to enhance the extension security
1.0.2 - Mar 03, 2020:
Improvement we added the tooltips about the usage of reports