Shipping Table Rates

|

v2.3.2
Screenshots:
Сreate extremely flexible Magento shipping methods
Create shipping methods for all types of shipping
For example you can create one method for ground shipping, one for air shipping and another one for express delivery. You can set individual rates for each method. These steps will simplify shipping management and you can apply methods for different products.

Estimated delivery dates
Now you can set the number of days for delivery for each shipping method. Thus your customers will know how many days it will take to deliver their order before completing checkout.
Different types of rates available
You can use Magento flat rate shipping as well as percent-based rates – both individually and in combination. For example, you can charge $5 per order plus 1% of product price plus $2 per product.
Set special, higher or lower, Magento table rates for a certain product or a group of products
You can assign different shipping rates for particular types of products. For example, set higher rates for fragile, extra large items, the ones located in this or that warehouse and so on. Just create the necessary options for 'shipping type' attribute and assign them to the products you need. Let's say, shipping type 'Tires' and assign it to all tires. Then create the rate to apply to all products of this type. Ability to set shipping rates for product types enables you to provide correct rates for all products and not lose money on shipping some of them.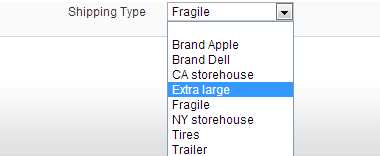 Calculation of rates based on a number of criteria
To use advanced Magento shipping calculator specify address, weight, price and quantity parameters for calculation of shipping prices. E.g. Magento shipping calculator enabels you to set a $10 flat rate for orders, which weigh between 2 and 5 pounds, cost between $20 and $50, when 3 or fewer products are purchased. Or 1% of product price + $3 per product fee for orders delivered to California, when there are more than 5 products and they weigh less than 100 pounds.
Show maximal or minimal rate for products with different shipping types
Now you can not only sum up shipping rates of products with different shipping types, but also choose whether to use minimal or maximal rate. For example, if a customer adds to cart two or more products with different shipping table rates you can show him/her minimal or maximal rate for all the products.
Set minimum and maximum shipping rate
You can assign a minimum and a maximum shipping cost to a method. This means if the total calculated is lower than the minimum cost for your shipping, the price will be increased to the minimum cost amount. At the same time if the total calculated is greater than the maximum cost, the price will be decreased to the maximum cost amount.
Partial match for non-numeric zip codes
You can set a rate to apply to zip codes with 'XYZ' in the code. Ranges for UK Post Codes and similar (e.g. from AB2 to AB12) are now also supported.
Rate combinations to suit all possible requirements
You can create any rate combinations. Let's say you have products located on the east coast (and have created shipping type 'CA warehouse' for them) and the rates for delivery to NY and CA will differ a lot. Another example is when you provide free or almost free shipping when a customer buys 5 or more products.
View all the rates for the method at the summary tab
All the rates imported for certain shipping method are shown at the 'Methods and Rates' tab. You can delete them by one, sort and search.
Bonus option: sort methods by priority
Now it is possible to sort shipping methods by your own custom priorities, not only by cost. Please, contact us to activate.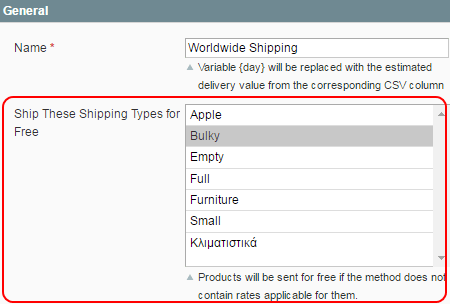 Display shipping method for Shipping Types without rates in the method
The feature is extremely handy when one shipping method can be used for two product types, but it can't be used for one of them. For instance, you've created a shipping method with certain shipping types. One of the items in cart fits the method, and the other product has the type which does not have available rates in the method. Usually in such cases the shipping method just wouldn't be displayed. With the help of this option it's possible to show a shipping method even if one of the items in the order isn't suitable for it. The odd item just would be shipped for free.
Manage shipping rates easily
Set any shipping method as default
With the Auto Shipping tool you can easily set any shipping method created with the extension as default and display it on the shopping cart page so that customers will see the final price including shipping expenses at once.
Manually add and edit magento shipping rates
If some rates become outdated with time, you can either edit or remove them. You can also manually add new records with rates.That feature allows refine shipping rates list by removing useless information.
Add notes and comments for each shipping method
Write special comments for each shipping method to provide customers with any additional information you need. The comments option supports HTML tags, therefore you can easily customize your notes and add pictures if needed. All created comments will be displayed on the shopping cart and checkout pages under the corresponding shipping method.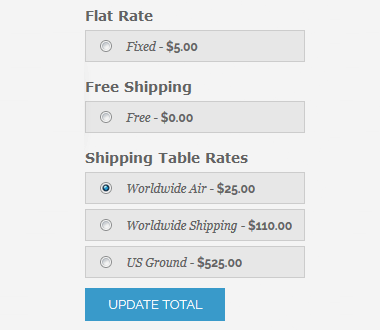 Simple import of rates
You can import .csv file with shipping rates for the custom methods. It is possible to specify one country or all countries, using "*" symbol, use numeric zip ranges and list several states, separated by comma. E.g. if you specify "*" symbol for 'Quantity From' field, and "10" for 'Quantity To' field, the rate will be applied to all orders with the number of products between 0 and 10.
Auto process files with duplicating conditions
Now you can upload CSV files without worrying that some conditions may duplicate and you would need to sweat searching for them. The module will automatically process files and remove duplicates with the corresponding notice. After receiving the notice you can quickly check the files and choose only the necessary conditions.

Download sample CSV file

Please click the Download button to get the sample CSV file with the list of countries and table rates.
Deep integration with native Magento features
Ability to create rules for prices after discount
You can indicate that a shipping rate should apply to price of the product after discount. Let's say a product costs $100. If after the discount it becomes $70, shipping rate for 70-dollar products will apply to it.
Virtual product support
Virtual products price may be included in the table rate (optional).
Free shipping promotions support
The extension fully supports discount functionality related to shipping in Magento - free qty by coupon, free shipping for particular method etc. You can also have a look at our Shipping Rules extension that lets modify live shipping rates provided by carriers.
Combine Amasty shipping extensions
See our article on how to combine Amasty shipping extensions for advanced tasks.
7 reasons to choose
Risk-free Investment
30-day moneyback guarantee for all extensions. No questions asked.
Comprehensive Documentation
There is a detailed user guide with examples even for tiny addons. FAQ section and videos also available.
Solutions Which Work
Careful in-house testing ensures you get robust applications. Multiple stores support. Custom themes compatibility. All included.
Outstanding Support
Our support service is friendly and of high quality. And it is free. Unbelievably. Just check independent reviews at Magento Connect.
Usability and Performance
Nice and easy to use interfaces. Fast algorithms. Save your time and get things done.
Flexible and Easy Licensing
No product or store view or domain limits. No monthly fees. No hidden charges. One extension license for one Magento installation.
Long Term Strategy
We've been in the market for 5+ years. We're proud to be a Bronze partner and are planning to stick to Magento platform for years ahead. We're doing our best to build extensions which maximize effectiveness of your business. We're open to customers' suggestions and constantly update our products to match your needs.
Other Features
100% Open Source — Easy To Customize
Follows Magento Code Architecture
Separated HTML/CSS/JS
W3C Validated Code
Online Extension User Guide
* The name "Magento" and the logo are the trademarks of Magento, Inc.
General Questions

How can I pay for Amasty extensions?

What is the license policy? On how many websites can I use Amasty extensions?

How to install Magento extension by Amasty?

Can I test an Amasty extension on a staging site before transferring it to a live one?

Can I get a refund if an extension doesn't suit me?

Will I get any other benefits?

Product questions

Does this extension support multi-store configuration?

Can I set up different shipping rates based on customer groups?

Does Shipping Table Rates extension support backend orders?

Can this extension handle UK postcode for the zip field?

Can I use wildcards in a postcode field?

Can I set shipping rates based on cart total?

Is there a limit of the number of rates that are supported per each method?

Can I import my previous shipping rates to use them with the extension?

Can I set different shipping methods depending on a product type?

Is it possible to assign a shipping rate to an entire category?

What happens if two different product types are shipped at the same time?
An important extension with best support
This extension is really good, we mean the one which we were looking for. It takes time in setting up in filling the excel file but it depends on the store to store. Once this extension is configured then bang on, it is the best extension for shipping so far which is user friendly.
Very useful shipping module
One of the best and very useful shipping modules by Amasty. It's actually the only shipping module that you need for your store. It has a lot of functionalities that every e-commerce store must have. For example, you can set a unique price per product with this module. How about if you have more products that can fit into one box, and the price should be the same from A-B quantity? Then this module can do it for you. How about if it's heavier compared to another product? Then this module can do it for you. How about if you have different shipping rates according to the destination's province, or zip code, or country, then this module can do it for you.
Works without problems. I just installed it in Magento 1.9.2.4.
Great extension with great support
I am very pleased with this extension. It works exactly as expected. Recommended.
Handy and Dandy, a must have extension!
Awesome shipping grids made very easily and quick! Everything is self explanatory within the module, handled all of our shipping grid needs much quicker than doing a spreadsheet, then importing the CSV (which this also upholds that option of import/export through a csv if you so desire).
You can create shipping methods for anything imaginable and within minutes. I like that you can add not only real $ figures to a new shipping table/rate, but percentages as well, and opt for a sum of ea (or not) etc. Very versatile.
Developer is very zippy on email responses as well. A+.

Simply great!
A very stable estension I can't live without... I wander why this feature is not part of the Magento core!
Awesome support
We had a 4-5 days long discussion with the support, Before purchasing this extension and the amount of positive response and solutions we got from them made us buy this extension and since after purchase too we have been getting great after sales support from these guys!

good
This is one of the basic extensions that need to be installed on virtually every store. As it happen s with basic extensions, it's always a challenge to find the one that works better than the others.
I would recommend this one for creating shipping methods.
However, there is always room for improvement, and here are the things I would suggest for the extension developers:
- Optional methods sorting
- Ignoring rates with duplicate conditions
- Automatic rate import from CSV
These two features will be of great help for large stores, now I have to cope with some minor issues without them.
Also, I've read the previous reviews – but I'd like to say I haven't faced any speed issues whatsoever. Maybe it depends on the server configuration or something.
Solve our shipping issue!
We tried other company's module first to solve our shipping rule issue but fail. After I use Amasty shipping module, our shipping rule issue solved easily. (We ship to worldwide and need to setup different shipping price for total weight)

I'm surprised how much this module save our time and effort! Highly Recommend!
Sophisticated settings – great results
I wouldn't cope with the module settings without a support manager assistance – that's for sure. Even with the CSV sample file I couldn't upload the rates properly, so there was no other way out rather than to contact support guys. However, after their manipulations everything started working like a charm!
The rates are being correctly calculated allowing us to offer great shipping deals to our clients. Since the module was installed we haven't received any complaints from our customers.
The only unpleasant moment we stumbled upon was the lower checkout speed, but I do hope it will be fixed in the nearest updates.
arrardity
Magento Connect
Works fine when configured
I installed this extension to test it on my Magento 1.7.0. It took some time to configure all the settings and adjust them to my shop, I submitted a ticket to support and they helped me. My shipping rates depend on destination and weight, the extension manages to calculate them right.

kaminskaya,
Magento Connect
Great Extension With Great Support
I would say this is an awesome extension with great customer support.
It's easy to use and very useful.
Quick response to my questions.
I can't wait to buy more extensions from this store!
5 stars!
Excellent support
The module works exactly as intended. And the support is excellent.
Really useful
This extension allows us to get really picky with our shipping rules, which helps us offer our customers better deals on shipping.
Works as expected
Works as expected.
We want to have specific prices depending on the country, subtotal and weight of the order. This extension does the deal!
Very Nice
I am very pleased with this extension. It works exactly as expected. Recommended.
Genius Extension
I haven't even put to production yet. But from testing, this answers so many needs we've needed for years. Here's to hoping things stay positive!
Nice shipping extension
This Shipping Table Rates very powerful extension. But it took me some time to cope with the extension :). But now I can easily create any shipping rate I need. It is very convenient that there are two abilities to create shipping rate: CSV and right in the extension.
Very great extension
Very great extension i recommend, i bought many extensions from amasty company, easy installation and fast response and experienced fix if there is Conflict with your website, many thanks!
Amasty is my ideal
This my favorite shipping extension. I spent a lot of time to try creating my own shipping rules, which a need. Lots of extensions were installed on my Magento but there was not the solution. One I have promised myself I will install the last in finish with it. To my happiness it was almost shipping table rates, at first I have some misunderstanding with the extension work. But Amasty's support explained me in details how I should to work with extension and created for me some of test rules.
Now I have shiping all over the USA and it is really good. Without Amasty I can't reach this.

Paul
Shipping all over the world
Extremely strong shipping solution for eCommerce. Different ways to set up shipping for each type of products. there is no matter is it: brand, large or extra large products. All shipping will work perfectly to all countries you need.

Mark
Good shipping extension
Shipping Table Rates by Amasty is the most powerful extension in that segment. A lot of features which are great and very quick support made our web store great. We had some issues with shipping table rates but they all were fixed in a day.

Thank you,
Amber
Equal The Hopes
Shipping Table Rates is one of the most powerful Magento shipping extensions. I'm convinced this extension needs no introduction because it works perfect.

But I want to mention it's new features, which give the opportunity to set special rates for a certain products or groups. We lost too much time to find such extension. But after we read the documentation for this extension we decided to install it. The extension equaled the hopes. Now we can easy set rates we need for some of our products.

Have a nice day,
Larry S.
Use it for our wide range of produts
Shipping Table Rates Magento extension is a powerful tool. Our shop contains a lots of different types of products and we have to use different shipping methods for them. Now we can create and manage shipping methods we need and deliver products to our customers.
And it is good that we can use this methods only only for a individual product but for a group of products.
All what need for shipping rates
It is very simple and helpful for shipping rates management. All shipping methods can be easily edited, sorted, etc. The summary shipping tab is easy to manage. In my point of view it is the best extension for shipping rates.

Walter,
Magento Connect
Different rates for different methods
The extension has great feature which we were looking for a long time (no other extension doesn't offer it) - it is the feature which help form product prices based on some criteria.
Because our shop has lots of different products with can be sold together it is very important to create different shipping rates for such cases. And of course an ability to set rate for different post codes with specific numbers very suitable if you use shipping for different countries and states.

Alfred,
Magento Connect
Full shipping control
We sell our product all over the world and use lots of different shipping methods for different countries. The extension gives us an opportunity to control all our shipping and set right shipping methods for our products. Setting right shipping methods let us use correct rates with losing money.

Mark,
Magento Connect
Write Your Own Review
Version 2.3.2
-
October 18, 2016
– Compatibility with old Magento 1.4.х version
Version 2.3.1
-
September 06, 2016
– Added option to provide different labels and comments per store view
Version 2.3.0
-
August 22, 2016
– Added option to ship some product types for free. Useful when one shipping method
– can be used for two product types, but it can not be used for one of them.
Version 2.2.5
-
July 14, 2016
– Fixed address mapping for countries and states with special chars.
Version 2.2.4
-
May 19, 2016
– Improvements for UK Post Code conditions, csv file import and bundle products algorithm
Version 2.2.3
-
January 18, 2016
– New options for min and max possible rate value
Version 2.2.2
-
November 13, 2015
– Compatibility with 3-rd party checkout extensions improved
Version 2.2.1
-
October 27, 2015
– Admin routing patch (SUPEE-6788) compatibility
Version 2.2.0
-
October 26, 2015
– Support post codes ranges for UK Post Codes and similar. E.g. from AB2 to AB12.
Version 2.1.11
-
October 16, 2015
– Option to sort methods by custom positions, not just by cost. Please contact us to activate.
Version 2.1.10
-
August 12, 2015
– Allows up to 100 chars for city field
– Allows to upload files with duplicating conditions. The module successfully processes files and removes duplicates with the corresponding notice.
Version 2.1.9
-
July 14, 2015
– Magento security patch SUPEE-6285 compatibility
Version 2.1.8
-
June 24, 2015
– All rates and price intervals are rounded to second decimal. E.g. 4.887 will be rounded to 4.89
Version 2.1.7
-
April 13, 2015
– Option to show max rate, min rate or sum up rates (default algorithm) for products with different shipping types.
– Ability to add HTML notes and comments for each shipping method
Version 2.1.4
-
February 20, 2015
– Important update for quantity calculation when we have several the same configurable products in the cart
– New feature - ability to set estimated delivery in days and show it right in the method name
Version 2.1.2
-
June 22, 2014
– Tested with the latest Magento CE 1.9 release.
Version 2.1.1
-
April 22, 2014
– Possibility to display a message if no rate applies
– Minor fix for total counting
– Minor fix for bundled products
Version 2.1.0
-
March 10, 2014
– More flexibility with different combinations of bundle and configurable products/children calculations.
Version 2.0.6
-
February 17, 2014
– Wild card search for not numeric (e.g UK) post codes
Version 2.0.5
-
November 20, 2013
– New setting to block usage of several shipping methods at once for the same shopping cart.
Version 2.0.4
-
October 19, 2013
– Performance optimization for stores with multiple states
Version 2.0.3
-
October 05, 2013
– Bugfix.
Version 2.0.2
-
August 05, 2013
– Fixed issue with free product coupons.
Version 2.0.1
-
July 08, 2013
– Bugfix
Version 2.0.0
-
May 14, 2013
– Very important new feature - ability to set shipping rates based on product types
Version 1.0.5
-
March 21, 2013
– Rates import/export fix.
– Bugfix for mass activation/deactivation.
Version 1.0.3
-
February 22, 2013
– Ability to charge shipping by weight unit, e.g. $0.5 per pound or 0.3 euro per kilogram.
– Bugfix for orders placed from admin panel.
Version 1.0.2
-
December 14, 2012
– Fantastic new feature - ability to create rules for prices AFTER discount.
– Ability to specify partial match for non-numeric zip codes. E.g. you can set a rate to apply to zip codes with 'XYZ' in the code.
Version 1.0.1
-
November 16, 2012
– Ability to apply rates based on total.
– Bugfix.