Custom Promo Conditions
for Magento 2
Turn your promotions to highly personalized ones with the Custom Conditions for Magento 2 extension.
Target promotions with order history conditions
15 types of customer attributes to personalize your offers
Specify segments based on Shipping & Payment methods
Mix conditions to stronger the flexibility of promotions
Default Magento functionality support
The fact: Consumers don't want to be treated like a number. Do you know what it means?
Your customers are individuals at first. Their great value is to be recognized as a personality. The statistics talks for itself: 91% of customers expect retailers to know who they are and what their interaction history is (Gladly's survey).
Make a step towards your customers with the Advanced Conditions for Magento 2 extension. Create personalized experiences with multiple rule types, form their loyalty and see that like a fine wine it gets better with age.
Gain benefits with highly personalized promotions
Boost the total average order value
Offer promotions and discounts only for the target audience
Personalize the promotion
The customers are more likely to buy from a retailer that:
recognizes them by name;
recommends products/services based on previous purchases;
knows their purchase history.
That's the reason we designed the module that provides you with the conditions based on the purchases history and customer attributes.
To turn the promotion into the advanced highly targeted one, you just need to add an advanced condition (or a combination thereof).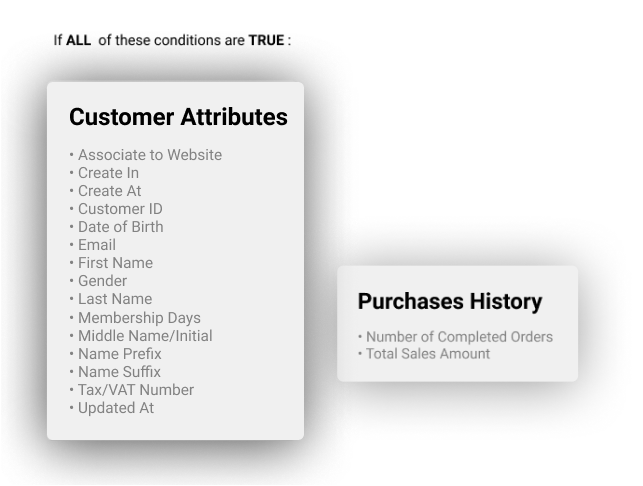 Purchases history
Encourage the most loyal customers and make them feel valued with the help of purchasing history. Offer them:
Free products, after they have completed more than 5 orders;
Great discounts, when their total sales amount exceeds the definite value.
Also, you can use these conditions to make an additional intent to buy more for those, who made at least one purchase in your store.
Combine numerous conditions to reach exactly what you want. For example, grant a customer from the Netherlands with a gift, if he has completed more than 3 orders for the total amount not less than $250.
Customer attributes
15 types of customer attributes are at your disposal to deeply personalize any promotion. These are just a few examples of how you can put these conditions on practice:
Offer bonuses for clients with a Membership period more than 365 days;
Give discounts to all Valentines on a St. Valentine's Day;
Provide with 70% discount all the customers created their accounts at a special date, if they have completed more than 2 orders;
Create special deals only for British men.
Grant discounts and gifts for those who registered on the date of your store foundation.
Don't hesitate to discover new ways to reach your customers. Be one step ahead with the extension.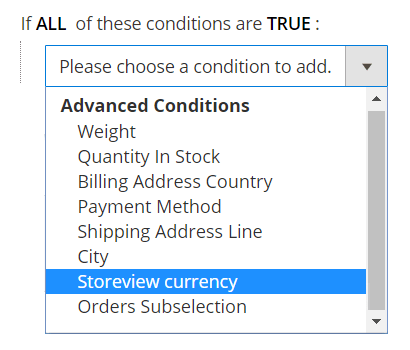 Advanced Conditions
Create various customer segments based on shipping and payment methods, location, order subselection, weight of the product and it's quantity in stock.

Encourage customers paying with certain payment methods (e.g. Braintree) or choosing certain shipment methods you'd prefer by setting up discounts and bonuses for such conditions;
Use the 'City' and 'Shipping Address' conditions to limit or expand the area of delivery;
Control your stock and delivery load with 'Order subselection', 'Quantity in Stock' and 'Weight of the product' conditions.
NEW | Use the 'Storeview currency' condition to create custom rules for your multicurrency segments. This condition will work if the user selects a specific currency (works only for Magento 2.3.+ versions).
Try different combinations of product attributes and advanced conditions to maximize the efficiency of your promo configurations!
Other Features
100% Open Source — Easy To Customize
Follows Magento Code Architecture
Separated HTML/CSS/JS
Simple installation via Composer
* The name "Magento" and the logo are the trademarks of Magento, Inc.
Be the first to review this product
Custom Promo Conditions for Magento 2
Are you looking to add specific functionality for this extension or want to acquire a reliable development partner altogether? With custom development services by Amasty, you will receive high quality and cost-effective solutions developed by Magento professionals according to industry's best practices.
2.3.6, 2.3.6-p1, 2.4.0-p1, 2.4.1, 2.4.1-p1, 2.4.2
You can always download the recent version free of charge from your account
Installing an upgrade is easy — check now
My Downloads
Version 1.5.2
Last Update: Dec 28, 2020
Fix we solved the problem with PayPal Braintree condition for saving cards
Fix we solved the problem with Klarna payment method condition
Improvement we added indexes for MySQL queries to speed up extension
New now the extension includes a new Store View Currency condition that will work when the user selects a specific currency (works only for Magento 2.3.+ versions)
Version 1.4.2
Last Update: Mar 20, 2020
Improvement the code was enhanced
Compatibility with Amasty Extra Fee extension was enhanced
New we added a new option that allows you to define item option identifier in conditions
Version 1.3.14
Last Update: Sep 25, 2019
Fix the problem with region id update on checkout
Improvement new condition "Row total in cart with tax" was added
Fix the issue with validation conditions on cart and checkout pages was resolved
Fix the issue with payment method validation in admin area was resolved
Improvement extension speed has enhanced - the count of requests on checkout page was greatly reduced
Improvement "Сustom options SKU" condition option for products was added
Fix the issue with checkout page freeze was fixed
Improvement stability enhancement was implemented
Fix the issue with shipping estimate was resolved
Fix the issue with negotiable checkout on Magento B2B was fixed
Improvement the code was enhanced
Fix the issue with taxes on checkout page was resolved
New the address condition 'City' was introduced
Compatibility the compatibility with Shipping Rules, Shipping Restrictions and Payment Restrictions was introduced
Version 1.2.1
Last Update: Jun 26, 2018
Fix the issue with js on checkout page was resolved
New Amasty Reward Points compatibility introduced
Version 1.1.0
Last Update: May 17, 2018
Compatibility Magento 2.1.0 support introduced.
Compatibility Amasty Free Gift support was added.