Promotions Manager
for Magento 2
Simplify promotion management process with the expanded price rules grid. Now you can cut the time on promotion-related tasks by using additional actions and columns.
See a rule type and a discount amount on the grid
Instantly duplicate discount rules on the grid
Enable, disable and delete shopping cart price rules
Apply actions to multiple rules at once
Apply top and low priorities to rules in one click
Apply various actions to manage the rules
Enable or disable rules in bulk
You don't need to edit each rule separately anymore: activate and deactivate shopping cart price rules right on the grid.
'Duplicate' rules action
Let us give you a hint: if you need to create a lot of similar rules, create one, duplicate it and use it as a template for other price rules. This is a must-have tool, especially for complex rules and coupons management. Besides, it saves your time and reduces the risk to be mistaken.
Prioritize your rules
The fewer actions you do, the more time you save: now it's possible to upgrade or degrade rules' priority in bulk with a couple of clicks.
'Delete' action
Easily delete Magento 2 shopping cart price rules and obsolete coupons which aren't needed anymore. Let's say, you've created hundreds of coupons for Groupon promotions, that you would like to remove now. It's possible to get rid of them in a few clicks on the grid.
See rules details on the grid
'Rule type' column
Type of the applied rule is displayed in the 'Rule Type' column, for example, a percent of a product price discount.
'Discount amount' column
In the 'Discount Amount' column you can see the value of the discount in figures, percentage or the number of items.
'Stop' column
It's also possible to stop processing promotions that are the next by priority.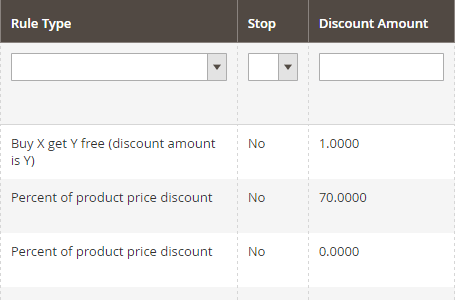 Other Features
100% Open Source — Easy To Customize
Follows Magento Code Architecture
Separated HTML/CSS/JS
Simple installation via Composer
* The name "Magento" and the logo are the trademarks of Magento, Inc.
Be the first to review this product
Promotions Manager for Magento 2
Are you looking to add specific functionality for this extension or want to acquire a reliable development partner altogether? With custom development services by Amasty, you will receive high quality and cost-effective solutions developed by Magento professionals according to industry's best practices.
2.3.6, 2.3.6-p1, 2.4.0-p1, 2.4.1, 2.4.1-p1, 2.4.2
You can always download the recent version free of charge from your account
Installing an upgrade is easy — check now
My Downloads
Version 1.0.7
Last Update: Dec 04, 2018
Improvement the code was enhanced
Fix the issue with the coupon codes after deactivating the rules was resolved
Compatibility with Magento 2 Enterprise Edition improved
Fixed an issue with duplicating very large amount of rules