Take your admin panel over total control
To effectively manage your admin managers' team you need to stay aware of all actions they perform in the admin panel. With the Admin Actions Log you'll be able to track all backend changes your staff makes and keep detailed log information as long as you need.
Apart from that, the Magento 2 admin log module allows you to track all backend login attempts to protect your store from possible hacker attacks. Monitor current active backend sessions, display history of changes and easily track page visits.
Track admin performance
Log actions of all or specific store managers
Flexible Magento 2 audit log settings enable you to choose whether to track actions of all admin users or select particular managers to check their performance. This option will let you receive only relevant information and eventually streamline log data processing.
Track admin users actions in a real-time mode
With the 'Active sessions' option you can log the actions of all admin managers in a real-time mode and terminate any session if necessary.
Specify time interval during which log records will be stored
To keep your log records clean and up-to-date you can specify how long the records should be stored. The same settings work for records about login attempts as well as for page history log.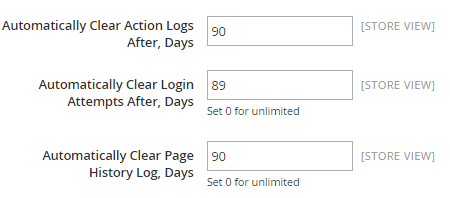 Show history of changes on backend pages
The Magento 2 admin log extension adds a special 'History of Changes' tab to product, order and customer info pages. The tab contains detailed information about all changes performed by admin users for a specific product, order or customer.
Restore recent changes
In case one of store administrators performed incorrect actions, you can easily restore recent changes to always keep your website data clean.
Log each step admin users make
View log details on the grid
Due to informative 'Actions Log' grid you will quickly find any information about the changes made by store admins. The grid contains information about :
The date of performed action;
Admin user name;
Action type (deletion, creation etc.);
Action object;
The item that has been changed;
Store view;
Show order comments in log details
All comments made by admin users on order info pages are displayed in the admin actions tab.
Preview details in a handy window
Use fancy preview window to see brief information about changes made by store admins right from the 'Login Attempts' grid.
View detailed info about admin actions
To get more details about each particular action simply click on the 'View details' link to see necessary data on a new page.
Monitor user role changes
All information about admin role changes is automatically displayed in the actions log tab.
Effectively monitor login actions
View all login attempts
With the Magento 2 log extension you can easily track all backend login attempts and see them on a special grid.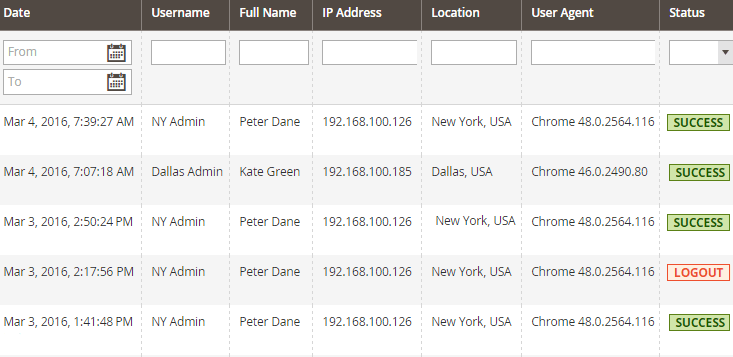 Display login geolocation
Due to the GeoIP detection feature you will be able to keep a close watch on login attempts geolocation. The module displays not only an IP address, but the country and city for each backend login action.
Export login info
Export login attempts data to CSV or XML files for further analyzing just in a few clicks.
Get notified about failed and suspicious login attempts
You'll receive a notification in case of unusual login activity (e.g. multiple login attempts within a short time period) or when an admin user gets logged in from an unusual country. It's also possible to enable email notifications for successful login attempts if necessary.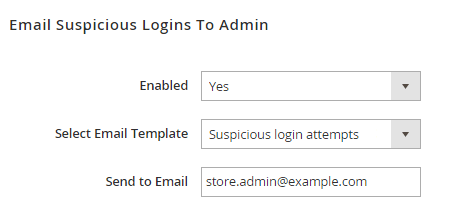 Other Features
100% Open Source — Easy To Customize
Follows Magento Code Architecture
Separated HTML/CSS/JS
Simple installation via Composer
* The name "Magento" and the logo are the trademarks of Magento, Inc.
Great Tool!
This is one of my most favorite extensions!

The reason for getting this extension isn't because I want to track what my staff are doing, but instead what outside contractors are doing.

We have had an issue with credit cards getting compromised in the past after a company had logged into our admin panel in order to give us support. If I had this plugin, it would be so much more simple to see what changes they made!
I like it
we are using this tool with advanced permissions

but it will be more useful if advanced permissions and admin action log can be a one tool

it will be cheaper and better

but it's good and no errors. thanks to amasty
Write Your Own Review
Version 1.0.14
-
March 14, 2018
– Fixed an issue with Gift Cards on Magento Commerce (Enterprise)
Version 1.0.13
-
February 26, 2018
– Fixed an issue with setting the correct store ID after the changes being reverted
Version 1.0.11
-
December 11, 2017
– Fixed an issue with enabled suspicious
Version 1.0.10
-
September 26, 2017
– Fixed an issue with product options
– Fixed an issue with an error on the admin login form
Version 1.0.9
-
September 26, 2017
– Fixed issue with login to admin if sendmail is failed
Version 1.0.8
-
March 14, 2017
– Improvements for detecting IP address
Version 1.0.7
-
February 20, 2017
– Improvements for actions log
– Passwords in the log now are hidden with stars
Version 1.0.6
-
January 17, 2017
– A number of compatibility improvements for latest Magento versions
Version 1.0.5
-
January 04, 2017
– Fix for error that had happened in some cases when AJAX requests were performed during logging page visit history data
– Fix for "array_key_exists() expects parameter 2 to be array, null given." error which occurred in few cases when saving actions log data
Version 1.0.4
-
November 14, 2016
– Missing files restored
Version 1.0.3
-
November 09, 2016
– Minor code refactoring
Version 1.0.2
-
October 27, 2016
– Some improvements related to code structure
– Improvements for logging date type values
Version 1.0.1
-
August 04, 2016
– Fixed merge of .css files
– Minor fixes