Extra Fee
for Magento 2
Create extra fees for any additional services you need and display them on the checkout and shopping cart page. Use flexible conditions and advanced settings to clearly show relevant fees to customers and encourage them to spend more.
Create an unlimited number of extra fees
Display fees on cart and checkout pages
Generate extra fees based on payment and shipping methods
Determine fees display with flexible conditions
Use percent and fixed price fee types
Read and write GraphQL compatibility and API support
Want to provide customers with additional paid services like gift wrapping, rush delivery or insurance? With the Magento 2 Extra Fee extension you'll be able to generate extra fees for any service you need. The module adds multiple extra fee blocks to Magento checkout and cart pages to let store visitors choose necessary fee options before completing the purchase. Create percent or fixed price fees, choose different input types and display additional info for each extra fee block. Use flexible conditions to show fees based on payment and shipping methods as well as on products subselection and cart attributes.
Take advantage of multiple extension features:
Create as many Magento 2 additional fees as you need;
Add fee blocks to cart and checkout pages;
Use flexible conditions to manage fees display;
Offer fees based on payment and shipping methods;
Include/exclude taxes and discounts while calculating fee amount;
Choose either a fixed price or a percent fee type;
Use numerous input types for fee options;
Choose store views and customer groups for fees display;
Customize fee options for different store views;
Specify a unique description for each fee block;
Advanced options for price calculation
Choose the base for fees calculation
An admin user can specify which product price should be set as a base for percent fee calculation. It's possible to include or exclude shipping amount, discounts and any additional taxes applied to products when generating fee amount. This feature can be applied to all fees by default; it's also possible to set custom calculation parameters for a certain rule.
Select the price type
The Magento 2 Extra Fee module lets you choose either a percent or a fixed price type. Therefore you can set a flat amount tax like $15 as well as a specific percent from the cart subtotal. In case you choose a percent fee type the extension automatically calculates the specified percent for each fee option and displays calculation results to customers.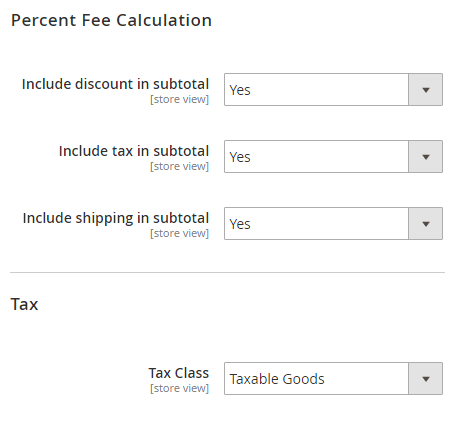 Flexible settings for fees display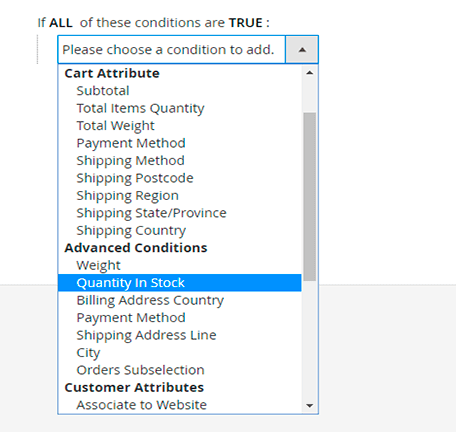 Determine fees display with conditions
Easily create various magento 2 payment fees based on multiple conditions and condition combinations. Use cart and product attributes to fine tune fees display according to your requirements. Charge special taxes for particular products (SKU condition), items from a specific category or with a specific attribute set etc.
Fees based on payment and shipping methods
With the Magento 2 custom fee tool store owners can assign extra fees to any shipping or payment method they need. For instance, surcharge 5% for DHL Ground shipping method or add an extra fee for those customers who choose the 'cash on delivery' method.
Choose store views and customer groups
The module allows you to select store views and customer groups for which extra services with the corresponding taxes will be available. NOTE: You can translate fee options into different languages for each particular store view.
Choose an input type
Due to flexible settings it's possible to adjust fee options display to your needs. The module offers 3 input types:
Dropdown
Radio buttons
Checkboxes
Set default fee values
Specify a default fee value while creating fee options in the admin panel. The chosen value will be automatically applied on the frontend pages unless a shopper selects another one.
Choose pages for fees display
The Magento 2 extra fee extension lets you add the multiple fees blocks to cart, checkout and success pages to help customers easily apply the necessary option and immediately see the final sum including extra fees.
Apply fees to orders created in the admin area
Now you can also add Magento 2 extra fees to purchases created in the admin panel. This option is especially useful when a customer asks for additional services after the order has been applied. You can edit the already existed purchase and recalculate the final cost.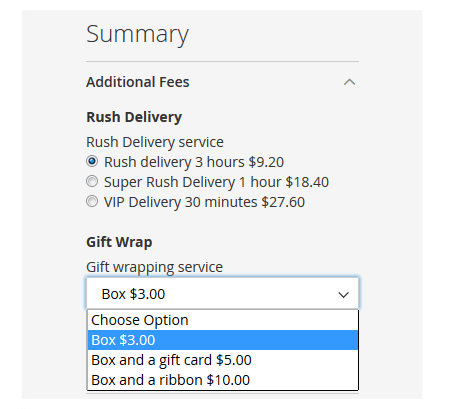 How to add an extra fee to Magento 2 checkout?
Install and enable Amasty Extra Fee;
navigate to Stores > Extra Fee > Fees and click Add New Fee;
enter the Name, Description, Sort Order, and choose the Type;
add the needed options in the Options tab;
in the Stores & Customer Groups tab, specify what users can see your offer;
if you want to display fees according to products and cart attributes, configure the Condition tab;
configure the Calculation options in the Calculation tab;
save the changes.
Other Features
100% Open Source — Easy To Customize
Follows Magento Code Architecture
Separated HTML/CSS/JS
Simple installation via Composer
* The name "Magento" and the logo are the trademarks of Magento, Inc.
Good!
Extra Fee allows a Merchant to offer supplementary services at Checkout as, for example, extra shipment services purchasable for an additional price.

Good functionality
Offering fast delivery is a trend now. With the module I can play with fees, groups and services the way I need. The feature I find particularly cool is corrections in the admin panel.
Must-have for customer-focused businesses
This module is my savior. I sell hand-made natural stone jewelry so for me creating emotions is more important than just selling items. With this module I can conveniently charge fees for my master's services and custom packaging. Works fine, no issues.
Shape checkout to your needs
Our enterprise has various delivery options and additional services, we also have some taxes issues because of a specific location. The extension really helped us to set more flexible and actual checkout procedure and cart page.
Are you looking to add specific functionality for this extension or want to acquire a reliable development partner altogether? With custom development services by Amasty, you will receive high quality and cost-effective solutions developed by Magento professionals according to industry's best practices.
Magento 2.2, 2.3, 2.4
You can always download the recent version free of charge from your account
Installing an upgrade is easy — check now
My Downloads
Version 1.5.2
Last Update: Apr 13, 2020
Fix we solved the problem with payment method selection with virtual product
Fix we solved the problem with fees with Klarna Payment Method
New now the module is read and write GraphQL compatible
Fix we solved the problem with displaying fees for virtual products
Fix we solved the problem with displaying fees in order confirmation email
Version 1.4.21
Last Update: Dec 19, 2019
Fix issue with fees disappearing from the Order Summary section was fixed.
Fix we solved the problem with incorrect order total calculation while using Amasty Shipping Rules extension
Improvement now, 0$ fees will displays in order email
Fix we resolved the problem with payment methods choosing when total cart amount is 0
Fix the issue with displaying extra fee block was resolved
Fix the issue with extra fee conditions validation on cart and checkout pages was resolved
Fix the issue with PayPal payment method was fixed
Fix the issue with including tax in shipping amount was resolved
Fix the issue with percent fee calculation was resolved
Fix the issues with tax calculation for extra fees were resolved
Fix the issue with fee calculation for more than 1 item in cart was fixed
Fix the issue with applying extra fees from admin side was resolved
Fix the issue with error message on checkout page while card payment was fixed
Fix the issue with order placing with PayPal payment method was resolved
Fix the issue with Shipping price in Subtotal was resolved
Fix the issue with duplicate extra fee name in totals information was resolved
Fix the issue with saving options for extra fee was resolved
Improvement tax for extra fee on tax breakdown section was added
Fix the issue with extra fee in invoice was resolved
Improvement to simplify the configuration, the notes for the extra fee settings were added
Fix the issue with billing address validation was resolved
Fix the issue with displaying extra fee in print order/invoice/credit memo was resolved
Fix the issue with the subtotal validation was resolved
New the address condition 'City' was introduced
New Information section is added. Now you can see the version of installed extension, available updates, User Guide link, conflicts and other useful data right on the module Configuration page
Compatibility improved Advanced Conditions compatibility with Magento 2.1.0
Compatibility with Amasty One Step Checkout was improved
New 6 new conditions were added
New Customer Attributes can now be used in conditions
Fixed multiple issues with fees display on cart page and checkout
Stability improvements
Version 1.3.1
Last Update: Mar 26, 2018
Compatibility with Magento 2.2.1 Enterprise Edition improved
New Magento API support introduced
New 'Shipping address line', 'Payment method' and 'Billing country' conditions were added
Version 1.2.2
Last Update: Dec 12, 2017
Compatibility with Magento 2.2 was improved
Magento 2.2 compatibility introduced
New Fees are now can be applied to orders created in admin area
VAT/Tax display improvements
Fix for percent fee calculation issue
Number of smaller fixes
Version 1.1.3
Last Update: Aug 25, 2017
Quote limit increased in DB
Add extra fee to the totals at checkout success page
Installation script has been updated
Totals calculation order has been changed
New options to calculate fees based on shipping/tax/discount amounts