Want to provide customers with additional paid services like gift wrapping, rush delivery or insurance? With the Magento 2 Extra Fee extension you'll be able to generate extra fees for any service you need. The module adds multiple extra fee blocks to checkout and cart pages to let store visitors choose necessary fee options before completing the purchase. Create percent or fixed price fees, choose different input types and display additional info for each extra fee block. Use flexible conditions to show fees based on payment and shipping methods as well as on products subselection and cart attributes.
Take advantage of multiple extension features:
Create as many extra fees as you need;
Add fee blocks to cart and checkout pages;
Use flexible conditions to manage fees display;
Offer fees based on payment and shipping methods;
Include/exclude taxes and discounts while calculating fee amount;
Choose either a fixed price or a percent fee type;
Use numerous input types for fee options;
Choose store views and customer groups for fees display;
Customize fee options for different store views;
Specify a unique description for each fee block;
Advanced options for price calculation
Choose the base for fees calculation
An admin user can specify which product price should be set as a base for percent fee calculation. It's possible to include or exclude shipping amount, discounts and any additional taxes applied to products when generating fee amount. This feature can be applied to all fees by default; it's also possible to set custom calculation parameters for a certain rule.
Select the price type
The Magento 2 Extra Fee module lets you choose either a percent or a fixed price type. Therefore you can set a flat amount tax like $15 as well as a specific percent from the cart subtotal. In case you choose a percent fee type the extension automatically calculates the specified percent for each fee option and displays calculation results to customers. Flexible settings for fees display Determine fees display with conditions
Easily create various payment fees based on multiple conditions and condition combinations. Use cart and product attributes to fine tune fees display according to your requirements. Charge special taxes for particular products (SKU condition), items from a specific category or with a specific attribute set etc.
Fees based on payment and shipping methods
With the Magento 2 custom fee tool store owners can assign extra fees to any shipping or payment method they need. For instance, surcharge 5% for DHL Ground shipping method or add an extra fee for those customers who choose the 'cash on delivery' method.
Choose store views and customer groups
The module allows you to select store views and customer groups for which extra services with the corresponding taxes will be available. NOTE: You can translate fee options into different languages for each particular store view.
Choose an input type
Due to flexible settings it's possible to adjust fee options display to your needs. The module offers 3 input types:
Dropdown
Radio buttons
Checkboxes
Set default fee values
Specify a default fee value while creating fee options in the admin panel. The chosen value will be automatically applied on the frontend pages unless a shopper selects another one.
Choose pages for fees display
The Magento 2 extra charge extension lets you add the multiple fees blocks to cart, checkout and success pages to help customers easily apply the necessary option and immediately see the final sum including extra fees.
Apply fees to orders created in the admin area
Now you can also add extra fees to purchases created in the admin panel. This option is especially useful when a customer asks for additional services after the order has been applied. You can edit the already existed purchase and recalculate the final cost.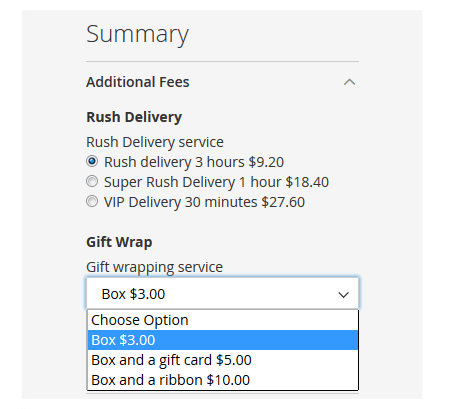 Other Features
100% Open Source — Easy To Customize
Follows Magento Code Architecture
Separated HTML/CSS/JS
Simple installation via Composer
* The name "Magento" and the logo are the trademarks of Magento, Inc.
Shape checkout to your needs
Our enterprise has various delivery options and additional services, we also have some taxes issues because of a specific location. The extension really helped us to set more flexible and actual checkout procedure and cart page.
Write Your Own Review
Version 1.3.0
-
March 06, 2018
– New: Magento API support introduced
– New: 'Shipping address line', 'Payment method' and 'Billing country' conditions were added
Version 1.2.2
-
December 12, 2017
– Compatibility with Magento 2.2 was improved
Version 1.2.1
-
October 05, 2017
– Magento 2.2 compatibility introduced
Version 1.2.0
-
September 29, 2017
– New: Fees are now can be applied to orders created in admin area
– VAT/Tax display improvements
– Fix for percent fee calculation issue
– Number of smaller fixes
Version 1.1.3
-
August 25, 2017
– Quote limit increased in DB
Version 1.1.2
-
February 06, 2017
– Add extra fee to the totals at checkout success page
Version 1.1.1
-
October 11, 2016
– Installation script has been updated
– Totals calculation order has been changed
Version 1.1.0
-
September 08, 2016
– New options to calculate fees based on shipping/tax/discount amounts