Import Orders
for Magento 2
Conveniently sync your Magento 2 store with the orders from third-party sources, marketplaces and other Magento stores. Automatically transfer order data with no technical skills with Magento 2 Import Orders.
Synchronize order data with the third-party platforms
Avoid data losses with automated file validation
Create an unlimited number of import profiles
Import orders in CSV, XML, ODS and XLSX formats
Upload files or use local directories, FTP/SFTP servers, URLs, Google Sheets, Rest API, Dropbox, Google Drive as import sources
Perform regular or one-time imports with additional interfaces
Import any Gift Card data
Challenge
Managing several asynchronous systems at a time increases the risk of data losses and provokes the necessity of making time-wasting manual sync and data coordination. Besides, the native Magento does not provide out-of-box infrastructure to transfer orders between the systems (e.g. from Magento 1 to Magento 2, and from other platforms, like Shopify or WooCommerce, to Magento 2), so it's inevitable to attract a programmer for this task.
Solution
Seamlessly sync Magento 2 orders with the other orders made on third-party platforms. With this extension, you don't have to lead two or more order sources in parallel anymore, as the extension provides the complete infrastructure for the comfortable management of your order data from all the sources you work with. Our Magento 2 Import Orders was designed to be user-friendly enough so you can configure data migration by yourself.
What benefits do you get for your store
Achieve effective management: sync orders from third-party platforms with Magento
Get reliable import process: save time with a stable and multi-process import flow
Exclude custom development expenses: configure data migration with no tech skills
Enjoy high importing speed for huge data volumes
Even if the data you are going to import is of a great volume, you can be sure that the speed of importing will remain high. This is one of the basic qualities of the Magento Order Import extension, as there are extra features to improve import performance according to your server capabilities.
Key indicators of Big Data testing:
500.000 orders are imported in 1 hour if we enable the multi-process generation and 5 threads;
100.000 orders are imported in 15 min if we use 4 threads and the server is not overload;
100.000 orders are imported in 1 hour 40 min with the multi-process generation disabled;
3.000 orders are imported for less than a minute if we run it in 4 threads.
IMPORT ORDER DATA WITH NO PROGRAMMING SKILLS
As the native Magento does not provide merchants with the appropriate tools for efficient order data migration, it becomes a real headache. This extension allows setting up a fully automated integration with marketplaces, other Magento instances and other sources to keep all the data from several platforms up-to-date.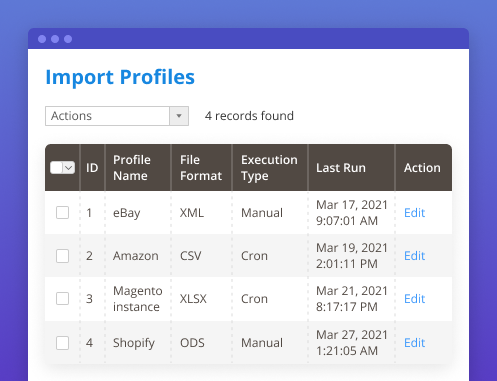 Manage order sources using separate import profiles
Thanks to this feature, you can import orders from several platforms like Amazon, eBay or any others, with no fear of mixing them up. Create an unlimited number of order profiles and set up unique import configurations to avoid cross-sources issues.
Keep stable server performance
On the one hand, you can enable the multi-process generation and set the required batch size to speed up the import process. But on the other hand, the more threads you have, the higher the load on the server is. If your server doesn't have enough capacity, you can avoid the negative effect by configuring the number of parallel threads. Try several configurations to find the balance between speed and performance.
Import Gift Card Data
Now you can import any
gift card data
provided by the
Amasty Gift Card
extension. Upload voucher information using one-time import and add the required gift card fields to the import profiles for regular data migration.
Import any order data you need
Each platform has its own order structure with the different data collected. As a result, you have completely different files to import. That's why the extension has a tree-structured UI that lets you build a precise import profile in a root entity->subentities->fields model to map any entities and fields you need. You can extract all the data provided in the import file or just configure the fields required for the order creation in Magento.
Match data with fields mapping
While importing, it often happens that same-purpose fields may have different names. To make the extension understand which field to use to get specific data, you can match the namings in Magento and in the import files. Or, vice versa, you can download sample files for each format right from the configuration page and structure an import file in the appropriate way.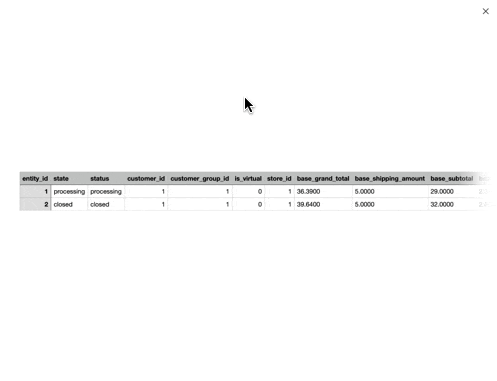 Supported formats
CSV, XML, ODS and XLSX.
Supported sources
Local Directory, FTP/SFTP, URL, Google Sheets, File Upload, REST API, Dropbox and Google Drive.
MANAGE IMPORT PROCESS AND INTERACTION WITH MAGENTO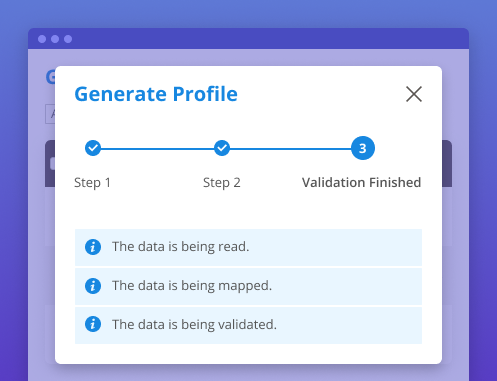 Avoid possible data loss with file validation
Importing huge volumes of data is a complex task and it's quite easy to accidentally miss something. To avoid this, we added the automatic file validation system that checks for errors while importing order data. By the way, you can choose a suitable validation strategy and either skip error entities or stop the import if any issue is found.
Apply post-import actions to manage orders
Magento 2 Import Orders allows you to make a range of additional actions: change order statuses, create invoices, shipments, credit memos, cancel orders and send emails right after the process of importing orders was finished.
Choose import behavior
Select the strategy according to which new orders will be added to your Magento instance. The extension can add all imported orders as new ones or compare them with the already existing orders and update the data in them. Additionally, you can choose what to do with customers: place all imported orders as if guest users placed them, assign new orders to particular customers if they already have accounts in Magento or create new customers using the data from the import file.
Configure automatic import
If you have managed to set the integration with a particular source correctly, you can reduce management time by running the import profile automatically. You may either schedule cron import (some cron templates are already included) or execute file upload by the custom schedule.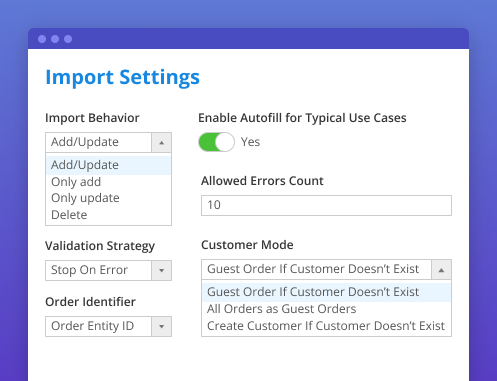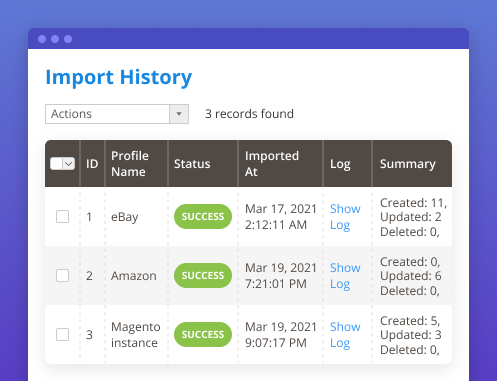 Stay notified about each error
Get email alerts on import errors to take the whole process under total control. You can configure emails separately for each profile to avoid unnecessary alerts and exclude the chance of missing the important one.
Inform customers about the updates in orders
Migrating orders from one platform to another should not affect the communication with shoppers and their experience. When you have imported orders in Magento 2 and updated the statuses, you can automatically notify customers about any changes in their orders to keep them informed.
Log import activity
Use import logs to conveniently track import job statuses. With the import history of each separate profile, you can quickly find and fix possible errors concerning a particular integration. Also, the extension includes the general log with all import activity so that you could see the full picture.
Prevent database overload
Timely clean import logs to reduce the load on your database. No need to do it manually - just set the required time period after which the out-of-date recording will be removed from the logs.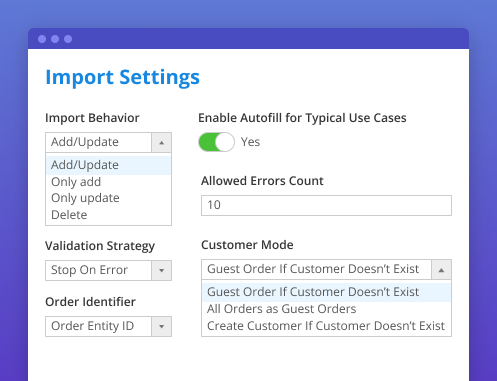 AMASTY IMPORT: ADVANCED OPTIONS
Amasty One-time Import
This interface has a simplified UI so that you could quickly perform one-time imports. The more import extensions by Amasty you will have in the future, the more entities you will be able to import in one place.
→ See how it works for
Export Entities
Amasty Import Cron Jobs
Use this interface to plan the automatic import of all available entities. Similar to the previous interface, all import extensions will be available for configuration here.
→ Learn more about
Import & Export solutions for Magento 2
Choose the solution most suitable for your business needs
Key Features

Import Orders

Export Orders
Import and Export Orders
Import Jobs
Import orders in CSV, XML, ODS and XLSX formats
Upload files or use local directories, FTP/SFTP servers, URLs, Google Sheets as import sources
Match data with fields mapping
Choose import behavior and autofill typical use cases
Avoid possible data loss with file validation
Run import profiles by cron
Apply actions after importing
Export Jobs
Export orders in 6 formats: CSV, XML, ODS, XLSX, JSON or a Custom Template
Export to a local server, FTP/SFTP, using Rest API Endpoint or send files via email
Match naming requirements using field mapping
Filter orders by field values
Change the values with text, numeric, date and custom modifiers
Run profiles automatically, manually or by events
Apply actions after exporting

$199

add to cart

$199

add to cart

$398

add to cart
Other Features
100% Open Source — Easy To Customize
Follows Magento Code Architecture
Separated HTML/CSS/JS
Simple installation via Composer
* The name "Magento" and the logo are the trademarks of Magento, Inc.
Be the first to review this product
Import Orders for Magento 2
Are you looking to add specific functionality for this extension or want to acquire a reliable development partner altogether? With custom development services by Amasty, you will receive high quality and cost-effective solutions developed by Magento professionals according to industry's best practices.
2.3.6, 2.3.6-p1, 2.4.0-p1, 2.4.1, 2.4.1-p1, 2.4.2
You can always download the recent version free of charge from your account
Installing an upgrade is easy — check now
My Downloads
Version 1.4.1
Last Update: Jul 15, 2021
New now the extension comes with a new entity that allows you to import Gift Message
Fix we fixed the issue with the double 'You saved the profile' notice when saving the profile
New we added a new import source that allows you to import data from Google Drive
Version 1.3.0
Last Update: Jun 10, 2021
New we added a new import source that allows you to import data from dropbox
Version 1.2.0
Last Update: May 26, 2021
New we added the functionality of import history auto-cleaning for you to set up the automatic removal of import history records after the specified period
New now the extension comes with alert notifications added to profiles for you to send alerts to recipients when an error happens in importing
New we added the functionality of profiles duplicating to let you create similar profiles without additional steps
Version 1.1.1
Last Update: May 06, 2021
Improvement we enhanced the work of the import log and improved the error messages to be more detailed and informative
New we added a new import source that allows you to import data using REST API endpoint
Compatibility we made the module compatible with Amasty Gift Card extension, so you can import Amasty Gift Card fields
Version 1.0.1
Last Update: Apr 14, 2021
Fix we fixed the SQL error occurred when importing non-existent customer_id