Import Orders (Pre-order)
for Magento 2
Conveniently sync your Magento 2 store with the orders from third-party sources (ERP, marketplaces, other Magento stores). Manage order data with no technical skills with Magento 2 Import Orders.
Synchronize order data with the third-party platforms
Avoid data losses with automated file validation
Create an unlimited number of import profiles
Receive email notifications about the import statuses
Conveniently manage import logs to timely fix errors
This extension will be included in all-in-one Import & Export M2 solution
Challenge
Managing several asynchronous systems at a time increases the risk of data losses and provokes the necessity of making time-wasting manual sync and data coordination. Besides, the native Magento does not provide out-of-box infrastructure to transfer orders between the systems (e.g. from Magento 1 to Magento 2, and from other platforms, like Shopify or WooCommerce, to Magento 2), so it's inevitable to attract a programmer for this task.
Solution
Seamlessly sync Magento 2 orders with the other orders made on third-party platforms. With this extension, you don't have to lead two or more order sources in parallel anymore, as the extension provides the complete infrastructure for the comfortable management of your order data from all the sources you work with. Our Magento 2 Import Orders was designed to be user-friendly enough so you can configure data migration by yourself.
Join public Beta today!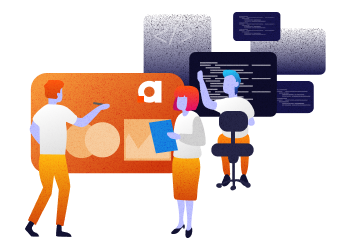 Benefits you get by participating:


have a real impact on the development: actively share your ideas and see them implemented


direct communication with Amasty development team: instantly get response if having any issues


see what's happening in real time: you'll have access to the Trello board for Beta and see how the development is progressing


get 3 months of free support subscription: free support for all Amasty extensions you have!
What benefits you get for your store
Save time with easy import of huge volume of orders in bulk
Seamlessly sync orders with third-party platforms
Configure data migration with no tech skills
Manage order data with no programming skills
Import orders created on third-party platforms
As the native Magento does not provide merchants with the appropriate tools for the efficient order data migration, it becomes a real headache. This extension allows setting up a fully automated integration with marketplaces, ERPs and other sources to keep all the data from several platforms up-to-date.
Save time with the automatic fields mapping
While importing, it often happens that same-purpose fields may have different names. The automatic fields mapping helps while migrating huge volumes of data in bulk. Besides, download a CSV example for Magento 2 Import Orders extension and use field names for a quicker configuration.
Manage order sources using separate import profiles
Thanks to this feature, you can manage your orders from several different platforms like Amazon, eBay or any others, with no fear of mixing them up. Create an unlimited number of order profiles and set up unique import configurations for them to track and manage them separately.
Apply post-import actions to manage orders
Magento 2 Import Orders allows you to make a range of additional actions: create invoices, shipments and credit memos, send emails and shipments, and change order statuses, right after the process of importing orders was finished.
Supported formats
CSV, XML, ODS, XLSX, TSV, JSON.
Supported sources
FTP/SFTP, URL, Dropbox, Google Sheets.
Conveniently track & manage import jobs
Stay informed about the import status
With Magento 2 Import Orders you can configure email notifications, which you'll receive if the import was unsuccessful. It helps you be constantly informed of the import process statuses timely finding and fixing possible errors.
Avoid possible data loss with file validation
Importing huge volumes of data is a complex task and it's quite easy to accidentally miss something. To avoid this, we added the automatic file validation system that checks for errors while importing order data.
Use cron to manage import jobs
This extension provides the built-in cron job interface for scheduling automatically running import tasks and efficiently managing those cron jobs. Enable, disable, schedule new import processes and track the import process statuses from the cron grid. All this can be configured from the Magento backend.
Manage orders while importing
Magento 2 Import Orders extension allows creating new, skipping or updating the existing orders during the importing process. To simplify the order data management, the extension allows you to filter, edit and format data while importing.
Enjoy high importing speed for huge data volumes
Even if the data you are going to import is of a great volume, you can be sure that the speed of importing will remain high. This is one of the basic qualities of the Magento Order Import extension we guarantee by its design.
Take an advantage from the import logs
Use import logs to conveniently track import job statuses. With 'Import Debug Results' and the debug mode you can quickly find and fix possible errors. Besides, with this extension, you can set up automatic clearing of logs to keep your records clean. The import logs feature is available for each import profile.
How to automatically cancel orders in Magento 2?
The
Magento 2 Cancel Orders
extension provides shoppers with the possibility to cancel inappropriate orders by themselves right in the accounts, while store admins can automatically annulate pending orders after a certain period. With this extension, the process of order cancellation goes regardless of the processing step - all further money-back actions will be done automatically.
Other Features
100% Open Source — Easy To Customize
Follows Magento Code Architecture
Separated HTML/CSS/JS
Simple installation via Composer
* The name "Magento" and the logo are the trademarks of Magento, Inc.
Question
Answer
What's a pre-order product?
An Amasty's pre-order is a purchase of an upcoming extension that hasn't been on the market yet. Once it's released, you get the package immediately.
What benefits do I get making a pre-order?
Making a pre-order allows you to decrease expenses on the extension. As a rule, a pre-ordered extension will cost you from 0% to 50% of its price after release. The discount also covers all the additional services you include in the order.
How soon will I get my pre-ordered purchase?
You will get an extension not later than 3 months after the payment. We assess the estimated lead period for releases of pre-ordered products in 5-7 weeks and we do our best to meet the deadline.
Are there any additional charges I'll be charged after the extension release?
The amount you pay for the pre-order is final and no additional charges are required after the product release.
How will I get the pre-ordered extension?
The product becomes available in your account immediately after its first release. You'll receive an email once we release the mod.
How do the Free Support, Money Back, Lifetime Updates conditions work in case with pre-ordered products?
There are absolutely no changes in comparison with regular product purchases. You get standard conditions:
- 90-day of free support;
- 60-day money-back guarantee;
- free lifetime updates.
The free support and money-back guarantee periods start only when you receive an installation package (i.e. right after the module release). Furthermore, you can issue a refund for pre-ordered items during the whole pre-release period.
What if I want to purchase both regular and pre-order products at once?
That's ok: released products are ready for installation and usage right after your order is processed and the pre-ordered items will become available right after the release.
What if I want to extend the support period after the extension release?
You can do that the same way as for ordinary products: once the 90-day support period is over, it's possible to extend it for 50% of the module price - this includes another 90-day period of support.
Also, you can choose additional options like prolonged 6/12-month of support and/or priority support service.
How will I find out that a module is released?
We'll inform you via the email once the extension you pre-ordered is released. At this very moment, the mod gets available in your personal account on amasty.com.
What if you never release the extension I pre-ordered?
It's an edge case since we allow pre-orders only for the products that included in our roadmap for upcoming sprints. But if it happens you'll receive your money back and get a discount for any other purchases at amasty.com.
Are you going to provide a demo version of the extension before its official release?
Most likely no. However, we apply an individual approach to every customer's case, so, contact our sales managers via chat and we'll see how we can help you out.
Is it possible to refund a pre-ordered item?
Yes, you can issue a refund whenever it's required: either while the item is still not released and during 60 days after its release according to the
Amasty Refund policy
.
How the pre-ordered items will look like in my personal account?
The pre-ordered items will look like ordinary extensions. All the appropriate records will be displayed on the Account Dashboard, My Orders, My Downloads, Rewards & Credit pages. The only distinction is that on the My Downloads screen the items that have not been released yet won't have a version number and the Download button will trigger just a warning message.
Will I receive a store credit for pre-orders?
According to the rules of Amasty's Reward Program, you get $15 back to your store credit per every $100 spent regardless of what kind of product you purchase. These Points are valid for 60 days from the purchase date.