Export Orders
for Magento 2
Migrate huge volumes of orders from your Magento instance to other systems and platforms. Export any order data (including fields from 3rd-party extensions), build unique profiles and transfer data automatically with the 3-in-one Export Orders solution for Magento 2.
Create export profiles in 6 formats: CSV, XML, ODS, XLSX, JSON or a Custom Template
Find and add any order entity to the export file, including product attributes
Match naming requirements and sorting for export fields
Run profiles by schedule, event or manually
Filter orders by values
Use on Magento Cloud
Challenge
Lots of store owners use CRM, ERP and other systems to manage their businesses effectively. If merchants own stores on Magento, they need to connect their admin panel with these platforms. Native Magento doesn't have built-in options for it. Owners can't migrate their order data from the admin panel: merchants simply can't export and send orders to managers, suppliers or other stakeholders. This problem can be solved only with the help of developers or through tons of manual operations.
Solution
Export Orders extension by Amasty is a unique software that has nothing in common with the default Magento export. Now you can complete any order migration task: make a one-time transfer, set up connectors to configure automatic data transfer, create regular jobs and send purchasing details by email. Convey as many orders as you need, build exclusive export profiles for each platform or product supplier, include required values, filter buys, customize naming and other useful features to get rid of all export limitations at once.
What benefits do you get for your store
Save money: overcome any export challenge without custom development
Sustain stable export process: migrate up to 500.000 at once
Explore fast & agile export: the solution includes 2 additional modules to deal with Amasty entities
EXPORT ORDERS: SOME REASONS TO BE FAST & STABLE
We created the export solution from scratch as an independent from Magento:
the code quality lets you extract 200.000+ order fields for a 1,2 min
you can configure the batch size suitable for your server
you can enable multi-process generation to speed up the export
the comparison algorithm allows you to process only new recordings
the logs and files that are no longer needed will be cleaned automatically
Create a comprehensive export profile
With the Magento 2 Order Export extension, you are free to build an unlimited number of export profiles for multiple purposes. You can find all of them in a separate grid.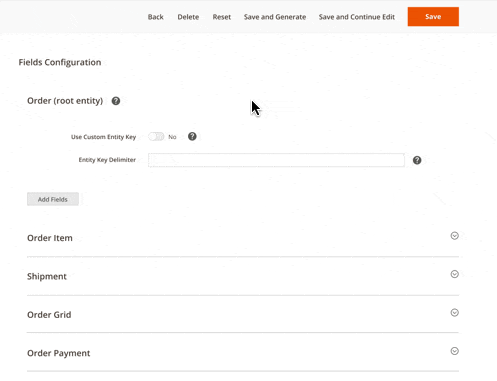 Transfer any order data you need
Each export task has its own requirements, and to meet them, an export file needs to be highly customizable. The tree-structured UI lets you add any fields from any order data level you need. Feel free to export any Magento 2 order entities with the products bought, their attributes and custom options. Search for fields right in a pop-up window and add them step-by-step to create the required file. Moreover, you can add the fields generated by 3rd-party extensions.
Modify Values
Now you may use modifiers to change the values in the file automatically.

Types of modifiers available:
Text Modifiers: Adjust the text of the text values by appending, prepending, capitalizing, etc.
Numeric Modifiers: Use for number modifications, e.g. rounding prices.
Date Modifiers: Specify a suitable date format.
Custom Modifiers: Replace the output of one field with the value of another.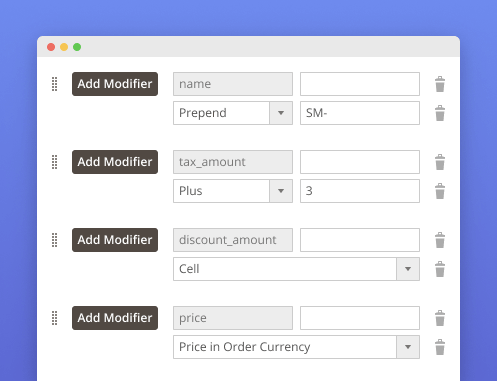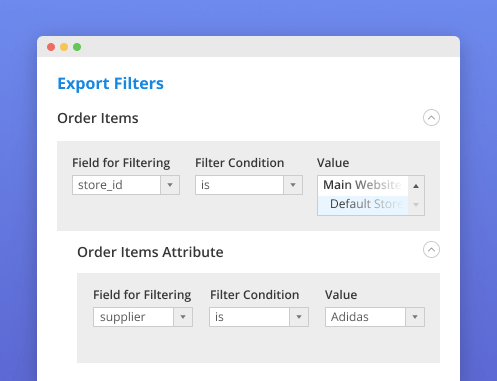 Define which orders to export
Add only relevant data to the document using filters. It is possible to filter by any order entity, e.g. by purchased items and add the products from a particular vendor only. Filtering, similar to Fields Configuration, has a tree structure, so you can add filters to any level you want to. Also, if needed, the algorithm excludes empty rows to make a tabulate more compact and relevant in case no results are found.
Choose a suitable format
Find out what type of a document the recipient needs and select a suitable one to export orders from a Magento 2 admin panel: CSV, XML, ODS or XLSX. Each format has its own peculiarities, that you can additionally configure. Remember to determine a delimiter and special symbols to enclose values.

NEW: JSON format is now available! Additionally, we've integrated the universal PHP template engine Twig so that you could customize file format code and make it suitable for specific needs.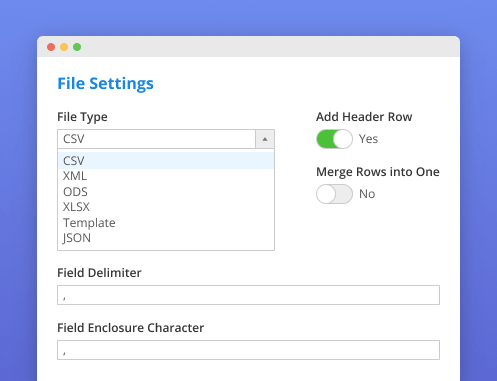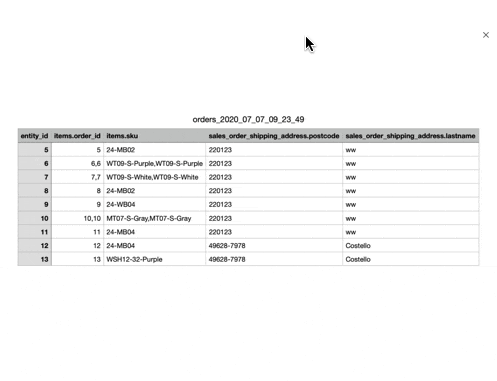 Customize the export file
Usually, the default field naming is inexplicit, large and doesn't match the requirements of CRM, ERP and other systems. Also, if you or the file recipient has no technical background, it will be difficult to navigate in it. Export Order for Magento 2 has all options to make the recording understandable: adjust column prefixes, delimiters and change the default field names. Don't forget that you can run an algorithm for exporting only new buys and avoid repletion.

NEW: Now it is possible to drag and drop fields within each entity to adjust their position in the file.
Select file storage options
Choose suitable destinations to pass recordings to. Upload documents directly to the internal or external server, or send them by email. Additionally, you can set an automatic name generation and compress the exported file to save extra space on servers.

NEW: From now, send documents to the Rest API Endpoint as well.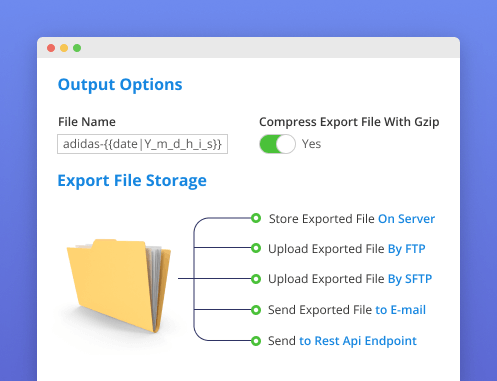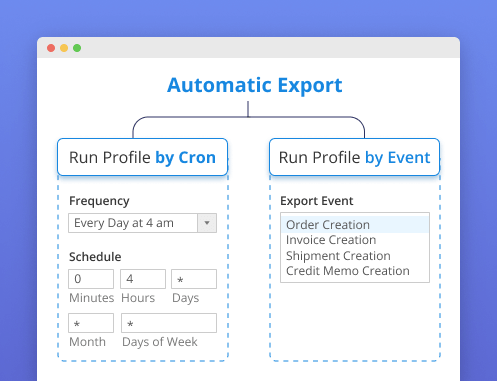 Configure automatic dispatch
Reduce management time by dispatching profiles automatically. You may either schedule cron export (some cron templates are already included) or execute file upload by the event. For example, you can immediately send newly created orders to a supplier using the 'Order Creation' event.
Execute actions after exporting
To reduce the number of manual tasks and complete the flow, automatically apply particular changes to the exported recordings. For instance, you may auto change order statuses, leave notes, invoice/ship/cancel orders. Notify customers in cases of changes if necessary.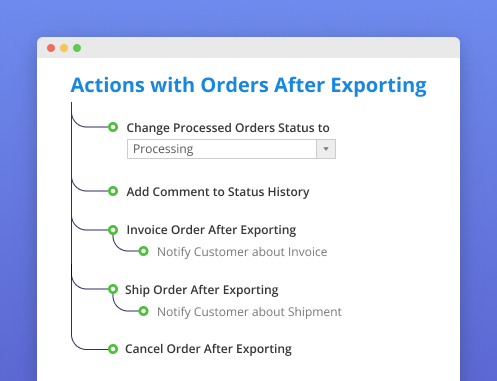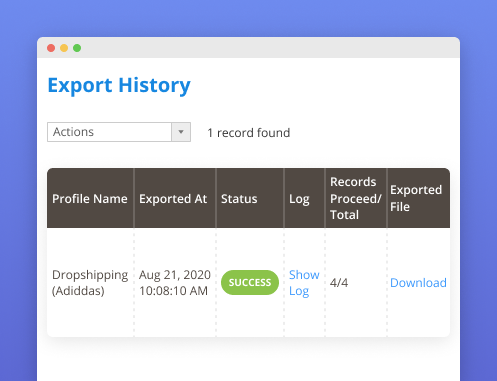 Check export history
The extension for Magento 2 programmatically logs each export order profile. Here you can see the date, check logs, see the number of orders in it and download an exported file. Also, in a separate 'Order Export History' tab on the admin panel, you will track the logs for all profiles and entities in one place. Keep in mind that auto log cleaning is available.
ADVANCED EXPORT OPTIONS INCLUDED
Fast & easy Amasty Export module
Apart from creating profiles, feel free to use a simplified UI for one-time export. The functionality includes all existing order entities and soon will be available for the entities from all Amasty Export tools.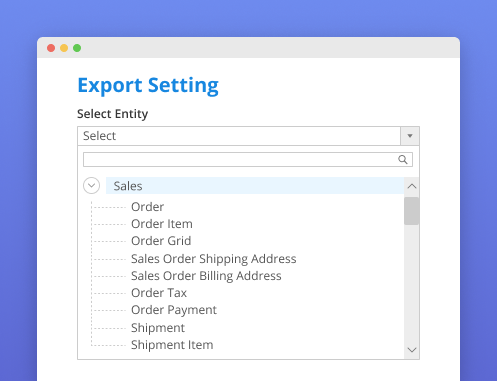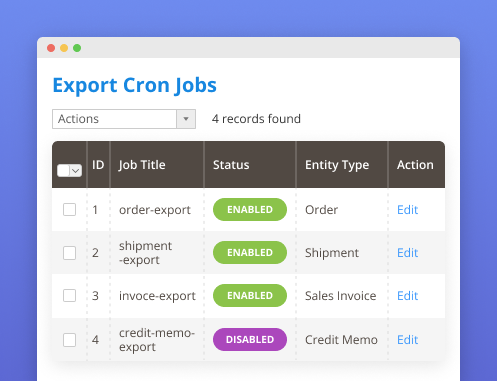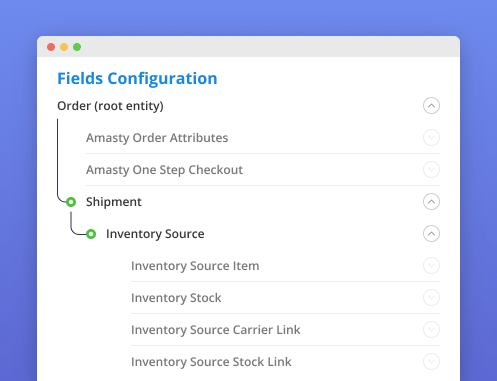 Export Profiles: Most Common Use Cases
Configure daily order reports: a simple daily export that you can send via email
Redirect orders to suppliers: split orders between them and export a CSV or Excel file from Magento 2 programmatically (by event)
Adjust ERP Connector: upload purchases, their taxes and discounts to the ERP system
Create B2B invoicing: send docs to an invoicing company and auto change order statuses after the payment
Choose the solution most suitable for your business needs
Key Features

Export Orders

Import Orders
Import and Export Orders
Export Jobs
Export orders in 6 formats: CSV, XML, ODS, XLSX, JSON or a Custom Template
Export to a local server, FTP/SFTP, using Rest API Endpoint or send files via email
Match naming requirements using field mapping
Filter orders by field values
Change the values with text, numeric, date and custom modifiers
Run profiles automatically, manually or by events
Apply actions after exporting
Import Jobs
Import orders in CSV, XML, ODS and XLSX formats
Upload files or use local directories, FTP/SFTP servers, URLs, Google Sheets as import sources
Match data with fields mapping
Choose import behavior and autofill typical use cases
Avoid possible data loss with file validation
Run import profiles by cron
Apply actions after importing

$199

add to cart

$199

add to cart

$398

add to cart
Provide seamless order cancellation
Increase customers' loyalty by allowing them to cancel their orders right from the frontend. Save your time scheduling an automatic annulation of pending orders with
Magento 2 Cancel Orders tool
. Analyze cancellation reasons and timely make sales strategy improvements.
According to the statistics, the extension can cover each business need in synergy with the following solutions: magento 2 import products and magento customers list.
Other Features
100% Open Source — Easy To Customize
Follows Magento Code Architecture
Separated HTML/CSS/JS
Simple installation via Composer
* The name "Magento" and the logo are the trademarks of Magento, Inc.
Recommended to serious developers and store owners who desire a final solution
Facil Persianas, CTO
We wanted to have a reliable extension that didn't conflict with the other store modules. I have tried other cheaper extensions, but they cost me more since they mostly conflict with other store modules. So we changed to amasty, and it has worked nicely. I've been using the Order Export and Google Feed (shopping) extensions for more than 6 months, they have a lot of different functionalities and are easy to use. Recommended to serious deevelopers and store owners who desire a final solution, and dont want to spend hours to install them



Amasty answer
Nov 25, 2020
Natalya Chekanina
/ Head of Sales Team
Dear Tacius de Aragon, thank you for your review and for recommending our extensions! It's great to hear that you've been able to avoid conflicts and save time by using Amasty plugins, and we're honored to have your trust
works fast
I didn't expect that the extension would work so fast. It processed around 400 000 orders in 3 minutes. That's impressive. Also, FTP support is wonderful. It really helps to automate the work with ERP.
Amazing support
I have struggled to create a correct export profile because I've never worked with databases before. But guys from the support team were very patient and polite. They helped me and explained how to work with the plugin.
Are you looking to add specific functionality for this extension or want to acquire a reliable development partner altogether? With custom development services by Amasty, you will receive high quality and cost-effective solutions developed by Magento professionals according to industry's best practices.
2.3.6, 2.3.6-p1, 2.4.0-p1, 2.4.1, 2.4.1-p1, 2.4.2
You can always download the recent version free of charge from your account
Installing an upgrade is easy — check now
My Downloads
Version 1.7.0
Last Update: Jun 10, 2021
New we added new export file storage that allows you to store export files on dropbox
Version 1.6.0
Last Update: May 26, 2021
New now the extension comes with the functionality of profiles duplicating to let you create similar profiles without additional steps
Improvement we enhanced the work of alert notifications and added this functionality to profiles, so you can send alerts to recipients when an error happens in exporting a specific profile
Version 1.5.0
Last Update: Apr 14, 2021
New we added a drag-and-drop feature for you to move fields within entities and export them in the order you need
Version 1.4.0
Last Update: Mar 18, 2021
New now the extension comes with modifiers, so you can use optional elements which modifies the meaning of other elements in the fields
Version 1.3.0
Last Update: Feb 10, 2021
Compatibility now the extension is compatible with Magento Cloud
Compatibility we made the module compatible with Amasty Gift Card extension, so you can export fields from Amasty Gift Card
Compatibility we made the module compatible with Amasty RMA extension, so you can export fields from Amasty RMA
Compatibility we improved compatibility with 3rd-party solutions
Version 1.2.0
Last Update: Jan 25, 2021
New we added a new subentity Order Tax Item, so you can export custom data about tax item
Improvement we added the CSV template for Twig template engine to let you export data via CSV using Twig
Version 1.1.1
Last Update: Nov 30, 2020
Improvement we updated the tooltip instructions to explain the Entity Key behavior
Fix we fixed the header of Export History grid
New we added a new option that allows you to send export files to REST API endpoint
New now the extension comes with JSON format used for export files
Improvement we developed a tree structure for filtering to be on the same level as export fields
Improvement we integrated the universal template engine Twig
Improvement we enhanced the work of filtering, so you can set many values for text field filtering
Compatibility now you can use the extension with Multi Source Inventory
Compatibility now you can export Amasty Order Attributes extension fields
Fix we resolved the issue with 'Field Name in Export File' removed after saving profile settings
Version 1.0.2
Last Update: Oct 08, 2020
Improvement we improved the process of Export Orders installation to avoid unexpected behaviour with the previous Efficient Order Export extension
Fix we eliminated the error arising at saving 3rd Party Connection with existing Prefix/Tag Name
Fix we resolved the problem with saving empty values in the profile's field Prefix/Tag Name Delimiter