Export Orders
for Magento 2
Migrate huge volumes of orders from your Magento instance to other systems and platforms. Export any order data (including fields from 3rd-party extensions), build unique order export profiles and transfer data automatically with the 3-in-one Export Orders solution for Magento 2.
Create flexible export profiles in 4 formats
Easily find and add any order entity to the export file
Match naming requirements for export fields without coding
Run profiles by schedule, event or manually
Filter values in orders and add only relevant data to the export file
Challenge
Lots of store owners use CRM, ERP and other systems to manage their businesses effectively. If merchants own stores on Magento, they need to connect their admin panel with these platforms. Native Magento doesn't have built-in options for it. Owners can't migrate their order data from the admin panel: merchants simply can't export and send orders to managers, suppliers or other stakeholders. This problem can be solved only with the help of developers or through tons of manual operations.
Solution
Export Orders extension by Amasty is a unique software that has nothing in common with the default Magento export. Now you can complete any order migration task: make a one-time export, set up connectors to configure automatic data transfer, create regular jobs and send order details by email. Export as many orders as you need, build exclusive export profiles for each platform or product supplier, include required values, filter orders, customize naming and other useful features to get rid of all export limitations at once.
What benefits do you get for your store
Save money: overcome any export challenge without custom development
Sustain stable export process: migrate up to 500.000 at once
Explore fast & agile export: the solution includes 2 additional export modules to deal with Amasty entities
EXPORT ORDERS: SOME REASONS TO BE FAST & STABLE
We created the export solution from scratch as an independent from Magento:
the code quality lets you export 200.000+ order fields for a 1,2 min
you can configure the batch size suitable for your server
you can enable multi-process generation to speed up the export
the comparison algorithm can export only new orders
the logs and files that are no longer needed will be cleaned automatically
Create a comprehensive export profile
You are free to build an unlimited number of export profiles for multiple purposes. You can find all of them in a separate grid. Check the most common use cases to see some variants of export usage.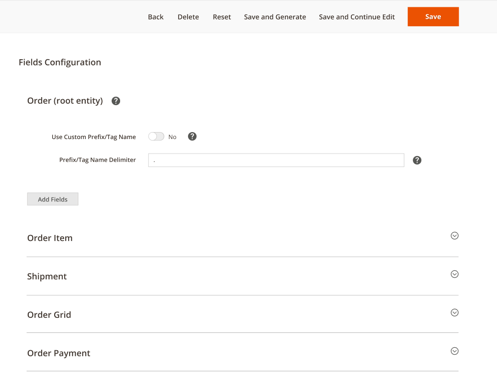 Transfer any order data you need
Each export task has its own requirements, and to meet them, an export file needs to be highly customizable. The tree-structured UI lets you add any fields from any order data level you need. You can export any Magento 2 order entities with the products bought, their attributes and custom options. Search for fields right in a pop-up window and add them step-by-step to create the required file. Moreover, you can add the fields generated by 3rd-party extensions.
Define which orders to export
You can add only relevant data to the export file using filters. It is possible to filter by any order entity, e.g. by order items and add the products from a particular vendor only. All the data you choose in a previous step is available for filtering. Also, the algorithm can exclude empty rows to make a file more compact and relevant in case no results are found.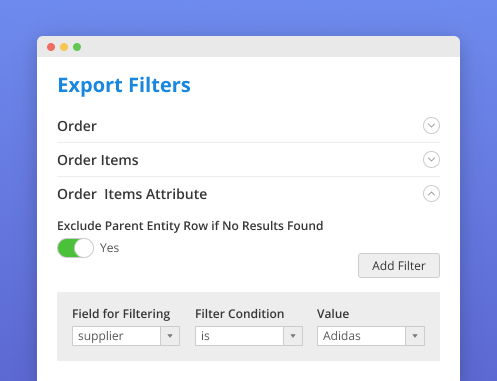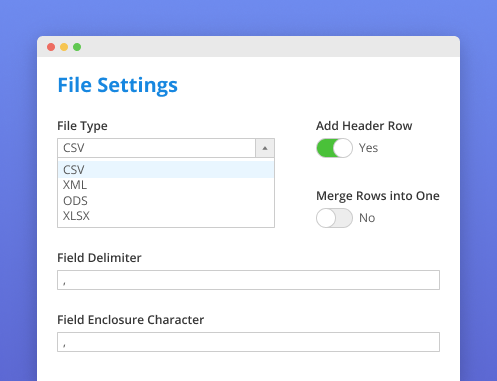 Choose a suitable format
Find out what type of a file the recipient needs and select a suitable one to export orders from a Magento 2 admin panel: CSV, XML, ODS or XLSX. Each format has its own peculiarities, that you can additionally configure. Remember to determine a delimiter and special symbols to enclose values.
Customize the export file
Usually, the default field naming is inexplicit, large and doesn't match the requirements of CRM, ERP and other systems. Also, if you or the file recipient has no technical background, it will be difficult to navigate in it. Export Order for Magento 2 has all options to make the file understandable: adjust column prefixes, delimiters and change the default field names. Don't forget that you can run an algorithm for exporting only new orders and avoid repletion.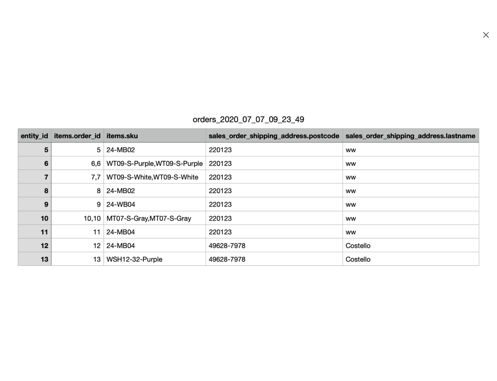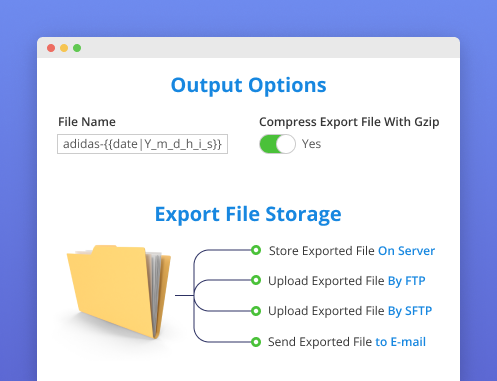 Select file storage options
Choose suitable destinations to export orders to. You can upload files directly to the internal or external server, or send them by email. Additionally, you can set an automatic name generation and compress the exported file to save extra space on servers.
Configure automatic export
Reduce management time by exporting profiles automatically. You may either schedule cron export (some cron templates are already included) or execute file upload by the event. For example, you can immediately send newly created orders to a supplier using the 'Order Creation' event.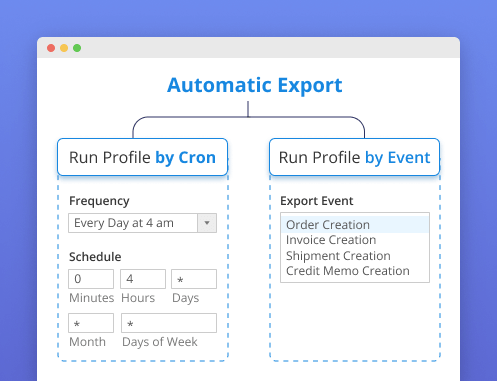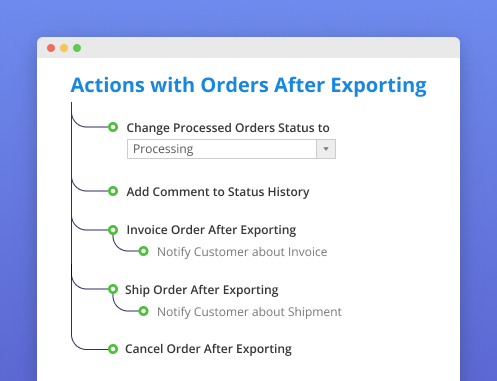 Execute actions after exporting
To reduce the number of manual tasks and complete the flow, you can automatically apply particular changes to the exported orders. For instance, you may auto change order statuses, leave notes, invoice/ship/cancel orders. Notify customers in cases of changes if necessary.
Check export history
The extension for Magento 2 programmatically logs each export order profile. Here you can see the date, check logs, see the number of orders in it and download an exported file. Also, in a separate 'Order Export History' tab on the admin panel, you will track export logs for all profiles and entities in one place. Keep in mind that auto log cleaning is available.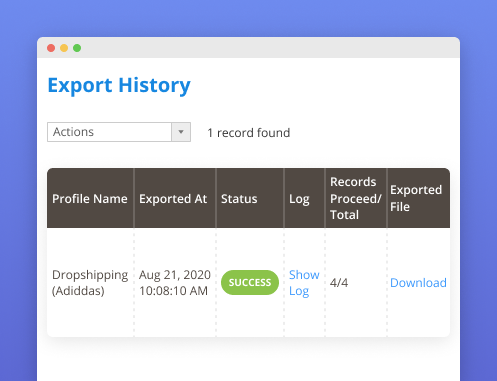 ADVANCED EXPORT OPTIONS INCLUDED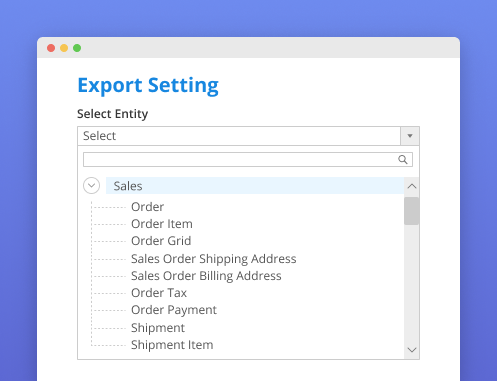 Amasty Export: Professional usage
Plan all exports in one place: schedule the export of any available entity by creating multiple cron jobs. The more Amasty modules you have, the more entities you can schedule. Monitor jobs performance and update it according to your specific needs at any time.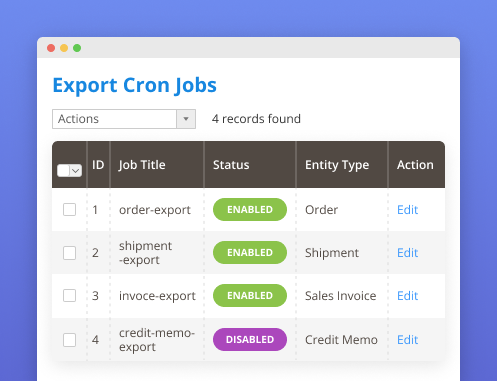 Export Profiles: Most Common Use Cases
Configure daily order reports: a simple daily export that you can send via email
Redirect orders to suppliers: split orders between them and export a CSV or Excel file from Magento 2 programmatically (by event)
Adjust ERP Connector: upload orders, their taxes and discounts to the ERP system
Create B2B invoicing: send orders to an invoicing company and auto change order statuses after the payment
According to the statistics, the extension can cover each business need in synergy with the following solution: magento 2 import products.
Other Features
100% Open Source — Easy To Customize
Follows Magento Code Architecture
Separated HTML/CSS/JS
Simple installation via Composer
* The name "Magento" and the logo are the trademarks of Magento, Inc.
Be the first to review this product
Export Orders for Magento 2
Are you looking to add specific functionality for this extension or want to acquire a reliable development partner altogether? With custom development services by Amasty, you will receive high quality and cost-effective solutions developed by Magento professionals according to industry's best practices.
Magento 2.2, 2.3, 2.4
You can always download the recent version free of charge from your account
Installing an upgrade is easy — check now
My Downloads
Version 1.0.2
Last Update: Oct 08, 2020
Improvement we improved the process of Export Orders installation to avoid unexpected behaviour with the previous Efficient Order Export extension
Fix we eliminated the error arising at saving 3rd Party Connection with existing Prefix/Tag Name
Fix we resolved the problem with saving empty values in the profile's field Prefix/Tag Name Delimiter