Export Products
for Magento 2
Transfer product data to third-party systems or other Magento instances without coding. Build unique export profiles and set automatic migration with Export Products for Magento 2.
Transfer all types of products and adjust fields sorting
Export product in CSV, XML, ODS, XLSX, JSON or Custom Template formats
Include any product attributes to export files
Run export profiles by cron or event
Perform regular or one-time exports with additional export interfaces
Adjust export flow based on your server capacity
Configure compatibilities without development using 3rd-party connectors
Challenge
For e-commerce businesses, the integration with third-party solutions such as marketplaces, analytics tools, CRM and other systems is a necessity. But it's impossible to migrate products from Magento instances to other systems without the developers' help or required technical skills. As a result, store owners need to hire specialists and pay extra money to install the needed connections.
Solution
Try the Export Products extension for Magento 2 - a cost-effective solution that will transfer products without extra charges. Migrate any product types and any related data you need, including attribute values, reviews and even product data generated by 3rd-party extensions. Just create export profiles according to your business needs and automate the process to get the most of the extension.
What benefits do you get for your store
Reduce export costs: transfer products to any third-party systems without development resources
Optimize migration flow: transfer data automatically by cron or a particular event
Ensure security: migrate product data without a chance of loss thanks to a stable export
Export products with double speed
How to speed it up:
Enable the non-Magento Amasty export
Set a suitable batch size for each export profile
Activate multi-process generation
Enable the comparison algorithm to exclude the already-exported products
Automate log and files cleaning to improve server capacity
Actual result:
You export the file with 155.000 simple products, 2.000 configurable products and all concerning fields & values in 2 min!
GET THE COMPREHENSIVE EXPORT MANAGEMENT
Thanks to step-structured UI and improved UX, the extension lets you export products from the Magento database in a quick and comfortable way. Create custom profiles for each third-party system and adjust file details to meet the most specific requirements.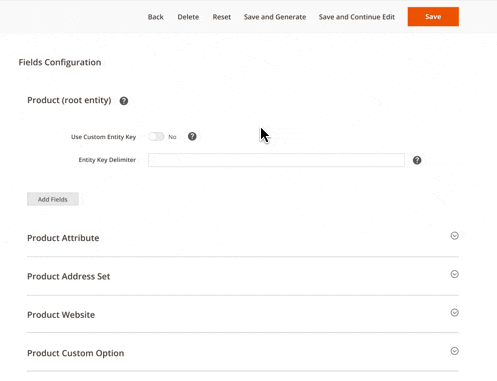 Build unique export profiles
Manage your product export and make it suitable for each platform you want to migrate. Add any product types (including configurable and bundle) and supply them with the required entities. Root entities and sub-entities have a phased structure, so that you could decide what top-level and minor product details should be included, e.g. transfer products with quantities only or add product configurations as well.
Extend export file with product attributes
The module lets you add any product attributes you need, such as size, color, price, SKU and other. Just choose the required entity and add fields using a pop-up window and search option in it. You may export Magento products with category names and images or include the most sophisticated product options: advanced pricing fields, MSI values, gift cards, etc.
Modify values in export files
Now you can use modifiers to change the values in the export file automatically.

Types of modifiers you can use:
Text Modifiers: Adjust the text of the text values by appending, prepending, capitalizing, etc.
Numeric Modifiers: Use for number modifications, e.g. rounding prices.
Date Modifiers: Specify a suitable date format, e.g. d/m/y.
Custom Modifiers: Replace the output of one field with the value of another.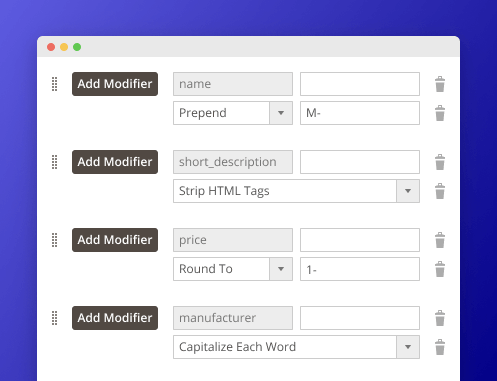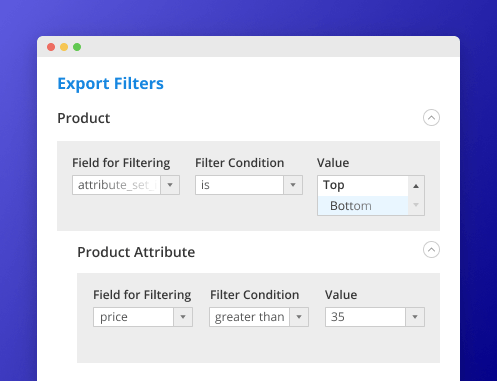 Create filtering parameters
Don't waste time on product sorting after the migration - just choose what products to export beforehand. You can filter all existing products by any value you include in your file, as fields for filtering are tree-structured. For example, you can sort out Magento products by categories and export only those belonging to a particular one.
Extract data from 3rd-party extensions
You can also get the product data generated by additional extensions and include it to export files. Set the connections in databases using a 3rd-party linking mechanism and just add new fields to your export profile in a suitable entity section.
Automate export execution
To save time and reduce the number of manual operations, you can schedule an automatic export. It is possible to run profiles by cron or trigger the execution by events. For instance, choose the 'Product Saving' event to run export every time a new product is added and saved.
Adapt columns naming
Each external system has its own mechanism of import, and the titles of columns are usually included. During the product export from Magento, you can customize column titles: change entity keys, delimiters and field names to meet the requirements.

NEW: Now you can change fields sorting within each entity with the drag-and-drop feature.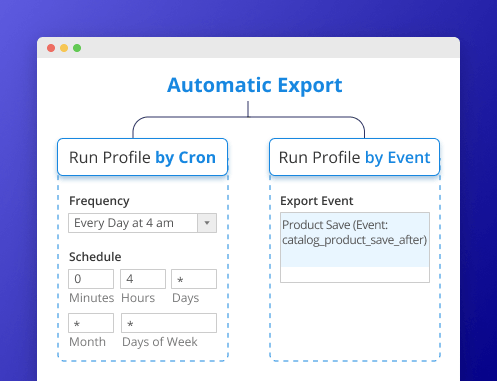 Extended range of formats & storage options
Choose a format: export Magento products in
a CSV, XML, ODS or XLSX

NEW: 2 extra formats are ready for use - JSON and a Custom Template
Select a source: export to a local server, FTP/SFTP, using Rest API or send files via email

NEW: Now it is possible to transfer data from Dropbox and Google Drive
Take control over the export process
When you start transferring, the next task is to make sure the export was completed successfully. The extension includes options to help you monitor export statuses and prevent errors.
Check export statuses
Track the dynamics of a specific export profile right in the profile settings. Here you can check the logs, see the dates of previous exports and download the exported files. Also, you are free to get a full picture using general export history.
Export products from multiple store views
As the extension has built-in multi-store support, you can divide product data from different stores and export it separately.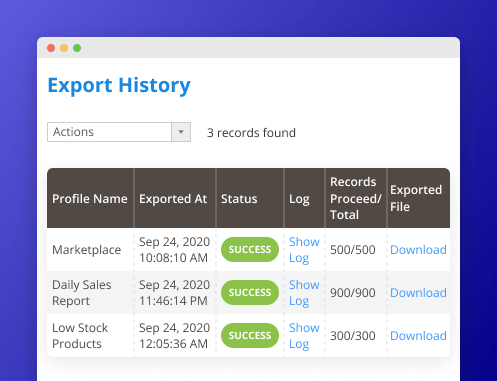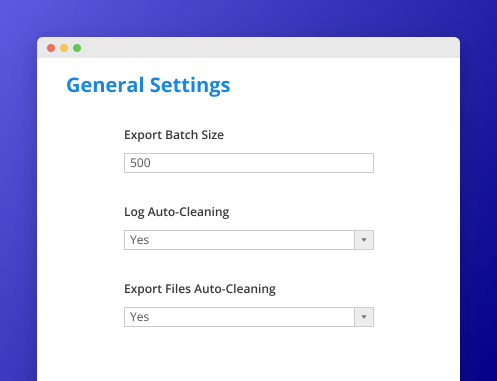 Keep stable server performance
Avoid the negative effect on your server capacity by auto cleaning logs and files. In the general configuration, you can set a period in days after which the unnecessary logs will be removed from the server.
Send notifications about export errors
Get notifications about failed exports to timely correct the errors. Simply specify the emails to which export alerts will be sent.
NEW: Now you can send notifications about the errors in specific profiles only. Adjust the settings for the profiles where it is needed and avoid spam.
Amasty Export: additional benefits
Amasty Export
Magento 2 Export Products have a built-in simplified UI for a quick single export. All export entities are available here: the more Amasty Export extensions you have, the more entities you will be able to export in a split second.
→ Learn more about
Export Orders for Magento 2
→ Learn more about
Export Customers for Magento 2
Amasty Export Pro
Extra features for professional usage are also included: use Amasty Export Cron Jobs to schedule the export of any available entity. Like in the previous option, all export solutions by Amasty will be available in one place.
→ Learn more about
Import & Export solutions for Magento 2
Features for next releases:
The output option to export files to Google Drive
Automatic actions over the exported products
(e.g. changing the quantity)
The functionality to export system data of attributes
Other Features
100% Open Source — Easy To Customize
Follows Magento Code Architecture
Separated HTML/CSS/JS
Simple installation via Composer
* The name "Magento" and the logo are the trademarks of Magento, Inc.
product is ok but slow support..
I'm upset by the slow work of the support, but the product is good enough.
Nice
A perfect solution to make the export process in Magento more convenient without any coding skills. The number of export formats is massive. Highly recommend it!
Are you looking to add specific functionality for this extension or want to acquire a reliable development partner altogether? With custom development services by Amasty, you will receive high quality and cost-effective solutions developed by Magento professionals according to industry's best practices.
2.3.6, 2.3.6-p1, 2.4.0-p1, 2.4.1, 2.4.1-p1, 2.4.2
You can always download the recent version free of charge from your account
Installing an upgrade is easy — check now
My Downloads
Version 1.7.1
Last Update: Jul 15, 2021
Fix we fixed the issue with the double 'You saved the profile' notice when saving the profile
Fix we resolved the problem with the order of the fields after removing them from the Fields Configuration section
New we added new export file storage that allows you to store export files on Google Drive
Version 1.6.0
Last Update: Jun 10, 2021
New we added new export file storage that allows you to store export files on dropbox
Version 1.5.0
Last Update: May 26, 2021
Improvement we enhanced the work of alert notifications and added this functionality to profiles, so you can send alerts to recipients when an error happens in exporting a specific profile
Fix we fixed the issue with missing category data when entity_id isn't equal to row_id
Version 1.4.0
Last Update: Apr 14, 2021
New we added a drag-and-drop feature for you to move fields within entities and export them in the order you need
Version 1.3.0
Last Update: Mar 18, 2021
New now the extension comes with modifiers, so you can use optional elements which modifies the meaning of other elements in the fields
Version 1.2.0
Last Update: Feb 10, 2021
Compatibility now the extension is compatible with Magento Cloud
Version 1.1.1
Last Update: Nov 30, 2020
Improvement we updated the tooltip instructions to explain the Entity Key behavior
Fix we fixed the header of Export History grid
New we added a new option that allows you to send export files to REST API endpoint
New now the extension comes with JSON format used for export files
Improvement we developed a tree structure for filtering to be on the same level as export fields
Improvement we enhanced the work of filtering, so you can set many values for text field filtering
Improvement we integrated the universal template engine Twig
Fix we resolved the issue with 'Field Name in Export File' removed after saving profile settings