App for Payments with Stripe
for Magento 1
Simply integrate your Magento store with a flexible and fast-growing payment gateway - Stripe and provide your customers with a user-friendly and safe payment experience.
Manage Stripe via Magento 1 admin panel
Easily integrate your store with next-gen payment gateway
Allow payment via the most popular credit and debit cards
Make your payment user-friendly
What is Stripe Payment?
Stripe is a flexible and fast-growing payment platform that is supported in 25 countries and is used by 100.000+ businesses. Amasty Stripe Payment extension integrates your Magento store with this Stripe and provides your customers with the ability to use a user-friendly and safe payment gateway.
Allow a single-tap payment
Supports various payment methods
Now Stripe Payment by Amasty accepts payments by cards right on your Magento store via Stripe's API.
Payment Request API support
Payment Request API is a W3C browser standard that facilitates the exchange of payment and contact information in the browsers like Chrome Desktop, Chrome Android and Microsoft Edge for Windows. So if your customer has stored their card details in one of these browsers, the information will be requested from the browser, instead of having the customer fill in a full checkout form. For more on Stripe features, check here.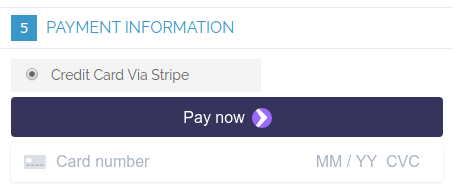 Provide a next-gen payment experience
Refunds and Partial refunds support
If the order was paid via Stripe payment, it's also possible to make a partial or full refund from the Magento admin panel.
Mobile-friendly design
A simple and user-friendly payment layout with a card brand auto-detection and an appealing animated 'Pay' button.
Multi Currency support
It's possible to charge customers in any currency, which is converted in your country's local currency at the best conversion rate.
Cards icons verification
Amazon-style credit cards info saving: all the data is saved only on the reliable Stripe's servers, so that customers can add or remove cards from their account if they want.
Supports various payment methods
Now Magento Stripe Payment extension by Amasty accepts payments by cards right on their store via Stripe's API.
Visa
MasterCard
American Express
Discover
JCB
UnionPay
Diners Club
Benefit from Strong Customer Authentication
The Magento Stripe Payment extension is fully compliant with the SCA and Payment Service Directive requirements. It supports cards with 3D secure v2 authentication. This feature can definitely help reduce fraudulent cards and chargebacks on the website as the liability shifts to the authorizing bank.
Set Stripe Fees with our Magento extension
Stripe has a very business-friendly pricing model. In Europe, the pricing would be a simple 1.4% + 30¢ per transaction with no monthly fees, refund costs or other hidden fees. In other countries it is 2.9% + 30¢. Check the pricing conditions
here.
Product questions

Are there any additional system requirements to use your Stripe functionality?

Yes, HTTPS and TLS of at least v1.2 are required by Stripe itself. Follow the link below to see the details and guidelines.
Other Features
100% Open Source — Easy To Customize
Follows Magento Code Architecture
Separated HTML/CSS/JS
Simple installation via Composer
* The name "Magento" and the logo are the trademarks of Magento, Inc.
Perfect
It really simplifies payments for customers and it's secure, customer's card info is store encrypted, so on… Really no complaints on how this module works.
Just love it
A true asset and a must have. No problems.
My team like it
I have no complaints about functionality from my team, it's very useful. About set up, I can say it was easy as I believe my developers. Three stage authentication attracts customers as more and more of them are concerned about security, you know all those things with yahoo mail and facebook.
So, I'd recommend.

Top quality
This product is of good quality. For all what you have to do like get api they give links right in your backend. As my vendors often come from various countries the variability of cards is a great help. Moreover, I denied any responsibility for storing any payment data, which saves me money I spent on additional audits, certifications, security tools. So, great job, guys.
Support +100
Actually I considered cryozonic stripe first but finally chose this one because it is a good value for money. I don't need to puzzle over whom to hire to develop and integrate endpoints for all the methods I want to give. Also it simplifies life to my customers as well, they don't need to type their card numbers and cards are detected and verified when just entering your numbers. It does make shopping easier.
Fine & easy
I had alike extension, it was more than affordable but it didn't work correctly. So I tried to contact their team, and there was no reply then had to buy this. Though it was holidays time, I was able to reach the guys, they helped me with install. Now customers don't click between sites getting annoyed, the step is much easier.
customers love it
A very useful extension. Many of my customers said thanks for it, as there's nothing more comfortable than a one-click buy.

One big trouble
I picked it for the promise I'll get one solution for any multitude of payments. Great, but, surely, it's my fault I checked it on a live site but it just stopped existing for 3 hours. Yeap, the support helped me and then made a refund, and the problem seemed to be in my system, still, I've paid for better experience.
cool support
As I just start working in the sphere and have a reduced budget, so usually choose by price But, this one I chose because of good relation to customers. Before I bought it they answered all my questions online without time delays or anything. First, I had a compatibility problem when it didn't work with some of my preinstalled modules. But I contacted the team, and they fixed this in a day. Now all works well.
Great payments choice
I'm using this module about 2 months. For me a good advantage is that stripe offers to choose from many card types. It covers more customers. Also, I can say to have had no conflicts or anything specific with the install, so, I'm more than happy.
Backend settings
Go to System - Configuration - Payment Methods and find the tab 'Stripe'
Frontend
Log in as janedoe@example.com, password: 123456. Then go to the checkout page
Are you looking to add specific functionality for this extension or want to acquire a reliable development partner altogether? With custom development services by Amasty, you will receive high quality and cost-effective solutions developed by Magento professionals according to industry's best practices.
CE 1.4.x - 1.9.x, EE 1.8.x - 1.14.x
You can always download the recent version free of charge from your account
Installing an upgrade is easy — check now
My Downloads
Version 2.0.4
Last Update: May 14, 2020
Fix we solved the problem with enabled HTTPS protocol
Compatibility compatibility with third party checkout extensions was improved. Now, our Stripe extension is compatible with Firecheckout.
Improvement we enhanced a compatibility with 3rd party extensions
Fix we solved an issue with order placing.
New we tested our extension and ensured that its fully compliant with Strong Customer Authentication requirements, and supports the 3D Secure v2 authentication.
Version 1.0.2
Last Update: Jan 09, 2019
Compatibility with 3-rd party extensions was improved
Fix the issues on admin area was resolved
Fix the issue with sending confirmation emails was resolved