Simplify your support management by directing all communications with customers to a separate channel. Provide your support agents with a tool helping them to obtain detailed information on customers' issues.
Submit tickets from:
Find a link in the footer to a contact us form.
An easy way to create a ticket for admin users - there's a 'Create ticket' button on an order view page
'Create a ticket' CMS page
This CMS page can be placed in any location of your store.
Customers can submit a ticket from a helpdesk tab or from order view page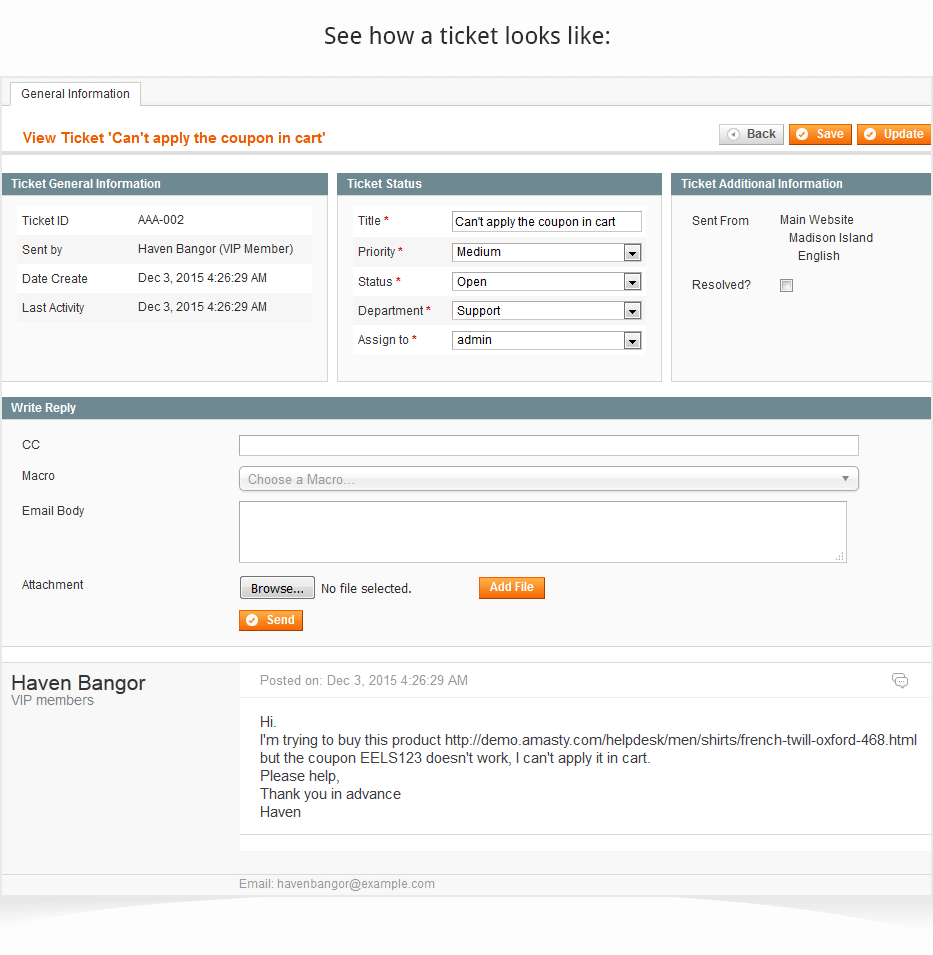 Create as many priorities as you like
Customize tickets priorities according to your needs. Select a color for each priority from a handy color pallete.
Macros for quick answering
Create macros for the most frequently used phrases or answers. While answering a ticket you can select the appropriate macro from a dropdown for a fast answer.
Each ticket has a clear subject
Ticket subject looks like "[XXX-YYY]: Ticket Subject", where the ticket ID is [XXX-YYY]. XXX are letters and YYY are figures.
Change ticket status
After answering the tickets agents are able to change their statuses, e.g. from 'open' to 'on hold'.
File attachments are allowed
Specify which file formats are allowed for attachments and set their max size. If you leave 'Allows File Extensions' field blank users can use any format.
See whole ticket history
See the detailed thread of a ticket not to miss anything important in customer messages. Also handy if a new agent works with an unfamiliar ticket.
Tickets grid
Informative tickets grid
Your tickets will be in a perfect order - you can see the most important info right on the clear tickets grid, e.g. priority, date or status.
Manage tickets grid columns
You can also specify which info you'd like to see on the grid and set columns priorities. Simply create a grid display template in 'Manage columns' section.
New tickets are visible on the grid
If a ticket is new and no one has opened it, it is highlighted with a bold font.
Time saving bulk actions
There's an option to apply such mass actions as deleting or archiving several tickets at once
Various store views support
'Sent from' column shows from which store view the ticket was submited.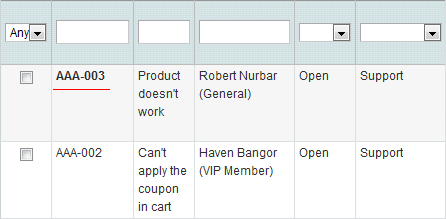 Tickets expire automatically
Specify after how many days tickets go to archive. You can also archive tickets with a particular status at once or set an archivation frequecy. View archived tickets on the grid after switching the chart.
Automatically checks inbox
The module checks all accounts, which are specified in 'Manage Email Accounts' sections.
Email notifications
Ready to use email templates
We included in the module default settings templates for the following email types:
Ticket Reply
New Ticket Created by Customer to Customer
New Ticket created from Customer to Support
New Ticket Created from Admin Panel to Customer
New Ticket Created from Admin Panel to Admin
Status Update for Customer
Department Update for Customer
Autoclose in for Customer
Several email accounts support
The module delivers incoming requests from all the email accounts you specify. Save your staff time to spend it on taking care of your customers.

Proper message delivery
We assure that you receive all the requests from emails properly and in time. Thanks to the extension you can keep the conversation with customers through 1 channel
Manual email check
There's also an option to check emails in bulk manually, just tick the email accounts you want to check and apply mass actions. You can also delete, enable or disable email accounts in bulk.
Staff management
Users become agents
Transform your site users into customer support agents by giving them proper permissions in 'System > Permissions' section.
Devide your staff into departments
When customers create tickets, they can easily sort them by departments at once. It helps you to define which agents are in charge of certain tickets.
Other Features
100% Open Source — Easy To Customize
Follows Magento Code Architecture
Separated HTML/CSS/JS
Simple installation via Composer
* The name "Magento" and the logo are the trademarks of Magento, Inc.
Just what I needed
I run a clothes shop and there are lots of issues related to delivering products. It's obvious, that I want to provide my clients with the highest service possible, so I must be timely aware of their requests or any problems they face. I tried several methods like collecting info in my email or somewhere in a cloud, but they don't work for me. I came up to this module and I'm fully satisfied with it as now I see all the requests and feedback in one place, new tickets are highlighted on the grid and the most important, the requests are prioritized
Write Your Own Review
Version 1.0.6
-
March 05, 2018
– Minor code improvements
– Fixed an issue with the help desk block display on the CMS pages
Version 1.0.5
-
August 28, 2017
– Improved email handling
Version 1.0.4
-
September 21, 2016
– Improved i18n
– Better compatibility with old versions of Magento
Version 1.0.3
-
July 08, 2016
– Added notes about available file extensions (frontend/backend)
– Improved usability of chosen multi-select element on the create/edit department page if single store mode
– Improved error handling
– Minor fixes for attachments and translations
– Fixed displaying of order number in link on the ticket view page (backend) in case with non-numeric number
– Fixed the issue with displaying of disabled priorities
Version 1.0.2
-
May 03, 2016
– Minor fix for label translation
Version 1.0.1
-
December 18, 2015
– Fix for access control list for "settings" menu item