1/13
Product Tabs
for Magento 2
Display all product information users might be interested in via Magento 2 Product Tabs. Thus users can find all the info they expect and purchase faster!
Transform default Magento tabs according to your needs
Target certain audiences with custom tabs by setting rules
Easily edit tabs content without diving deep into the code
Add photo, video, animation and attribute sets to your tabs
Maximize the average check by showing related products
Challenge
Default Magento tabs can't ensure you a total control over the product page content management. There are many limiters: you can't rename, hide them, change their order and easily create content. If you forget to display the necessary product information, visitors may start looking for a store with more informative page structure.
Solution
Our Product Tabs Extension for Magento 2 allows you to change default Magento tabs and create your own custom tabs without diving deep into the code. Save time on content editing using Tab Grid and WYSYWIG. Display particular tabs to certain audiences to satisfy their needs. Increase user experience by embedding widgets in product tabs.
WHAT BENEFITS DO YOU GET FOR YOUR STORE
Persuade new visitors to purchase at your store by showing relevant content to a specific audience
Increase your conversion rate and decrease bounce rate by providing the exhaustive product info
Improve user experience and save page space by embedding widgets in product tabs
CUSTOMIZE USER EXPERIENCE BY ADDING RULE-BASED PRODUCT TABS
Create as many tabs as you need
Default Magento allows you to display only 3 tabs: Details, More information, and Reviews. Use Magento 2 Tabs to create as many custom tabs as required. Define what information is important to show and make a separate tab for each part of it. Highlight useful materials, e.g.: Tax details, Image gallery, Shipping rules, Q&A, Contact us etc.
Assign tabs to specific goods or categories
Many sellers want a flexible definition of what information should be displayed on particular product pages. Magento 2 Tabs Extension helps to assign product tabs to specific products or categories by setting smart rules. Assign displaying remote controls to the TV category or show the delivery information only on one product page.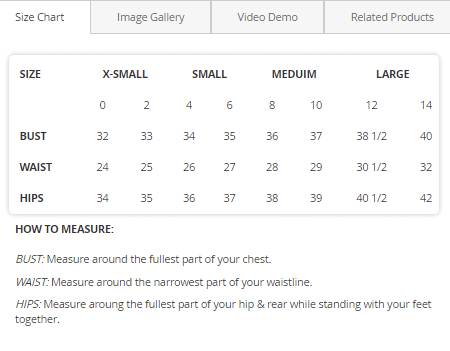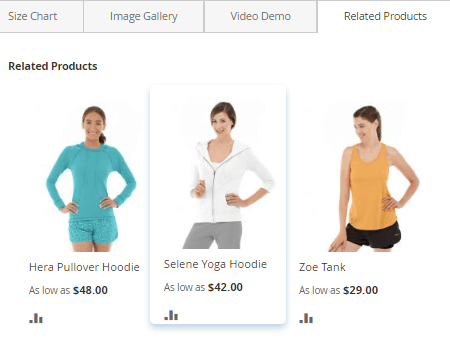 Easily generate tabs content
Customers want to see the main characteristics of your products first instead of scrolling the page up and down. Tailor the page content depending on product specifics: display size charts for footwear or a list of compatible products for smartphones. Use WYSIWYG editor or insert a block of HTML code to easily create content displayed in tabs.
Maximize the number of purchases
Increase your revenue displaying related, up-sell or cross-sell products using Magento 2 Easy Tabs. Place them into a separate tab, give a catchy name and maximize products number in one order.
Manage product tabs without special knowledge
Manage tabs in bulk
The extension shows the list of existing tabs as a grid so that you can easily handle them. See tab specifications in one place and easily manage the content, order and quantity. Save time with fast operations management.
Modify default Magento tabs
Changing default Magento tabs is full of limits. If you want to do it, you need to dive deep into the code. The extension allows changing them without special knowledge: rename, hide, change an order and a content, or customize.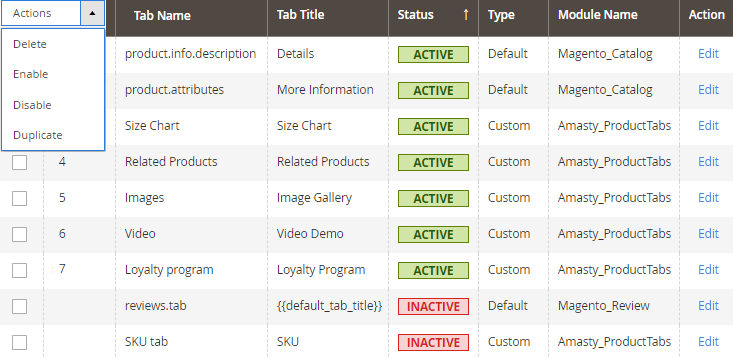 Handle everything at one place
No need to search for product attributes, widgets, variables bit by bit through a bunch of service pages — everything is at hand right on the Create/Edit Tab page now with Magento 2 Add Tab to Product Page.
Increase the average check
Show related items to satisfy customer's needs and boost the number of purchases with the help of our Automated Related Products extension. Placing a widget in tabs allows saving a product page space.
HELP CUSTOMERS EASILY MAKE A PURCHASE DECISION
According to JustUno, 93% of consumers consider the visual appearance of a product page as a main factor when making a purchase online. So you need to make sure you show your products off in the best light. Magento 2 Product Tabs allows you adding the necessary information about products that you can't display with the help of default Magento settings: Size Chart, Extended Users Reviews, Contact Us, Image Gallery, FAQ, Q&A, Cross-Sell, Up-Sell and Related Products.
Maximally streamline shopping process
Apply our Magento 2 Store Locator extension to let customers quickly find the nearest offline stores with your products by displaying them on a handy Google map. Add Store Locator widget to a custom tab to make your product page mega informative.
Other Features
100% Open Source — Easy To Customize
Follows Magento Code Architecture
Separated HTML/CSS/JS
Simple installation via Composer
* The name "Magento" and the logo are the trademarks of Magento, Inc.
Good enough
I like this module, it is very convenient for our managers to add new product tabs. But, in my opinion, it shouldn't be so expensive. I saw the same module at Fishpig for $69.
Amazing support
Anton helped us so much! He answered all our questions and explained so well! I also get the installation service, and it took less than 2 hours for them to add it to my store. We are happy that we have found Amasty!
FINALLY!!
I have used Magento product tabs, but they were awful. It has only 3 tabs, what I can't even rename without the help of a developer! Now I can manage BY MYSELF all the tabs and create new! Thank you so much!!!

Write Your Own Review
You can always download the recent version free of charge from your account
Installing an upgrade is easy — check now
My Downloads
Version 1.1.0
Last Update: Sep 05, 2019
New we added a new feature that allows to easily generate Size Charts for apparel and footwear
New now there is an option to display tabs in a handy accordion view
Improvement we updated the version of the WYSIWYG Editor and made it more convenient in use
Improvement now there are a few UX changes that make Add/Edit Tab workflow easier
Compatibility now the WYSIWYG editor is fully functional regardless of the Magento version
Compatibility the Product Tabs extension is fully compatible with the Amasty Instagram Feed module
Fix resolved some minor issues related to distorted tab view and duplicating the same tab on product pages
Version 1.0.5
Last Update: Aug 28, 2019
Fix issue with duplicating product tabs was fixed
Fix issue with tab block generation was resolved
Fix issue with tab rule indexation was resolved
Fix issue with install script was resolved
Fix we resolved the issue with the review tab
Fix we fixed minor styling issues of Related and Cross-Sell blocks