Google Invisible reCaptcha
for Magento 2
Protect your store from bots with Google Invisible reCaptcha - the most advanced security tool. As it's invisible for customers, your website security becomes more user-friendly. Free your potential customers from quizzes solving and 'I am not a robot' button.
Show the reCaptcha test only in cases of suspicious requests
Customize the reCaptcha based on your store needs
Supports Google reCaptcha versions 2 and 3
Built-in support of Amasty extensions
No coding skills required, easy to use
BENEFIT FROM USER-FRIENDLY CAPTCHA
Challenge
Owners of a successful store often spend lots of time moderating the shop's website to block spam. Merchants also have to keep the security top-level to avoid bots that might steal customers' data and harm the business with malicious requests on the website.
Solution
Keep your security up-to-date with the Google Invisible reCaptcha. It is a solution that strongly secures your store without irritating your real customers. Simply install the extension to add reCaptcha protection to any website form without complex coding.
How to Enable Admin Captcha?
Install and enable the Google Invisible reCaptcha plugin;
Go to Stores → Configuration → Amasty extensions → Google Invisible Captcha → Forms to be Protected by Captcha;
In the Enable Google ReCaptcha on Default Magento 2 Forms field, choose what forms you want to protect.
Go to Custom Forms Protection section and fill in the Request URL of the Protected Form and CSS Selector of the Protected Form fields to protect forms that weren't included in the default list.
Save the changes.
What is Google reCaptcha?
PROVIDE SMOOTH SHOPPING EXPERIENCE WITH GOOGLE INVISIBLE RECAPTCHA
Improve your website user experience
Google Invisible reCaptcha doesn't push your customers to solve quizzes if a session seems to be safe. The reCaptcha test appears only in cases of suspicious requests. Admin can incorporate the necessary reCaptcha version that fits the website's needs the best.
Full compatibility with reCaptcha v3
Make your visitors satisfied with their shopping experience by using an invisible reCaptcha to protect forms on your website. By setting up a captcha score, the admin can precisely adjust what request will be considered as suspicious. This way, users won't need to solve any tests when browsing your store.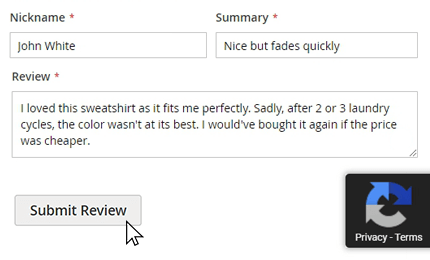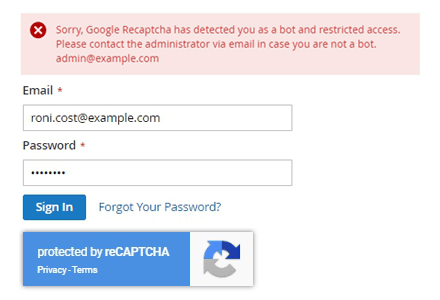 Show reCaptcha only for guests
Most customers find reCaptcha annoying. Don't try the patience of your registered clients and display a captcha only for guest visitors. This will help you to kill two birds with one stone: you'll protect your store website and won't lose customers. Also, you can compose an IP whitelist to mark specific traffic as trustworthy. Invisible Captcha will be disabled to the IP addresses specified in the list.
Display custom reCaptcha message
Avoid store abandonment by displaying a user-friendly explanation, if a user hasn't passed the reCaptcha v3 test. It could happen, if they did something to trigger Google spam detection. The module lets you instantly customize the text that will be shown in such cases to avoid customers' confusion.
SECURE YOUR STORE AND ADD THE RECAPTCHA TO ANY FORM
No more spam bots on comments and reviews
You can add Google Invisible reCaptcha to your comments and review forms. So now you don't need to waste your time on manual spam filtering — and users will see trustworthy content that motivates them to purchase more.
Invisible reCaptcha on the registration form
Spam on registration forms could drive any admin user mad. By using a reCaptcha option you protect your store from spam bots on both login and registration forms. Also, add Magento 2 captcha to newsletter form in needed.
Built-in Amasty extensions support
With this Magento 2 Google reCaptcha extension, you can protect some other Amasty modules just in a number of clicks. Currently, the following modules have the Captcha support right out of the box:
Readymade template for code integration
Usually, to add reCaptcha on a website you need to make some coding effort. The extension provides you with readymade templates. All you need is just to specify and insert some links and a piece of code.
Benefit from instant and secure login
Incorporate the Social Login extension to provide your customers with a single-click login form! It seamlessly works with reCaptcha to provide a smooth user experience.
Flexible reCaptcha settings
Make the Magento 2 Invisible reCaptcha more user-friendly and suitable for your store! You can define the language of the Invisible reCaptcha that will ignore the user's browser preferences. Moreover, adjust the reCaptcha button design and location on the page. Modify these settings for each store view, and get a reCaptcha that perfectly fits your store.
Learn more about Invisible reCaptcha from Google
For more information, please, visit the
official Google reCAPTCHA page
. Here you can also create the security API codes to implement the reCaptcha on your website with the Amasty extension.
Product questions

How to set up Google reCAPTCHA in Magento 2?

How to get a site key and a secret key for Invisible ReCaptcha?

To configure the Google Invisible ReCaptcha extension you will need a site key and a secret key. Follow this short guide to get them correctly. 1. Open this page and fill in the name of your website; 2. Select the Invisible ReCaptcha option from the list of the available variants; 3. Specify the domain of your website; 4. Tick the Terms of Service checkbox; 5. Hit the Register button. Now, you can copy the keys from this page to your Google Invivisble ReCaptcha configuration section.
Other Features
100% Open Source — Easy To Customize
Follows Magento Code Architecture
Separated HTML/CSS/JS
Simple installation via Composer
* The name "Magento" and the logo are the trademarks of Magento, Inc.
Excellent
Cool Car Limited, Director
Conversion rate increased significantly. Excellent support. Questions answered quickly.
Amasty is about excellent Products, Quality and Service.
Amasty answer
Apr 05, 2019
Natalya Chekanina
/ Head of Sales Team
Dear Simon, thank you for your review! We would be happy to see you in our store again!
Great product!
Saleyla, CEO/manager
This mod works great. Great support! Anton was a great help. Thank you for creating extensions!
Amasty answer
Jan 25, 2019
Natalya Chekanina
/ Head of Sales Team
Dear Silvia, thank you for your review! We would be happy to see you in our store again!
Less abandonment
We noticed an increase in conversions and an improvement in bounce rate. The Amasty extensions are very good, easy and trouble-free installation. Support is always the best!
Amasty answer
Jan 21, 2019
Natalya Chekanina
/ Head of Sales Team
Dear Walter, thank you for your review! We would be happy to see you in our store again!
Bug contact form not working
Hello again, just wanted to let you know my email in case that you have questions or updates about the bug.

- juan.jalogut@gmail.com
Effective
I can't say I rely on the module coming from security thoughts, but in practice it's a good and cheap tool to run against spamming.
typo in composer.json file
Hi there is typo in code/InvisibleCaptcha/composer.json file name filed.
it is "name": "amasty/aminvisiblecaptcha",
but it should be "name": "amasty/invisiblecaptcha",

Thank you
Are you looking to add specific functionality for this extension or want to acquire a reliable development partner altogether? With custom development services by Amasty, you will receive high quality and cost-effective solutions developed by Magento professionals according to industry's best practices.
Magento 2.2, 2.3 (including 2.3.5)
You can always download the recent version free of charge from your account
Installing an upgrade is easy — check now
My Downloads
Version 2.2.4
Last Update: Jun 17, 2020
Fix we changed the error text receiving on 'timeout-or-duplicate' code to avoid the 'Undefined index' error
Improvement we improved code constructions for Magento Marketplace standards
Improvement now if invisible captcha is misconfigured it will not be enabled on client side
Improvement we improved the extension's general settings making it more convenient to use
Fix we solved the problem with enabling captcha on Magento 2.3.4
Fix we solved the problem with enabling captcha only for guests on Magento 2.3.3
Improvement we enhanced user interface regarding saving captcha keys
New we added a new option that allows you to use reCAPTCHA v3 - an even safer way to protect your store
Version 2.1.9
Last Update: Dec 19, 2018
Compatibility the compatibility with Amasty Custom Form extension was improved
Improvement the parsing process for the response from Google was improved
Improvement the parsing process for Google response was improved
New the ability to show Invisible Captcha only for guests was added
New the ability to disable Invisible Captcha for certain IP addresses was added
Improvement the installation script was enhanced
Fix the compatibility with the Amasty Custom Form extension was improved
Improvement now, the modules renders only the valid forms
Improvement the avoidance of the innerHTML usage was implemented
New the ability to choose a badge theme and a badge position was added
Improvement a small update to the information panes was implemented
New built-in support for the Amasty FAQ and Product Questions extension was added
Version 2.0.0
Last Update: Feb 08, 2018
We are happy to introduce the brand new version of the Google Invisible reCaptcha extension. Now, the module automatically supports the Amasty Custom Forms extension right out of the box. Support for more extensions is coming soon. We saved all previous settings to allow you to protect any forms in your Magento 2 store, you can find them in the Advanced Settings section.
Also, in the new version, we added the ability to define the language of the Invisible reCapctha that should be displayed to users regardless of the browser settings. Moreover, you can see the Google API errors to quickly fix the configuration issues.
Version 1.1.0
Last Update: Nov 29, 2017
Compatibility with multiple forms on one page is added.
Tree forms are added in the default config: newsletter subscribe, product reviews, customer registration.
Version 1.0.3
Last Update: Oct 25, 2017
Сompatibility with extension Hide Price is added.
Magento 2.2 compatibility is tested and confirmed.
Fixed issue with captcha validation.