Hide Price
for Magento 1
Hide product prices and "Add to cart" button from guests or certain customer groups according to your business needs. Customize messages and buttons and personalize shopping experience in your Magento store.
Hide prices on products/categories/groups
Disable adding to cart, comparison and wish list
Organize private sales in Magento
Choose customer groups who can view prices
Encourage people to contact you for pricing
Customize your store to meet your business needs
Many merchants are looking for a personal approach to their customers. Magento Hide Price extension is a good find in that search. It will help you make your pricing policy much more flexible by showing prices only to logged-in users or customers belonging to particular groups. This way you can easily hide Add to Cart button or organize private negotiations in your store.
Hide product prices
Disable adding to cart option
Disable adding to wishlist
Remove product comparison option
Hide product quantity
Link to any page from "Add to Cart" button
Apply changes to particular categories
Apply changes to entire store
Hide price of particular products
Disable the listed above options for unregistered or logged-out users
Show prices to particular customer groups
Customize "Add to Cart" button
Change "Add to Cart" text
You can adjust text which will be displayed instead of "Add to Cart". This way you will guide your customers through shopping process in your store. They should understand why the price is hidden from them and how they can find it out. You can customize the following messages:
Text displayed to target customers
Text displayed to non-permitted groups
Text displayed to non-permitted categories
Text displayed to non-permitted products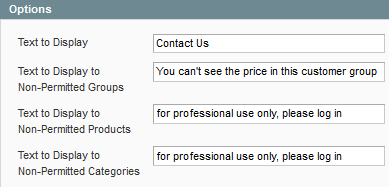 Additionally, you can link to any page to refer customers to relevant information. For example, you can change "Add to Cart" text to "Contact us for price" and link to your Contacts page; or you can write "Register to see the price" and link to the registration page.
Hide price by customer group
Show different prices for wholesalers
You can use Hide Price Magento extension when you have general pricing for retailers and flexible one for wholesalers. In this case you can hide price and Add to Cart button from wholesale customers and encourage them to contact you for further negotiation.
You can hide price from the following users:
Not registered
Not logged-in
Any other customer group
Encourage registrations
You can encourage guests to register, sign up for your newsletter, etc. to become part of your community and use your shop to the full: see prices, add products to cart, compare them or create wishlists. In this case you can show pricing to those users who have registered.

Display filters available
You can entirely adjust Hide Price extension to your business needs by removing one, two or all options at once. The following display filters are available:
Hide Add To Cart button
Hide product quantity
Hide Add To Compare button
Hide Add To Wishlist button

Manage personal sales in Magento
Say, you are selling unique products along with general ones, so there's no point in hiding all products price in your store - you need to hide price only for unique items. With Hide Price extension for Magento you can disable pricing as well as other options on a category or product level. This is also convenient if you want to organize Magento private sales and show products prices to a specific customer group only.
Hide prices for particular product
Hide prices on a category level
Hide prices for entire store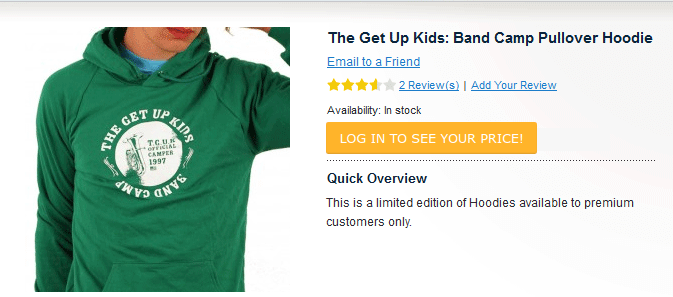 Advanced category settings
Precedence option
In case any product is displayed on the page where no particular category for this product is defined (e.g. search page) or the item belongs to several categories with different Hide Price settings, the Precedence option can be used. With the option you can set the category which Hide Price settings will be applied to the products primarily.
Flexible settings for Hide Price display
Use 3 modes to effectively manage the Hide price display feature. These settings are applicable not only to categories, but to products as well:
Disable
Hide Price (enforced price hiding for particular category/product)
Show Price (enforced price display for particular category/product even if the Hide Price for the whole site is enabled)
Child category settings
Easily manage Hide Price option display by enabling/disabling the option for child categories just in one click. In other words, if you don't want the child categories to inherit the configuration of their parent category you just need to tick the corresponding radio button. In this case child category will inherit the configuration of a higher rank category.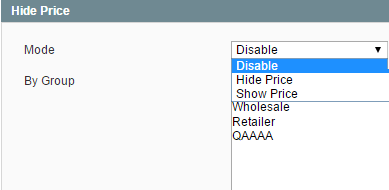 Product questions

How can I change the color of 'hide price' button?

Read the full answer to see the settings.

Can the extension be applied globally for all products?

Yes, you can enable a Hide Price extension as well as configure its settings on a global level in System > Configuration > Hide Price.

Can I completely remove the Add to cart button for all user groups for specific products?

Yes, it's possible since our extension gives you an opportunity to configure the hide price settings on a product level. Read on to see the settings.

Read the FULL answer

Can I hide price of products found in a particular category in bulk?

Yes, our Hide Price extension provides an ability to configure its settings on a category level. Go on reading to see a complete guide.

Can I set any custom text instead of "Add to cart"?

Yes, you can change the 'add to cart' button for a custom text.This setting is configured on a store view level.

Can I disable adding products to compare and wishlist?

Yes, you can hide the 'add to wishlist' and 'add to compare' buttons. Read on to make the settings on the first try.

Read the FULL answer

Which product types are supported by this Hide Price module?

Our Hide Price extension supports all types of Magento products: simple, configurable, bundle.
Other Features
100% Open Source — Easy To Customize
Follows Magento Code Architecture
Separated HTML/CSS/JS
Simple installation via Composer
* The name "Magento" and the logo are the trademarks of Magento, Inc.
Great useful extension.
Some of our manufacturer don't allow discount price to show have to advertise MAP, this extension come useful to tell our customer discounts are available after login. Great fast support.
handy and powerfull
Great extension, I got very quickly installed and working. The software is flexible, so you can finetune it to practically all needs.

The helpdesk is fast and friendly, if you have trouble configuring.

I would defenitly recommand amasty and this software.

PERFECT
Just exactly what we were looking for. This allows us to run sales that we can not publicly post below MAP. With this, we can run promos directly through the site, without having to manually process the order as a work around!
Nice but a bit complicated
Nice extension but settings are a bit complicated for me. However works fine after tuned properly.
Are you looking to add specific functionality for this extension or want to acquire a reliable development partner altogether? With custom development services by Amasty, you will receive high quality and cost-effective solutions developed by Magento professionals according to industry's best practices.
CE 1.4.x - 1.9.x, EE 1.8.x - 1.14.x
You can always download the recent version free of charge from your account
Installing an upgrade is easy — check now
My Downloads
Version 1.10.8
Last Update: Aug 12, 2019
Compatibility compatibility with Amasty Product Labels was improved
Fix the issue with the bundle product price hidden on disabled store was resolved
Compatibility the compatibility with the Out of Stock Notifications extension was improved
Improvement hide the configurables and bundles options price
Fix an issue with the product custom options price was resolved
Improvement the ability to disable cache for particular CMS block ID's in the file was added
Information section is added. Now you can see the version of installed extension, available updates, User Guide link, conflicts and other useful data right on the module Configuration page
Minor improvement
Added the compatibility with VES blocks
Improved 'Request a Quote' button design
Minor improvements
New added the global setting to hide product's price by default
Performance improvements on product view page
Improved configuration settings names and comments
Better compatibility with custom blocks, displayed on the home page
Minor improvements in fronts end styles
Programming code refactoring
Version 1.9.11
Last Update: Jun 06, 2016
Add to Cart button CSS selectors are now separated for product and category pages
Support for product review and customer wishlist pages
Better compatibility with 3-rd party extensions that import products
Minor improvements
Minor compatibility improvements
Possibility to enforce price hiding/displaying for particular product or category.
Possibility to disable the inheritance of parent category settings by child categories.
Version 0.1.0
Last Update: Dec 01, 2014
Tested with the latest Magento CE 1.9.0.1 release