A well thought out pricing policy ensures high conversions and customer loyalty. If you are looking for a tool to easily manage price display on product and category pages, the Hide Price extension for Magento 2 is exactly what you need. The module lets you hide prices of specific products for particular customer groups or guest visitors. Apart from that, you can remove or replace the 'Add to cart' option with a custom button to encourage customers specify their contact info or perform the action you need. This way you'll demonstrate a personal approach to each customer and effectively adjust prices to your business needs.
Key Features
Hide product prices for specific products
Remove prices for whole categories
Deactivate the 'Add to cart' button
Link shoppers to any page from the 'Add to Cart' button
Show prices to specific customer groups
Customize Hide Price text and style
Disable adding products to wishlists or comparison
Disable price display limitation for specific customers and products
Manage product price display
Hide product prices
With the extension an admin user can easily hide prices on specific product pages as well as for whole categories. Due to flexible settings it's possible to effectively regulate prices visibility depending on your business goals.
Disable the 'Add to Cart' option
Remove the 'Add to cart' button for any store item. Use flexible settings to encourage store visitors take particular steps to learn the price (e.g. register, contact store admins directly etc.)
Customize the 'Add to Cart' button
With the Hide Price extension for Magento 2 you can not only remove the 'Add to Cart' button, but to replace it with any custom one. Specify your own button texts to motivate customers share their contact info and provide you with additional order requirements like product material, size etc.
Gather customer's data with a pop-up
A handy pop-up window appears once a visitor clicks on the custom button which is used instead of 'Add to cart'. It's specially developed to help store admins quickly collect customers' data. Therefore, you'll easily tailor prices to any specific requirements by contacting each customer directly and generate a rich client database for your marketing activities.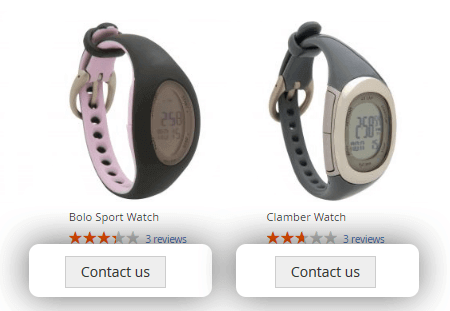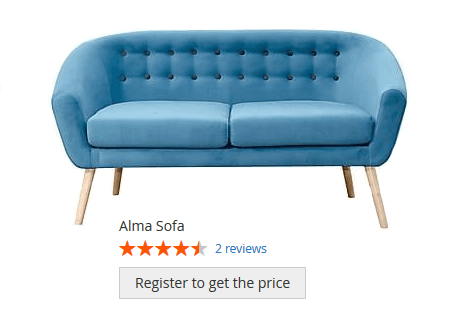 Redirect users to specific store pages
Link custom buttons to any page to display necessary information to store visitors. For example, you can change the 'Add to Cart' text to 'Register to see the price' and redirect shoppers to the registration page or you can inform customers that particular products are available only for VIP customers and redirect shoppers to the 'Learn more' page.
Restrict price visibility based on customer groups
Display or hide product prices based on customer groups to let each user see only relevant content. This way you'll easily generate special offers for wholesalers or retailers and hide important selling information from others.
Notify admins about new quote requests
Due to this handy option you'll be automatically notified about each new quote request via email. Therefore, you'll significantly reduce the average response time and boost clients' satisfaction.
View request details and send email replies
To effectively process 'Get a Quote' requests you can view the details of each request on a separate page and instantly reply to them via email right from this page.
Advanced Options
Handy customer requests grid
Customizable style for a 'Hide Price' link
Auto respond for store visitors
Different store views support
Other Features
100% Open Source — Easy To Customize
Follows Magento Code Architecture
Separated HTML/CSS/JS
Simple installation via Composer
* The name "Magento" and the logo are the trademarks of Magento, Inc.
good features
I have installed this extension on my Magento 2.2 and it works exactly as described. It has rather good number of features. Thanks a lot!
What a great work!
I have reviewed several similar extensions and have found this one is the best! The superior feature list. Known good support and free lifetime updates. Thanks.
Write Your Own Review
Version 1.1.2
-
March 14, 2018
– Added the 'add to cart' form selector
Version 1.1.1
-
February 28, 2018
– Fixed an issue with a conflict when using several fancyboxes on Magento store
Version 1.1.0
-
February 13, 2018
– Added the 'Hide Price' settings to the 'Update attributes' on the product grid in backend
Version 1.0.6
-
January 23, 2018
– Allows to show the price and hide the 'Add to cart' button
– Compatibility with Amasty Quick View extension is added
– The fancybox library is upgraded
Version 1.0.5
-
December 21, 2017
– Fixed an issue with the Add to cart price button visible during the page load
Version 1.0.4
-
September 13, 2017
– added an ability to select an empty value of category ID or customer group ID in the extension settings
Version 1.0.3
-
September 11, 2017
– Fix for price in metadata
– Fix for Hide Price settings display in Admin area
– Fixes for email templates
Version 1.0.2
-
August 30, 2017
– Magento 2.2 compatibility introduced
Version 1.0.1
-
August 08, 2017
– Export issue was fixed.
– Amasty Invisible Captcha compatibility improved.