Smart Review Reminder
for Magento 1
Encourage your customers to share their experience in reviews and reward them with special offers.
Easily collect numerous product reviews
Dispatch reminder emails in automatic mode
Customize the email template
Apply automatic coupon integration
Get the statistics of your email campaign
Increase sales by showing customer product experience
Boost your conversion rate with customer reviews
It's not a secret that a huge number of customers make their choice based on other consumers product experiences. Customer reviews are objective and sincere, and for that reason highly-trusted. Reviews and ratings can boost your store conversion rate more than other well-known marketing tools. Just collect them and display on your e-commerce site with the help of Reviews Reminder Magento extension.
Analyze consumer demand via reviews
Stay in touch with your clients to better understand their needs and preferences. Many buyers are impatient to discuss their experiences or may have questions. Customers' feedback helps you to learn which business areas need to be improved.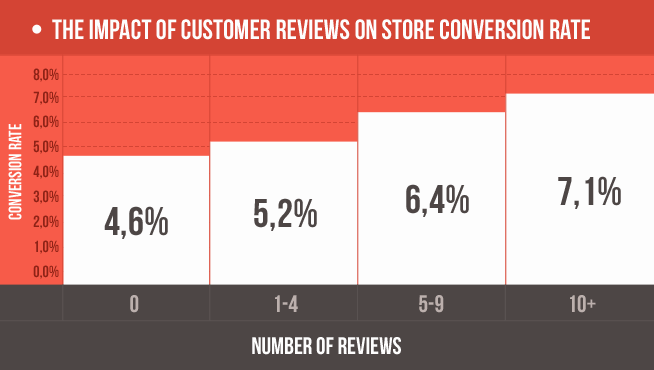 Easily manage your email marketing activities
Send reminder letters in automatic or manual mode
Review Reminder extension enables fully automatic review request generation and dispatch, that of course, saves much of your time and energy for other business tasks. You just need to configure the parameters of a built-in email template and the reminder is ready to dispatch.
Send pending emails in bulk
Now you can send all pending emails at once - just select the emails you want to send and apply 'Send' action in the queue grid.
Schedule the review reminder dispatch
With Review Reminder for Magento you can set up the delay period between the order and review reminder (e.g. 5 days after order).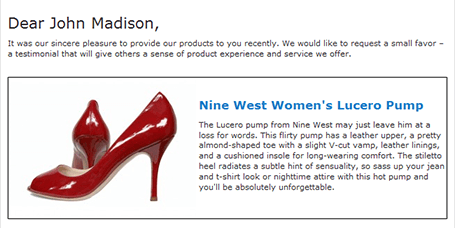 Let customers use coupons only after review approval
To effectively manage your discounts enable customers to use coupon codes added to reminder emails only after their reviews are approved by store administrators.
Apply automatic coupon integration
Reward your customers with discount coupons. Apply automatically generated coupon codes in your review reminder letters.
Send test emails
You can easily send a test email to the appropriate email address to make sure that everything is alright.
Order status select for outgoing emails
Try a selective approach to sending email reminders. Send emails only to customers with particular order statuses.
Customize the email template
Editable html template enables you to fully customize the email styles and content according to your goals.
Specify the email sender
The Reviews Reminder settings allow you to choose the required email sender, for example sales department, customer service, etc.
Build customer relationships wisely
Smart reminders delivery
Deliver reminders only once for a certain product to the same customer. In case a customer has bought the same product several times, he will get only one review request.


Allow customers to unsubscribe from getting review reminders
If you don't want to create a displeased audience, you should allow your clients to unsubscribe from getting your emails. You can easily do this just placing the unsubscribe link in the footer of your email.
Create black list
Create the black list to stop sending emails to unsubscribed or unwanted customers. Otherwise, you might lose them forever.
Add automatic login link to reminder emails
Add the auto login link to your email template. In this case, your registered customers will be logged in to your website automatically.
Send emails only to subscribed customers
You can allow emails sending only to the subscribed customers. Thus, you'll likely get a feedback as the users don't mind receiving a newsletter.
Analyze the results of your email campaigns
Keep a track of sent reminders and monitor their status
With the help of Review Reminder Magento extension you can keep a track of review reminders through email log and easily monitor a reminder email status: pending, sent or opened.
Monitor all user clicks in emailing
Using Review Reminder extension for Magento you can track all clicks on the email links due to Google Analytics. With this useful option you can get the statistics of your emailing efficiency.
Get the results at once
After Reviews Reminder extension installation you won't have to wait for new orders to get the first feedback. You can send reminders to customers, who already bought from you. Just specify the retrospective period (e.g 2 weeks before the current date) and send reminders to customers who have placed orders during the time.
Show customer reviews on sidebar
Filter reviews by rating and category
With the help of another Amasty free module - Reviews Sidebar - you can select and show your clients only positive reviews, for instance, with rating no less than three stars.
Choose the review block appearance
The block with reviews is easily customized to be compatible with Magento themes. You can indicate how many words from each review should be displayed.
Product questions

What happens when there is an order with more than one product?

In this case a customer will get 1 email with multiple links to leave reviews.

Should a customer have an account in my store to get a review reminder?

With the use of the extension, you can also get guest reviews, as the module can send emails to guest users as well.

Can I send reminder emails to past orders for a particular period?

Yes, it's definitely possible with the store review extension using the 'Generate Reminders for Last (days)' option. To see all the settings read on.

Can I send a coupon code to a customer only after they leave a review?

This is a wise decision since you are ready to give a discount only for a review. There is an option to activate a coupon code only after the review is approved and published and send a notification. Go on reading to learn how to activate the option.

Are there any ready reminder templates?

Yes, there is a default product review email notification template which you can use to send review reminders to your customers in System > Transactional Emails. You are free to customize this template or create new ones.

Can a review reminder be sent automatically once the order status is changed to "completed"?

Yes, of course. A product review notification can be send automatically, which is one of the core features of this extension.

Can I see the stats of the review reminder emails sent with this extension in Google Analytics?

Yes, there is a special option to add UTM tagging to the product URLs found in review reminders. Read on to see how to set the option.
Other Features
100% Open Source — Easy To Customize
Follows Magento Code Architecture
Separated HTML/CSS/JS
Simple installation via Composer
* The name "Magento" and the logo are the trademarks of Magento, Inc.
Works Great
Like everything with Amasty it works great and they had the best help with setting everything up!
Amasty is the best
I am very satisfied. Support is great, solved my problem in few hours - it was probably my fault and they correct it. Thank you!
Works well
The extension is very well written. I customized it to add some more parameters in the reports section (showing who actually wrote the reviews) and an automatic thank you email after the customer writes a review - maybe you guys should add it too.
Extension error in orders with products no exits in my system
Hello,

I have setup your extension success. However I meet a big problem, your extension don't check products before send review reminder.

I have very much old orders with products no exits in my system. When you send review reminder, you don't check again product.

For this problem, i advise you do checking. If products in order no exits, you don't allow send review reminder on this orders.

Please fix this problem now.

Please look into screenshot: http://i.imgur.com/GgQrAXr.png

Thank you so much !
Easy and reliable
I decided to write this review without any reminder, but I do know that customers usually refuse sharing their opinions... especially positive. That's why we purchased this extension.

As we expected, it started working right out of the box. The email template was easily modified according to our needs, and now everything works like a well-oiled machine.

I'd recommend this app to everyone who wants get more product reviews and sell more products.
I doubled my product reviews count
This extension is really helpful for my store. D ue to my niche (specific agricultural equipment), it's hard to get customers leave testimonials. They need time to check if the equipment works as they need, it may take a few months. So most customers forget to return to my store and leave their opinion. That's why I'm happy that there are such extensions that can remind people to come back and leave reviews.
The extension was installed quite fast (I chose to use Amasty installation service), I just configured the settings and changed the email template a little bit. For 3 months of usage I got more reviews than for 6 previous months, I'm really impressed! Thanks.
JanePeters
Magento Connect

The more reviews the better
The installation of this extension went smooth. We tested it at first on our small email lists to ensure the extension works properly. After that we emailed all our customers and promised a discount for leaving reviews. Many of them really returned and left reviews. I'm happy that worked. Reviews create trust – and that is what we need.

Magento Connect,
DrumAsm
Good functionality for reasonable price
Due to instant reply of the support team I fixed some minor issues with the module and now it works like a charm. No third party module conflicts, no critical bugs. Although the functionality is really limited, it meets my current needs. Maybe I'll upgrade my store with more follow up features later, but now I'm totally satisfied with the review reminder

akmetr,
Magento Connect
Worthy soft
Being an ecommerce newbies, we always start with simple tools. So, before launching a massive email campaign sending different types of follow ups, we installed this extension to try the way they work with reviews.

It's too early to evaluate its marketing effectiveness, but it definitely works as described. Due to a detailed manual we managed to specify all the settings. The ability to send test emails is a great plus! I hope in the nearest updates they'll add more ready-to-use templates.
Does what is says
Tried several extentions and stopped by this one. No issues while installing, setting up. Had some
question on how to make cron work, big thanks to support for helping me on this. It can also automatically send discount coupons in your email which is a very useful feature, it motivates people to write more reviews. No troubles in sending email.

Alexgavr12,
Magento Connect
Are you looking to add specific functionality for this extension or want to acquire a reliable development partner altogether? With custom development services by Amasty, you will receive high quality and cost-effective solutions developed by Magento professionals according to industry's best practices.
CE 1.4.x - 1.9.x, EE 1.8.x - 1.14.x
You can always download the recent version free of charge from your account
Installing an upgrade is easy — check now
My Downloads
Version 1.4.2
Last Update: Mar 04, 2019
Fix issues with emails queue was fixed.
Fixed an issue with extraneous slash in URLs
Fixed an issue with Not Visible Individually products getting into emails
Fixed an issue with incorrect redirect from email
Fixed an issue with wrong locale in emails
New Setting to send emails only to Newsletter subscribers
Version 1.3.7
Last Update: May 19, 2017
General workflow improvements
Check if e-mail going to unsubscribe is in among sent invites
Fix for issue when all products (that are going to be reviewed) from an order were deleted
A number of minor improvements
Minor improvement for handling links to configurable product pages
New module inner structure to work faster
Fixed issue with HTML in product description
SUPEE 6788 patch and Backward Compatibility
Version 1.2.0
Last Update: May 26, 2015
Better support for multi-store: orders and queue can be selected only for certain website
Mass Send option added for queue grid
Minor usability improvements
Version 1.1.0
Last Update: Feb 24, 2015
Automatic login using link in reminder e-mail
Coupon activation setting - now it's possible to allow to use coupon only after review was approved
Order status select is now possible for outgoing e-mails
Version 1.0.7
Last Update: Oct 30, 2014
Improved Test functionality
Full multistore support
No reminders for canceled orders