Quick View
for Magento 1
Enable visitors to quickly view product details and add products to cart right from the pop-up window on a category page. Reduce time on catalog browsing and enhance customer experience.
Product details preview on the category page
Ability to add products to cart/wishlist right from the pop-up
Quick view button customization
Redirect to shopping cart page
Ability to submit reviews from the pop-up
Improve customer shopping experience
Want to make your store navigation as clear as possible and provide customers with ultimate shopping experience? With the help of Magento 1 Quick View extension you can simplify catalog browsing process and let customers instantly view product details right on a category page. Due to a handy pop-up window containing all necessary product info customers can make purchase decisions much faster and easily add products to cart right from the pop-up.
IMPORTANT!
Quick View module is compatible with all Magento 1 themes and it flawlessly works on all mobile devices. It's also highly compatible with any Amasty and 3d party modules for product pages.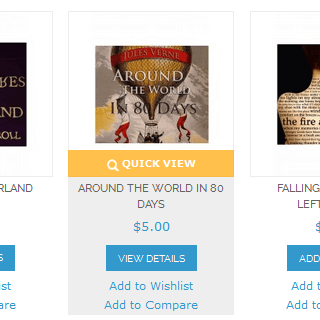 Flexible Magento 1 quick view settings
Easily configure the Magento 1 product preview window for your frontend website theme and customize the Quick view button according to your needs.
To customize the button you can specify:
Background color
Button size
Button position etc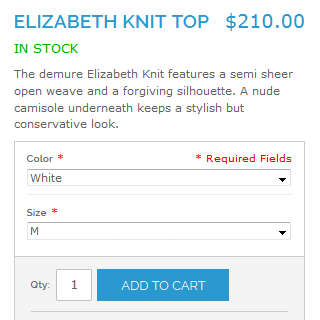 Informative preview window
With this quick view Magento 1 tool customers can instantly get all necessary product information right from a category page without spending time on visiting numerous product pages. Everything they need to know is placed in a fancy preview window.
Quick view window contains:
Product image;
Short and full product description;
Stock availability;
Product reviews and additional info;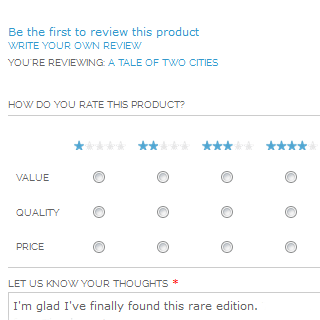 Multiple actions
Besides getting detailed information customers can easily add store items to cart and perform other actions from the Magento quick view product window like if they were on a product page.
The following actions are available:
Add products to cart/wishlist;
Add products to compare;
Write a review;
Zoom product images (if you have zoom in your theme or have installed a zoom extension);
NEW!
Redirect to the shopping cart page after Add to cart button is clicked in the Quick View pop-up.
Product questions

Can I customize the Quick View button?

Yes, the Quick View button, as well as the Magento preview window, can be customized in keeping with your needs. See the instructions below.

Read the FULL answer

What actions are available on a quick view page?

Magento AJAX quick view includes all usual actions like choosing an item configuration, adding it to wishlist/compare, read and write reviews, etc.
Other Features
100% Open Source — Easy To Customize
Follows Magento Code Architecture
Separated HTML/CSS/JS
Simple installation via Composer
* The name "Magento" and the logo are the trademarks of Magento, Inc.
Good extension and great support!
The extension is exactly working how it is described and can be expected from the preview. I need support to change background color in the hoover window. Support was great and quick. In general I have made very good experience with all my extensions from amasty. Good Support and no problems with refund.
OK
It was the third extension we were trying on our store. The previous ones had issues with our very custom and complex theme, and the vendors refused to do anything with it. When this extension showed discrepancies we reported them and were actually eager to ask for a refund (again) but withing 1 hour we received an email from the support team - they explained how to fix it. Nice work and keep up guys. You saved me several hours of an experienced developer.
Quick View nette Feature für mein Shop
Ich habe mehrere Extensions von Amasty erworben und bin sehr zufrieden!
Installation und Einrichtung war kinderleicht, bloß genauer Doku lesen.
Support ist auch sehr hilfsbereit und blitzschnell! Alle Fragen sowie Hilfe seits Amasty sehr schnell und professionell.

Great module, great team
Module worked out of the box and did what I needed it to almost immediately. There was a small conflict with the "Cloud Zoom" module on my site which the Amasty team resolved immediately.
The support this developer can only be described as "above and beyond". Any time I have needed any assistance with any of their modules (including due to conflicts with other modules) they are always willing to go the extra mile to assist!

Good addon but still needs to be expanded
Good plugin, I like it a lot. I'm sure that this extension facilitates customers' shopping and gives them positive experience. I think it should increase order amount, 'cause allows customers' view more products in less time.
Popup window with all the necessary product information and add to cart button looks really nice on our online store. I just would like zoom to be a part of this extension too. It is really important when you choose a product. Unfortunately, we had to urgently search for some separate zooming tool to make this feature work.
I also recommend implementing rotation feature. Enabling customers to turn a product and examine all views before making the actual purchase should really boost orders.

no any issues or complaints so far
I'm still testing this tool but have some thoughts about it.
On the one hand, an ability to preview products leads to decreasing pages per visit stats. On the other hand, such preview is good for customers (according to my survey ). So I'll continue using this feature.
As for the extension, it has quite interesting settings I haven't even thought about before buying. For example, people can add products to carts and wishlists right from the category page. But I'm experimenting on the settings to restrict some of them in preview, so customers will have to visit a product page to complete some actions, for example to write a review.
Handy tool that works
I didn't expect much from such an easy tool, so the only crit erion was its seamless work. Apart from that, easy display customization (button color, background etc.) is a great plus.
I do recommend the module to everyone as one of the easiest ways to visibly improve store usability.
liked it
This extension has two very important features:
1) You can setup the look of the button from backend (no css/html editing is required, which is a big plus)
2) It works perfectly on all devices, including mobile and tablet.
Thanks to the company for selling the same features as you promise.
ziqul
Magento Connect
Easy and effective
Wow, this really improves the site experience. We love this extension (like most of Amasty extensions, and we use a lot of them). Very easy and effective, does what it should and makes online shopping with Magento more convenient for customers and visitor.
Are you looking to add specific functionality for this extension or want to acquire a reliable development partner altogether? With custom development services by Amasty, you will receive high quality and cost-effective solutions developed by Magento professionals according to industry's best practices.
CE 1.4.x - 1.9.x, EE 1.8.x - 1.14.x
You can always download the recent version free of charge from your account
Installing an upgrade is easy — check now
My Downloads
Version 1.0.11
Last Update: Aug 21, 2018
New information section was added. Now, you can see the version of installed extension, available updates, the user guide link, conflicts and other useful information right on the module configuration page
Improvement the configuration page was enhanced
Fix an issue with fancybox load was resolved
Improved the product id search process for better compatibility with the custom themes
Fixed an issue with custom click events for the Quick View link
New Redirect customer to the shopping cart page after adding product to cart
Updated the jQuery fancybox library
Code style improvements
Better compatibility with Amasty Color Swatches
Fix for JS issue which prevented normal workflow on touch devices
Improvements for redirecting to shopping card after product added
Minor compatibility improvement
A number of minor improvements