SMTP Email Settings
for Magento 1
Reliable delivery of emails is crucial for business. Proper Magento 1 SMTP extension settings greatly increase the chance for your order confirmations, marketing emails and other correspondence to get actually delivered to customers.
Use reliable email providers to decrease email rejection
Set SMTP authentication and connection security params
See log of all emails, with detailed view of messages
Debug mode for easy detection of wrong Magento SMTP settings
Option to automatically clear logs after a certain period
Prevent your emails from being labeled as spam
Deliver your emails to customers with a greater success
Magento Challenge
By default Magento uses PHP 'sendmail' for sending emails. Often emails are dispatched via the mail server of the server where Magento is installed. It can have a serious impact on how your messages will be trated by recipients' mail servers. In other words, it's quite likely that your emails will either end up in spam folders or will get rejected altogether.
Our Solution
The SMTP emails extension enables you to use any third-party SMTP server for your Magento store and configure all the necessary Magento email settings to resolve this problem. You can use reliable SMTP servers like Gmail or Yahoo to give your emails the highest chance of getting through to your customers.
Reliable SMTP server greatly improves the chance of email delivery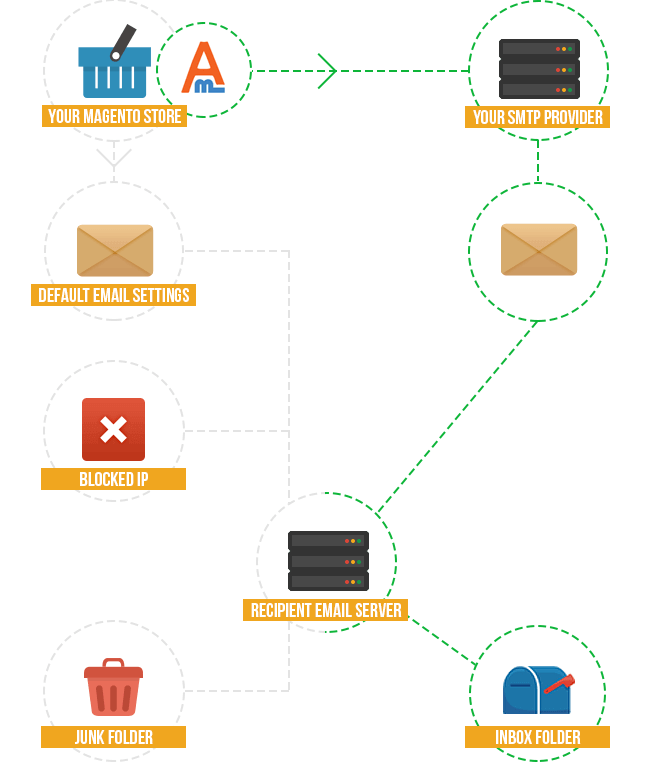 Use proven SMTP servers for Magento
As mentioned above, with Magento SMTP email sending settings, you can use any third-party SMTP server you prefer. Thanks to pre-defined data autofill option you just need to select a certain SMTP provider, and other fields such as 'Server Address', "Port" will be filled in automatically.
Setup SPF record for your domain
Sender Policy Framework (SPF) is an email validation system designed to prevent email spam by detecting email spoofing by verifying sender IP addresses. We provide instructions on how to setup SPF record in the extension user guide.
Ability to check SMTP connection
You can configure and check if the Magento email SMTP connection you've setup works correctly. If there's any error, you will see it in the debug log.
PRO Magento SMTP features
Replace the sender's email when setting up your own server
Reduce possibility of getting into spam
Plain Text MIME part added: automatically generated based on HTML version . Please follow the link for more details on MIME
Quote-printable line length for e-mail messages reduced to 75 characters
Easily ensure stable operation of your SMTP emails
Log of emails with detailed view
Magento 1 SMTP Email Settings extension lets you log all the emails sent from your store. You can view the list of all emails sent and also open any of them to see what exactly was sent to a customer. The log is shown in admin panel, no need to go to the file system. If needed, you can have the log automatically cleared, e.g. remove the messages sent 90 or more days ago.
Debug mode for easy detection of wrong Magento email settings
You can have the module emulate sending of emails without actually sending them. You will also see the log to make sure the Magento SMTP configuration and settings work correctly. Like the above one, this log can also be cleared automatically.
Product questions

Does this SMTP extension allow multistore setup?

Yes, sure. Our module is fully compatible with multistore configuration.

What types of authentication/encryption are supported?

Our Magento SMTP extension supports authentication with standard cryptographic protocols: SSL and TLS. TLS is constantly improving. Please click here for more information.

What email servers are supported by this SMTP extension?

Our SMTP module can be configured to send emails via Yahoo, Gmail or any other third-party SMTP server. Note that reputable SMTP providers may increase your chances of reaching your customers. Click here to see why. Due to a pre-defined data autofill option you will just need to choose a certain SMTP provider, and other fields ('Server Address', "Port", "Connection Security", etc.) will be filled in automatically.

Is there a way to log and view the emails sent to guest customers?

With this extension you can see detailed email logs of all the letters sent right in your Magento admin panel.

Read the FULL answer

Test email is being sent fine while order confirmation email is not. How can I troubleshoot?

Here are the most frequently reported causes: 1) Order confirmation emails, invoices, etc are not being sent out. 2) Logs are not recorded. If you have one of the above-mentioned symptoms, please click READ the Full answer link below.

Read the FULL answer

I'm getting connection refused or connection timed out error in debug log. What should I check?

If you're connecting from behind the firewall, make sure the firewall rules allow you to connect the specified mail server.

What should I do if emails are not being sent out via Amasty SMTP extension?

Having troubles with sending emails? Try disabling the extension in main module configuration page and check if you're getting the same result with Magento default PHP sendmail. Please proceed to READ the Full answer link to get further instructions.

Read the FULL answer
Other Features
100% Open Source — Easy To Customize
Follows Magento Code Architecture
Separated HTML/CSS/JS
Simple installation via Composer
* The name "Magento" and the logo are the trademarks of Magento, Inc.
Bettered email sender
I run multiple stores some are still on m1. Others that I started later are on m2 with them there's no problem. But with magento 1 is often much hussle. Like I needed to change email sender while placing order from admin and the module didn't accept changes so I had to send as it was, with another address. Short after I reported this problem and the dev team fixed it. Can work with no troubles again. Very fast response.
need a new feature
Please addd a feature of periodic automated testing of the settings. But I like the extension. Thanks dear friends.
Very nice
Easy to install and easy to use.
Really nice that it keeps a log of all emails that has been sent.
Excellent SMTP Extension
This extension really help us deduct the issue we were facing in sending email from server using the logs and rectified it.
Also the developer support wonderful, they did some custom development for us usage.

Very helpful support
I had some troubles with this module mostly because of my system. Team helped to install, explained how to work. Still I missed some customers as dispatch wasn't easy and I had to send them one by one. Now they added new feature and I can send many emails auto with cron. Of course first you need to set this cron job. I called team for help and they did refuse to do it. No more wasting time on hard boring tasks.
Worth its money
I needed a module to avoid spam folder, first bought from another vendor as it was much cheaper. It was easy to install but their support didn't work well just ignores you. So I decided to switch to amasty. Yes, it's more expensive but their support is always available they helped me set up and now I face no problems. More than that it has a spam-checker, which's exactly what I looked for.
Thanks, it is good
At first we didn't know we need this modul. We asked Amasty about moduls to buy because our email didn't go to customers. Amasty said we ne ed to buy this. After we had problems with settings, because it's very difficult to understand. Amasty helped us with settings. Now our emails go to customers. Thank you for helping us.
Resolved all our email sending issues
To my surprise I managed to install and configure the mod in about 20 minutes. But once the tool was installed I faced the problems with my server smpt connection. This is not the plugin's fault by the way.
Customer care team did their best to fine tune the mod the way I needed. After all, email sending is not the issue anymore. Well done, guys. I do appreciate when the tool meets my expectations.
Very reliable extension
The installation was flawless, but the plugin didn't start working right out of the box. With the help of the detailed manual and support guys I finally managed to run it the way I needed. It was not about the module it was about me as I'm used to getting help from outside rather than to try set everything myself.
Now the plugin works like a charm, no conflicts, no errors and the configuration that confused me at first appeared to be intuitive and clear. I'd recommend this tool to any store dealing with mass email sending.
Holidays are coming, so we are about to launch numerous email campaigns and I hope this plugin will do its best for us.
LeonaPatnova,
Magento Connect
Nice, but some improvements are welcome!
It would be great if extension have predefined server setting templates for common providers. Otherwise, it's great.
Are you looking to add specific functionality for this extension or want to acquire a reliable development partner altogether? With custom development services by Amasty, you will receive high quality and cost-effective solutions developed by Magento professionals according to industry's best practices.
CE 1.4.x - 1.9.x, EE 1.8.x - 1.14.x
You can always download the recent version free of charge from your account
Installing an upgrade is easy — check now
My Downloads
Version 1.3.2
Last Update: Dec 27, 2018
Improvement message informing users to double-check that module is enabled was added.
Fix the issue with changing of an email sender, while placing an order from the admin panel was resolved
New the ability to replace email sender was added
Version 1.2.10
Last Update: Feb 27, 2017
Improvements for sending queued e-mails
Improvement for a case when different stores have different email settings
Performance improved when sending a large number of email messages using cron job
Compatibility improvements
Improvements for plain text e-mail messages
Better compatibility with latest versions of Magento
Compatibility with mail queue on Magento 1.9.2.0
Compatibility with Magento versions lower that 1.7
Plain Text MIME part added: automatically generated based on HTML version - to reduce possibility getting into spam
Quote-printable line length for e-mail messages reduced to 75 characters (recommended to reduce possibility getting into spam)
Version 1.1.0
Last Update: Aug 20, 2014
Auto fill pre-defined data for specific SMTP providers