Store Credit
for Magento 1
Provide registered customers with a flexible credit system. Let them spend their credit balance on product purchase or easily share it with friends.
Refund orders directly to customers' credit balance
Share credit balance with friends
Subscribe to credit balance updates
Update credit balance for individual customers or in bulk
View detailed credit transactions history
Provide customers with easy-to-use credit system
Looking for an effective way to boost customer engagement and draw more new visitors? Want to equip your store with a powerful sales tool? With the Magento 1 Store Credit extension you'll enable registered customers to easily manage and spend their credit balance in your store. Apart from that, customers will be able to share their balance with friends, thus attracting new clients and increasing your sales.
Rich extension functionality will also help you convert refunds into sales - simply issue the refund to customers' credit balance and let them spend the credit on other products in your store.
Options for customers
Custom store credit amount
When purchasing the store credit customers can choose one of the predefined credit amounts or specify their own amount. Therefore, they'll be able to top up the store credit balance according to their specific needs.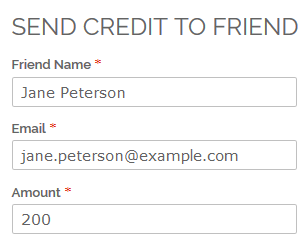 Possibility to share credit balance with friends
With the store credit Magento 1 tool sharing credit balance with friends has become as easy as it can be. Customers just need to specify the email address of the person they want to share their balance with as well as the credit amount and voila!
The credit receivers will be instantly notified via email and as soon as they log in to the account, they can start spending received funds on any products in your store.
It's also possible to share the credit balance with unregistered customers. Once the customer gets authorized using the corresponding email address, his/her balance will be automatically topped up.
Automatic subscription to balance updates
To be aware of the balance updates customers can subscribe to update notifications in the Store Credit tab. The extension also offers a feature to subscribe new customers to the balance updates automatically.
Easy control over credit transactions
All store Magento credit transactions will be displayed on the customer account page, so that customers will easily keep track of all balance changes.
Options for store administrators
Make quick refunds
Refund orders for which customers pay with the Magento 1 store credit funds directly to their credit balance just in a few clicks. On the one hand, this option will help you to turn refunds into additional sales. On the other hand, it will take your store services to a quality new level and significantly improve customer experience. Moreover, now the module allows you to issue credit when an order is created from the backend. If you grant a credit, order total will be recalculated automatically.
Use advanced pricing options
Create different pricing types for each particular store credit product. You can:
Set fixed amounts;
Enable customers specify their own custom amount;
Use both types simultaneously;
Moreover, flexible extension settings enable you to specify whether the store credit price will be equal to the whole credit value or to a specific percent from the credit value. The percent option enables you to offer tempting discounts and encourage customers willingly top up their store credit balance.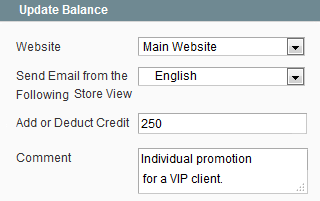 Manually update store credit balance
Easily add or deduct funds from the store credit balance of individual customers. This handy feature will help you quickly update particular balances and offer individual promotions.
Update customer credit in bulk
In case you need to update numerous customer credit balances in Magento at a time - use the mass update action. It will save you a lot of time and help to keep all credit balances timely updated.
View detailed credit transactions history
With the Magento 1 store credit module you will always keep track of all credit transactions in your store. You can either view the history for each particular customer on the corresponding customer page or see the info about all credit transactions on the Credit Transactions History Grid. There are 5 operation types that will be displayed on the grid:
Payment for a particular order (with the order number);
Balance update by admin (in case the balance was manually updated by the admin user);
Refund of a particular order (with the order number);
Received from friend X (in case when one of the customers shared his/her balance);
Credit purchase plus the order number;
According to the statistics, the extension can cover each business need in synergy with the following solution: magento captcha and magento customer groups.
.
Product questions

Can this extension send store credit to a friend?

Yes, this feature is included in this extension, so customers will have an opportunity to share their credit balance with friends.

Is this extension compatible with One Step Checkout modules?

This Store Credit module is 100% compatible with our One Step Checkout. Compatibility with other modules may require some customization.

How can a customer buy store credit?

For this, you need to create a 'Store Credit' product supplying it with all essential information. See how to make it correctly in the compelte answer.

Can I let customers to buy only certain product types using store credit?

Yes, you can enable clients to buy only simple or only configurable products as well all types of products. Follow the link to learn about additional possibilities.

Can I see a report on how store credits are bought and used in my store?

Yes, the statistics can be seen in the admin panel. The report includes such showings as operation name, comment, customer's name, email, operation value, remaining credit, operation date and website (in case you have several store views) columns. Read on to see an example.

Can I make refunds to customers to their store credit balance?

Yes, of course. This is the best part of this extension as users will get a refund to a store credit balance (regardless of the payment method initially used by the customer). This way you turn them into new sales.

Can clients combine store credit with other forms of payment?

Yes, it's possible to use store balance and another available payment method to pay for one order, e.g.: combine store credit payment method with a bank card.
Other Features
100% Open Source — Easy To Customize
Follows Magento Code Architecture
Separated HTML/CSS/JS
Simple installation via Composer
* The name "Magento" and the logo are the trademarks of Magento, Inc.
works well
The extension works well and we had no issues whatsoever. I think it will be a good idea to integrate the store credit functionality with the gift card extension from Amasty, it just seems logical. I hope that you'll add the connection of the gift card to store credit balance so that the customer will have once balance, not two of them.
The money well spent
Though we had some compatibility troubles with our magento theme, the support fixed everything very quickly. In general, the module is a good value for money. It is simple to install, works well and the support team is great.
Great extension
Works exactly as it should. Simple to use and to setup. Had a little conflict with an other extension installed in the past and the developer helped us solve it really quickly. Thank you!
I like it
I like this plugin, everybody benefits from it. Customers can freely choose what to do with their credit: make purchases or save, or share with friends. Store owners can check credit transactions history and see whether the store works effectively.

Works like clockwork
We needed store credit as a secondary payment tool in our store. After doing a lot of research and implementing a couple of modules from other developers we ended up with Amasty, and we are happy with that decision. The plugin works as described and doesn't take much time to install. The process went flawlessly; we were up and running in about 2 hours. You just need to read the docs carefully, and everything will be fine.
Support service is also good. We asked a lot of questions before making the purchase. They were responsive and really professional.

Vote for this one
I bought this module only a month ago. Now I can only say that installing and configuring it was not hard even on customized magento. I hope that we can boost sales with this tool and encourage people to make purchases using credit. It's interesting, how this module will reveal itself in a long run.
Awesome team!
In our case the product required some customization right out of the box. It was necessary just to cover our specs, not because of any issues. Developer team made all the work in timely manner and at a very reasonable price. I'm really impressed by the professionalism that the team has shown. They clarified with us in detail all the nuances of our request. And then developers provided an elegant and clear solution to all our tasks. We are very happy with both the product and the team behind it.
Guys, you are awesome!

We have high hopes for this module
I can recommend this extension to all webshop owners. It is a great tool to increase loyalty of your customers. I started working with this plugin only a week ago, it is a bit early to draw conclusions, however I already see the new trend in my store: more people become returning customers. It's a slow but sure process, we don't expect any miracles. But the module has already paid for itself. Hopefully, developers will keep up the good work and the extension will only get better with each update.
Exactly what we need.
We purchased this extension 2 days ago. Installation was smooth, and it does exactly what we need it to do. Would be great to be able to get credit for some actions, like percent of order total and so on.
Are you looking to add specific functionality for this extension or want to acquire a reliable development partner altogether? With custom development services by Amasty, you will receive high quality and cost-effective solutions developed by Magento professionals according to industry's best practices.
CE 1.6.x - 1.9.x, EE 1.9.x - 1.14.x
You can always download the recent version free of charge from your account
Installing an upgrade is easy — check now
My Downloads
Version 1.2.3
Last Update: Mar 06, 2019
Fix the issue with updating customer balance through mass action was resolved
Improvement the localization was updated
New customers can be subscribed to balance updates automatically
Fix for zero total orders
Fix for price display
Version 1.1.8
Last Update: Nov 29, 2016
Possibility to display store credit price either including or excluding taxes
Totals in PDF
Return to cart / checkout page if store credit is cancelled
Magento 1.6 compatibility
Bug fix single store shops
Fix for creating new order and credit memo from the backend
Ability to use Store Credits when create orders form back-end panel
Image for the "remove" button added
Fix for foreign keys when DB tables use prefix
Add tax classes to store credit
Add ability refund order to customer balance