Store Credit & Refund
for Magento 2
Turn refunds into revenue, apply the automated return system to scale up sales. Thank customers for shopping in your store with credit and build their loyalty.
Grant store credits to motivate your customers make new purchases
Easily add custom store credit amount to enhance customers' loyalty
Allow customers to spend their store credits on purchase
Quickly refund orders with store credits to boost sales
Let customers track their store credit and refunds on their Account
Notify shoppers about any changes in their store credit balance
GROW REVENUE BY TURNING REFUNDS INTO SALES

Challenge
Refund requests in Magento 2 make a pain point for merchants. About 20% of customers return the purchased good, and during the after-holiday period, the return rate spikes to 30%. After the shoppers get refunds for spontaneous purchases, they float to your competitors.
Solution
Win your customers by refunding their purchases with store credit. Let them use store credits to make new purchases at your Magento 2 shop, or to pay taxes or shipping costs. Apply store credits to make up for some unpleasant shopping experience and restore customer satisfaction.
See 2 use cases to trasform dissatisfied customers
into regular ones
What benefits do you get for your store
Reduce losses on returns by refunding with store credits
Improve sales by giving credits in your "store currency"
Build customer loyalty by providing store credits as thank-you and bonuses
SCALE UP YOUR CUSTOMER BASE BY AWARDING STORE CREDITS
Enhance customer loyalty
Grant store credits to motivate your customers to shop in your Magento store. You can add custom credit amount from the admin panel. Enable customers to pay for products with store credit in full or partially. Allow them use the credit to cover taxes and shipping costs. Use it with One Step Checkout to timely remind your customers of one more payment option and ensure a seamless process.
Keep your customers in the know
Let your customers control their Store Credit. Provide transparent Current balance and History tabs on their account page. Notify your customers about changes in their Magento 2 credit balance automatically via an e-mail subscription and let them stop notifications.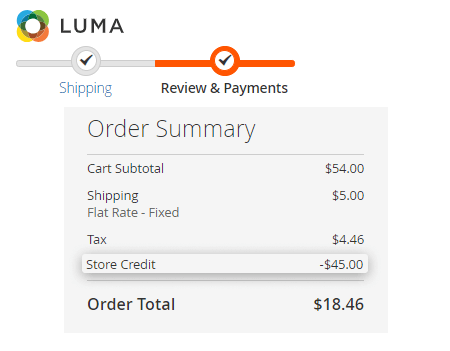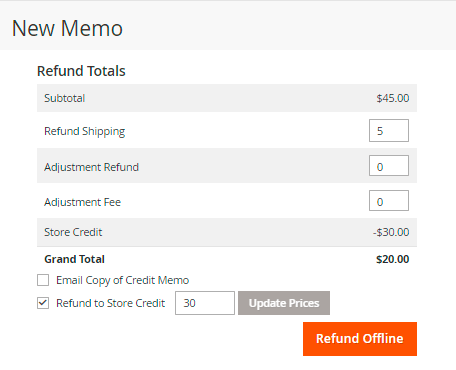 Refund with store credits
Cover Magento 2 refund requests in full or provide partial refund with store credit to improve the shopping experience for your customers. Refund to store credit creating a credit memo. The amount will be fetched automatically and then you can correct it if needed. In case the customer used store credit together with money to pay, you'll return the sum of money in store credits while the credit used for the order isn't restored.
Manage store credits and refunds easily
Use Magento 2 Store Credit & Refund extension to add/deduce Store Credit in one click. Access Balance History of any customer to make swift changes. Track changes your admins made in Action column. Prevent wrongful deductions and leave comments.
Use store credit to pay in the backend
With both community or enterprice Magento 2 Store Credit extension you can avoid online refunds and use a customer's store credit to pay for their orders directly in the backend. Pay in full if the balance covers the order price. If the price is greater than the store credit, deduce the credit and inform the customer about the amount they still have to pay. Also, cancel the payment if needed.
Here's how it works:
A customer may address your online support to ask for some clarification on product characteristics. In case a customer is satisfied with the present offer, a manager can immediately place an order. In so doing, the manager will also manage to charge instore credit off from the balance once the customer doesn't mind. In case the customer thinks the price is too high, the manager can still retain them offering some credits for immediate purchase and thus reducing the price.

HOW DOES STORE CREDIT FOR MAGENTO 2 HELP TO BOOST SALES
Increase customer loyalty. Charge store credit for each purchase and allow clients to use them as a discount.
Boost repeated purchases. Motivate customers to return to the store and make new purchases with the help of the store credit tool.
Retain unsatisfied customers. Refund money to customers as store credits and let them choose something else in the store.
Increase conversions with easy one step checkout process
Speed up the whole shopping process and significantly enhance customer satisfaction with
Magento 2 One Step Checkout
extension.
Significantly boost repeat sales with a flexible rewarding program
Employ
Magento 2 Loyalty Program
extension to create a unique scheme to reward regular customers with exclusive discounts. Use flexible shopping cart rules to generate targeted offers and boost sales.
How to manage offline refund requests in Magento 2?
Go to Sales → Orders, find the needed order on the grid, and click View.
Then, click Credit Memo at the top of the page.
In the Items to Refund section, set how many items should be refunded and click Update Qty.
Go to the Refund Totals section, and specify Refund Shipping, Adjustment Refund, and Adjustment Fee.
Click Refund Offline.
Other Features
100% Open Source — Easy To Customize
Follows Magento Code Architecture
Separated HTML/CSS/JS
Simple installation via Composer
* The name "Magento" and the logo are the trademarks of Magento, Inc.
One of my best buys
Here all works in accord: customers have many rights, but we, the owners, still stay protected and make profit.. And reward possibilities are very big - I only tried thanking with store credits but it attracted my 5 new customers to shop. Small profit et, but it's only been a week.
Good idea, small problem
The extension is cool, it's easy to set up and manage. But 'pay in the backend' functionality has 1 issue. Admins don't always leave comments on what they do Would be nice to make this commenting obligatory and to ban other actions without explanations. Is it possible?
Really powers sales!
Best thing is that you don't need to return money in most cases. You just refund with store credits and shoppers go to shop at your store using this instore points. Only using it for a couple of days, but it already motivated 4 shoppers to buy more with credit+their money. So profit's growing ;)
Are you looking to add specific functionality for this extension or want to acquire a reliable development partner altogether? With custom development services by Amasty, you will receive high quality and cost-effective solutions developed by Magento professionals according to industry's best practices.
Magento 2.2, 2.3, 2.4
You can always download the recent version free of charge from your account
Installing an upgrade is easy — check now
My Downloads
Version 1.0.6
Last Update: Jan 14, 2021
Improvement information about used store credit was added in order API
Fix we solved the problem with refund store credits for multiple currencies
Fix we solved a few problems with credit memo creating
Fix we solved the problem with using store credit with PayPal payment method
Fix we solved the problem with changing store credits from admin area
Fix we solved the problem with store credit deduction if order wasn't placed
Improvement now API include new method GetStoreCreditsByCustomerId
Improvement now translations include Store Credit Balance phrase
Improvement we added validation for "Add or substract a credit value" field on admin side
Fix we solved the problem with incorrect prices after their updating on client side
Fix we solved the problem with partial payment of order by store credits
Fix we solved the problem with extension installing on Magento 2.2.2
Fix we solved the problem with applying store credits for virtual products
Fix we solved the issue with refunding store credits to customers after credit memo creating
Fix issue with the refunded amount not being displayed in the Order Totals section was fixed.
Fix we solved the problem with adding double store credit points on Google Chrome v. 75+
Compatibility with 3-rd party extensions was enhanced