Screenshots:
Navigate customers to your offline stores
Want to help clients quickly find the nearest offline store with your products? The Magento Store Locator extension enables you to add addresses of physical retail stores to your website just in a few clicks. This Magento store finder allows creating as many store locations as you need and displaying them on a separate page using Google maps. Give customers Magento map with exact store locations to enhance their shopping experience.
Google API Key support;

Customizable Google Mark templates

;
Geo IP support;
Unlimited number of store locations;
Intelligent automatic clustering on Google Map;
User-friendly frontend URL;
Auto display of the closest store details;
Store icons display;
Sort by distance option. Let clients quickly find store locations
To find the nearest physical store location your site visitors just need to click the 'Sort by Distance' button and see the whole list of shops carefully arranged according to their geoposition. The nearest shop as well as other stores will be marked on the map.
The customers will be able to:
Sort stores by distance;
See store address in a Google mark window;
Zoom the map in and out;
Specify exact search radius;
Specify distance units in kilometers or miles;
Search stores around specific location;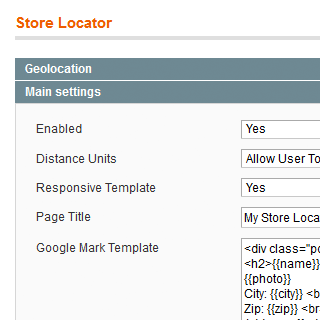 Customize store locator page
Magento store pickup tool enables you to configure the location page according to your specific needs and make it maximally user-friendly.
To customize your Magento map page you can:
Specify whether to use responsive template;
Create page title;
Insert Google mark template;
Specify nice looking frontend URL;
Insert Google API Key (get more details about Google API usage and limits here);
Specify search radius measurement or let customers choose it on the frontend;
Custom settings for each store view;

new!

Specify and upload information like phone numbers, addresses, images for each particular store;
Specify frontend product URL text;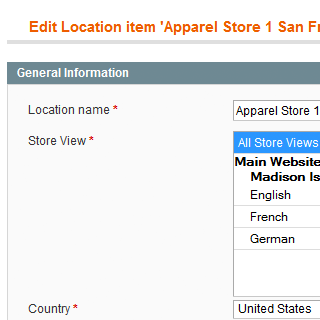 Create new store locations
Easily add as many new store locations as you need. Once you specify all required parameters, the new location will automatically appear on the map. Besides, you can also upload pictures for each store location.
For a store locations page you can specify:
Location name;
Store view;
Exact address information;
Additional description for each store location:
Phone number;
E-mail address;
Website URL;
Individual location picture;
new!

Quickly modify store locations

Use handy CSV import functionality to instantly create or update numerous store locations. Gather the necessary data (addresses, phone numbers, images etc.) in a .csv file, upload it and press the 'Add Stores' button. This feature is a real time savior when you need to manage a large store database.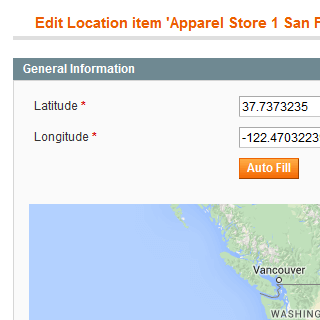 Preview store locations on the map
Preview and edit exact store coordinates before making them visible on your Location page. As soon as you specify all address fields for a new location, Magento store locator will automatically define the exact coordinates and show the place on the map. You can also edit coordinates manually at any moment.
The Magento map extension enables you to:
Preview store location on the map;
Edit latitude;
Edit longitude;
new!

Create your own shopping area using map clustering

Numerous offline stores are good for business but too many markers on the map cause visual overload provide poor interaction with the map. The information on the map needs to be simple and easy to use for your customers. Intelligent automatic map clustering will take care of it. Now the areas with numerous stores close together are highlighted in colors. Map targeting has never been easier!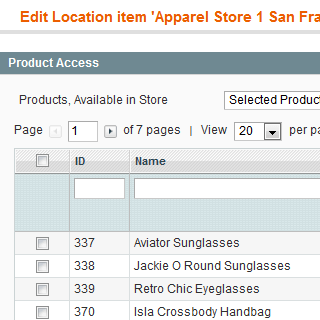 new!

Assign products or categories to specific stores

With the store locator tool you can assign specific products or product categories to different store locations. Once a product or a category is assigned to a particular offline store, the link leading to the store location appears on the corresponding product page. Therefore, customers can immediately see in which offline stores they can purchase this or that product.
Assign products to particular store locations;
Assign categories to particular store locations;
Display links to offline stores on product pages;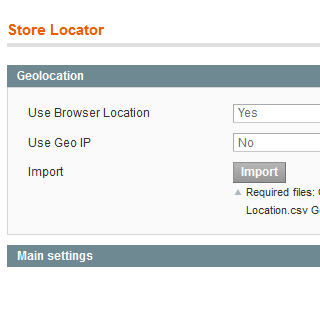 Advanced geolocation settings
If you don't want to use Browser location option to detect customers' location you can upload CSV files with necessary GEO IP data. Apart from that, with Magento Google Maps tool you can use both options simultaneously. This variant is great for those cases when customers use browsers that don't support location option and don't provide browser location data.
To enable the Geo IP option please upload 2 files:
GeoLiteCity-Blocks.csv;
GeoLiteCity-Location.csv;
Please download necessary CSV files here.
To expand your presence further, you can also automatically redirect users to the relevant language and currency. Use GeoIP Redirect extension for this.
Other Features
100% Open Source — Easy To Customize
Follows Magento Code Architecture
Separated HTML/CSS/JS
W3C Validated Code
Online Extension User Guide
* The name "Magento" and the logo are the trademarks of Magento, Inc.
General Questions

How can I pay for Amasty extensions?

What is the license policy? On how many websites can I use Amasty extensions?

How to install Magento extension by Amasty?

Can I test an Amasty extension on a staging site before transferring it to a live one?

Can I get a refund if an extension doesn't suit me?

Will I get any other benefits?
Good module and great support
The store locator module works good and the support is even better!
Great extension, easy to install and use friendly
Amasty Store Locator worked well for me. It has all the features I needed for my projects. In the past a few years, it\'s has been a great journey working with Amasty, their support is top class in this industry, which is the main reason I bought most of my modules from them. After I started with Magento 2 I still use Amasty Magento 2 store locator and once again they didn\'t let me down. I\'m looking forward to see more goodies coming out of Amasty!
Great extension, easy to install and use friendly
Amasty Store Locator worked well for me. It has all the features I needed for my projects. In the past a few years, it has been a great journey working with Amasty, their support is top class in this industry, which is the main reason I bought most of my modules from them. After I started with Magento 2 I still use Amasty Magento 2 store locator and once again they didn't let me down. I'm looking forward to see more goodies coming out of Amasty!
Quality extention
This is a perfect solution for those who have offline stores.
Guys, I sent you a few suggestions for this Store Locator improvement, hope to get your reply.
Great Product, Great Support
This extension did exactly what I needed. The ability to create store locations and then add specific products to specific stores.
I found a very minor bug which I reported via a support ticket and it was resolved within 2 hours.
Great communication all round.
One feature I would like to see would be the ability to import store location data via CSV
Magento Version: 1.9.1.0

Quality solution for specific needs
Since we've recently expanded our business and opened 2 offline stores, we wanted to draw more visitors to them. This store locator met all our needs as it allowed us to show which particular products are available in our physical shops. No confusion, no misleading, no customer disappointment. Everything is as clear as it can be.
I bet the module will be a real catch to all merchants running both online and offline stores.
Flexible settings + intuitive interface
Due to a detailed manual, there were no problems in configuring the app according to our needs. Everything worked as it was described. But the functionality itself seemed to be too limited. Fortunately, just in about a week after the installation we got the updated version with a great tool set and then one more update.
The opportunity to customize settings for different store views is priceless, as we run our store in 3 languages and each store view requires properly translated google mark templates. We've been using the tool for about a month already and haven't noticed any issues yet.
I definitely recommend the updated version to others.
DeNata,
Magento Connect
Write Your Own Review
Version 1.4.6
-
January 13, 2017
– Automatically adding map coordinates when importing stores, based on addresses
Version 1.4.5
-
December 01, 2016
– Possibility to import specific information for each store separately
Version 1.4.4
-
September 29, 2016
– Fixed Google API error in back-end
Version 1.4.3
-
September 16, 2016
– Minor fix for ACL
Version 1.4.2
-
August 09, 2016
– Added latest Google library v3
– Images for location clusters are in the module package now, so it's possibly to modify them.
Version 1.4.1
-
August 02, 2016
– Minor fixes
Version 1.4.0
-
July 22, 2016
– Option to import stores with CSV file via admin panel
Version 1.3.7
-
May 30, 2016
– Fix filter by distance when kilometers used as units
Version 1.3.6
-
May 27, 2016
– Improved i18n
Version 1.3.4
-
November 09, 2015
– Admin routing patch (SUPEE-6788) compatibility
– Minor improvements
Version 1.3.3
-
August 10, 2015
– Minor usability improvement (option to open page in a new window)
Version 1.3.2
-
July 08, 2015
– GEO IP now goes as the separate part of the the module code for better maintainability
Version 1.3.1
-
June 24, 2015
– Added clusters (groups of markers) to Google map
Version 1.3.0
-
April 06, 2015
– Possibility to apply specific products or categories to specific stores
– New link on a product page that leads to the list of locations where product is available "Available in Stores"
Version 1.2.4
-
February 23, 2015
– New fields added for store website, phone number and e-mail address
Version 1.2.3
-
February 10, 2015
– Configuration scopes changed to be able to configure most options per store view
– Fix for pagination in the backend
– Minor JS optimisation
Version 1.2.1
-
January 28, 2015
– Zip/Postcode field length limit removed
– Clicking on a store or a marker on the map now zooms map in
– Description field with WYSIWYG added (to add phone/website or any other additional information)
– State/Province field added
– Fronted search possibility added: it's possible to search for stores around specified location (or current location using browser location feature or GeoIP)