Order Notes
for Magento 2
Optimize your order management by creating order notes and marking them with colored flags, badges and other labels. Now you can control the chaos on your order grid and visualize order process.
Add important notes and process orders efficiently
Organize and prioritize orders
Mark orders with flags or badges to recognize a priority at a glance
Automatically add labels to orders based on their order status
Apply notes and labels in bulk
Get all must-have order tools in one pack
Speed up your order management process
Highlight orders with flags and add notes to them
Managing a store fast and accurately is a highly complicated task. This order management tool helps to highlight orders with flags, badges and various symbols for easy priority recognition and clarity. Moreover, you can add notes for each order right on the order grid. For example, you can leave comments like 'Call the client about delivery', 'Package today', etc.
Apply multiple labels to one order
Let's say you would like to mark an urgent order somehow and its shipping method. Therefore, you can create two columns of labels for such order. And surely, it's possible to add order notes for each column.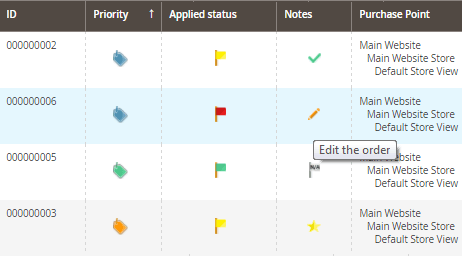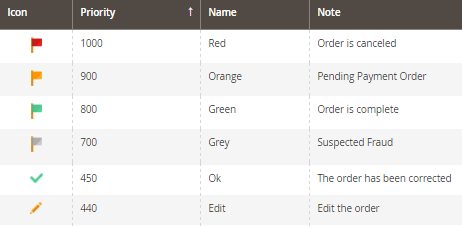 Prioritize your orders
When you prioritize tasks, your work is simplified in times and you can finish it fast. It's a common thing that some orders are more urgent than others, so now you can clearly indicate them with flags. Set priority for each flag and then sort orders by the flag priority to see the urgent orders on top. You don't need to waste your time on search anymore!
Assign flags or badges based on order status automatically
This Magento 2 order attachment extension allows highlighting orders automatically according to their order status. For example, you can set a red flag with 'high priority' that will be assigned automatically to orders with 'Suspected Fraud' status. Or set a flag with 'low' priority to orders with 'Complete' status, etc. This automation saves a lot of your time and helps to react quickly to order status changes.
Assign flags based on shipping and payment methods automatically
It is also possible to apply flags automatically to orders with certain shipping and payment methods. Customize the order grid to your needs by using various sorting conditions.
Mark orders in bulk
And one more time-saving option: with this extension you have the ability to assign labels to multiple orders in one go. All you need is just to select necessary orders and apply an appropriate flag.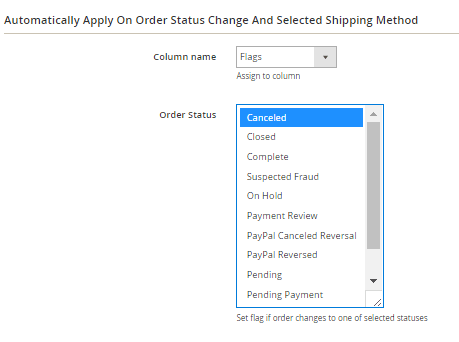 Use readymade flags or create your own
The extension provides you with a catchy set of flags. But if you wish, you can edit default icons and upload an unlimited number of icons created by your own.
To fully optimize your order management, opt for using this attachment extension together with Magento 2 Order Number. Give custom numbers to simplify orders coming from different stores and sort them out avoiding duplications.
Other Features
100% Open Source — Easy To Customize
Follows Magento Code Architecture
Separated HTML/CSS/JS
Simple installation via Composer
* The name "Magento" and the logo are the trademarks of Magento, Inc.
Much easier to manage client orders
Webinomics Online Solutions, Marketing
We needed to be able to visually manage order statuses in the backend. With the extension, it has become much easier to manage client orders. Recommended for all Magento 2 store owners.
Amasty answer
Jul 20, 2020
Natalya Chekanina
/ Head of Sales Team
Hi Steven, thank you for the feedback. Happy to see that the extension has been helpful with order management, and we'll look forward to seeing you in our store again!
Professional and fast
Gallery Holding SpA, Webmaster
Professional and fast! I've noticed that User experience is increased in traffic after Order Notes module.



Amasty answer
Dec 24, 2018
Natalya Chekanina
/ Head of Sales Team
Dear Luca, thank you for your review! We would be happy to see you in our store again!
5 stars!
Moving to M2 we continue buying Amasty extensions. You guys rock! This one is just a simple tool for the order management routine that helps a lot in my every day work. It just works like described. No bugs detected :) 5 stars!
Are you looking to add specific functionality for this extension or want to acquire a reliable development partner altogether? With custom development services by Amasty, you will receive high quality and cost-effective solutions developed by Magento professionals according to industry's best practices.
Magento 2.2, 2.3, 2.4
You can always download the recent version free of charge from your account
Installing an upgrade is easy — check now
My Downloads
Version 1.0.9
Last Update: Oct 19, 2020
Improvement code was refactored according to Magento Marketplace standards
Improvement code was refactored according to Magento Marketplace standards
Improvement code was refactored according to Magento Marketplace standards
Fix we fixed the issue with mass actions displayed not only in Orders grid, but also in other grids.
Fix the issue with changing a flag on the grid was resolved
Fixed an issue with the mass actions display on the order grid in Magento 2.2.X
Fixed an issue with JS on the order grid
Fixed an issue with using not visible shipping methods
PHP 7.1 compatibility was improved