Custom Order Number
for Magento 2
Easily manage your store documents numbering using prefixes and custom starting numbers. Fluently change counter increment step to protect your business data from competitors and attract more customers.
Set custom starting numbers for all order documentation
Hide business data using increment intervals
Use prefixes and postfixes to change documents numbering
Adjust numbers to your local jurisdiction requirements
Win customers appreciation and easily manage order numbering
Store owners often need to change Magento 2 order numbers either for customer convenience or to keep business information safe. In such cases, they need specific functions because native Magento numbering is not very convenient. With custom order module store owners can easily customize invoices, shipments, orders and credit memos according to their needs.
Get all must-have order tools in one pack
Attract new clients using order numbers
It's not a secret that customers are more likely to buy items in big and trusted shops that have lots of buyers. Very often people can judge about your sales volumes by the order numbers. With Magento 2 custom order number extension you can easily change starting order numbers and set custom Magento 2 invoice numbers by adding relevant prefixes and increment steps.
Easily meet your local invoice numbering requirements
With the help of the Magento 2 custom invoice number module you can set necessary invoice numbering that meets jurisdiction requirements of your country or region in a couple of clicks.
Fluently migrate from another webshop to Magento
When you move from another e-commerce platform to Magento you often need to adjust order numbering. In this case, you just need to set order starting numbers and implement them for the new site. See how to migrate all your data to Magento 2 securely.
Keep your business info private
Hide real order numbers from competitors
Thanks to Counter Increment Step option you can change the real numbers of consecutive orders. E.g. when increment of 4 is set, it means that if the first order has id 1, the second one will have id 5.
Make sure your business data is kept secure.
Specify order numbers
The module enables you to set Magento 2 custom order numbers manually. If you specify the starting number and an increment step, the module will change all order numbers respectfully. Using this feature you can keep real order numbers only for internal use.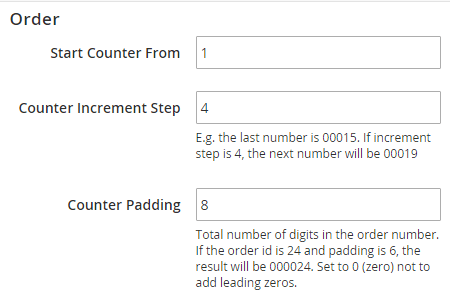 Customizable order documentation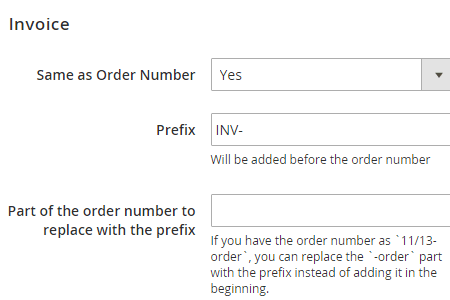 Change number prefix
With the help of Magento 2 order prefixes and postfixes you can easily change number settings for the orders, invoices, shipments and other order documentation.
Customizable order number padding
You can implement a certain length for the order numbers to make them easy to perceive. E.g. if you set a padding as 4 it means that all your Magento 2 order numbers will have four symbols. Therefore, if you have an order starting with 2, its number will be 0002. Using this option you can easily export all your store data to CRM system.
What is number padding or leading zero? See here.
Increase the chances for your emails to be actually delivered to customers
Send reliable emails from popular hosting services and reduce the possibility to get into spam with the magento custom smtp extension.
How to add a prefix to the order number in Magento 2?
Install the extension.
Complete the General configuration of the module by going to the Store > Configuration > Amasty Extensions > Order Number.
Configure the shown fields.
Go to the Invoice Data Configuration section and configure 4 fields in this section.
A prefix is specified according to the type of chosen document in the eponymous section.
According to the statistics, the extension can cover each business need in synergy with the following solutions: magento 2 delete orders and magento 2 custom invoice.
Other Features
100% Open Source — Easy To Customize
Follows Magento Code Architecture
Separated HTML/CSS/JS
Simple installation via Composer
* The name "Magento" and the logo are the trademarks of Magento, Inc.
I would recommande it to all european customers
WiMakeIT, Magento Integrator
Working 100%, just doing what it is supposed to do. No bug at all. We got the extension for automatic document change every 1st January. I would recommande it to all european customers, on order to get for instance one single document range per year and per website, whatever the number of store views.
Amasty answer
Feb 25, 2021
Alena Hamolka
/ Product Team Lead
Dear Maxime, thanks for recommending our extension! It's great to hear that the module has helped you with your specific task, and if you are looking for any additional features for your Magento site, please let us know. Our team will be happy to see you in our store again and help you find the most suitable solution!
Helps to get logically arranged order numbers
Magento does not allow custom numbering of orders. This extension helped me to set up a number of orders for each store view separately according to my requirements. Very easy customization of orders number. Really easy to use. I would recommend it to everyone who wants to get logically arranged order numbers and to those who have more than one store view.
Amasty answer
Feb 11, 2021
Alena Hamolka
/ Product Team Lead
Hi Viktor, thank you very much for your review and for being our loyal customer! It is great to hear that the extension helped you to arrange order numbers according to your needs. Please contact us anytime you need additional functionality or if you have any questions, we'll be happy to help!
Happy with a product
I needed this kind of extension to get things to work with an other application. As i chosen for Amasty for most of the extensions i use and where i'm happy with it was not hard to chose.
Amasty answer
Mar 29, 2019
Natalya Chekanina
/ Head of Sales Team
Dear Michael, thank you for your review. We will be happy to see you again in our store!
Very useful
I have multi national audience and use 5 languages which caused one day a huge trouble with order numbers. At that time we looked for a solution to gradate the order for our admin users not just to hide the info from our competitors and the module did well from the start.
More than satisfied
I run it long ago and glad with the support and features, but after they added country code I'm more than satisfied.
Great customer service
Responsive support and complete compatibility with magento 2 puts it in the first place. Just installed it caused some troubles conflicting with some 3party modules but the support was very helpful to fix this.
not bad
Despite the previous variant I ran on m1 this one is much better. I couldn't see previous numbers on the last version and this extension has it all. Though it would be great to have duplications verification, as it'd simplify the work with it. Anyway, this's a good choice.
Recommend
I've been looking for such extension and finally chosen amasty's. It works perfectly with no issues in place. I'd really recommend this one.
Works out of the box
I bought many extensions from amasty and this was no exception. It works well for a year already and I'm thinking of buying the multi-warehouse too to use these two at most.

needs improvements
Works from installation but I did have issues when creating shipments an' orders. I contacted support an' only got response in 2 days. Not cool, though solved my problem and promised to fix the module. So, I hope they will.
Easy to install and use
I did it all myself without any outer help. I had some misunderstanding with leading zero for numbers but solved it with the guide.
does what it says
our company bought the extension from amasty because we have a lot of their tools and we are satisfied with the quality.
however, we really need a tool which will give completely random order numbers without changing the settings again and again - automatically. there is no such tool on the market.
maybe you guys could think about it? many shops with a middle or large amount of orders would love that =)
Responsive tech managers
Helpful module and support team. We've used it for 3 months and faced only one error on installation and the tech helped to fix it fast.
Frontend
add a product to cart, then go to checkout to see order numbers
Are you looking to add specific functionality for this extension or want to acquire a reliable development partner altogether? With custom development services by Amasty, you will receive high quality and cost-effective solutions developed by Magento professionals according to industry's best practices.
2.3.6, 2.3.6-p1, 2.4.0-p1, 2.4.1, 2.4.1-p1, 2.4.2
You can always download the recent version free of charge from your account
Installing an upgrade is easy — check now
My Downloads
Version 1.1.7
Last Update: Nov 11, 2020
Fix we fixed the issue with increment_id updating on object save
Compatibility now the extension is compatible with Magento 2.3.6 and 2.4.x
Compatibility compatibility with Amasty Admin Actions Log was enhanced
Fix we added a check for entity type for sequence plugin
Fix we resolved the problem with the processing of the 'country_code' variable
Fix we fixed the issue with the replacing of the 'country_code' variable in orders
Fix we resolved the problem with the creation of invoice, shipment and credit memo
Fix we added an option to use only 'counter' in the order number pattern
Improvement we reviewed and enhanced the code of the extension. Now the process of order placement is significantly advanced.
Fix we solved the problem with the same numbers for orders that were placed at the same time
Fix the error `The requested store wasn't found. Verify the store and try again.` was resolved
Fix the issue with the error after updating the extension was resolved
New the new variable {country_code} is available for custom order number. A country from the shipping address will be used for generating the country code to the order number
Version 1.0.8
Last Update: Jun 18, 2018
Fix the issue with increasing the order number after the invoice or shipment creation was resolved
Fix the problem with getting LastIncrementId was resolved
Fixed an issue with the counter when the order was placed in other days
Compatibility with the Amasty Multi Warehouse Inventory extension was added
Fixed issue with Same as Order Number setting
Fixed an issue with reset counter: now the counter doesn't reset if this option is not enabled in settings
Fixed the problems during the order, invoice and shipment creation
Code Refactoring
Fix for passing order ID to PayPal