Win customers appreciation and easily manage order numbering
When using Magento, store owners often need to change order numbers either for customer convenience or to keep business information safe. In such cases, they need specific functions because native Magento numbering is not very convenient. With custom order module store owners can easily customize invoices, shipments, orders and credit memos according to their needs.
Attract new clients using order numbers
It's not a secret that customers are more likely to buy items in big and trusted shops that have lots of buyers. Very often people can judge about your sales volumes by the order numbers. With Magento 2 custom order number extension you can easily change starting order numbers and Magento 2 invoice numbers by adding relevant prefixes and increment steps.
Easily meet your local invoice numbering requirements
With the help of the Magento 2 custom invoice number module you can set necessary invoice numbering that meets jurisdiction requirements of your country or region in a couple of clicks.
Fluently migrate from another webshop to Magento
When you move from another e-commerce platform to Magento you often need to adjust order numbering. In this case, you just need to set order starting numbers and implement them for the new site.
Keep your business info private
Hide real order numbers from competitors
Thanks to Counter Increment Step option you can change the real numbers of consecutive orders. E.g. when increment of 4 is set, it means that if the first order has id 1, the second one will have id 5.
Specify order numbers
The module enables you to set Magento 2 custom order numbers manually. If you specify the starting number and an increment step, the module will change all order numbers respectfully. Using this feature you can keep real order numbers only for internal use.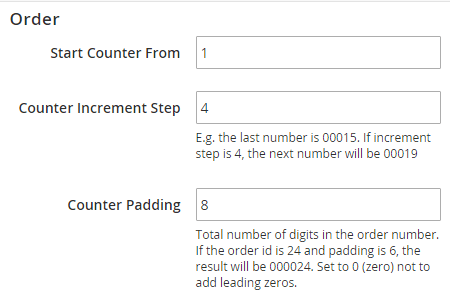 Customizable order documentation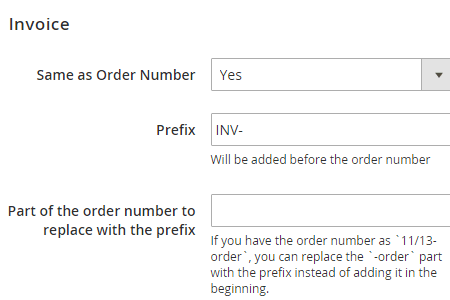 Change Magento order number prefix
With the help of Magento 2 order prefixes and postfixes you can easily change number settings for the orders, invoices, shipments and other order documentation.
Customizable order number padding
You can implement a certain length for the order numbers to make them easy to perceive. E.g. if you set a padding as 4 it means that all your Magento 2 order numbers will have four symbols. Therefore, if you have an order starting with 2, its number will be 0002. Using this option you can easily export all your store data to CRM system.
Other Features
100% Open Source — Easy To Customize
Follows Magento Code Architecture
Separated HTML/CSS/JS
Simple installation via Composer
* The name "Magento" and the logo are the trademarks of Magento, Inc.
does what it says
our company bought the extension from amasty because we have a lot of their tools and we are satisfied with the quality.
however, we really need a tool which will give completely random order numbers without changing the settings again and again - automatically. there is no such tool on the market.
maybe you guys could think about it? many shops with a middle or large amount of orders would love that =)
Write Your Own Review
Frontend
add a product to cart, then go to checkout to see order numbers
Version 1.0.6
-
March 15, 2018
– Fixed an issue with the counter when the order was placed in other days
Version 1.0.5
-
December 26, 2017
– Compatibility with the Amasty Multi Warehouse Inventory extension was added
Version 1.0.4
-
November 14, 2017
– Fixed issue with Same as Order Number setting
Version 1.0.3
-
October 26, 2017
– Fixed an issue with reset counter: now the counter doesn't reset if this option is not enabled in settings
Version 1.0.2
-
August 02, 2017
– Fixed the problems during the order, invoice and shipment creation
– Code Refactoring
Version 1.0.1
-
August 01, 2016
– Fix for passing order ID to PayPal