PDF Customizer
for Magento 2
Easily create custom invoices without any programming skills with Magento 2 PDF Invoice. Save your time on converting HTML code to PDF templates to send invoices, orders, shipments and credit memos to your customers.
Easily convert HTML code to PDF template
Use preconfigured templates or create a custom one
Add unlimited quantity of templates
Automatically attach PDF files to sales emails
Print PDF files in bulk from admin panel
Enjoy compatibility with Jet Theme by Amasty
CUSTOMIZE PDF INVOICES WITHOUT ANY SPECIFIC TECHNICAL SKILLS
Challenge
PDF invoice documents are an important part of any online business. Default templates often look boring and lack such substantial details as logos, product details, footer, company information, etc. But as you probably know customizing templates into PDF is rather challenging task, which requires programming skills and takes a lot of time.
Solution
Magento 2 PDF Customizer is an advanced tool that helps customize invoices or other PDF documents quickly and easily. Use preconfigured templates, make changes in existing ones, or create your own templates. Add any custom information and adjust design to make your invoices look good, individual and corresponding your business needs.
What benefits do you get for your store
Save your time creating and editing templates without any special technical skills
Improve customer experience making your templates appealing and informative
Increase your brand recognition by creating stylish and memorable PDF documents
ENHANCE BRAND RECOGNITION WITH PROFESSIONAL PDF LAYOUT
Use preconfigured templates
Magento 2 PDF Invoice extension provides you with a set of preconfigured templates for invoices, orders, shipments and credit memos. Apply ready-to-use custom templates to stand out from competitors.
Create custom invoice templates
Easily modify any existing PDF invoice template in Magento 2 backend. Adjust fonts and colors, add logo and any custom information. You can also create new templates from scratch and implement PDF structures according to your brand style guides.
Preview template as PDF
No need to send test emails every time you make changes - with Magento 2 Custom Invoice you can preview a template as a PDF file and check all editing results right from the backend.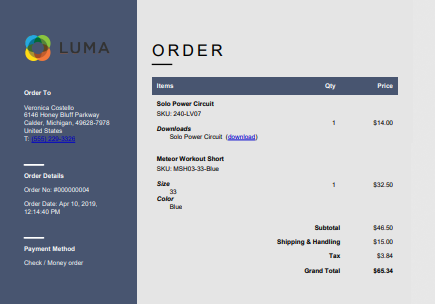 IMPROVE YOUR COMPANY'S REPRESENTATION WITH WELL-TUNED DOCUMENTS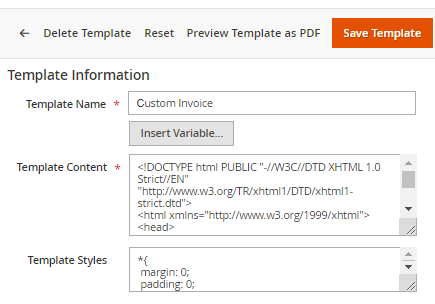 Easily convert HTML code to PDF
Utilize advanced HTML/CSS editor to modify your template: add custom styles, create extra content and insert any variables you need. Swiftly convert HTML to PDF after all changes are applied.
Use Magento variables
Customize your invoices, orders, shipments and credit memos using preconfigured Magento variables for each type of template.
Provide extra information
Thanks to multiple compatibilities, you can make your emails maximally informative. Add additional valuable data to PDF invoices with Amasty Delivery Date and Order Attributes extensions for Magento 2.
EFFICIENTLY MANAGE ALL PDF TEMPLATES FROM ADMIN PANEL
View all templates in one place
Magento 2 auto invoice & shipment extension allows you to track and manage all the templates in a handy grid. Access any template to see details or make changes. Additionally, you can preview any template right from the grid without the necessity to open each of them.
Print PDF documents in bulk
To speed up documentation management, print PDF invoices, orders, shipments and credit memos in bulk right from the relevant backend grids. Also, the extension allows you to print a particular order PDF if needed.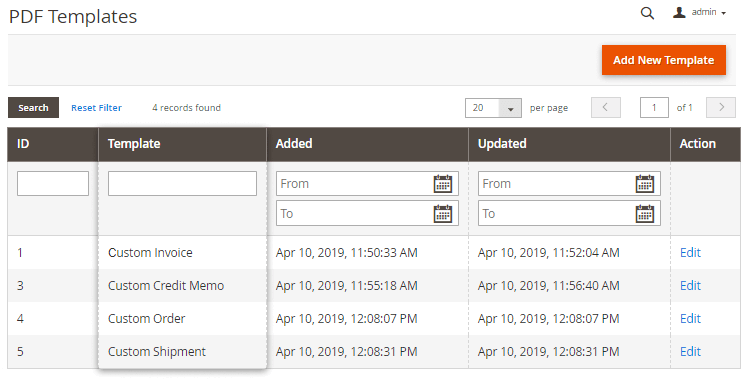 Auto-attach PDF files to sales emails
With Magento 2 PDF Invoice extension you can automatically attach PDF invoices, orders, shipments and credit memos to sales emails. Provide shoppers with additional information to improve their experience.
Let customers print order PDF from account
Provide your customers with a convenient opportunity to download and print orders PDF from 'My Orders' section from their account. This way, shoppers won't miss valuable docs and, at the same time, will recognize your PDFs.
Additional options for advanced usage
Manage 'Print' links in customer accounts
You can decide whether to replace the default 'Print' link or not. If you enable replacement, shoppers will be able to download a customized PDF version. You can set different strategies for different doc types, e.g. leave the default links for credit memos only.
Target your emails
If you have a wide audience, you need to match the expectations of each of them and provide an individual approach. With the module, you can use specific PDF templates for particular store views and customer groups.
Add extra link for orders
As customers interact mostly with orders, the more detailed info you give them, the more loyal they become. Add an extra link to a custom PDF without replacing the default one. By having both options available, shoppers will get all the required info and won't miss any important details.
Create a catchy link label
To draw customers' attention and encourage them to click the custom PDF link, you can adjust the label. Create a motivating offer (e.g. "Download PDF with extra details") and be sure that customers will notice the link.
How to customize invoice PDF in Magento 2?
Normally, you need to write custom code to create a unique invoice PDF, however, with the module, even a nontechie can convert HTML to PDF template. Use our HTML/CSS editor to create as many templates as needed, preview them as PDFs and convert. In this blog post, you'll find useful hacks on how to create a one-of-a-kind invoice PDF in Magento 2.
According to the statistics, Magento 2 auto PDF invoice extension can cover each business need in synergy with the following solutions: magento 2 xml, magento 2 custom checkout fields and magento 2 order tracking.
Increase the number of repeated purchases
Add
Magento 2 Follow Up Email
to generate numerous triggered emails based on customer activity and build productive relationships with clients. Customize email templates and effectively manage emails dispatch.
Other Features
100% Open Source — Easy To Customize
Follows Magento Code Architecture
Separated HTML/CSS/JS
Simple installation via Composer
* The name "Magento" and the logo are the trademarks of Magento, Inc.
Saves a lot of time for webshop owners
AV-Telecom, Owner
With the extension, we can automatically attach PDF files to sales emails thus improving customer experience. Customers find this more pleasant than printing an email. Adding a PDF to sales emails and being able to print PDF via the account dashboard makes it easier for the customer to save purchases directly in their accounting software. This extension is a recommendation for anyone who has a Magento webshop. The use of this extension saves a lot of time for webshop owners and the standard templates are very easy to adjust. Customers are immediately provided with PDF documents and no longer need to print screenshots or emails for their accounting.
Amasty answer
Feb 15, 2021
Natalya Chekanina
/ Head of Sales Team
Hi Peet, thank you very much for your detailed feedback! It is great to hear that the extension has helped you to enhance your customers' experience by adding PDF documents to sales emails. Don't hesitate to contact us anytime you need additional functionality or if you have any questions, we'll be happy to help!
Very happy about it
Eurotackle, Sales Manager
Recommend it to everyone that uses Magento 2. Better communication with our customers with the pdf printing
Amasty answer
Jun 18, 2020
Natalya Chekanina
/ Head of Sales Team
Hi Sem, thank you for the kind words! Happy to see that the extension has helped you improve the communication with your clients.
Love customization
Nice tool, especially its customization options. First I worked with ready-made pdfs, now I change colors, layouts, logo location, what's not. So I make pretty designs with lower cost.
Lagged but recovered
At first it was lagging. Team helped very fast, but still that day 3 purchases were cancelled. Now, I have no complaints.
piece of cake
Without it sales were awful. I'm no programmer, just sales person, but I had to find a way to draft receipts and docs for buyers in pdf. Even had to pay devs. With this simple addon and templates I'm all independent.
Are you looking to add specific functionality for this extension or want to acquire a reliable development partner altogether? With custom development services by Amasty, you will receive high quality and cost-effective solutions developed by Magento professionals according to industry's best practices.
2.4.2-p1, 2.3.7, 2.4.2, 2.4.1-p1, 2.3.6-p1
You can always download the recent version free of charge from your account
Installing an upgrade is easy — check now
My Downloads
Version 1.3.2
Last Update: Feb 08, 2021
Fix we solved the problem with attaching pdf files to order confirmation email
Fix we solved the problem with sending tracking information
Fix we solved the problem with incorrect font weight in templates
Fix we solved the problem with order placing while using PDF Order templates
New we added an ability to bulk print orders PDF from orders grid
Improvement now you can preview PDF template from templates grid
Fix we solved the problem with empty BCC in email templates
Version 1.2.1
Last Update: Feb 06, 2020
Fix we solved the problem with order data in PDF on Magento 2.3.4
New ability to configure specific PDF templates for particular Storeview x Customer Group combinations was implemented.
New more variables are now available to insert into your templates!
Improvement minor code adjustments were made.
Fix issues with templates preview were resolved.
Fix issues with configurable product options rendering were resolved.
Fix issue with wrong address details in a printed copy was fixed.
Fix known compilation issues with document styles were resolved.
Version 1.1.3
Last Update: Dec 12, 2019
Fix we solved the problem with email attachments on Magento 2.3.3
Improvement now extension includes predefined pdf templates in grid after installing
Fix the issue with subtotal layout was resolved
New the extension now incorporates PDF templates for Invoice, Order, Shipment and Credit Memo already ready to use
New simple data for PDF preview was added
Compatibility with Amasty Delivery Date and Amasty Order Attributes extensions was added