Screenshots:
Increase and decrease prices in bulk
'Update price' action
Using Magento bulk price update option, you can decrease and increase price in bulk. The price can be changed both by a flat amount or by percentage. For example you would like to decrease price of 200 products by 10 dollars/euros/etc. Select the products, choose 'Update price' action, type -10 in the text field and click 'Submit'. That's it.
'Update Special Price' action
It works the same way as 'Update price', only for special price.
new!

'Modify Special Price Based on Price' action

This one lets you create special prices based on regular prices. For example you can make special prices 20% less or 15 dollars/euros/etc less than regular prices.
'Update price based on cost' and 'Update special price based on cost' actions
Extremely useful for drop shippers and other store owners, who get product feeds from suppliers and just add a certain margin to the product cost. Now it will take you just a few clicks to correct prices instead of 'just' a few hours or days.
new!

'Update all Price types' action

With the new action its possible to quickly update all 'price' type attributes as well as a tier price and a group price.
Price rounding
Very often prices can look not very nice after updates, e.g. you can get prices like 3.87, 8.74, etc. The module allows to automatically round the prices to .50, .99 or .00. So after the update prices will look properly - 5.99, 9.00, 4.50.
Mass category assignments

'Assign Categories' action
Enables you to mass assign products to categories - select any number of products, then choose the category and press 'Submit'.
'Remove Categories' action
This action lets you remove multiple products from any category.
new!

'Replace Categories' action

It is possible to change category assignments for products. So you can remove products from their current categories and add them to new categories with one action.
Relate products fast
'Relate', 'Up-sell' and 'Cross-sell' actions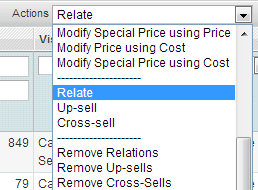 With the help of these actions you can populate Magento cross-sell or up-sell blocks as well as related products very fast. The extension creates backward and cross links between products while they are being assigned as related or up-sell or cross-sell. The extension provides 2 linking algorithms: 2 Way and Multi Way. You can choose which algorithm to use. If you change algorithm down the road, previously interrelated products will not be affected.
2 way linking
This algorithm will create only backward links. For example you have lighter, wood and cigarettes. If you indicate wood and cigarettes as up-sells for lighter, the lighter would become an up-sell for both wood and cigarettes, but wood and cigarettes would not become up-sells for each other. Works the same way for cross-sells and related products.
Multi way linking
This mass product relator tool will create cross links between products. Let's say you have products A, B, C and D and want all these products to be cross-sells for each other. For this you activate multi-way relating algorithm. Then select products B, C and D on the product grid, choose 'Cross-sell' action, indicate id of product A in the special text field and click 'Submit'. After that all these products will become cross-sells for each other (e.g. C will have A, B and D as cross sells). This algorithm works on analogy for related products and up-sells.
new!

Removal of relations

In addition to creation of relations our module also allows to very quickly remove all existing relations of products.
Copy product information easily

'Copy Attributes' action
Allows to copy attribute values from one product to multiple products. You can use it instead of 'Update Attributes', as it is more user-friendly.
'Copy Custom Options' action
It enables you to copy custom options from any product to any number of other products. So if you need to add some custom option to a large number of products, you won't need to edit each of them now - just edit one and then copy the custom options to all others in a few clicks. Save your lifetime, you can't buy it :).
'Copy Images' action
Enables you to quickly copy image from one product to as many products as you need. Current product images are not deleted while copying. The action allows to copy all image info, including base image, thumbnail, etc.
Additional module capabilities

New ability for Magento - 'Change Attribute Set' action
With this one you can replace any Magento attribute set of your simple products (both for individual and for multiple products) at the grid. So if you've used a wrong attribute set for a product by mistake - no need to spend time on recreating the product, just change the attribute set to the right one.
'Remove Images' action
Enables you to remove images for any number of products in just a few clicks. Select the products on the grid, choose the action and click 'Submit' button.
new!

'Fast Delete' action

When you need to delete just 5 products, that's fast using the default delete function, however with 300-500 items it is a completely different story. 'Fast Delete' makes such tasks really easy. So you can very quickly delete demo items, products that were imported by mistake, etc.
new!

Replace text in attributes

It is rather hard sometimes to replace some text in a large amount of products or to changed the word in all places of the long description. With 'Replace Text' action you can easily change text in different product attributes such as name, product description etc.
Display only the actions you need on the product grid
The module offers a lot of actions for product management, which may be confusing at times. So you can enable only the actions which you are using.
Saves huge amount of time
You will spend hours or, in case of very large catalogs, even days of your time to update prices and categories for a large number of products. Make it minutes with Mass Product Actions.
Fully compatible with our Extended Product Grid with Editor extension
Among other features Extended Product Grid with Editor extension allows to display categories on the product grid and filter products by categories. So if, for example, you plan to add some products to one more category (or transfer the products from one category to the other), you will easily find the necessary products using the category filter provided by Extended Product Grid and then assign them to another category with the help of Mass Product Actions.
Advanced tool to enhance your productivity
To start editing your data even faster try our Mass Order Actions extension as well. It will help you to dramatically enhance the quality of your services by enabling to process orders, submit shipments and create invoices for multiple orders just in a couple of clicks.
7 reasons to choose
Risk-free Investment
30-day moneyback guarantee for all extensions. No questions asked.
Comprehensive Documentation
There is a detailed user guide with examples even for tiny addons. FAQ section and videos also available.
Solutions Which Work
Careful in-house testing ensures you get robust applications. Multiple stores support. Custom themes compatibility. All included.
Outstanding Support
Our support service is friendly and of high quality. And it is free. Unbelievably. Just check independent reviews at Magento Connect.
Usability and Performance
Nice and easy to use interfaces. Fast algorithms. Save your time and get things done.
Flexible and Easy Licensing
No product or store view or domain limits. No monthly fees. No hidden charges. One extension license for one Magento installation.
Long Term Strategy
We've been in the market for 5+ years. We're proud to be a Bronze partner and are planning to stick to Magento platform for years ahead. We're doing our best to build extensions which maximize effectiveness of your business. We're open to customers' suggestions and constantly update our products to match your needs.
Other Features
100% Open Source — Easy To Customize
Follows Magento Code Architecture
Separated HTML/CSS/JS
W3C Validated Code
Online Extension User Guide
Product questions
Can I change prices per website?

How to change attribute set in Magento?
Love this product, works great.
I must say that I am so surprised how easy this product is. I had issues with a couple of things and Amasty support was right on it. Great support and all I can say if you have a need for mass product updates get this extension.
I purchased a bunch of Amasty's extensions and am very happy with all of them.

Even better than expected
The tool is great for those who need to cope with more than 100 thousand items at a time like we do. Actually it saved us a lot of time as our admins could quickly create special prices for countless T-shirts and pants we sell, this is especially cool for mass holiday deals.
No bugs, no 3d party conflicts, we hope other Amasty mods we are going to install will also run smoothly and won't cause us any unexpected troubles. The only thing we'd like to see is the ability to set the start and ending time for special prices.
sandxi,
Magento Connect
Excellent Extension
This extension has save us a bunch of time. It is definitely worth the investment. I would highly recommending this to anyone with a lot of products that need editing. Huge time saver!
Gladi8tor
Magento Connect
Definitely helped the business
I highly recommend this extension to store owners. It saves tons of time! I don't want to remember the days I live without the extension and wish I could buy it earlier.

Love Amasty!
Thanks a lot for your products. They are always of a good quality. Support team is very friendly. I'm happy to use Amasty extensions!
Extension is working with magento 1.8 version
Hi,
This extension is working well with magento 1.8 version and also support guys are very helpfull and quick reply and get solve my problem with in minute.
So i will prefer all of you, we can use it.
Does everything I need!
Product works perfect! Amasty installed it very quickly. We're primarily using it for bulk categorizing but will be using it for other ideal mass product actions in the near future. It works perfectly with our current custom product grid. Highly recommended. Amasty only puts out the best!
Highly recommend!
If your store inventory needs bulk actions, I bet this plugin is the right choice, Having hundreds of items in our store and eventually a lot of categories we wouldn't be able to cope with them without 3d party solution. I highly recommend this one to all huge shop owners.
Very Useful,support team is top!
very good extention.
I found a bug after I installed this extension. But the support team has corrected the bug in only a few days. It works well now in my shop,which has two languages. I have saved a lot of time to copy the custom options to both store views.
A "Must have" extension
This along with the "Extended Product Grid with Editor" were my first 2 Magento extensions - both from Amasty. I wasn't even looking for the features but I came across these extensions and it just made sense to have them to simplify setup of 1200 + items and attributes. Every time I am in my test store without this extension I am regularly frustrated with how long it takes to do simple product editing. Seriously I don't think you realize how much time you are wasting updating product information without these extensions. Highly recommend them both. As for support, never needed it. It just plain works!
Simply a must have
The most important question is: why didn't Magento add these must have functionalities as standard functionalities in the Magento software?

Since I've ordered and added this extension to my shops, I can't imagine working without this tool.

So I would like to encourage everyone to theck this out. And add it to your shop. Simply a Magento must have, without any doubt!
Copy Custom Options to Same Product
I was looking for a extention that would make it possible to create the same custom option on a product and duplicate it within that same product. For instance my company sells a product that has a drop down with 50 different selections on it with varying flavors and such. I want to be able to duplicate that same option over and over on the same product for bulk items. For instnace they are buying a package deal with 10 bottles of the product. Well I have to create the custom option 10 seperate times with 50 options which is 500 times i have to add that which sucks...
Makes me feel good!
This extension saves me so much time, that i just feel happy! Update special prices functionality is great!
I love it!
i bought Mass Product Actions and Extended Product Grid with Editor .. make me happy with my store. worth every single dollar.


thank you ...
saving time saving money !
Great support great team great products !!

just awsome ;)

thanks Amasty Team
Brilliant
What can i say this company are outstanding. The addons are brilliant and you can't fault the support you receive from them.

mcmatthews, www.Plumb-bay.com
Cleaned up catalog of over 80,000 products! Great!
This extension is wonderful! Saved me a load of time cleaning up a very disorganized catalog of over 80,000 products!
Was very easy to install and support team has gone above and beyond to help me fix a few issues. Great extension, great people.
Thanks !

jhinton, Magento Connect
Quick fix for to work perfectly
This is a fantastic extension and the support is great. Initially it wasn't rounding to 0.00 (only 0.50/0.99 or some other value), but within 24 hours I had been supplied with a fixed version which is working perfectly.
Thank you for a great extension and support.

richpig, Magento Connect
Perfect module
I have been using this now for about 6 weeks.it saves so much time Great extension.

David Hedley,
facebook.com/david.hedley.5621
Will recommend
Great extension, fantastic support, fast response regarding obtaining updated extensions after purchase. Highly recommended.

webcitz ,
Magento Connect
Good tool for online shop
When we started with Magento, we like many other people only had a few attribute sets. After 3000 skus later we needed to move many products to New specific attribute sets with those specific Attributes. Thanks to this extension we finally moved my products to the appropriate ones, which makes the layered navigation work great. Thanks to Amasty and the great extension, we finally can fix our site. On top of that the other features are also amazing like the Related Algorithm and many other features. Thanks Guys!

Edward,
AW
Perfect!
This extension makes updating our product catalog so much faster!

We had some conflicts between this extension and an other installed extension but with the great and fast support from Amasty it's working fine now!
Perfect for managing catalog
We really appreciate Amasty extensions, we have several modules and all them are working perfectly. Mass Product Actions is maybe one of the most useful ones, it really helps in the catalog maintenance and is a great tool for time saving
Very happy with Mass Product Actions.
We've used Mass Product Actions the most in doing the initial product loading for our site. It's saved us a lot of time with applying Categories and Related Products / Up-sell / Cross-sell, especially when more than one product is getting the same setup. We bought this extension after having a similar experience with the Extended Product Grid extension. Pairing the two together has made setup a lot easier and it paid itself off in our labor within a day of buying it.
Great extension, great service
Having a huge amount of categories and items in my shop, I really needed an extension to help mass edit.
Extension works as stated and being a "newbie" with Magento, got fast en adequate help from the helpdesk.
Great extension: time saver!
Great extension: does exactly what it promised. Easy installation and quick support if needed.

One aspect on my wishlist would be to use product sku's instead of ID's for relating products.
Write Your Own Review
Version 1.5.3
-
Jun 03, 2015
– Fixed warning on Remove Category and Replace Category actions
Version 1.5.2
-
Jun 2, 2015
– Replace Text action fix
Version 1.5.1
-
May 14, 2015
– Workflow improvements
Version 1.5.0
-
Mar 26, 2015
– New action - replace text in attributes
Version 1.4.3
-
Jan 27, 2015
– New action to update all types of price. Can update all "price" type attributes as well as tier price and group price.
Version 1.4.2
-
Aug 04, 2014
– Minor compatibility fix
Version 1.4.1
-
June 23, 2014
– Tested with latest Magento CE 1.9 release.
Version 1.4.0
-
Feb 19, 2014
– Compatibility with Magneto CE 1.8.1 and EE 13.1.2 has been verified
Version 1.4.0
-
Dec 19, 2013
– * minor code refactoring
Version 1.3.9
-
June 25, 2013
– New action 'Replace Categories'.
– Optimized code to reduce possible conflicts.
Version 1.3.8
-
May 25, 2013
– Relations removal algorithm.
Version 1.3.7
-
May 7, 2013
– New action 'Remove Images'.
Version 1.3.6
-
February 11, 2013
– You can configure which actions to show on the product grid.
– Additional ways for relating products (ids to selected or selected to ids).
– 'Copy images' action now allows to copy all image info (base image, thumbnail, etc).
– Price rounding works with 0.00 condition.
Version 1.3.4
-
October 23, 2012
– New actions - update price based on cost, update cost based on price, update special price using cost.
– Fix for undefined index in categories (for some cases).
Version 1.3.2
-
June 7, 2012
– Better compatibility with versions older than 1.5.1.
Version 1.3.1
-
April 5, 2012
– New actions: 'Copy attributes', 'Copy images'.
Version 1.3.0
-
November 7, 2011
– New actions: 'Relate', 'Up-sell', 'Cross-sell' with linking algorithms.
Version 1.2.2
-
October 27, 2011
– New 'Modify Special Price Based on Price' action.
– Bugfix.
Version 1.2.0
-
September 28, 2011
– New 'Copy Custom Options' action.
– Code optimization.
Version 1.0.1
-
August 29, 2011
– New 'Change Attribute Set' action.