Shipping Cost Calculator
for Magento 2
Let your customers calculate shipping rates before the checkout to decrease abandoned cart rate by up to 44% and enhance their shopping experience.
Let shoppers calculate shipping rates before the checkout
Choose a position for your shipping calculator on Magento 2 product pages
Don't display the calculator on particular products
Notify customers in case you don't ship to their area
Set default 'Country', 'State' and 'Zip Code' fields
Add a description text before the calculator
DECREASE ABANDONED CART RATE BY UP TO 44%
Challenge
When customers add a product to a shopping cart, they don't know yet what the total price (including shipping) will be. When shoppers see the final one on a checkout page and it doesn't suit them, they leave the store and abandon their carts just because they haven't been ready for the total sum.
Solution
Give your customers a possibility to calculate shipping rates right on product pages far before the checkout with Shipping Cost and Price Calculator for Magento. Thus, you'll decrease your store's abandoned cart rate by giving customers the precise sum info beforehand and enhance the shopping experience.
What benefits do you get for your store
Decrease your store abandoned cart rate by up to 44% with Shipping Cost Calculator
Enhance your customer shopping experience with easy-to-use shipping calculator
Improve customer loyalty by letting them know the final price before the checkout
DECREASE CUSTOMERS' DECISION-MAKING TIME
Enable calculating shipping rates before the checkout
Let customers calculate shipping cost right on Magento product pages. All that a customer has to do is to fill in the country, region and a postcode fields. The calculator shows all available shipping options for a сustomer's area. Thus, users can find out if shipping will be suitable for them.
Choose the best position for your shipping calculator
According to your webstore layout and design, place a shipping calculator after product description or add an additional tab to product tabs on product pages. You can also change the tab default name.
Ignore the calculator display on particular products
If you don't ship particular products or categories of products, you can easily disable the shipping calculator display for them. Just specify the exceptions in the appropriate setting field and display only relevant shipping data.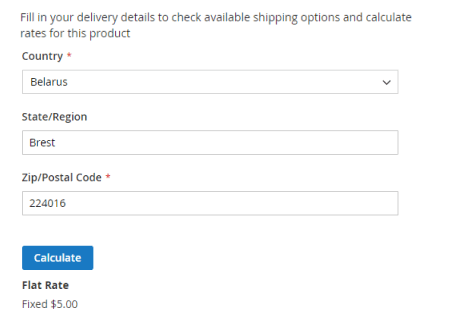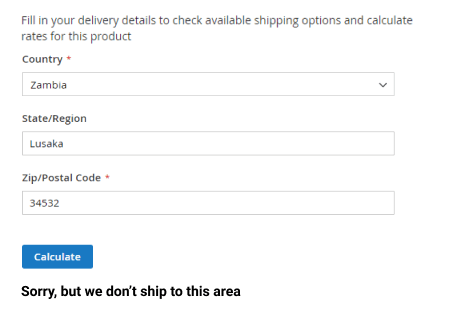 Configure calculator fields display
Magento 2 price calculator consists of 3 fields: 'Country', 'State' and 'ZIP'. If your shipping rates don't differ according to any of these fields, feel free to exclude them. For instance, you may leave only the 'Country' field if you sell worldwide, or vice versa leave only 'Zip/Postal Code' if you sell within one region.
Set default values for fields
If you ship mainly to one country or state it's useful to set default values for your shipping calculator fields. This will save customers' time, as they won't have to fill in each field manually.
Notify customers in case you don't ship to their area
Configure a polite excuse to be shown in cases when you don't ship to a customer's area. It helps to avoid misunderstandings and build strong relationships with your buyers.
Extra frontend options for your calculator
Customize shipping calculator title
The first thing you need to do is to attract customers' attention to a new option. Create a catchy title in the backend settings and motivate shoppers to make use of the calculator.
Adjust Calculator Description
Also, you can make the option understandable for customers by providing a detailed description. Explain what the option is useful for and how to use it. Leave the setting empty if you don't need to provide any details.
Make your shipping process both legal and cost-effective.
Restrict shipping methods using various product, cart and customer parameters with
Shipping Restrictions for Magento 2
extension.
Other Features
100% Open Source — Easy To Customize
Follows Magento Code Architecture
Separated HTML/CSS/JS
Simple installation via Composer
* The name "Magento" and the logo are the trademarks of Magento, Inc.
It rocks ;)
I don't know about the percentage yet, but I see that cart abandonment really reduced. Mostly people who can't afford shipping fall off before the checkout. It's only been 3 days, but all shoppers who got to the checkout paid so far.
One of our best choices
Now we don't show calculator for extremely fragile products. What we have? Less negative comments for refusing to ship them, better store rating.

Not always easy
I like this module, it's good. For me problem happen when I use custom price I set with m2 table rates module. It also works, just takes time to set up. Customers get mad and don't wait sometimes.
Are you looking to add specific functionality for this extension or want to acquire a reliable development partner altogether? With custom development services by Amasty, you will receive high quality and cost-effective solutions developed by Magento professionals according to industry's best practices.
Magento 2.2, 2.3, 2.4
You can always download the recent version free of charge from your account
Installing an upgrade is easy — check now
My Downloads
Version 1.0.3
Last Update: Sep 02, 2019
Fix the issue with error message was resolved
Fix the issue with shipping method restrictions was resolved