Free Shipping Bar
for Magento 2
Magento 2 Free shipping bar helps boost order value and sales by delivering a tempting offer.
Display a free shipping bar to show the amount left until free shipping
Auto-update the current cart total and the remaining amount
Display success message when customer reaches cart subtotal goal
Use a flexible design and customization for your free shipping bar
Enjoy compatibility with Jet Theme by Amasty
Challenge
Customers often prefer a certain web store just because it provides free shipping of its products. But there are also annoying cases, when the store owner provides free shipping, but doesn't show an appropriate message on his website pages to inform customers of such opportunity. In this way, it may negatively affect customer satisfaction and cause the loss of sales.
Solution
With Magento 2 free shipping bar extension online buyers will be informed in an appropriate friendly manner of the amount they need to spend to get free shipping. The bar takes little space and can be displayed on multiple store pages, being updated automatically with any change in a cart. All this helps you increase order value and build strong relationships with customers.
What benefits do you get for your store
Boost sales revenue by increasing customers shopping cart value
Increase conversion rate by promoting an engaging offer
Build customer loyalty by timely informing about extra benefits
PROMOTE YOUR FREE SHIPPING OFFER BASED ON A CART GOAL
Auto-calculate the current cart total and the remaining amount
Set up a goal for free shipping and the extension will calculate a customer's remaining amount automatically. If the cart total is changing, the amount will be re-calculated.
Show success message based on current cart total
Free Shipping Bar extension automatically calculates and shows a relevant message to customers according to the current cart total. Customize text for any message: initial, in progress, and achieved. As an alternative, specify content for free shipping terms to let know customers about delivery conditions.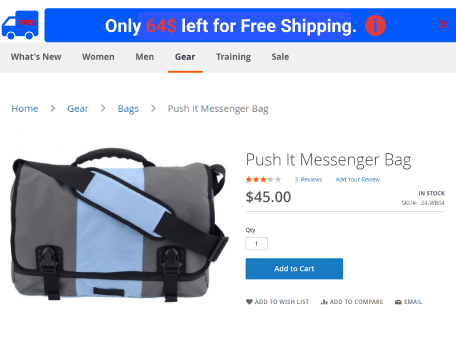 Display free shipping bar on multiple pages
Put the bar on different pages of your online store: home page, category pages, product pages, search pages, shopping cart and another pages. Make your free shipping bar visible anywhere as an important reminder.
Create unlimited number of free shipping bars for different customer groups and store views
For example, you want retailers to pay more than other customers to get free shipping. For this purpose you can create another free shipping bar with a different free shipping goal and show it to retailers only.
Choose any position for shipping bar
Set the bar at any place of the page: page top and page bottom. You can fix the bar to continuously motivate customers for purchasing. Also, the bar is optimized to fit all screen sizes including desktop, tablet, and mobile.
Specify your cart subtotal goal source
Configure your free shipping goal manually for each bar or use the default Free Shipping Amount value of Free Shipping Method configuration.
Optimize the effectiveness of your free shipping bar
Customize shipping bar with flexible design
Customize Free shipping bar for Magento 2 design to fit your store style. Adjust Google fonts and specify colors for text, background or choose any extra color to attract the attention on the cart subtotal goal. Or choose an ideal theme that fit with custom CSS.
Benefit with instant preview
Load and customize your free shipping bar, and preview it at once without leaving extension settings. Choose a necessary bar state to check all content messages: initial state, in progress state, and achieved state.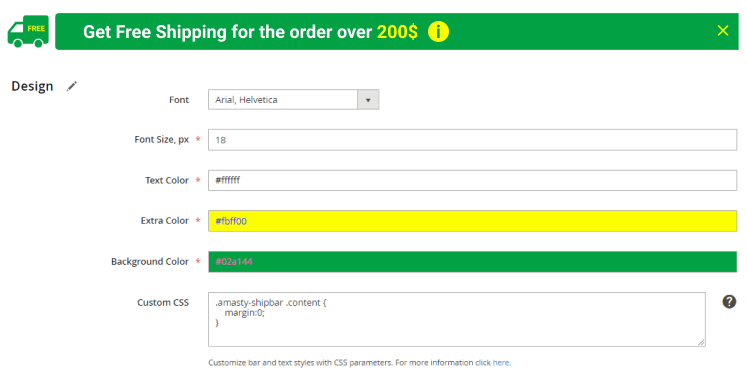 Use more add-ons for your shipping bar
Get more advantages for your bar: add close button to let users hide bar with 'x' button, use a catсhy car icon to remind customers about the free shipping goal even when they close the bar or add link to the bar to let customers easily find important shipping information.
Support multiple stores and different customer groups
Specify the amount needed to get free shipping for a particular store. Show success message to different customers groups (not logged in, general, wholesale, retailer) when they reach free shipping in a needed language.
Make your shipping process both legal and cost-effective
Restrict shipping methods using various product, cart and customer parameters with
Shipping Restrictions for Magento 2
extension. Adapt your shipping process to your business needs.
Easily upgrade user experience of your customers
Provide your customers with a safe and seamless payment experience with the stripe magento 2 extension. Use magento 2 notification messages to send appealing push notifications with attractive deals to energize sales.
According to the statistics, the extension can cover each business need in synergy with the following solutions: magento 2 meta keywords and magento login with google.
Other Features
100% Open Source — Easy To Customize
Follows Magento Code Architecture
Separated HTML/CSS/JS
Simple installation via Composer
* The name "Magento" and the logo are the trademarks of Magento, Inc.
Excelente
VIVOCI, Director
A great way to encourage buying for a higher price. I had a problem to decrease the height of the notification bar but the support resolved quickly.
Amasty answer
Apr 26, 2020
Natalya Chekanina
/ Head of Sales Team
Hi, Péricles! Thank you so much for your kind review. We would be happy to see you in our store again!
Works from start
I don't get why someone can have problems with it. It's simple to set up and use. Only have it enabled for a week, it's already working. One in 4 customers go for extra purchases for free shipping. Proof that simple things sometimes work best!

Very flexible
Most of all I love the bar is highly customizable. I can set up different visualization for my stores. I have stores in 10 states, and in each state sales have specifics. This module helps me offer a simple promotion relevant for each of the shops. And we also use shipping restrictions and see that the modules are 100% compatible.
make mess
I have 3 other bars by 2 other vendors. And when run all together it's a mess. even customers complain they can't see what bars are about. I can't set priorities to them, so I had to set this task to my dev. It's extra work and extra time.
Customers can see all details
Before we used another one but customers asked to switch old banners off cause on large displays it worked wrong. With this one no problems so far. And also I like that it autosums the total and tracks the amount due. And customer gets messages timely. It's good for their trust.
Are you looking to add specific functionality for this extension or want to acquire a reliable development partner altogether? With custom development services by Amasty, you will receive high quality and cost-effective solutions developed by Magento professionals according to industry's best practices.
2.3.6, 2.3.6-p1, 2.4.0-p1, 2.4.1, 2.4.1-p1, 2.4.2
You can always download the recent version free of charge from your account
Installing an upgrade is easy — check now
My Downloads
Version 1.1.3
Last Update: Dec 17, 2020
Improvement code was enhanced according to Magento standards
Improvement names of some settings and options confused the users. We gathered user feedback and renamed it for better experience.
Fix the issue with escaping css selectors
New now you can create unlimited free shipping bars, assign it to the specified store views and specify different cart goals for each bar
New the ability to use Free Shipping Amount value of Free Shipping Magento Method was added
Version 1.0.2
Last Update: Apr 15, 2019
Fix the issue with rounding cart goal on storefront was resolved
Improvement the currency icon was moved before cart goal in free shipping bar