Store Switcher
for Magento 2
Automatically guide international customers to the corresponding store and provide them with the appropriate currency and language. Make your Magento 2 store attractive and comfortable for shoppers all over the world to lift your business at the international level.
Guide international customers to the corresponding store version
Set appropriate language based on customers' location
Show all prices in shopper's local currency
Utilize users' IP addresses to detect their location
Disable automatic store for certain IP addresses
Magento 2 currency switcher is a global solution for your store to win the attention of international customers. With this handy module, you will be able to easily set country-currency and country-language relations to provide visitors with a better shopping experience.
ENHANCE YOUR WEBSITE WITH THE ADVANCED
MAGENTO STORE SWITCHER
Magento 2 Store and Currancy Switcher helps you automatically guide customers to a suitable version of the store with a particular language and currency set by default. The extension works in the following way: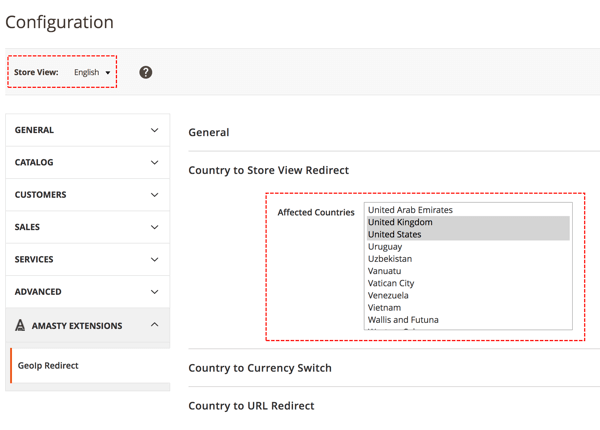 Location-based switcher
Magento Store Selector redirects visitors to the appropriate store version based on users' IP addresses.
Automatic currency switcher
Map country and currency to provide shoppers with corresponding currency in the target store.
URL switcher
Set country for URL relation to guide international customers to the specific page.
Appropriate store view for international customers
Allow visitors to choose store version
Magento store selector allows you to provide your customers with the ability to manually switch between the available store versions. Moreover, the extension lets you choose to redirect users automatically each time they visit your website or only during their first visit. In the second case, shoppers can choose what store view to use.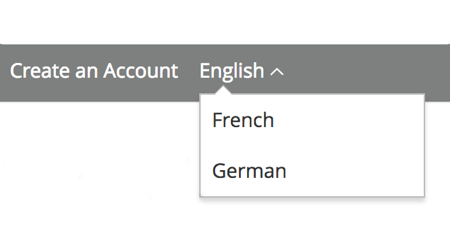 Enable location-based redirects
You can use the modules' ability to detect location in your favor by creating an automatic redirect to a particular URL. Hence, you are able to guide visitors from certain countries to the specific website pages where they can find alternative ways to purchase or learn more about regional limitations in your store.
Use smart restrictions for URLs and IP addresses
In some cases, you may need to keep certain URLs or pages the same for all store views. With the Magento 2 website switcher, you can specify store pages that should stay unchanged despite redirection. Also, you can define the list of IP addresses that will ignore the switchers and see your Magento store as it is.
Make the international visitors of your store feel like home
Auto-switch currency according to customers' location
Magento 2 currency switcher helps you provide customers with their local currency in your store. The extension detects the location of the visitor and changes currency and prices according to ones that are actually used in the customer's country.
Display localized store view to customers
The same geolocation technology is used to show customers the appropriate localized content in a familiar language. This can be crucial for overall user experience and your chances for a successful sale. Equip your products with localized information and let the module do the rest of the job.
Other Features
100% Open Source — Easy To Customize
Follows Magento Code Architecture
Separated HTML/CSS/JS
Simple installation via Composer
* The name "Magento" and the logo are the trademarks of Magento, Inc.
Good module and kind support
Our products are sold worldwide so we needed some tool to automatically redirect visitors to particular webstores based on their ip. We had a problem when importing Geo data at first but the supporter answered in an hour and helped us to settle everything.
Flexible, convenient, fast
I have 6 store views. This module makes my store much more convenient for customers from different countries as now they get relevant offerings starting the very first moment. I think not all users prefer redirection and the fact they can choose preferred webstore version lets me satisfy all visitors.
Are you looking to add specific functionality for this extension or want to acquire a reliable development partner altogether? With custom development services by Amasty, you will receive high quality and cost-effective solutions developed by Magento professionals according to industry's best practices.
Magento 2.2, 2.3, 2.4
You can always download the recent version free of charge from your account
Installing an upgrade is easy — check now
My Downloads
Version 1.3.6
Last Update: Aug 12, 2020
Fix we fixed the issue with the required version of Amasty_Base extension
Fix we resolved the problem with redirect from home page only
Fix we fixed the issue with redirecting when a notification popup is enabled
Fix we fixed the issue with the confirmation popup text taken not from the store view where redirect happens
Compatibility compatibility with Magento 2.3.5 version was improved
Fix we fixed the error caused by PARAM_NAME constant on Magento 2.2.7 version
Fix we fixed the issue with showing a redirect popup if the page was cached
Fix we fixed the issue with locale changing before redirect confirmation
Fix we fixed the issue with redirection on product pages with different URL keys.
Fix we fixed the issue with redirection by IP in Magento Commerce 2.3.4
Fix we fixed the issue with the possibility to save empty multiselect value
New now it is possible to edit the redirection popup text with the help of WYSIWYG editor
Version 1.2.1
Last Update: Aug 12, 2019
Fix the issue with redirect users from Home Page was resolved
New unit tests were added to the Geo IP Data module
Improvement the code of the Geo IP Data module was refactored
Version 1.1.2
Last Update: Apr 08, 2019
Compatibility the compatibility of Geo IP Data module with Magento 2.1.x was enhanced
Improvement IPv6 support was added to Geo IP detection.
Improvement the possibility to upload the latest Geo IP Database was added
New introducing confirmation and notification pop-ups before redirecting. Comply with the requirements of EU regulations regarding geo-blocking and country redirects
New the possibility to restrict the access to a website by IP address was added
Improvement minor visual improvements for the extension settings in the admin panel were implemented
Version 1.0.18
Last Update: Jan 21, 2019
Improvement minor code improvement
Compatibility the compatibility with the Magento Full Page Cache was enhanced
Fix the issue with the redirection on product/category pages malfunction was resolved
Fix the issue with wrong geolocation detection was resolved
Fix the issue with the error when IP address fails to be found in the DB was resolved
Fix security issues were resolved
Fix the issue with the "too many redirects" error while selecting a store view was resolved
Fix the "Warning: strpos(): Empty needle" error in var/report was resolved
Improvement the location detection via GeoIP data was improved
Improvement for EU's GDPR compliance the restriction for the last IP address's digit was implemented
Fix the issue with URL replacing was resolved
Fix the issue with the incorrect redirect to categories and products when using different URLs for stores was fixed
Fixed an issue with the wrong store scope
Compatibility with the FPC extension is added.
Improved IP address check.
Improved import of GeoIP data.
Minor improvement for the "Apply Logic To" option.
All URLs" option is deactivated.
All Except Specified URLs" option is active by default.
We added URLs excepted by default .
Restriction by Ip" is renamed to "IP to Ignore" for better understanding.
Performance optimization.
Fix setting "First visit redirect only" didn't influence on setting "Enable Country --> Currency"/"Enable Country --> Store View". For repeat visit currency/store were the same.
Fixed loop redirection if option "First visit redirect only" has value - yes, and urls like http://somesite.com/intl/;
Fixed redirect after redirect;
Fixed error: Setting "Currency" in "Enable Country" didn't work if was activated "Apply Logic To" - "Redirect From Home Page Only";
Fixed currency switch on inconvenient URLs when "Apply Logic To - Specified URLs" + "Enable Country" set Currency;
Improvements for detecting IP address
Improvements for redirecting specific country to specified store
Few performance optimizations
Better compatibility with full page cache
Minor code refactoring
Possibility to enable/disable extension per each store