Admin Actions Log
for Magento 1
Log all actions performed in store backend by admin users, view log history on the grid and keep the log records for as long as you need. View login activity and block malicious login attempts. Know what have been done in your store admin panel and by whom.
Keep all Magento admin log details on the grid for the specified time
Log the actions of specific admin users
Ban users after several unsuccessful login attempts
Unban users manually or automatically
Keep visit log for store admins and evaluate the efficiency of your staff
Know everything your admin users do
in the admin panel
Log the actions of all admins or just specific users
Choose whether to keep action history for all admins or just specific users.
'Action Log' grid shows all the actions performed in store backend
View recorded actions easily and quickly on the grid. You can see the following information:
date when an action was performed
the person who has done it
type of the action, e.g. deletion, editing or creation
which object in Magento was affected
the item which has been changed
You can also easily filter all login attempts by date.
Allow only one session for each admin username
In the default mode multiple users can run one account at the same time. When you switch on this option, you secure the session making it available just for one backend user.
Use preview or detailed view of the changes performed
You can preview changes details right from the grid with small preview window as well as go to the page with more thorough information.
Automatic tracking feature
Now you've got the possibility to automatically track actions of all new admin users.
Keep track of admin role changes
When the role of an admin user is changed, you'll be able to see the changes in the admin actions tab. These data will be available not only on the admin log details page, but in the preview mode as well.

Display order comments in the actions log tab
In case one of admin users leaves a comment on a particular order page, this comment will be displayed in the admin actions tab.
Display history of changes on corresponding pages
With the the Admin Actions log Magento Extension you can see the actions performed:
On product pages (each product page contains actions log for a particular product);
On order info pages (actions log for a particular order);
On customer information pages (actions log for a particular customer);
Magento Admin Log shows all edits in details
All changes of related, cross sell and upsell products are now logged. The module also tracks edits of categories and websites; you can view the history of changes whenever you need. More importantly, it's possible to cancel edits and restore the previous settings any time.
Possibility to restore recent changes
If one of admins for some reasons made incorrect changes in your store, you can restore them nearly in a trice.
Specify the time period during which the log records are kept
You can set the time period after which the logs are deleted. E.g. remove the records, which are 2 or more months old.
Be aware of how, when and by whom
your store data has been viewed or changed
View page visit log for each admin user in the store backend
Are you constantly searching for the new ways of optimizing the work of your store admins? Wondering how your staff members manage their working hours? This extension knows how to help you out. View page visit log for each admin user drawn up in a convenient table and discover which pages were opened in the backend and for how long.
Monitor all user actions in the store backend
When you really need to see who had made the lasest changes, just open Magento admin actions log and find out all modifications, which were applied to your store, including system configuration, product catalog or any other changes. Moreover, you can control your store managers more efficiently when you see the actions they perform.
Protect your store from robots
Protect your store from multiple harmful login attempts with the Magento admin log in module: when a script tries to pick up the right passwords, the system blocks the login attempts and gives no chance to get into admin panel of your store.
Optimize the work of your admin staff, exclude overlapping
Have you ever doubted whether your store managers are efficient enough? Now it's easy to find out. Tracking the actions performed by each admin user, you can see if they do the right activities and at what time. You will be able to better distribute the administration responsibilities, control how they are performed and exclude overlapping. E.g., it's easy to track when 2 managers are doing the same thing or are performing wrong actions.
Real time tracking of admin users actions
With a new 'Active sessions' feature you can track the actions of all admin users in online mode and terminate the session in case of any mistakes or robot attacks.
Track admin performance and reward the best managers
Want to reward the best manager? Filter actions by users and date on the 'Action Log' grid and find out whose performance is really high. Use the chance to increase your team motivation.
Get full control over login actions in store backend
Be aware of logins from unusual countries
You can get an email notification if a user successfully logs in from an unusual country. This email contains the information about user name, full name, IP and a country from where the login attempt was made. Use GeoIP support to determine country and city from where admin has logged in.
Specify the number of login attempts
Limit the number of login attempts before the user gets blocked. If all (e.g. three) attempts are wrong, the user access would be denied to admin panel page. It's especially useful to defeat robot attacks.
Ban users for a specific time period
You can choose whether to ban a user forever or for a specific time period. After the specified lockout time has passed, the user can log in to admin grid with the right password again. If you ban the person forever, he or she can get access to the site only after you manually unblock the user.
Get notified about the multiple login faults
In case several login attempts happen within a short period of time you'd receive email notification of these break-in faults. Besides, you can easily export login attempts information in CSV and XML format.
View login attempts list on one page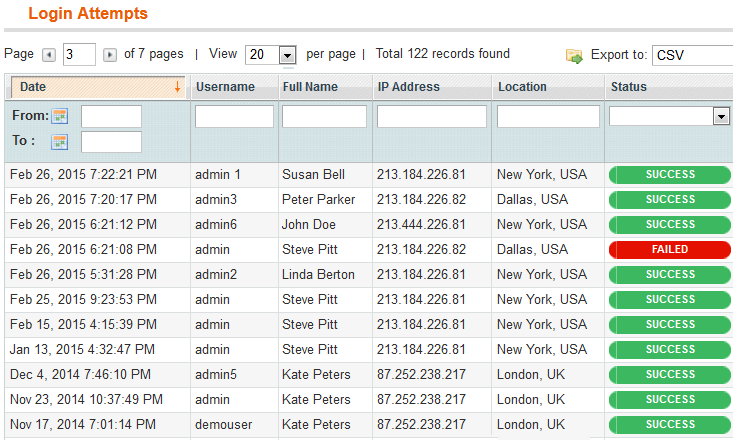 At the 'login attempts' grid you can see:
the time of login attempts
the people who performed them
IP addresses
the statuses of the attempts. Successful, failed or locked out
(when a person tries to log in while being banned)
all admin log outs are also displayed in the Status column

Equip your store with more powerful tools for Admin Management
Product questions

Does this module also log changes that admin users make to orders?

Yes, Magento logs who made change, the extension will track the sales orders changes performed by an admin user.

Does it log regular users or just admins?

This module logs only admins' actions. Magento admin user log ins and outs and all the modifications applied to your store are gathered and stored by the extension.

Can I choose who will be able to view changes history?

Yes, with the use of the extension, you can choose who will be able to see changes history. While setting up admin actions log archive you may include there action history on all admins or just specified ones. To see the screenshot read on.

Does this Admin Actions Log show changes after importing products from a third-party CRM system?

If everything is imported correctly and Magento reflects those changes, then our module will also show them.
Other Features
100% Open Source — Easy To Customize
Follows Magento Code Architecture
Separated HTML/CSS/JS
Simple installation via Composer
* The name "Magento" and the logo are the trademarks of Magento, Inc.
Works good
This allowed me to find and block possible intruders to the site in a timely manner.
great for business
This extension allows a detailed analysis of all activities on our website, including comments. I especially appreciate the possibility to view history of actions; this feature visibly improves productivity of store managers. More than recommended!
Very happy with this purchase
Our Magento is a bit out of date and every time I purchase new extension, I'm worried about how it will work. This time the plugin was simple to install, I didn't even ask anybody for help. We still needed some code changes and minor adjustments. But they were absolutely painless, devs coped with all of it in just a day. Cool!
Helps to keep work in order
It's a valuable plugin. It happens that managers make errors and demand help of the support specialist of our store. This is when the extension comes to use, it allows tracking when and where the mistake was made and cancel the unnecessary changes immediately. It saves a lot of time and nerves. Besides, with the help of this module it's easy to inform customers about the status of their orders.
outstanding customer service
I'm impressed by the level of support we have received. Guys are really professional and helpful! This addon helps us run our business by allowing to control complex sequence of actions made on store backend.
Does the job
This module keeps all the log details on the grid and allows access to this info. It gave us the ability to quickly react to changes in orders or new comments. Thus with one tool we've achieved two goals: we speeded up customer service and started to follow activities of our staff really closely. Both of these things are very important for business, so I'm really satisfied with the extension.
Double benefit in one module
You know, I was actually searching for some tool to prevent hacking attacks. Not that it's a thing that can happen to your store every day but when it does, it could cause all kinds of problems. It's always better to be safe and just avoid potential trouble.
I was lucky to find this Admin Actions plugin. It covers all my needs with blocking unsuccessful login attempts and tracking GeoIps. And it also allows me to keep an eye to all activities in the backend. Brilliant I say!
I bought the module with installation service, so I can't say whether it is hard to configure or not, but I can assure, that it works like charm.
So helpful when you have new emploees
A stagier has joined our team recently, and that's when we felt all the importance of tracking each little change made on the backend. Admin history log really helps planning the work. Analyzing history data is helpful for making a suitable individual plan for each employee.
I purchased the extension with installation service and everything was done and ready overnight. Good work!

Real helper
I support several online shops and this module is very useful for me cause store admins often make mistakes and beak something. Thanks to the mod I can track when, where and by whom a mistake was made and quickly fix it.
A+ plugn, expencive, though
The plugin provides a comprehensive way to understand who did what, trace the source of problems and misunderstandings. Besides it can motivate store administrators to work effectively. But nothing is perfect. We installed the plugin without any help, the process did not seem complicated; but the extension simply did not work, even though it was configured correctly. We turned for Amasty support for help, and the guys figured that our customized Magento theme was causing the problem. Now it all works fine. 4 stars 'cause the ext is a bit pricey, should be more affordable.
Fonctionne très bien pour controler des modifications aux produits et aux ordres
Nous avons besoin de controler les modifications apportées à nos produits et les ordres. Nous avons plusieurs personnes qui travaillent sur la mise à jour et l'édition de produits et les ordres, ce qui nous permet de suivre les changements détaillés par chaque usager.
Nous utilisons cette extension avec Magento Community 1.9 et il fonctionne très bien.
ultimate app
Easy to use, very helpful plugin. With the help of tech support we managed to install it within a few minutes, and then configured everything according the manual instruction - nothing terribly difficult at all.

Hope, everything will be running well, at the moment this extension fulfills all our requirements to admin management tool.
Good quality and stable work
We've been running the extension for 6 months already, and haven't found any bugs or inaccuracies so far (even though we tried hard ;) So, I'd suggested to install this tool to everyone who has more than one store admin and especially to those who have distant employees as the tool perfectly tracks locations and ip addresses.
Specific module for specific needs
I'd recommended this log tracker to big stores where more than 2 admin managers work. As for me, it appeared to be too feature rich, as I don't need the info about admin'd ID or location, I just need to keep my store items properly updated and keep everything in its places. Anyway, huge store owners will definitely highly appreciate it. I'm totally satisfied with extension's quality as well as with the way this developer treats their customers.
Indispensable for our store
I gave only four stars to the app just because I had to wait about a week before support managers replied to my ticket. Yes, there were national holidays or something like that, but I do believe that good companies still have at least one support person in charge for extra urgent cases.

The app itself works fine.
highly recommended
Installed within seconds, configured within a couple of hours - got a spotlessly working program! You know, This is maybe the first magento app that was so easy to integrate into my store. Crack on, Amasty!
Can't live without it
This is really the ext I can't live without. Due to this module all chaos was eliminated. All the work is clearly structured now: no overlaps, no missed tasks. When running the business I prefer to know about all the changes in real time 24/7, so e-mail notifications about all changes and user roles switches work really great for me.
Implementing Geo IP was a tough task, we just couldn't make it. Support managers worked it all out for us in just a few hours.
Good extension
What makes this extension one of the best in its segment? The extension is constantly being updated. From time to time they add more and more small new options that make the work with the tool fast and really handy. If all extension updates were free - I'd be the happiest store owner as having purchased it once I see no reason to pay for the updates again and again...

All in all the extension itself works as described and the support department is quite helpful.
Must have for developers
This extension can block admin incorrect login attempts, wich is a good security point.
It can list and undo every admin action, wich is excellent and the main feature.

But most important, and that's why we use it for all of our clients : it clearly points responsibility when a mistake is done, and we no longer hear, as developer, "it was working then it broke, we don't know why, you made a bug".
Good time saver
Thanks to the admin log by Amasty now we can track all necessary actions by our store admins (the changes on product pages in particular). It's much easier to find out when and where the mistake takes place when you have a handy actions grid that allows filtering by actions.

The installation passed seamlessly and everything runs fine. Thank you, Amasty!
Truly changes the game for you
For some reason the functionality to track changes made by admin users (not to mention cancelling those changes) is completely missed in the default magento. It's a serious flaw, and we needed to fill the gap somehow.
This addon is just what we were searching for, it works smoothly and doesn't cause any issues. For me GeoIP and failed login attempts feature were just additional at first, I didn't think they are important. After thinking about it a bit more I'd say that it is great shield from hacking attempts. Now we don't need a separate tool to protect our store, and that's great. A+ for killing to birds with one stone.
Important for store owners
Good tool. It saves you working hours and nerves. After using the module for just a month I can't even imagine how I managed to keep an eye on our seven admins without using special tools. Amasty always knows what merchants need most, they incarnate it all in their extensions.
Exactly what I needed!
Very helpful extension if you have plenty employees working on the backend of your magento store. This plugin allows you to check literally every action of every admin user. It's a common situation when modifications are made by mistake but now the operators can't endlessly blame each other. All actions are tracked, so business-owners always know for sure who actually made the unwanted changes. The possibility to quickly undo all wrong actions is just a magic wand to put things on the right track again!
The staff actually becomes more disciplined and effective, knowing that their actions are recorded in real time. Now we are thinking about implementing a reliable KPI system with benefits and rewards for the most hardworking managers. I recommend this infallible eye plugin without any doubt!
Irreplaceable tool
The ext allows tracing the source of some management and administration problems. Really necessary tool for any store with more than one person working at the backend. At the beginning we had a few issues due to our heavily customized magento. Tech support was very helpful though. They did an excellent job and got us up and running fast.
Too pricey
The app itself is not bad and has a bunch of useful tools, but its a bit too pricey. Yep, you pay for good tech support and for the brand, but now I'd rather looked for something cheaper with the same functionality. No offence, guys.
Great product, awesome support
I tried 2 other admin log extensions before going with Amasty, and they all conflicted with M2EPro. it was an endless headache. Amasty was the only extension that did not conflict at all as I guess it creates the logs in a different manner.
I hadn't tried this extension initially because it didn't allow you to search for products, customers, etc., which is a pretty essential function. I asked the developers if they could customize for this feature, and they did it super fast and very inexpensively. Definitely first class support.
I hope they add this function default in the future, but if not I would ask.
kmegan1
Magento Connect
Great Extension!
This extension worked great until putting in a few other extensions, which seemed to break the tracking. However, a quick support ticket into Amasty and within less than 12 hours they released an update that fixed the issues. This is a great extension and Amasty is a great company.

webcitz,
Magento Connect
Necessary
I'm following all new extensions, made by Amasty. This one was really waited for. I have 30000 products in my store and lots of managers admin it, so the solution is absolutely necessary.
Waited so long for a solution like this! Excellent tool! Thank you Amasty!
There are 10 manages working on the products in our store, and we are finally able to track all the activities. It's a really great tool!
Are you looking to add specific functionality for this extension or want to acquire a reliable development partner altogether? With custom development services by Amasty, you will receive high quality and cost-effective solutions developed by Magento professionals according to industry's best practices.
CE 1.4.x - 1.9.x, EE 1.8.x - 1.14.x
You can always download the recent version free of charge from your account
Installing an upgrade is easy — check now
My Downloads
Version 1.6.23
Last Update: Mar 05, 2020
Fix we fixed issue with showing info about address changes on customer and order changes grid
Improvement we implemented a stability enhancement
Compatibility with Amasty Color Swatched Pro was enhanced
Fix the issue when an order comment was not logged was resolved
Improvement IPv6 support was added to Geo IP detection.
Improvement the possibility to upload the latest Geo IP Database was added
Compatibility the compatibility with the 3rd party extensions was improved
Compatibility the compatibility with the 3rd party extensions was enhanced
Compatibility the compatibility with Amasty Duplicate Categories was enhanced
Fix the issue with product saving was resolved
Fix the XSS vulnerability issue was fixed
Fix the issues with logging configurable products or sales rules amendments, and editing an existing customer as well, were resolved
Fix the issue with wrong geolocation detection was resolved
Improvement the process of email notification upon unsuccessful login attempts was improved
Improvement Security improvements were implemented
Fix the issue with the changes logging in 'qty in stock' for an item was resolved
Improvement the request for the GeoIP location was optimized for better performance
Improvement the log file generation was improved
Improvement detection of parameter name was improved
Compatibility the compatibility with the 3rd party extensions was improved
Fix the issue with the preview popup was resolved
Fixed an issue with viewing existing attributes
Fixed an issue with saving wrong store ID
Amasty Product Grid compatibility improved
AW Customer Attributes compatibility imporved
Added possibility to send email to many addresses;
Removed email validation from configurations;
Module is enabled by default;
Added Access control list. You can restrict access to "Clear Log" execution;
Set "0" for unlimited" for "Automatically Clear Action Logs After, Days".
Fixed error when entering admin panel after "Log Out All Other Sessions"
Fix for saving admin role, which caused error in few cases
History of Changes tab on customer edit, order view and product edit pages now work with AJAX to improve usability and speed
One setting renamed for better perception
New feature: when admin logs in, all other sessions with the same username can be terminated (there is a setting to enable/disable such behavior)
New visual feature: on "Login Attempts" grid failed attempts for the same username/IP are grouped into a single line for better visual perception
Version 1.5.10
Last Update: Nov 09, 2016
Minor code refactoring
Minor improvements for restoring changes and logging several products within one order
General workflow improvements
Added logging of related, cross sell and upsell products
Added logging of product categories and websites
Fixed search by fullname in Action Log
A number of minor improvements for general workflow
Minor general improvements
Minor fixes and improvements
Admin routing patch (SUPEE-6788) compatibility
Minor improvements for date format and menu permissions
New "User Agent" column added to the login attempts grid
New "Disabled" status added to the login attempts grid to show when deactivated admin account was trying to login
New feature: possibility to display page visit log for each admin user (which pages they open in the backend and how long they stay on each page)
Setting block restructuring to improve usability
Version 1.4.4
Last Update: Jun 10, 2015
Automatic purge of login attempts log after specified number of days
Minor fixes and improvements
"History of Changes" tab on product edit page, order view page and customer edit page with ACL (access control list) support
Logouts are now tracked in the "Login Attempts" log
New events are logged now: change of user rols; commenting to order
Login attempts grid now gets date/time filter
Some code improvements
Version 1.3.0
Last Update: Feb 16, 2015
Active Sessions page added to display current active backend sessions with possibility to terminate any of them
Possibility to close details window with Escape key
GeoIP Data import improvements
Version 1.2.9
Last Update: Feb 11, 2015
Compatibility with old Magento 1.4.1 version
Logging of mass actions improved
Logging of order-related actions (invoicing, shipments) improved
Improvements for sending e-mail messages
Fix for unnecessary data displayed in the change log
New feature implemented: possibility to restore changes made by admin users
Version 1.1.3
Last Update: Dec 02, 2014
Possibility to export "Login Attempts" grid into CSV or XML
Syntax fix for "Attempts" word
GeoIP support for login country/city detection
Better highlighting of modified data
E-mail notification to admin when there are multiple login faults in a short time (break-in attempt)
E-mail notification to admin on successful login from unusual country (using GeoIP)
"403 Forbidden" status returned by failed login page in the backend, which makes easier to integrate with server security tools
Version 1.0.6
Last Update: Sep 30, 2014
functionality to show order id at the grid
Now it's possible to log actions of all new admin users automatically
Better detection of attacker's IP address
Optimized code.
Improved compatibility with other modules.