Advanced MSI
for Magento 2
Easily split your inventory among multiple warehouses with Magento 2 Advanced MSI solution. Optimize your stock management and reduce delivery costs with a proper warehouse selection.
Set unlimited number of warehouses
Minimize delivery cost with a smart algorithm
Manage stock right from the product grid
Create shipments in one click
Set custom shipping methods and rates
LEVEL UP YOUR INVENTORY MANAGEMENT
Challenge
Until now, multi inventory functionality was only possible with the use of third-party modules, because there was no support in the default Magento. Otherwise, due to the tough connection between sources and websites, if a merchant wanted to add a new warehouse, he needed to create a new website. Another question is how to effectively manage inventory distributed in multiple warehouses.
Solution
Our MSI extension will help you overcome default multi source inventory limitations and quickly level up your stock management. Create as many warehouses as you need. Effectively manage inventory across multiple locations right from the product grid or the particular warehouse page. Optimize delivery costs using a smart source selection algorithm. Create shipments in just one click.
What benefits do you get for your store
Grow your sales revenue effectively managing multiple warehouses
Avoid errors and losses with automated inventory management
Reduce delivery costs to the minimum with the smart source selection algorithm
Effectively manage multiple warehouses
Magento 2 MSI extension provides you with an advanced inventory management tool that flawlessly works with multi-sourcing. Create an unlimited quantity of warehouses in a few clicks and manage your stock from the product grid or a warehouse settings page. Keep full visibility of your inventory through multiple locations.
Add multiple sources
Assign sources to stocks
Effectively manage inventory
Edit items on the source page
Add multiple sources
A source is a place where a product is physically located. With Magento 2 MSI you can create an unlimited quantity of sources (warehouses). You can view all the warehouses on a grid. Choose any source to edit or create a new one from scratch. Adjust contact info, description, address, specify email for notifications, set custom shipping rates for each source.
Assign sources to stocks
Stocks enable store owners to unite several sources and then link them to sales channels and salable quantities. Technically, stocks are virtual entities that represent numerous sources. View all existing stocks on a separate grid. Access any of them to make changes, or create a new one.
Effectively manage inventory
Magento 2 MSI extension makes it possible to assign items to a source and manage the stock right from the product grid. Select multiple products and make changes in bulk. Click the Edit Stock button to quickly adjust the product stock for each warehouse in a convenient pop-up window. Also, you can adjust quantities on any product settings page.
Edit items on the source page
With Magento 2 Multi Source Inventory you can quickly assign items to a warehouse and manage quantities right from the source settings page. Save your time by mass editing product statuses, or removing items in bulk.
OPTIMIZE DELIVERY COSTS WITH A SMART SOURCE SELECTION ALGORITHM
Magento 2 Advanced MSI lets you customize the algorithm of a warehouse selection. The extension fully supports native MSI algorithms and also offers a completely new one that combines them to offer the source selection based on the delivery price.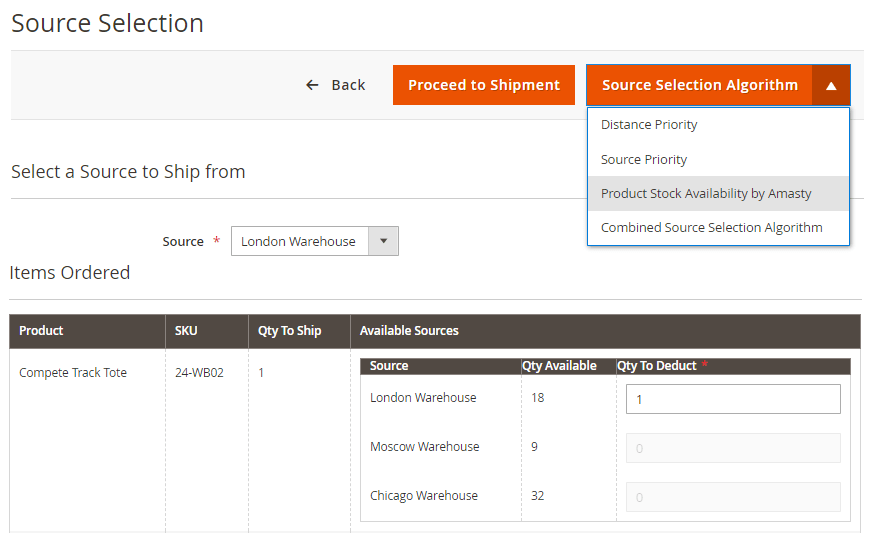 Source priority algorithm
Basically, its the native Magento source selection algorithm that selects an optimal store according to its priority in the stock assignment settings.
Product stock availability
The algorithm chooses the source that has all order items in stock. This helps you avoid breaking the order into several shipments from different sources.
Product stock distance
This native-like algorithm of Magento 2 MSI module makes your shipment faster and less pricey, automatically selecting the warehouse nearest to a customer.
Combined source selection algorithm
It is a new custom algorithm that allows you to prioritize 3 criteria above and then use them one by one until the 'perfect match' is found.
More Features for Magento 2 Advanced MSI
Create shipments in one click
While you're creating a shipment, Magento MSI automatically chooses the default source selection algorithm and determines the optimal source. But you can easily make changes if needed.
Accurately calculate shipping costs
With the extension, all your shipping costs will be auto-calculated according to a warehouse address. The feature offers more precise calculations on shipping costs.
Import stock data
With Magento 2 MSI you can update stock data in one go by importing all necessary info from a CSV or XML file. Quickly import sources from the previous Multi Warehouse Inventory version to MSI extension.
Keep your warehouse managers notified
The extension allows admins to send email notifications to warehouse owners when an item should be shipped from a particular source and on an item low stock situation.
Other Features
100% Open Source — Easy To Customize
Follows Magento Code Architecture
Separated HTML/CSS/JS
Simple installation via Composer
* The name "Magento" and the logo are the trademarks of Magento, Inc.
Needed migration
I used multi warehouse inventory, it was a good mod, but they shut it. For some time it was trouble but then I learned about migration to this one. I didn't know how to do it so I turned to support. Now it's all good, they just moved all my data like sources, prods and relations between them from multi warehouse inventory to advanced msi. It was fast. Works smoothly. Still It'd better learn about such changes in advance.
No out of stocks
I order my best sellers from 5 warehouses, and it was hard to avoid out-of-stock. Now thanks to emails to stock managers I refill inventory just on time. I tried to notify on a low number of items - it also is effective. And feature set-up is very easy - copy-paste emails, and they will be auto-sent.
Smoother work :)
Cool mod, makes my admin work easier. Thanks!
Are you looking to add specific functionality for this extension or want to acquire a reliable development partner altogether? With custom development services by Amasty, you will receive high quality and cost-effective solutions developed by Magento professionals according to industry's best practices.
Magento 2.3, 2.4
You can always download the recent version free of charge from your account
Installing an upgrade is easy — check now
My Downloads
Version 1.4.3
Last Update: Jul 26, 2021
Compatibility we enhanced compatibility with Amasty Gift Card
Fix we fixed the error occurred when placing the order with virtual product
Improvement MFTF tests were moved to additional packages
New we added MFTF tests to the extension
Improvement we adjusted the 'Manage Sources' and 'Manage Stocks' menu items added by the extension
Version 1.3.4
Last Update: Apr 09, 2020
Improvement we added a quick links to Manage Stock and Manage Sources in extension menu
Improvement we added Source name and Source Address to header of Low Stock Email notification
Fix we solved the problem with editing stock for downloadable products
Fix we solved the problem with incorrect order status after shipment
Fix we solved the problem with shipping simple products with custom options
Fix we solved the problem with creating Credit Memo
Fix we fixed the "There is no sample file for this entity." warning message in downloading Stock Sources sample file for import
Improvement now it is possible to easily migrate data from the old version of MWI to the updated one and to the Magento Multi Source Inventory
Improvement we reviewed and enhanced the code
Fix we solved the problem with extension upgrading
New Now it is possible to assign items to a source (warehouse) and manage the quantity from the source settings page. Manage your stock with comfort
New We made it possible to assign items to a source (warehouse) and manage the stock from the product grid.
New We added email notifications to a source (warehouse) owners/managers. They will be notified when an item should be shipped from a particular source (warehouse) and on an item low stock situation
Version 1.2.0
Last Update: Jun 06, 2019
Compatibility now the extension is compatible with Magento 2.3.1. Its native algorithm chooses sources depending on the distance
Version 1.1.0
Last Update: Feb 12, 2019
New introducing the new feature for selecting warehouses on the order creation step. Now shipping cost can be calculated depending on the warehouse address