Sales Reps and Dealers
for Magento 2
Provide high-quality service and individual approach to each customer by including dealers in your business model. With this convenient tool, you can effectively manage the work of your sales reps and monitor their productivity.
Assign customers to personal dealers
Let shoppers select their dealers
Display dealer information on the frontend
See the list of orders assigned to each dealer
Use notifications to coordinate and control sales reps
Mobile ready
Challenge
Choosing representatives and dealers is a crucial aspect of a successful B2B business model. But the default Magento functionality is extremely limited: it does not let you easily create, manage and monitor your dealers base, which slows down the cooperation and negatively influences the working process of your sales team as a whole.
Solution
Magento 2 reseller extension is designed to fulfill every need concerning a productive workflow with the dealers' team. Assign orders and customers to particular representatives, display the necessary info in customer accounts and build loyalty by showing an individual approach using just one module.
How can you benefit from the dealer extension
Level up your business: show that you are ready not only for B2C offers, but also for a B2B model
Provide individual approach: show professionalism and let clients choose their dealers
Reduce expenses: save time and money by transferring order management to dealers
What are the key features that will let you succeed with the extension?
Dealers are provided with a handy tool to manage their stack of orders and sell products more effectively.
Personal managers are assigned to wholesale or VIP customers and ensure a pleasant shopping experience.
Customers are assigned to admin users, it stimulates positive relationships between shoppers and your team.
Involve the existing sales reps and dealers into the returns/exchange processing with the RMA extension for Magento 2.
Connect dealers with customers and customer groups
Let customer select dealers
Enable shoppers to choose a dealer they'd like to work with. This option is available while registration and sales representatives can be changed in customer account in the future.
Assign sales dealers to customer groups with magento wholesale extension
If you assign a dealer to certain groups, the dealer will be able to add customers and edit orders only for that group.
Review the list of orders assigned to each user
This feature of Magento 2 sales rep module enables you to view all the orders assigned to a particular user. For instance, you pay commissions based on completed orders; filter all completed orders and get all info in a blink of an eye.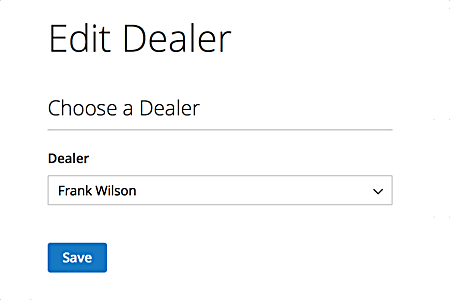 Provide individual approach to each customer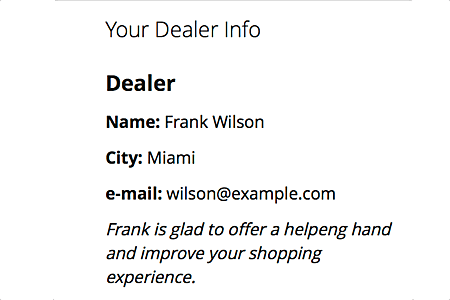 Introduce dealers to customers
Now, customers can get to know their sales reps in person. Display a block with basic information about the dealers who process their orders (for example a photo, name and contacts).
Receive email notifications when dealers change
In the general settings of Magento 2 wholesale extension you can enable email notifications for reassignment of dealers; thus both, the old and the new dealers will know about the change.
Use appealing email templates
It's possible to adjust email templates using different variables. For example, add Dealer Contact Name variable to order emails to let clients know, who will take care of the order. Sales reps will also receive notifications about new orders to process.
Easily manage and control the work of your sales team
Quickly shift dealers between orders
This Magento 2 distributor module enables you to see which dealer has been working on the order. You can check this info right in the Orders grid as a separate column is automatically added. Moreover, it is possible to filter orders by a particular dealer. Use this feature to analyze staff efficiency and split orders between dealers in a smart way.
New orders in proper customer groups
Now orders created by dealers can be assigned only to certain customer groups. The feature helps to ensure that all orders are placed correctly. This is extremely important if you set various prices for different customer groups. You can also use our magento 2 customer groups plugin to provide selective access to the store catalog.
Set the default dealer
Not to miss any order, you can specify the default dealer in the extension settings. All new orders will be assigned to this dealer, except the cases when a specific customer is already assigned to another dealer.
Monitor orders with ease
As the Magento 2 reseller extension adds the 'Dealer' column to the Order grid, you are free to track the sales and performance of each dealer. Filter orders by dealers, check specific order details and make conclusions about the productivity of your team. Also, you can use this option for tracking the progress of each particular member.
Manage dealers from 'Edit User' and 'Edit Customer' pages
To make dealer management more flexible, a new dealer field is added to the `Personal Information` fieldset (`Customer View` tab) on the Edit Customer page. You can also change a dealer for the customer on this page. For your convenience, `Account Information` tab has a specific page to do this now.
Provide exhaustive info about dealers on various pages
Customers should feel that they can contact their dealer any time, so you can display dealer information during the registration, in a customer account, on a checkout page or in a customer dashboard.
Due to Magento commission extension, dealers can perform the following actions to keep store data relevant and effectively deal with customers:
View and edit customers.
See orders placed by customers.
Create orders from admin panel.


Assign orders to other dealers (if allowed by admin).
Add new customers from admin panel.
Receive copies of order emails.
NEW: Sales Reps and Dealers extension is fully compatible with the Magento B2B Shared Catalogs. Build even more effective sales strategy to boost your business efficiency.
According to the statistics, the extension can cover each business need in synergy with the following solution: magento 2 email quote and magento b2b ecommerce.
Other Features
100% Open Source — Easy To Customize
Follows Magento Code Architecture
Separated HTML/CSS/JS
Simple installation via Composer
* The name "Magento" and the logo are the trademarks of Magento, Inc.
Ease of use
Stel, IT Director
I've been using the extension on M1 for a long time and now need the M2 version. I like it for the ease of use and would recommend it to the next customer who wants to join the site to buy and sell goods.
Amasty answer
Sep 04, 2020
Natalya Chekanina
/ Head of Sales Team
Hi Michael, thanks for your kind feedback and for choosing Amasty extensions for your store! We're proud to have you as our loyal customer, and we'll be happy to see you in our store again.
Very useful and works well
Nice tool, thank you guys, I couldn't find something like this on the market. We haven't got any problems with installation, moreover, now we completely satisfied with it and with the results.
Are you looking to add specific functionality for this extension or want to acquire a reliable development partner altogether? With custom development services by Amasty, you will receive high quality and cost-effective solutions developed by Magento professionals according to industry's best practices.
2.3.6, 2.3.6-p1, 2.4.0-p1, 2.4.1, 2.4.1-p1, 2.4.2
You can always download the recent version free of charge from your account
Installing an upgrade is easy — check now
My Downloads
Version 1.2.13
Last Update: Jul 20, 2021
Fix we fixed the issue with the customers' count on the 'Create New Order for New Customer' grid
Fix we fixed the issue with the missing dealer setting in the customer's account information
Improvement we added a new variable to the sales email templates, so you can add a Dealer Contact Name to the sales email
Improvement minor code improvements were implemented to enhance the extension security
Improvement code was refactored according to Magento Marketplace standards
Compatibility the compatibility with Magento 2.4 was added
Fix now dealers see the quotes created by customers who are assigned to these dealers
Compatibility now the module is compatible with B2B Shared Catalogs
Fix we fixed the issue with permissions check for creating orders from customers
Fix we fixed the issue with export of orders and customers
Fix we solved the problem with sending email notifications to dealers
Fix we solved the problem with restricting customers and orders for dealers at the Dashboard
Fix we solved the problem with editing customer by direct link for restricted dealer
Fix we solved the problem with displaying restricted customers on grid
Fix we solved the problem with mass actions on Magento 2.3.x
Fix we fixed the issue with empty values in the dealer drop down in customer's account information for Magento 2.3.1
Improvement the control for an admin for allowing dealers to see and create orders for the whole scope of customers was added
Improvement the defaulting dealer was added as the pre-selected value in the dropdown for customers with no assigned on the frontend dealer
Fix inactive dealers were removed from the dealer selecting pop-up
Fix the issue with assigning a customer to an admin while editing the customer in the backend was resolved
New the filter to a template on a checkout page to display the WYSIWYG variables was added
Version 1.1.0
Last Update: Feb 20, 2018
New the ability to show all customers and orders attached to a sales representative was added
Version 1.0.3
Last Update: Jun 26, 2017
Add {{var order.getOrderDealer()}} to order, invoice, creditmemo, shipment emails to add dealer's name
Fix for missing values when exporting orders
Compatibility with Magento 2.1.x
A number of minor fixes