AMP
for Magento 2
Make your store pages load 85% faster for mobile users with Magento 2 AMP. Improve site usability and visibility in Google search results by generating super lightweight mobile pages.
Significantly reduce average page load time
Auto-generate separate mobile pages
Display rich snippets for better search
Track pages performance with Google Analytics
Easily customize the AMP page design
Challenge
47% of users are likely to abandon the web-pages, which are loading more than 2 seconds. Slow pages negatively impact search ranking, thus causing low traffic results and loss of revenue. But it's difficult to manage multiple pages and remain up-to-date with the latest requirements without a special team of developers. That may cost money and time.
Solution
With Magento 2 AMP extension, you can create beautifully fast pages that show up on users' screens incredibly quickly. AMP pages are marked with a lightning sign, so users know they will get a better experience. Therefore, more visits will come from organic search. Optimized pages also have higher dwell time and an increased conversion rate.
What benefits do you get for your store
Speed up page loading to keep users on your website
Increase mobile conversions with lightweight site pages
Improve search engine ranking with Google Rich Snippets
HOW DO ACCELERATED MOBILE PAGES WORK?
Magento Accelerated Mobile Pages (AMP) is an open-source project from Google designed to make really fast mobile pages. It's a strict and simplified version of an HTML code that allows only specific elements that don't decrease page loading speed. It also has certain regulations for JavaScript.
When the user opens an AMP page, it loads 3 to 7 times faster than a regular page version.
MAKE YOUR WEBSTORE ULTRA FAST
WITHOUT LOSING ITS FUNCTIONALITY
Add Magento AMP pages in a few clicks
Effortlessly generate Google AMP pages for Home, Product, Category and CMS pages using advanced mobile app from the backend. After a quick and easy one-time set-up, this module will automatically create optimized pages for your store. On AMP version, content updates routinely when you add or change it on the initial desktop version.
Speed up mobile pages loading
Magento 2 AMP extension will help you to radically reduce website bounce rate by generating super lightweight mobile pages for browsers. Such pages are 85% faster compared to non-AMP ones since they load directly from Google AMP Cache.
Set AMP as a default loading page
With the software, store owners may force AMP page loading regardless of the link a customer uses to visit the store. Choose whether to open Magento 2 AMP pages Always or redirect customers From AMP Google results only. If you select 'Always' option, shoppers from mobile devices will be invariably redirected to the AMP version. If AMP pages are displayed only in Google search results page, users will stay on AMPs until they reach a non-AMP page.
Enable Search and Subscribe boxes
Don't lose important functionality you have! Magento 2 AMP extension displays a Search box to help visitors navigate your webshop and easily find the product they need. Also, add an Email Subscription form to re-engage with people later and retain more customers. This is highly useful, as AMP doesn't currently allow any pop-ups to capture users' information.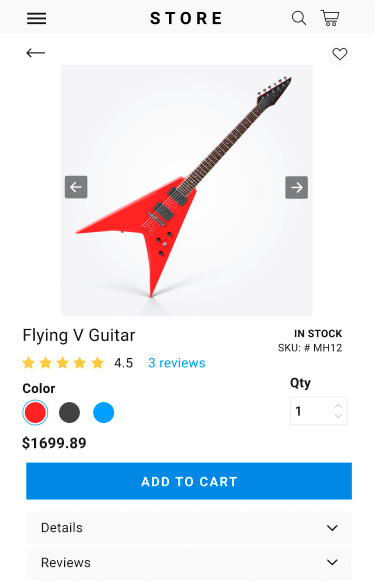 Apply sticky AMP-widgets on CMS pages
Try AMP-widgets to provide your customers with satisfying user experience on mobile devices. These widgets will help you to visualize your product selections in the most attractive and comfortable way. Just choose how many products and in which way you want to display them, e.g. a slider or list from 5 featured products according to your store design. Choose any place on page for your handy widget.
Customize the AMP page design
AMP pages don't mean boring and plain appearance of your online store. Stand out from competitors by adjusting design settings. Tweak logo size to ensure it looks good on mobile screens. Modify colors for text, links, and buttons to make your store look match your branding. Light, easy to read, neat and stylish — the way Magento 2 AMP theme look is highly appealing.
ATTRACT MORE VISITORS TO YOUR STORE
WITH ADVANCED AMP TOOLS
Display Google Rich Snippets in search
Improve web-store visibility in organic search by displaying more data about your products. Magento AMP allows showcasing Rich Snippets for AMP Pages on Google Search results. This will help to attract only relevant traffic and increase CTR.
Measure the success of optimized pages
90% of AMP publishers reported a higher engagement rate after adopting AMP. To help you understand how the AMP optimization impacts your web-store efficiency, Magento 2 AMP extension supports Google Analytics embedment. Easily insert tracking elements to understand what influences page metrics and get in top search positions.
Engage more customers with product reviews
72% of store visitors are likely to purchase a product only after viewing positive feedback. With Magento 2 AMP you can easily display product reviews on AMP pages, as well as allow customers to add new ones.
Create AMP pages for your blog
Integrate a Magento 2 Blog Pro extension to create fast pages for your blog. If your online blog produces powerful authentic content, AMP is a great approach to produce extra clicks and views for your website. Later, you can easily convert loyal blog readers to profitable customers by adding links to your product pages.
Boost mobile sales with responsive navigation
Let users instantly find exactly what they are looking for with Magento 2 Price Slider & Filters. Increase the number of conversions by providing an outstanding filtering and navigation experience.
According to the statistics, the extension can cover each business need in synergy with the following solution: magento 2 msi module.
Other Features
100% Open Source — Easy To Customize
Follows Magento Code Architecture
Separated HTML/CSS/JS
Simple installation via Composer
* The name "Magento" and the logo are the trademarks of Magento, Inc.
It helped us significantly rank up in Google
AHP, Software Engineer
For us, it was a life-saving tool, which helped us significantly rank up in Google and other search engines.
Amasty answer
Oct 07, 2020
Alena Hamolka
/ Product Team Lead
Hi M Rizwan, thanks for the review! It's so great to see that the extension has helped you to increase your store visibility. We're grateful to have you as our customer!
Fantastic
Dijstra Ltd, Director
Fantastic extension, very easily clears up and utilises AMP to rocket speed your product and category pages. As expected you do need to work on the CMS pages to ensure you have content that is compatible with AMP itself in general, and create custom page content for your CMS pages for AMP before popping the CMS pages live through AMP. The extension has settings to enable it for product and category pages and CMS pages so you can just enable the CMS pages when you are ready.
5 stars because this extension does everything it says, but I would add it is not easy to customize, AMP is not as fully featured as HTML and it would be great that as with most templates out there, this extension acts more as a template with settings to:
Enable or disable default blocks (like the footer newsletter and account links)
Easy settings for customising the AMP menu which defaults to categories and account links. It would be great for example to be able to add onto these menus any manual link or CMS page.
Custom footer block, being able to add this easily from the back end would be a bonus!
Support have been great and provided me with clear instructions on manually tweaking the menu and removing the footer blocks i did not want.
Amasty answer
May 14, 2020
Natalya Chekanina
/ Head of Sales Team
Hello, Jaimie! Thank you for choosing Amasty AMP for Magento 2. I'm glad that you appreciate its quality. We would be happy to see you in our store again!
missing amp for any cms page
IT
Overall I'm satisfied. The plugin is well-made, but it works only for product and category pages and has only basic design options. My website has CMS pages that I also want to make AMP.
Amasty answer
Feb 10, 2020
Natalya Chekanina
/ Head of Sales Team
Hi there! Thank you for your feedback and your suggestions. Using the AMP M2 extension allows you to apply sticky AMP-widgets on CMS pages. Right now you are able to provide your customers with satisfying user experience on mobile devices. We would be happy to see you in our store again!
Quick response with answer
Decor Interiors, President
I've been using AMP module for about 3 weeks. It works as promised. We wanted to resolve such a question as - concerns about the URL structure using Amasty AMP for Magento 2 and the impact on Google diagnostics. The result is quick response with answer. The extension works as promised. I would recommend the Amasty AMP for M2 extension to e-commerce companies with thousands of products and multiple categories. Once installed, it's easy to make minor customizations and quickly get your store AMPed up. There are also plans to expand the functionality to the homepage and other CMS pages, so you can take care of product and category pages now and add on later.
Amasty answer
Jan 25, 2020
Natalya Chekanina
/ Head of Sales Team
Dear Bill! Thank you for choosing our extensions! I'm glad that you appreciate their quality. We would be happy to see you in our store again!
Easy to use
It's early to say something about stats results, but I'm glad that the installation and configurations took around 5 mins.
Amasty answer
Jan 13, 2020
Natalya Chekanina
/ Head of Sales Team
Hi Ishaan! Thank you for choosing Amasty AMP for Magento 2. I'm glad that you appreciate it's quality and short installation time. We would be happy to see you in our store again!
Are you looking to add specific functionality for this extension or want to acquire a reliable development partner altogether? With custom development services by Amasty, you will receive high quality and cost-effective solutions developed by Magento professionals according to industry's best practices.
Magento 2.3, 2.4
You can always download the recent version free of charge from your account
Installing an upgrade is easy — check now
My Downloads
Version 1.3.5
Last Update: Nov 27, 2020
Fix we resolved the issue with empty snippet values
Fix we corrected the URL generation in case the original URL contains 'index.php'
Fix we resolved the issue with URL parsing on multistore instances
Improvement now the indicator of added products on mini cart remains visible until shopping cart is empty
Compatibility we enhanced compatibility with Varnish
Fix we resolved the issue with Form Key validation
Compatibility compatibility with Magento 2.3.5 was added
Compatibility compatibility with Varnish and FPC was improved
Fix we corrected a minor issue with icons and fonts display
New we added an option to force AMP opening from mobile devices
Improvement now extension displays prices excl/incl taxes if applicable
Fix we corrected the display of uploaded images in Visual Swatches
Version 1.2.1
Last Update: Mar 16, 2020
Fix we resolved issue with loading product reviews
Fix issue with amp index link on category page was fixed
New now the plugin supports CMS and Home Pages
New we added AMP-widgets which can be used on CMS pages
Improvement we enhanced the process of filter application on category pages in order to make it more user-friendly
Version 1.1.1
Last Update: Jan 22, 2020
Improvement we implemented minor enhancement of linking between AMP and non-AMP versions of pages
New now Category Pages are also available for AMP enabling. Turn on the functionality in one click