AMP
for Magento 2
Make your store pages load 85% faster for mobile users with Magento 2 AMP. Improve site usability and visibility in search results by generating super lightweight mobile pages.
Significantly reduce average page load time
Auto-generate separate mobile pages
Display rich snippets for better search
Track pages performance with Google Analytics
Easily customize the AMP page design
Challenge
47% of users are likely to abandon the web-pages, which are loading more than 2 seconds. Slow pages negatively impact search ranking, thus causing low traffic results and loss of revenue. But it's difficult to manage multiple pages and remain up-to-date with the latest requirements without a special team of developers. That may cost money and time.
Solution
With Magento 2 AMP extension, you can create beautifully fast pages that show up on users' screens incredibly quickly. AMP pages are marked with a lightning sign, so users know they will get a better experience. Therefore, more visits will come from organic search. Optimized pages also have higher dwell time and an increased conversion rate.
What benefits do you get for your store
Speed up page loading to keep users on your website
Increase mobile conversions with lightweight site pages
Improve search engine ranking with Google Rich Snippets
HOW DO ACCELERATED MOBILE PAGES WORK?
Accelerated Mobile Pages (AMP) is an open-source project from Google designed to make really fast mobile pages. It's a strict and simplified version of an HTML code that allows only specific elements that don't decrease page loading speed. It also has certain regulations for JavaScript. When the user opens an AMP page, it loads 3 to 7 times faster than a regular page version.
MAKE YOUR WEBSTORE ULTRA FAST WITHOUT LOSING ITS FUNCTIONALITY
Add AMP pages in a few clicks
Effortlessly generate Google AMP pages for Product and Category pages. After a quick and easy one-time set-up, this module will automatically create optimized pages for your store. On AMP version, content updates routinely when you add or change it on the initial desktop version.
Speed up mobile pages loading
Magento 2 AMP extension will help you to radically reduce website bounce rate by generating super lightweight mobile pages. Such pages are 85% faster compared to non-AMP ones since they load directly from Google AMP Cache.
Customize the AMP page design
AMP pages don't mean boring and plain appearance of your online store. Stand out from competitors by adjusting design settings. Tweak logo size to ensure it looks good on mobile screens. Modify colors for text, links, and buttons to make your store look match your branding. Light, easy to read, neat and stylish — the way AMP pages look is highly appealing for customers.
Enable Search and Subscribe boxes
Don't lose important functionality you have! Magento 2 AMP extension displays a Search box to help visitors navigate your webshop and easily find the product they need. Also, add an Email Subscription form to re-engage with people later and retain more customers. This is highly useful, as AMP doesn't currently allow any pop-ups to capture users' information.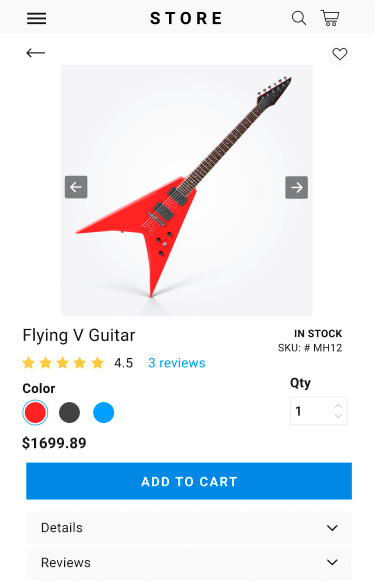 ATTRACT MORE VISITORS TO YOUR STORE WITH ADVANCED AMP TOOLS
Display Google Rich Snippets in search
Improve web-store visibility in organic search by displaying more data about your products. Magento 2 AMP allows showcasing Rich Snippets for AMP Pages on Google Search results. This will help to attract only relevant traffic and increase CTR.
Measure the success of optimized pages
90% of AMP publishers reported a higher engagement rate after adopting AMP. To help you understand how the AMP optimization impacts your web-store efficiency, Magento 2 AMP extension supports Google Analytics embedment. Easily insert tracking elements to understand what influences page metrics and get in top search positions.
Engage more customers with product reviews
72% of store visitors are likely to purchase a product only after reading positive feedback. With Magento 2 AMP you can easily display product reviews on AMP pages, as well as allow customers to add new ones.
Create AMP pages for your blog
Integrate a Magento 2 Blog Pro extension to create fast pages for your blog. If your online blog produces powerful authentic content, AMP is a great approach to produce extra clicks and views for your website. Later, you can easily convert loyal blog readers to profitable customers by adding links to your product pages.
Boost mobile sales with responsive navigation
Let users instantly find exactly what they are looking for with
Magento 2 Price Slider & Filters
. Increase the number of conversions by providing an outstanding filtering and navigation experience.
Other Features
100% Open Source — Easy To Customize
Follows Magento Code Architecture
Separated HTML/CSS/JS
Simple installation via Composer
* The name "Magento" and the logo are the trademarks of Magento, Inc.
Quick response with answer
Decor Interiors, President
I've been using AMP module for about 3 weeks. It works as promised. We wanted to resolve such a question as - concerns about the URL structure using Amasty AMP for Magento 2 and the impact on Google diagnostics. The result is quick response with answer. The extension works as promised. I would recommend the Amasty AMP for M2 extension to e-commerce companies with thousands of products and multiple categories. Once installed, it's easy to make minor customizations and quickly get your store AMPed up. There are also plans to expand the functionality to the homepage and other CMS pages, so you can take care of product and category pages now and add on later.
Amasty answer
Jan 25, 2020
Natalya Chekanina
/ Head of Sales Team
Dear Bill! Thank you for choosing our extensions! I'm glad that you appreciate their quality. We would be happy to see you in our store again!
Magento 2.3
You can always download the recent version free of charge from your account
Installing an upgrade is easy — check now
My Downloads
Version 1.1.1
Last Update: Jan 22, 2020
Improvement we implemented minor enhancement of linking between AMP and non-AMP versions of pages
New now Category Pages are also available for AMP enabling. Turn on the functionality in one click