Banner Slider
for Magento 2
Bring more purchases to your store by attracting customer attention to your special offers with sticky sliders. Create an unlimited number of eye-catching banner sliders with no programming skills required.
Locate banners anywhere at store based on your needs
Highlight sliders with a rich set of animation effects
Automatically resize images for smartphones
Lead customers to a purchase by adding target URLs
Benefit from compatibility with Jet Theme by Amasty
Challenge
Static banners became a victim of the so-called ad blindness, now people are used to ignoring them. Using animated banner sliders instead is more effective as they trigger visitors' attention with movement. Unfortunately, default Magento options in creating banner sliders are limited, as well as the ability to customize the design.
Solution
Magento 2 Banner Slider is a helper in promoting new products and special offers. Adjust slider's design elements, configure animation effects, and link banners to your bestsellers, landings, or any other target pages. Enjoy user-friendly configurations and make necessary customizations with no special skills required.
What makes Banner Slider a win-win?
Beautify store pages with sliders visible for certain customer groups/ store views only
Convert visitors into leads by creating clickable banners leading to your best offers
Attract customers' attention to particular products or services with rich animation effects
Bring attention to your special offers
Highlight banners with animation effects
Use various animation effects like slider autoplay to attract users' attention to a particular product or service advertised. Configure how quickly to change the animation up to a millisecond leaving your offering readable for users.
Choose where to navigate your shoppers
Beautiful carousels regardless of their placement are useless unless they are leading to products or landing pages you promote. Specify target URLs for each banner in a carousel to create profitable customer journey maps at your website.
A banner slider sample with the split slideshow animation and navigation bullets & arrows enabled

Add text to banners to generate more clicks
Adjust banners with any informative or catchy text to be seen on a mouse hover. Motivate shoppers to click by creating triggering titles and subtitles. Stay calm about the text visibility as it's displayed on a light cover contrasting with the text.
Enhance slider UX with extra design elements
Navigate customers through the banners on a slider by adding extra functional elements. Choose from several pre-made designs of pagination bullets and slider arrows to make sliders user-friendly, switch them on/off upon you choice.
Where can I display banner sliders?
Display slider on any page of your store
Smoothly configure slider displays for any product and category pages, or even embed them in CMS pages like a Home page or a Contact us page. Find the best strategic place and start promoting products or special offers in a few clicks.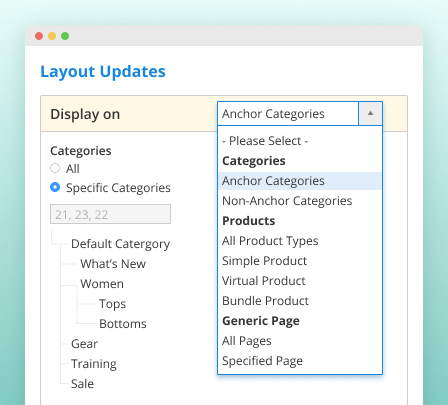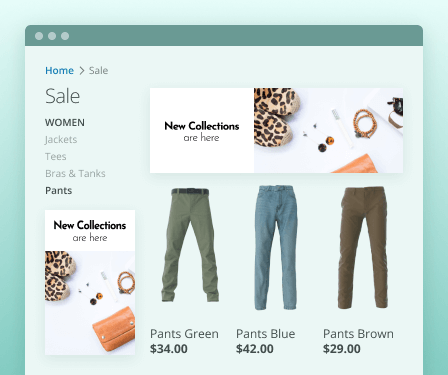 Use category trees to reach more display flexibility
The Magento 2 slider extension uses widgets for the purpose of embedding sliders on a website. Use category tree within the Custom Layout settings for specifying a certain circle of categories of CMS pages where your slider will be displayed. Alternatively, you can embed sliders in the Magento 2 widgets directly by configuring the CMS page content.
Avoid mixing up banners and sliders
thanks to separate configuration grids
There's a simplified grid of banners below the configuration settings of each slider. Here you can see how many banners are assigned to this slider, monitor banner statuses, remove some banners, and add new.
Banner preview from the slider configurations page
The banner preview feature helps to quickly navigate through the banners assigned to a specific slider.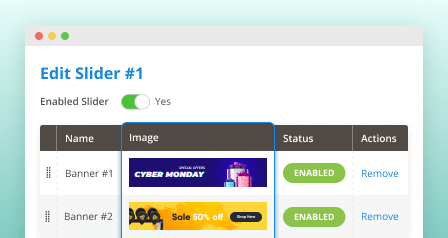 Specify the audience for your banners
Specify customer groups for your banners and set up store views for your sliders. Quickly create new and manage existing banners and sliders from separate grids.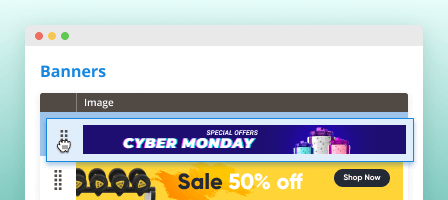 Quickly change the order of banners in a slider
Change order of the banners in a slider in a split second with the drag-n-drop feature.
Fit to any screen resolution with auto resizing
The extension automatically resizes banner images for the size of your slider. Our Magento 2 Slider will take the auto height and resize width proportionally depending on the viewport. Thus, all image transformations will occur as smoothly as possible.
Future development plans
Track CTR for your banners, monitor overall stats for
all your sliders and see which one works more effectively;
Slider preview from the backend;
Option to create product and video carousels;
Option to adjust banner images for the desktop
and mobile separately;
Option to add button on a slider;
Schedule a particular period of time for the sliders to be active (automatic promo campaigns);
More options for customizing the slider design;
GraphQL support;
Optimization for PWA Storefront;
More animation effects.
Other Features
100% Open Source — Easy To Customize
Follows Magento Code Architecture
Separated HTML/CSS/JS
Simple installation via Composer
* The name "Magento" and the logo are the trademarks of Magento, Inc.
Be the first to review this product
Banner Slider for Magento 2
Are you looking to add specific functionality for this extension or want to acquire a reliable development partner altogether? With custom development services by Amasty, you will receive high quality and cost-effective solutions developed by Magento professionals according to industry's best practices.
Magento 2.2, 2.3, 2.4
You can always download the recent version free of charge from your account
Installing an upgrade is easy — check now
My Downloads
Version 1.0.2
Last Update: Oct 13, 2020
Fix we resolved issue with applying ACL restrictions to module configuration.
Fix we corrected the filtration and sorting by Slider Name column