Multiple Coupons
for Magento 2
Increase customer loyalty with one simple change in the shopping experience of your customers. Provide the registered users and guest visitors with the ability to use several discount coupons simultaneously.
Use several coupons per order
Let guest visitors to use multiple coupons
Limit usage of specific coupons with other promo codes
Apply multiple coupons to orders from the admin panel
Allow applying coupons from the shopping cart and checkout
Enjoy compatibility with Jet Theme by Amasty
Challenge
Online stores are always looking for new ways to bring in new customers, and people will never tire of saving money. Coupons are a strong motivator for the majority of people, especially to those with a saving-savvy mindset. But the default Magento functionality allows shoppers to apply only one coupon per order. Such cases affect customer loyalty and lead to an increased cart abandonment rate.
Solution
The default Magento 2 coupon code is the option for the one-time discount, while Magento 2 Multiple Coupons extension lets customers apply as many coupons as they need to the same order. As they see their discount in a shopping cart and checkout pages, their decision-making time is significantly reduced. Thus, store owners will get more profit from the completed purchases and motivate customers to come back to the store using one tool.
Fact: According to the Valassis Coupon Intelligence Report, 92% of consumers have ever used coupons in 2019, and half of them always use coupons if they have an opportunity. The same report states that 42% of consumers prefer to get paperless discounts from the internet and apply them online.
See the most popular use cases in our video guide
What benefits do you get for your store
Improve customer loyalty by allowing them to use multiple discounts
Stimulate repeat sales by applying new purchasing options
Gain extra revenue by motivating shoppers to make a purchase decision faster
Enhance customer experience offering multiple coupons
Offer multiple discounts per order
Challenge: Native Magento functionality doesn't allow customers to apply several coupon codes to one order when they meet conditions of different promo rules. This 'small' inconvenience may result in customer churn and lost sales.


Solution: The average shopper is always motivated to save, seeking and using coupons from traditional and digital sources. With the Multiple Coupon Codes for Magento 2 extension, you'll enable online shoppers to apply all available promo codes to their orders. It impacts on a positive shopping experience, increases customer loyalty and inspires to buy more.
Multiple coupons for the guest visitors
Challenge: Many shoppers prefer to stay unregistered while shopping. It takes some time before they accumulate enough trust to reveal their personal data to your store. But how to convert new unregistered visitors smoothly?


Solution: Gladly, the 'Multiple coupons' feature works not only for the authorized customers but for guest visitors as well. Offer all visitors the equal ability to apply their coupons and consider the attractiveness of purchase with a discount.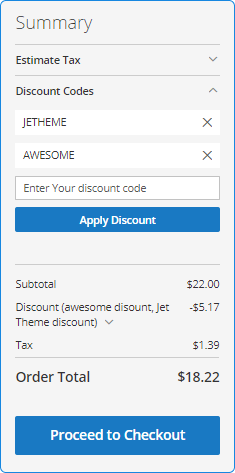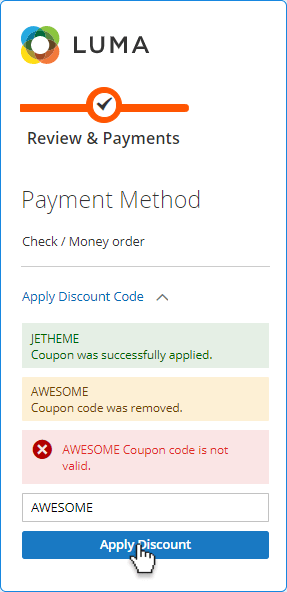 Create exclusive Magento 2 coupon codes
Challenge: It's not easy to remember all active promo rules, all personalized and general discounts, and if they can contradict each other. So how to be sure you won't lose revenue in case of possible contradiction?


Solution: The extension allows users to create the list of main offers (e.g. universal rule '25% discounts for everything') and specify these coupon codes as unique. Thus, you'll never lose from the non-profitable application of multiple coupons as you can properly set up their priority.
Let customers manage coupon codes
Challenge: The poor discount application UX may result in losing a client each time someone wants to apply a coupon and does not succeed in it. If some basic things are not obvious, then each second client will be likely to leave the site. With our extension, you can provide shoppers with a strong feeling of control over what and how they are buying.


Solution: Enable applying multiple coupons and removing unnecessary ones from orders in one click. Display the list of Magento 2 coupons that have been already applied. Thus customers will be able to easily track active and inactive codes while making purchases.
Apply multiple coupons to orders from admin panel
With Magento 2 Multiple Coupons extension, you can apply various discount coupons from the admin panel. From the backend, a store owner can easily create a new order on behalf of a customer, add products, and then select available coupons. Apply several coupons at the same time or remove any of them with ease.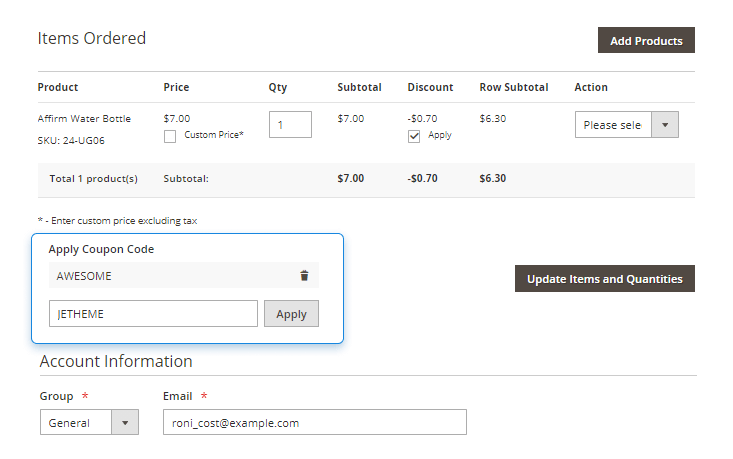 Extra options for the comprehensive coupon management
View end export detailed coupon usage reports
Generate and import coupons per cart price rules
Use pre-made templates for the accurate codes generation
Provide coupons via URLs
Generate coupons based on various custom events
Send promo codes to customers automatically
Easily track coupon usage statistics
Export Magento discount codes for your affiliates
What is Magento 2 discount code?
Discount codes and promo coupons in Magento 2 are a tool that helps you attract new customers as they create an additional incentive for shoppers to place their order. Their role in the purchasing decision-making process is secondary, but at the time of its commission it is motivating. Coupons allow your customers to save money, which brings them positive emotions and makes them shop.
Shape your discounts with clever conditions
Add Magento 2
Special Promotions Pro
to create promotions based on customers' purchase history. Use 20 actions to be sure that your promotions are unique and relevant.
A proven way to double sales and retain customers
Effectively build customer loyalty and sell more with
Free Gift
for Magento 2. Get 4 additional promo actions to enable adding free gifts to the cart depending on rule conditions.
According to the statistics, the extension can cover each business need in synergy with the following solution: magento 2 delivery date and time.
Other Features
100% Open Source — Easy To Customize
Follows Magento Code Architecture
Separated HTML/CSS/JS
Simple installation via Composer
* The name "Magento" and the logo are the trademarks of Magento, Inc.
love it
I sell many folk holiday clothing elements and often make coupons valid till a date. Recently something went wrong. For the holidays this shedule coupons didn't work. People were coming for bigger sales, but could only use fixed discount. Luckily, the team fixed this issue fast, now I can use schedule coupons at full.
I'm in control :)
I really enjoy working with it. It helps give out many coupons, and I no longer lose money when customers collet coupons and use them in bulk, I'm in control. Most of all I like that exclusive coupons feature. I do have generous offers (up to 70% off) and using this one with other coupons leaves me with 0 profit. But now the other way around.
Overall good
Useful, you can design discounts and give them to customers, it's easy to set up and apply, but recently I noticed that customers couldn't use several coupons at once, the app showed there was an error. To save my hotel reputation, I addressed the tech group and the guys helped me in 4 hours. Great result but it'd be better if it worked from the strat like it works now.
cool, all can manage coupons
Really cool module! Customers can control discounts that we offered, what they used, what they still have.
Easy run
It's friendly. Nevertheless, I addressed the support to make sure it all works as needed, they are good profs. They also helped to resolve one trouble with unique codes. It happened several times that customers applied different codes from same rule and the codes worked together. So discounts were up to 95%. Now all works as needed
Worth its price
Support is willing to help any way you want. I had the conflict with a 3d-party extension but Amasty solved my problem and now everything works out well. The module has a plenty of useful features and perfectly runs with the auto add items promo, which is in the nick of time for me now.
Good job!
After I migrated to M2 I decided to upgrade multiple coupons to the next version too. Honestly, I was ready for some technical glitches. However, nothing of the kind! Everything works swimmingly and the module hasn't lost its functionality at all, thanks for your job.
handy email trigger
This is the only extension of all I've installed for Magento 2.2 that works perfectly with the version. It didn't act up and I'm totally satisfied multiple coupons of different promo rules are applicable together now.
useful and mostly good
It helped me a lot to motivate people to buy toys and other things for home animales. But I just found a problema - some customers managed to use 1 coupon 2-3 times. I tried to fix myself, but no good result. So I wrote to support, they made it okay.
simple and useful
This extension works like a charm when you're sending out a campaign for holidays and you send an additional email to loyal customers so they can add a bigger discount.
Plus there's a psychological factor because customers get extra excited if they can use more than one coupon, most stores don't allow that to control the discounts, so it really makes the customers happy as if they've got a huge huge discount (even if it's not so huge =)
Backend
Go to the Marketing section and check cart price rules with coupons.
Checkout Page
Get any sport bag with 20% off. Use the coupon SALE
Are you looking to add specific functionality for this extension or want to acquire a reliable development partner altogether? With custom development services by Amasty, you will receive high quality and cost-effective solutions developed by Magento professionals according to industry's best practices.
2.4.2-p1, 2.3.7, 2.4.2, 2.4.1-p1, 2.3.6-p1
You can always download the recent version free of charge from your account
Installing an upgrade is easy — check now
My Downloads
Version 2.0.3
Last Update: Apr 26, 2021
Compatibility we made the module fully compatible with Amasty Free Gift extension
Fix we solved the problem with applying coupon codes on Magento 2.4.2
Fix we solved the problem with applying numeric coupon codes on Checkout page
Improvement we improved the UI of coupon code messages and added some animation
Improvement the extension codebase was rebuilt and improved in order to provide more stability, compatibility, and performance. It was rid of deprecated parts of code thus since now the extension supports Magento 2.3.1 and up only
Version 1.4.3
Last Update: Nov 25, 2019
Fix we solved the problem with applying discount for shipping
Fix we solved the problem with saving last coupon code in Order
Fix the issue with used coupons counting was fixed
New ability to apply multiple coupons generated under the same rule was added.
Compatibility compatibility with Magento 2.3.2 was improved.
Fix some know issues with coupons were resolved.
Version 1.3.1
Last Update: Jun 12, 2019
Fix issues related to incorrect module behavior when applying multiple coupons were fixed.
New now the code is covered with unit tests which are included in the package alongside the Multiple Coupons extension.
Improvement the code was refactored to make it cleaner and more efficient.
Version 1.2.6
Last Update: Apr 10, 2019
Fix invalid form key issue was fixed.
Fix issues with multiple coupons and PayPal Express Review page were resolved.
Improvement stability enhancement was implemented
Fix the issue with unique coupon codes was resolved
Fix the issue with case-sensitive coupon codes was fixed
Fix the issue with applying coupon codes on admin side was resolved
Fix the issue with applying coupons via API was resolved
Fix the issue with applying coupons on a schedule was resolved
Improvement many improvements were made to error message display. Now error messages accurately reflect status of applied coupons in unorthodox cases, for example when coupons are entered in bulk separated by comma.
Fix coupons containing spaces now apply correctly.
Fixed an issue with role permissions in admin area
Re-implemented removing coupons one by one in admin area for latest Magento versions
Version 1.1.0
Last Update: Dec 19, 2017
New added a setting to display applied promo rules separately in discount breakdown
Version 1.0.7
Last Update: Dec 13, 2017
The issues with applying and display 'Unique Codes' were fixed: now a user can apply only one unique code at a time and it cancels any other coupons from the same rule.
Dependencies updated
Magento 2.2 compatibility tested and confirmed
Expiration date issue fixed
Fix for a problem that displayed coupon being used multiple times instead of just once
Compatibility with Magento 2.1
Compatibility with Magento 2.0.4