Multiple Coupons for Magento 2

|

v1.0.6
Screenshots:
Enhance customer shopping experience
Offer numerous discounts per order
Native Magento functionality doesn't allow customers to apply several coupon codes to one order when they meet conditions of different promo rules. This 'small' inconvenience may result in customer churn and lost sales. With the Multiple coupon codes for Magento 2 extension you'll enable online shoppers to apply all available promo codes to order and get maximum possible discount. Positive shopping experience will definitely increase customer loyalty and inspire store visitors to buy more.
Multiple coupons for guest visitors
'Multiple coupons' feature works not only for authorized customers, but for guest visitors as well. This option will be highly appreciated by online shoppers who prefer making purchases without getting registered.
Display used coupon codes
Display the list of Magento 2 discount coupons that have been already applied on the shopping cart page, so that customers will be able to easily track active and inactive codes while making purchases. The list of codes is also available on the checkout page.
Let customers manage coupon codes
Magento 2 multiple coupons extension clearly shows the discounts which customers get after application of promo codes. In case a store visitor decides not to apply some or all of the coupons, he/she can easily remove them right at the shopping cart page or during checkout.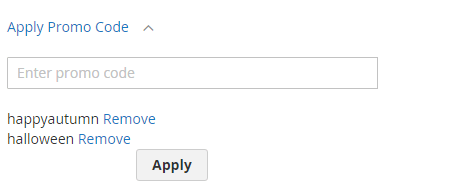 Effectively manage coupon usage
Create exclusive coupon codes that can't be used together with other coupons
In case one of the shopping cart rules offers a huge discount and you don't want its coupon to be used together with other Magento 2 discount codes, you can specify the list of codes that will be used individually.

Apply or remove coupons for orders placed from the admin panel
With the module you can apply and remove multiple coupons when creating orders from the admin panel.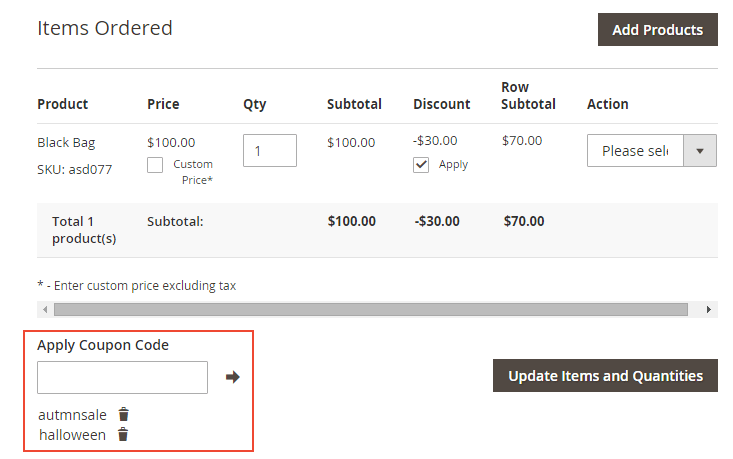 Other Features
100% Open Source — Easy To Customize
Follows Magento Code Architecture
Separated HTML/CSS/JS
W3C Validated Code
* The name "Magento" and the logo are the trademarks of Magento, Inc.
simple and useful
This extension works like a charm when you're sending out a campaign for holidays and you send an additional email to loyal customers so they can add a bigger discount.
Plus there's a psychological factor because customers get extra excited if they can use more than one coupon, most stores don't allow that to control the discounts, so it really makes the customers happy as if they've got a huge huge discount (even if it's not so huge =)
Write Your Own Review
Version 1.0.6
-
October 06, 2017
– Dependencies updated
– Magento 2.2 compatibility tested and confirmed
Version 1.0.5
-
June 27, 2017
– Expiration date issue fixed
Version 1.0.4
-
January 23, 2017
– Fix for a problem that displayed coupon being used multiple times instead of just once
Version 1.0.3
-
August 31, 2016
– Compatibility with Magento 2.1
Version 1.0.2
-
July 06, 2016
– Added translation file
Version 1.0.1
-
May 26, 2016
– Compatibility with Magento 2.0.4