Cash on Delivery
for Magento 2
Turn potential customers into regular with Magento 2 Cash on Delivery extension. Let customers make payment to a shipping carrier when receiving the good.
Charge a fee for using cash on delivery as a payment method
Restrict payment method to certain locations based on zip codes
Flexibly link cash on delivery to your shipping methods
Customize COD fee label displayed in the order summary block
Let customers check whether their location is eligible for COD
Get additional flexibility with Extra Fee for Magento 2
What is Magento 2 Cash on Delivery?
Cash on delivery (COD) is a payment option where a customer pays at the time of delivery. A COD transaction can also include a check, credit card or electronic payment, and in such cases, the method is called "collect on delivery". The majority of worldwide businesses (such as Amazon, Xiaomi, etc.) use this payment method since it has a positive effect on the accounting system: the receivable turnover period is shorter, the budget is regularly replenished, and the fees for processing credit cards are lower.
RAPIDLY CONVERT FIRST-TIME VISITORS INTO CUSTOMERS
Challenge
Some customers don't like to pay for anything before the products are in hand, especially when ordering online from a new web store, as they prefer to check product quality and service. Unfortunately, the default Magento doesn't suggest offline payment options, and when such customers come to a checkout page, they prefer to leave the store.
Solution
With Magento Cash On Delivery extension, you provide customers with a convenient opportunity to pay with cash upon product arrival. Shoppers can just choose this option as a payment method on a checkout page and wait for the delivery. The module helps you promptly acquire new customers and strengthen trust with the existing ones.
What benefits do you get for your store
Boost sales revenue by acquiring new customers
Stay competitive proposing a convenient payment method
Build customer loyalty by increasing the sense of trust
EASILY ADJUST PAYMENT AND DELIVERY METHODS TO YOUR BUSINESS NEEDS
Enable Cash on Delivery payment method
Let your customers make payments when receiving a good instead of paying in advance. A new payment method will be visible on a checkout page among the other methods.
Customize Cash on Delivery fee label
Set a custom label for Magento 2 Cash on Delivery extra fee, which will be displayed in the order summary block at the checkout. By customizing the label, you can make an option clear for customers and avoid misunderstanding.
Limit Cash on Delivery by ZIP
Specify postcodes eligible for Cash on Delivery to prevent reputational damage from canceling customers' orders from inconvenient locations. You can make exceptions by specifying the list of particular postal codes you want to allow.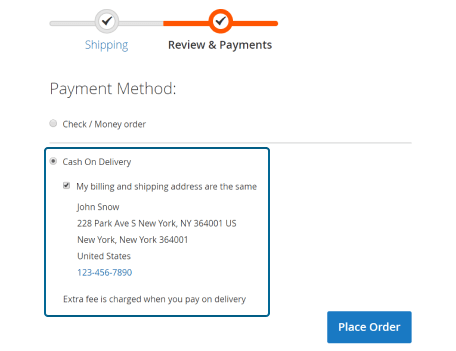 Set extra fees and choose a fee type
Magento Cash on Delivery extension allows store owners to set extra fees for using the Cash On Delivery payment method as a fixed amount or as a percentage of cart subtotal. Additionally, it is possible to include or exclude taxes.
Flexibly adjust restrictions
Depending on your needs, choose the way Cash on Delivery validates customer's data. You can apply restrictions not only to shipping addresses, but also to billing ones. Use a single setting to choose a restriction base for the validation.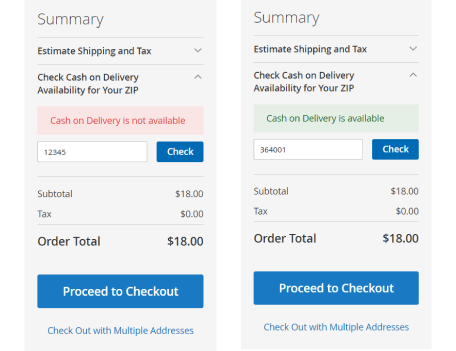 Let customers check shipping availability
Customers can use the "zip code" field on a shopping cart page to check if Cash on Delivery payment is available in their region. If no, they will not be able to place the order with the Cash on Delivery method chosen.
Set delivery type limitations
Adjust your delivery strategy and restrict Cash on Delivery for certain shipping methods to provide extra convenience for you, your customer and carriers.
Display appropriate messages
Display success/failure message of Cash on Delivery availability based on customer postal code.
New features for advanced usage
Leave explanatory comments
When the Cash on Delivery payment method is available, you can display additional instructions before a customer chooses this one. For instance, you may warn shoppers about the extra fees and why it is charged, or just specify the details of the delivery process. Thus, you will avoid misunderstanding and keep customers loyal.
Checkout compatibility options
About 20% of customers drop off on a checkout step as the last step seems too complicated for them or they simply can't find a suitable payment option. Cash on Delivery is fully compatible with the Klarna payment method and Amasty One Step Checkout extension: reduce the number of abandoning shoppers by providing an optimized checkout.
Enrich your Magento 2 Checkout page with a handy delivery schedule
Define your delivery schedule and exclude specific days or hours when delivery is unavailable with Amasty Delivery Date for Magento 2 extension. Ensure an outstanding shopping experience and streamline your order management.
According to the statistics, the extension can cover each business need in synergy with the following solution: magento 2 payment gateway.
Other Features
100% Open Source — Easy To Customize
Follows Magento Code Architecture
Separated HTML/CSS/JS
Simple installation via Composer
* The name "Magento" and the logo are the trademarks of Magento, Inc.
Extra payment method, easy to use
Digitup, Software Engineer - Co/Founder
The extension added an extra payment method to our Magento store and our customers were happy with that! Also, the module is easy to use.
Amasty answer
Jan 25, 2021
Natalya Chekanina
/ Head of Sales Team
Hi Nikos, thank you for the review! We are glad to know that the extension provided your store with the extension, demanded by your customers. We'll look forward to seeing you in our store again!
lo mejor!
After research I found that often such modules don't have all-in-1 functionality. So you have to load and add 1-3 to do what you need. With this cash on delivery you have more optiones to make profit. I mean, not only by rate but also by adjusting restrictions to shipping or zip.
Better than those I tried before
Here many like to pay by cash. I tried to set it up with another extension. But it often lagged and didn't add taxes. This one is much better. It has more functions, even you can add zip restriction. But it also had a glitch I didn't like so much - I couldn't add fee to total. I reported, and the support made it ok, as support is free for 3 mnths it costed me nothing and that's good. Still, I didn't work for almost 2 days, that is why only 4 stars.
pay off
Here people like to pay cash even for internet purchases. With this payment in 2 weeks we only got 1 complaint. Before it was 2-3 daily.
Are you looking to add specific functionality for this extension or want to acquire a reliable development partner altogether? With custom development services by Amasty, you will receive high quality and cost-effective solutions developed by Magento professionals according to industry's best practices.
Magento 2.2, 2.3, 2.4
You can always download the recent version free of charge from your account
Installing an upgrade is easy — check now
My Downloads
Version 1.3.1
Last Update: Nov 16, 2020
Fix we solved the problem with order placing from admin
New we added an ability to setting up taxes for fixed amount fee
Version 1.2.2
Last Update: Dec 19, 2019
Compatibility compatibility with Klarna and One Step Checkout was improved.
Fix the issue with displaying Cash on delivery block after changing payment method was fixed
New ability to restrict COD by postal code ranges was added.
Version 1.1.1
Last Update: May 14, 2019
Fix issue with incorrect order status was fixed.
New now you can set cash on delivery fee as a percentage of cart subtotal (excluding or including taxes).
Version 1.0.1
Last Update: Mar 07, 2019
Fix issue with order total calculation was resolved.